Commentary
Football is much better in cold weather
Originally Published:
January 21, 2011
By
Jim Caple
| Page 2
Here are the two biggest reasons I'm looking forward to this weekend's AFC and NFC championship games: Pittsburgh's game-day forecast -- high of 19, low of 9 -- and Chicago's game-day forecast -- high of 23, low of 18 with a chance of snow. The forecast is so gloriously frigid I hope Jon Krakauer is credentialed to chronicle the suffering.
The Bears were just 8 yards from the end zone on a first-and-goal. But there were just 12 seconds left in the game, the temperature had plunged to 6 below, and a thick layer of clouds and snow had settled into Soldier Field. Prior to the game, Chicago head coach Lovie Smith had determined that if such a situation occurred, he would send in the kicking unit and settle for a tying field goal. There could be no exceptions; too many previous expeditions had suffered agonizing consequences for lingering too long in the Red Zone. But a Super Bowl berth was so close, so tempting, and both Smith and quarterback Jay Cutler were no longer thinking straight because of extreme hypothermia. So Cutler rolled out, and, with his frostbit fingers no longer able to grip the football, he forced a wobbly pass that overshot his intended Sherpas and was intercepted at the 3. …
I'm a sucker for football in the snow. Although baseball should never be played in weather cold enough that fans can't stay warm by wrapping themselves in giveaway beach towels you receive for applying for a team credit card, cold weather enhances pro football. Heck, the same fans and media who go to DEFCON 3 when baseball plays a postseason game in the rain go to DEFCON 1 when the NFL postpones a late-season game because of a blizzard.
[+] Enlarge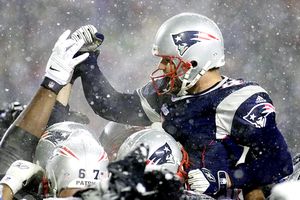 Don Emmert/Getty ImagesIf it weren't for the snow, how many of us honestly would remember Adam Vinatieri's kicks to lift the Patriots past the Raiders in January 2002?
The weather is a seldom-mentioned advantage the NFL playoffs have over baseball's postseason. The baseball postseason begins as the weather is turning significantly colder, wetter and much less desirable for baseball. It's the No. 1 reason people complain about the playoffs lasting so long. There is no such issue with the football postseason -- which stretches a week longer -- because, as the weather grows colder and snowier, the games become better for television.
Freezing temperatures and snow always make pro football more visually appealing. I love the sight of a quarterback's breath steaming from his mouth like exhaust from a backfiring '68 Dodge Charger as he barks signals. Defensive backs warming their hands at the sideline industrial heaters as if they were Boy Scouts crowded around a campfire. Coaches wearing earmuffs over their headsets. Cheerleaders so cold they change to fur G-strings at halftime.
I've always felt this way. Even though I lived half a continent away, I grew up a huge Minnesota Vikings fan specifically because they played in blizzards, whiteouts and subzero conditions all the time -- even occasionally in August preseason games.
The visiting team never had a chance. Roman Gabriel would lose fingers from frostbite, and Merlin Olsen would set his beard on fire to warm himself. And that was before kickoff. The Vikings would further mess with their opponents' heads by trotting onto the field in short sleeves and flip-flops while sipping Gatorade from coconuts with little umbrellas in them. Then Minnesota would beat the snow pants and long johns off the visiting team.
Those games were magical, as if played inside a snow globe. In fact, I tried to make a Vikings snow globe once. I got as far as taking a player figure from my Vikings electric football set before realizing: (a) I didn't have a glass globe, and (b) there would be no way to get the figure inside it anyway, let alone the snow.
[+] Enlarge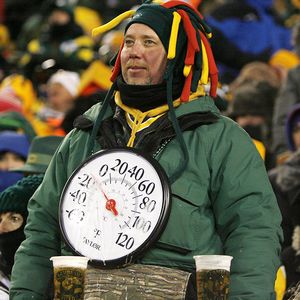 Tom Hauck/Getty ImagesPage 2 applauds the hearty souls who brave nasty weather to support their teams in the postseason.
Unfortunately, the Vikings did find a way inside their own globe by moving to the climate-controlled Metrodome in 1982. They became as bland as every other team, and I soon lost interest. After going to four of the first 11 Super Bowls, the Vikings haven't played in any of the 28 held since they moved to the Metrodome.
The Bears and Packers, however, stayed outside, and this weekend they play for a conference championship in the league's ultimate showdown of cold-weather teams, the first game in NFL history that might air on The Weather Channel. Green Bay played host to the legendary Ice Bowl that was played in 15-below temperatures, and Chicago is the home of wind chills so extreme that Bears fans might even embrace Packers fans to stay warm.
Well, on second thought, they'll probably try setting them on fire first.
The only way this Wind Chill Bowl could be more appealing is if they shifted the game to the ice planet Hoth. Of course, I doubt the fans on Hoth would go shirtless with H-O-T-H painted across their chests the way drunken Bears and Packers fans will proudly display their frostbitten beer guts.
The Steelers, meanwhile, play the Jets in Pittsburgh, where the forecast calls for even colder temperatures. It promises to be so cold that fans will need to trade in their Terrible Towels for Terrible Quilts, Terrible Fleece and Terrible Comforters while Rex Ryan's wife will have to get some fur-lined boots to prevent frostbite to her pretty feet.
Sounds wonderful, doesn't it? I can't wait until they have to call the fire department because one of the winning coaches got his tongue stuck on the trophy.
Jim Caple is a senior writer for ESPN.com. You can follow him on Twitter at jimcaple.