I understand the logic. The designated hitter, the bigger players, the smaller ballparks, the higher scoring games, the better bats, the increased use of videotape, the increased strikeouts and the deeper counts each at-bat all take their toll on pitchers, making them throw more pitches earlier in the game. Because of that, pitchers can't last as long as they once did.
On the other hand, it's not like all this worry and precaution is keeping pitchers from breaking down regularly. They still fill the disabled list and they still fill the operating rooms just as often as before, if not more so.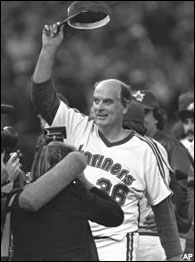 AP Photo
Gaylord Perry overcame that 15-inning outing and was still pitching eight years later, winning his 300th game.
So maybe, just maybe, we're going about this all wrong. Maybe someone should stop babying pitchers so much and start toughening them up a little. Not nearly to the extent Billy Martin did – "Way to go, nice shutout. Have a six-pack and get out here early tomorrow to throw batting practice" – but just enough to see whether pitchers are capable of more than they're being asked.
Of course, if Mulder gets shelled his next start and leaves with a torn rotator cuff, I take it all back.
BOX SCORE LINE OF THE WEEK
Obviously, this week's award goes to Mulder for his rare gem:
10 IP, 4 H, 0 R, 0 ER, 0 K, 5 K
But while we honor Mulder, let's pity Clemens, who deserves better at the age of 42. He hasn't allowed a run in his past three starts, throwing seven scoreless innings in each, but the Astros have lost all three by 1-0 scores.
"At least," Deshaies said, "Astros Planet can take solace in that we have good pitching."
Not only has Clemens driven in more runs (two) than he's allowed (one), he's driven in more runs than the other Astros have driven in his four starts.
LIES, DAMN LIES AND STATISTICS

Alex Rodriguez drove in more runs in one game Tuesday (10) than he did the first 25 games of last year (seven). ... Commissioner Bud Selig says baseball definitely will hold a World Cup next year and that it will be played just before spring training, in Florida, Arizona or California. That's good news though he said the number of teams still needs to be determined. And there are some other obvious concerns that need addressing, such as how you get a staff ready to pitch by the middle of February. ... The April 16 Mariners-White Sox game lasted just one hour and 39 minutes. As the Mariners' broadcast producer, Kevin Cremin, points out, the game was shorter than the pregame show (two hours). According to Dave Smith with Project Retrosheet, no major-league game (nine innings or more) has been shorter than 1:39 in the past 21 years and it was the shortest game in the American League since Sept. 28, 1982, when Toronto's Jim Clancy nearly pitched a perfect game and beat the Twins 3-0. ... While we're on the subject, it should be noted that major-league game times are down to an average of two hours and 45 minutes, 15 minutes shorter than they were in 2000 and about 15 minutes shorter than every NFL game. ... Since Nomar Garciaparra appeared bare-chested on the cover of the March 5, 2001 issue of Sports Illustrated under the headline, "A Cut Above: How Nomar Garciaparra Made Himself the Toughest Out in Baseball," he has missed almost an entire season due to surgery on his wrist, hurt his Achilles tenon, torn muscle in his groin area and gone on the disabled list four times. If he doesn't come back until the All-Star break, as expected, he'll have missed about 300 games since that cover. ... White Sox backup catcher Chris Widger hit his first home run since August 9, 2000 this Monday. In between Widger homers, Barry Bonds hit 234. ... (A follow-up to a reader question about the Off Base column describing the forfeit that ended the Washington Senators' tenure in 1971: Dick Bosman, Toby Harrah, Jeff Burroughs and Rusty Torres played in that forfeit as well as the 1974 10-Cent Beer Night forfeit in Cleveland. Torres also played the first game of the scheduled 1979 doubleheader when the White Sox had to forfeit the twinbill due to the between-game Disco Demolition promotion. He was 2-1 in forfeits.