By Jim Caple
Page 2
The Phillies geared up for the wild-card race by trading for 43-year-old Jamie Moyer over the weekend -- and he won his first start Tuesday to move Philly over .500. The Dodgers, meanwhile, traded for 40-year-old Greg Maddux at the deadline and he's 2-0 for them. And the Astros signed 44-year-old Roger Clemens in June, and he's 5-4 with a 2.68 ERA.
While those have been successful veteran additions, the trendsetters in this strategy remain the Giants, who Off Base has learned are planning another move in their continuing old-age
movement …
The San Francisco Giants will announce today that Felipe Alou will be a player-manager for the remainder of the season.
"Yes, Felipe may be 71 years old, but we look at that as a positive. He's a career .287 hitter and anytime you can get someone in the lineup who's had success against the likes of Sandy Koufax, Bob Gibson and Tom Seaver, that's a very good thing," general manager Brian Sabean said. "We also think he will be an upgrade defensively when he fills in for Barry Bonds in left field. And he's a good fit for our budget because he won't be able to go to arbitration until 2009."
Alou is expected to play tonight in his first game since 1974. He'll bat fifth and play right field in place of his son, Moises, who has a slight leg injury. "I just hope I remember what hand to put my glove on," Alou joked. "Was I left or right-handed?"
The move has been expected for some time. The Giants are among the oldest teams in major league history -- but rather than rebuild, San Francisco has been acquiring veteran players to take advantage of a competitive window that might close when Bonds retires or leaves as a free agent. Earlier this season they became the first team ever to play three 40-year-olds in the same outfield, while shortstop Omar Vizquel is 39.
It is all part of an age move that is described as "Brian Ball" in Michael Lewis' eagerly awaited sequel to his 2003 bestseller, "Moneyball."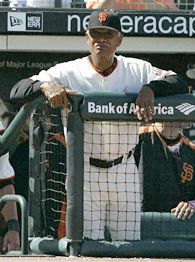 Eric Risberg/AP Photo
Felipe looks like he can still go deep, right?
"We feel there is an inefficiency in the market -- old players are tremendously undervalued," Sabean said. "Granted, they aren't terribly productive after they retire, but you can sign them for practically nothing. Twenty retired All-Stars would only set you back about $6 million. Plus, our lawyers maintain that Willie McCovey and Juan Marichal still are covered by the reserve clause."
The Giants have struggled much of the season and entered Wednesday in fourth place, five games behind the Dodgers in the National League Central and five behind the Reds in the NL Wild Card race. With San Francisco on the fringes of the division race, Sabean said the team will continue to actively pursue deals until August 31, but only those that make sense.
"For instance, someone suggested we sign Matty or Jesus Alou so that we can have an all-Alou outfield again," Sabean said. "That sounds good, but our most pressing needs are pitching and first base. I would love to get Julio Franco, but the Mets want some of our oldest prospects in exchange and we're just not going to give up on those guys after we've invested so many years in them. And I wish I had been able to get Moyer away from the Mariners before they traded him to Philadelphia. But, oh well. There's always next year or the year after that or the year after that."
Sabean also confirmed that the Giants are considering signing closer Hoyt Wilhelm. "I'm told he died four years ago, but he's still a Hall of Famer and even dead, he has to be better than Armando Benitez."
Economic concerns limit the Giants, who need to save their money for the winter free-agent season in case Clemens decides to retire again.
Sabean acknowledged that the old-age movement is a controversial strategy, but says skeptical Giants fans need not worry. "It's only a temporary thing until we get the new Alous in, or when Barry's son, Nikolai, is old enough to play the outfield."
BOX SCORE LINE OF THE WEEK
If you get the impression the Yankees take a lot of pitches, you're right. In Friday's doubleheader, Johnny Damon and Bobby Abreu together saw 98 pitches. And New York took a lot more pitches the next day when Boston starter Josh Beckett put up this ugly line: 5 2/3 IP, 7 H, 9 R, 9 ER, 9 BB, 2 K. That's the most walks by a Red Sox pitcher since Roger Moret in 1975.
Then there was the effort put out by Japan's Ryoya Sato. There hasn't been a no-hitter in the majors since May 2004, a span of more than 6,000 games. But Sato gave the Little League World Series one when he no-hit the Russian team 11-0 Saturday. That's right. Russia has a Little League team. Though, judging by Saturday's game, the country still has a ways to go. While Sato was silencing their batters, Russia pitchers allowed 17 hits and the game was called after five innings because of the mercy rule.
Still, this week's award goes to Yankees reliever Mike Myers for his puzzling line Tuesday night.
With two out in the sixth inning and a 2-0 count on left-handed hitting Ben Broussard, New York manager Joe Torre brought in the left-handed Myers to relieve right-handed Jeff Karstens. Seattle manager Mike Hargrove countered by pinch-hitting right-handed Eduardo Perez to complete the at-bat. Faced with a lefty-righty matchup, Torre had Myers throw two balls to Perez for an intentional walk.
Under baseball rule 10.18 (h) 1, when there is a pitching change with a 2-0 count and the batter is subsequently walked, the first pitcher is charged with the walk. And when there is ever a batting change, the second batter is always credited with whatever happens. So in this case, Karstens was charged with an intentional walk of a batter he never faced. As for Myers? He was charged with not even facing a batter for this rare line:
0 IP, 0 H, 0 R, 0 ER, 0 BB, 0 K, 2 pitches
Naturally, the Yankees high-fived Myers enthusiastically when he returned to the dugout.
TELL YOUR STATISTICS TO SHUT UP
Most of the attention goes to Johan Santana and Francisco Liriano, but the most important pitcher for the Twins this season is veteran Brad Radke. Despite pitching with a torn labrum -- because he plans to retire at the end of the season, he's chosen to simply take cortisone shots and pitch through the pain instead of undergoing surgery -- Radke is 8-3 with a 1.43 ERA since May 26. The Twins are 52-22 in that span. Radke has spent his entire career in Minnesota -- he's the only current Twin who played with Kirby Puckett -- and averaged 208 innings a season. … With each passing day, it seems like baseball won't have to deal with the issue of how to respond to Barry Bonds breaking Hank Aaron's home run record. Last year I compared Barry's home run output at each year of late age to Hank's. Aaron went from 40 home runs at age 39 to 20 home runs at age 40, to 12 home runs at age 41, to 10 at age 42 and to retirement at age 43. Bonds, meanwhile, has gone from 38 home runs at age 39 (July 24, 2003 to July 24, 2004) to 20 home runs at age 40, to 19 at age 41 to two so far at 42. … Ichiro finally agreed to shift from right field to center to try to solve what has been a nightmare position for the Mariners ever since Mike Cameron left. Seattle center fielders have hit 25 home runs the past three seasons, or as many as Cameron hit in 2002. It's not likely that Ichiro will improve the power total there. … Meanwhile, Hargrove has somehow survived as Mariners manager -- for now -- despite an 11-game losing streak overall (before last night's win over the Yankees), a 15-game losing streak to the Athletics and a 20-game losing streak to AL West opponents.
INFIELD CHATTER
"Baseball had a big weekend. The Yankees won four games over the Red Sox. They won up in Boston, four in a row. Boston is blaming their pitching. Mel Gibson blamed it on the Jews."
David Letterman
Jim Caple is a senior writer for ESPN.com. You can reach Jim at jimcaple.com. Sound off to Page 2 here.