SAN FRANCISCO -- We are packed shoulder to shoulder and toe to heel, five or so rows deep, baseball gloves at the ready, cash registers ringing inside our skulls. We are in the standing-room section atop the right-field wall of the Giants' ballpark Monday night, anxiously waiting for Barry Bonds to hit the 756th home run of his career and drop history into our hands.
And every single one of us has already spent the money.
"Without a doubt, I'll sell it," says the fan to my left, Jimmy Piper. "I'll buy my mother a house. I'll take care of my brother and his kids. I'll take care of my old lady, then go to every Giants and 49ers game for the next five years."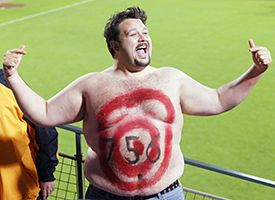 AP Photo
No, this isn't Caple -- but fan Shaun Street of Cleveland, Ohio, offered a big target for Bonds Monday night.
"I'll sell it, definitely," says the fan to my right, Charlie Delfino. "Like I said, I have six kids to take care of."
Of course we'll sell the baseball. Why wouldn't we? Don't give me any of this, "Oh, you should give it to Barry because it's the right thing to do" crap. Does Barry get paid for playing? Do the Giants charge admission? Do they have a dugout store selling every possible souvenir? Hell, Bonds initially said he wasn't going to give any memorabilia to the Hall of Fame, preferring to keep it or sell it himself. Besides, he'll still have his bat. (Bonds did change his mind and gave the Hall the batting helmet he wore when hit No. 755.)
So, yes, I'll sell the baseball. My only ethical dilemma is whether my editors will want a cut.
Editor's note: 15 percent. We could have sent someone else to cover the story.
Besides, who could use the ball more? Bonds has made $120 million this century alone. Piper is a landscaper/caretaker struggling to make ends meet in Marin, Calif. He bought his $10 standing-room ticket online for $17.75 two weeks ago. He drives a Jeep with 213,000 miles on it ("almost 214,000," he says). He paid $5 to go over the Golden Gate Bridge. He sat in his car a couple blocks away from the ballpark waiting for a free parking spot to open up in a secret location. He sneaked in his own burgers and beer. He figures he has just enough gas to get back home. "I'll make it, but the warning light will definitely be on."
He looks out at the field before him. "It's amazing to think that we can be standing here and have your whole life change in an instant," Piper says.
Piper asks how much the record ball will bring; he's heard figures of $2 million and $3 million that afternoon. I tell him nobody knows, but that I think the market will be much lower, maybe $500,000. He asks someone else, hoping for a higher figure.
"Just so you know," Delfino warns me, "if a ball comes out here, we're going to be eating metal. Because we're going to be crushed up against the back of the bleachers."
There is a narrow walkway between us and the three rows of bleacher seats in front of us. We must stand behind a yellow line that marks the walkway at all times. A white-haired usher named George patrols the walkway making sure we don't cross the line. Oddly, as far as I can tell, -- and granted, my vision is limited -- George is the extent of security in the immediate area. So if a ball worth of hundreds of thousands of dollars suddenly flies into our reach, the main guy responsible for controlling us looks like Sparky Anderson.
Barry steps to the plate in the first inning. The fans in the bleachers ahead of us stand up, obscuring our vision. We step forward to get a better view. George barks at us to get back. Piper curses at the fans to sit down. George threatens to kick him out. We wait for the next pitch.
Bonds fouls out weakly to Nationals third baseman Ryan Zimmerman. We go back to waiting.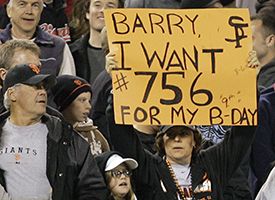 AP Photo/Eric Risberg
And you're surprised many fans left once Bonds was removed from the game?
One of the challenges of the standing-room area is that when it gets too full, stadium security cuts off access. If you leave, you can return only when and if someone else leaves. This presents a problem after a few innings, especially if you've been drinking beer. As Piper has. He asks me to hold his place for him while he goes to the restroom. By the time he is able to return, two innings have passed.
As has Bonds -- he walks on five pitches in the third inning.
Delfino is a true Giants fan, condemned to this fate by the grandmother who raised him (she still tapes the team's games to watch at night after she returns from bingo). He lives in Cloverdale, about two hours north of San Francisco, yet he makes the drive into the city to watch almost every game. Then he drives home. The night Bonds broke Mark McGwire's single-season record, he didn't get home until after 3:30 in the morning.
How big a Giants fan is he? "The only time my kids are allowed to say the word 'hate' in our house is when it's for the Dodgers."
George the usher confiscated a long fishing net from Piper before the game, saying that no nets are allowed in the area. When Barry comes to the plate again in the fifth inning, George is gone and a man pulls out a net he has hidden inside a cardboard sign. He smiles when I nod in appreciation.
The net does him no good. Bonds grounds into a double play.
Counting batting practice, we've been standing in place for almost four hours by now. Our legs are getting stiff. My heels are especially sore. And I'm getting hungry. A drunk woman behind me is arguing vehemently that Opus from Bloom County is a platypus, not a penguin. "No, he's a penguin," we tell her. "Platypuses don't have tuxedos." I smell someone smoking weed. I'm getting really hungry. A guy in a Dodgers cap walks by us. "You sick freak!" Jimmy yells at him. "You sick freak!"
With two outs in the seventh, Barry steps in for his fourth plate appearance. A somewhat menacing individual suddenly steps in front of me, completely violating the no-man's-land across the yellow line. He bobs back and forth, like a guy looking for an opening in a knife fight. He glares back at us every once in a while, daring us to stop him. Charlie and I exchange looks and say to each other, "What the hell is with this guy?"
George comes back and tells the guy to move back behind the yellow line. He takes a step back, pushing me behind him. I holler "Hey" and shove him to the side. George yells at him and orders him to the rear of the mob.
Washington rookie John Lannan runs the count full against Barry. We lean forward in anticipation. Here comes the pitch. Cameras flash with a thousand points of light. This could be it. Bonds takes a mighty swing.
And he misses. Strike three. The inning is over.
As it turns out, so is the night for Bonds. Rajai Davis takes over in left field for the next inning and we realize Barry has left the game. He didn't get a ball out of the infield.
Half of us begin to leave. With Bonds out, it's time to resume our lives until the next game, time to focus on other pressing concerns, time to get a lousy $6.75 pizza.
"I'm telling you," the woman yells, "Opus is a platypus."
Jim Caple is a senior writer for ESPN.com. He can be reached here. His Web site is at jimcaple.net, with more installments of "24 College Avenue." His new book with Steve Buckley, "The Best Boston Sports Arguments: The 100 Most Controversial, Debatable Questions for Die-Hard Boston Fans," is on sale now.
756: BONDS PASSES AARON

Barry Bonds passed Hank Aaron to become Major League Baseball's new all-time home run leader when he belted No. 756 off Washington's Mike Bacsik.

NEWS
• Steroid talk kept Aaron away
• Bonds' No. 756 ball fetches over $750K in auction
• Mark Kreidler: No. 756 ball: Going, going... sold?
• Bids begin for Bonds' No. 755 and 756 HR balls
• Bonds handed key to city in San Francisco tribute
• Fan putting 756 ball up for auction
• Bonds hits No. 756
• Photo gallery of No. 756
• Diamond Daily: Ascending the throne
• New York man catches ball
• Bush called to congratulate Bonds
• Sadaharu Oh congratulates Bonds
• Selig meets with Mitchell instead
• Attorney keeping Bonds apprised of BALCO
• Action figures ready to hit shelves
• Aaron might "eventually" speak to Bonds
• Bonds gear goes on display at Hall
• Record-tying ball set for auction block


ANALYSIS
• Rob Neyer: Who's chasing Bonds?


• Keith Law: Up-and-coming sluggers


• Buster Olney: No comparing Bonds


• Rob Neyer: Don't forget Aaron's greatness


• Jim Caple's Off Base: Simply regret-a-ball
• Eric Karabell: Bonds' fantasy value


• Jim Caple: Aaron passes torch to Bonds
• Gene Wojciechowski: Barry has broken record
• Experts: Bonds as the new HR king
• Amy Nelson: How much will the record ball fetch?
• What they're saying about Bonds
• Tim Kurkjian: What if ...
• Jim Caple: Joining the masses in hopes of 756
• Eric Neel: Long-awaited No. 755 is one to savor
• Debate: Who's the greatest slugger of all time
• Imagine Sports: How would Aaron fare today?

SPORTSNATION
• Rank: Who could break Bonds' record?
• Poll: Do you consider Bonds the real HR champ?
• Rank: Is it the most respected sports record?
• Rank: Who are the greatest all-time HR hitters

VIDEO


• Watch Bonds hit No. 756
• Bonds on finally hitting No. 756
• Bonds still has more baseball in him
• Mike Bacsik on giving up No. 756
• Kirk Rueter on Bonds' achievement
• Hall of Fame case for Bonds
• Baseball Tonight breaks down No. 756
• Dusty Baker talks about Bonds
• Bonds speaks after breaking record
• Bonds: "The hardest part is over"
• Baseball Tonight: Is an asterisk needed?

AUDIO


• Baseball Today: Giants GM Brian Sabean
• Pedro Gomez: Bonds' record chase
• Mike Bascik Jr./Sr: Father, son on No. 756

• Buster Olney: Bonds is greatest of his time

• Bob Costas: Record handled with class

• Peter Gammons: Selig's eerie message

• Fay Vincent: Bonds' record was exciting

• Ernie Harwell: Accept Bonds as the new king


SPECIAL FEATURES
• Beyond 756 page: Everything on Bonds
• Milestone Meter: From 756 to 300 to 3,000
• ESPN.com: The Best On Bonds
• Slideshow: Reliving Hank Aaron's No. 715

PRE-755 CONTENT
• Jerry Crasnick: Ready to make the call
• Jayson Stark: Kuiper's the anti-Bonds
• Jim Caple: Bonds feeling no pressure
• Tim Kurkjian: Victims of landmark home runs
• Bonds' Town Hall: Did Bonds use steroids?


• Bonds' Town Hall: Did anyone know?


• Bonds' Town Hall: Media witch hunt


• Brokaw: The Long Winter of Henry Aaron

• Beyond 756: Chat with Amy Nelson
ESPN Top Headlines