By Jim Caple
Page 2
NEW TOWN, N.D. -- People here still talk proudly about the Elbowoods High School basketball team that won the North Dakota state championship in 1942, a decade before the Garrison Dam flooded their farmlands along the Missouri River and forever scattered the Three Tribes community.
"Elbowoods was the headquarters of the Bureau of Indian Affairs, and it was the hub of the reservation," Charlie Moran tells me during my stop here on my sports road trip of the Lewis and Clark Trail. Elbowoods lost the championship game by a point to a team with an ineligible player. Rather than award Elbowoods the championship, "They didn't give the title to anyone," Moran says. "They just left it open.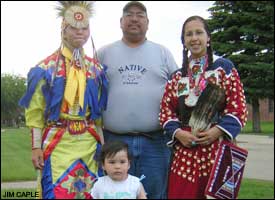 Charlie Moran (center) stands with Tony Moran (left) who is dressed for a traditional grass dance, while Caspie Baker (right) is dressed for awomen's crow dance.
"There was an old man named Sydney Fox who petitioned every year to get the trophy back. And finally, Mark Fox got it back in 2002. It was a big deal. A lot of descendents came for the ceremony. They talked and they visited and they sang and they danced. They even let them take part in the annual parade of champions at the state tournament."
Sixty years to get a basketball trophy. But at least they got it.
You need persistence around here.
---
Whenever the Lewis and Clark expedition met new Native Americans tribes, they delivered a well-rehearsed presentation to the chiefs.
They would hand out gifts that ranged from tobacco and beads to clothing and a "peace" medallion. Then Meriwether Lewis would tell the tribes they had a new white father who lives in the east. As Dayton Duncan relates in "Out West," Lewis would tell them that from then on, the tribes were to trade with the U.S. people exclusively; and if they did not, the 17 great nations of America would "consume you as the fire consumes the grass of the plains."
CAPLE'S LEWIS & CLARK TALLY
Miles: 775 from Omaha to New Town (1,515 total, including side trips).

Total states: 7.

Weather: Cool and rainy.

Diet sodas: 5 units.

"Undaunted Courage" audiotape: Lewis and Clark struggle through the Bitteroot mountains.

Lewis and Clark Trail Markers passed: 89 (131 total)

Price of gas: $1.89.

Traffic citations: None.

Sitting Bull burial sites: 2.
Lewis would then go on to assure them that if the Native Americans did as they were told, their new white father would be "The only friend to whom you can look now for protection ... He will take care that you shall have no just cause to regret this change; he will serve you and not deceive you."
Had the ensuing years not been filled with almost unspeakable tragedy, this would have been a parley worthy of Monty Python:
Good afternoon. Glad you all could make it. I'll begin by saying that we come in peace. Next, I'd like to compliment you on what you've done with the place. This is some very good land here. Which reminds me. A short man in France just sold all this land to us. So, while you've lived here for thousands of years, this land now belongs to us. No need to worry, nothing will change. At least not right away. But soon you're going to have to move your families to some much poorer land a long way away where you'll have to change your entire culture. And if you don't, we'll hunt you down and kill you -- men, women and children alike.
Well, that about wraps it up. Thanks for meeting today. Oh, and take this nice medallion and some of these blue beads.
The Mandan and Hidatsa tribes near present-day Bismarck were well-advanced farming and trading societies when the Lewis and Clark expedition wintered there in 1804-05. With a population of 4,500, the Mandan village was larger than Washington, D.C. The tribes' friendship and generosity toward the expedition are legendary. The two centuries since they befriended the expedition, however, have not been kind for the three affiliated tribes -- the Mandans, the Hidatsa, plus the Arikara.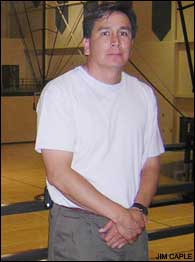 Jarret Baker knows that sports could be the only ticket out for his kids.
Consider New Town, the Fort Berthold agency reservation town of 1,400 above Lake Sakakawea and the Missouri River in northeastern North Dakota. New Town is so remote that the nearest movie theater is about 70 miles away in Minot. There are several bars and a liquor store on the town's short drag and not a lot more. The local casino is one of the largest employers.
"I can confidently say drugs and alcoholism affect 100 percent of the families on the reservation," Jarret Baker says. "I'm not saying they're all alcoholics, but they'll have a relative who is affected by it."
A former cross-country star, Baker is the director of the local Boys and Girls Club and I get the sense from our afternoon together that he's an almost George Bailey figure in the community. Overseeing an enormous operation that touches almost every kid in the community, his cell phone rings constantly with calls from teenagers as he drives me around town ("Do I have to stay for the entire CPR class?" "If you want to get paid, you have to.") He is so devoted to the Boys and Girls Club that he literally takes his work home -- kids from troubled families occasionally move in with his own.
In a town where it's an hour's drive just to see "Spider-Man 2," the Boys and Girls Club is a godsend. It reaches as many 1,300 kids throughout the area, with programs ranging from sports to Native culture.
We drive past the local diamond and he points out Jared Eagle, who is running baseball practice for 10 to 12-year-olds.
"Jared's a great, great kid," he says. "He was class valedictorian and region athlete of the year in high school. He's a senior at North Dakota now, and he works for us in the summer. He's doing baseball today, but usually he's the junior golf instructor.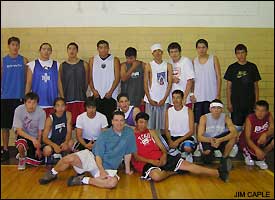 Some, not all of these boys, will be on the team that heads to Arizona.
"I want you to meet Loni Hall, too. She'll be at the scrimmage. She was state golf champ in high school. She's studying at Valley City State University."
Eagle and Hall are two of the positive stories -- smart, highly-motivated students determined to get college degrees and eager to give back to the community.
Eagle says he wants to go on to medical school so he can help with the diabetes problems that are rampant in the area. Hall is studying math, and says she wouldn't mind coming back to teach in the area.
But many are not so motivated.
"That's the big thing," Eagle says. "I think out of my class of 36, only five or six of us went on to college." (Hall, who went to high school down the road in Parshall, says about half her class went on to college, which isn't that different from many other places.)
"It's sad. Academically, we're really struggling," Baker says over lunch. "We need to address it as a community, and the Boys and Girls Club is a great facility for that. Some people say, 'Jarret, you're trying to do too much.' But if we don't do it, who will?
"It's a struggle. I'll be honest."
---
The Boy and Girls Club has been operating out of two trailers across the street from a liquor store, but will move into a grand $6.5 million facility this August. While Baker insisted on classrooms and physical therapy services for the elderly, the building's centerpiece is the 3,000-seat gym and basketball court.
"The primary focus was basketball, which is fine," Baker says. "But it's going to take more than that to change things here."
That basketball was the focus is only natural, given how important the sport -- or Rez Ball, as it is called on reservations -- is to the community. What baseball is to the Cuba, hoops is to the Native American community.
"Basketball is like the total community around here," Moran says. "It's the all-time Native American sport. I don't know why. Maybe it's because the weather is so cold in the winter and the gyms are always open."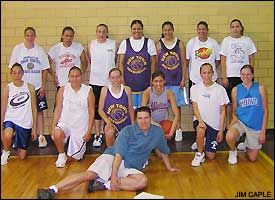 Guys aren't the only ones that are obsessed with hoops.
How big is basketball here? Think about the size of that 3,000-seat gym for a minute. That's two seats for every resident of New Town.
"I live in Beulah (a mostly white community an hour away); and if I want to get a game going there, it's like a job," says Wyatt Bruce, a 17-year-old who will be a high school senior this fall. "I have to call up people and get them to play. If I come here, they're always all playing it."
A strapping kid with an easy smile, an engaging personality and his generation's requisite earrings, Bruce also may be a descendent of Meriwether Lewis. According to family history, Lewis fathered Joseph Lewis DeSmet with a Native American named Ikpsapewin when the expedition traveled through what is present-day Pierre, S.D.
"There is nothing on paper that says yes, Lewis was the father, but I believe it to be true," says Bruce's grandmother, Ella James. "A lot of Lewis and Clark scholars say it's not true but we believe it. The one piece of evidence is a photo of baptismal certificate of the adult Joseph DeSmet in 1874, that lists his parents as Meriwether Lewis and Ikpsapewin."
Whatever the truth, Bruce will play in the post for the Boys and Girls Club when it sends boys and girls teams (the town expects the girls team to perform very well) to next month's Native American Basketball Invitational in Phoenix. The tournament's aim is to gain exposure for talented prep Native American players in an effort to increase college scholarship and pro offers. Rez Ball is a famously fast-paced, run-and-gun, creative game; but discouragingly few Native Americans have gone on to to play college ball. And of those, too many leave school without completing a degree. Four players received scholarships through the tournament last year -- the goal is to increase that number and keep them in school.
"It's going to be great," Bruce says during a scrimmage break. "Just to see who the hot Native American teams are, to find out who's the best Rez team."
In addition to possibly gaining collegiate opportunities, the Three Tribes teams will also unite players from the scattered tribes -- as they were in years gone by, before the Garrison Dam was built.
The Three Tribes were mainly self-sufficient farmers until their land was flooded by Lake Sakakawea in 1952, when the government built the dam above Fort Mandan. Not only were the tribes' farming days ended by their move to poorer land above the river -- unemployment rose to as high as 70 percent -- they also were scattered to towns that now are separated by drives of up to two hours around the resulting lake. Twin Buttes. White Shields. Mandaree. And New Town.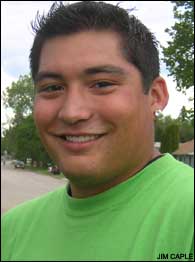 Forget the suburbs. Wyatt wants a game when he comes to New Town.
"They called it New Town because they couldn't think of anything else," Moran says. "When they moved everybody on top, it just changed their whole way of life."
"There are a lot of old people who wish we were still one school," Jackie Hall Bears Tail says while watching the Three Tribes teams scrimmage. "It would give the kids who are separated in the little communities a single community, and raise the competition level. They would have to fight for their spot, instead of just being handed it because there are so few players sometimes."
Bruce says that he hears such talk from his grandparents, but that it really doesn't matter much to him. Which is only natural. He is young and looking toward the future, not the past.
"I want to go to North Dakota State University and be a physical therapist," he says. "I've hurt my ankle so much that I know half the stuff already. Hopefully, I can walk on and play basketball or football."
After saying our goodbyes, I proceed on, heading west toward Montana and the setting sun. We pass by the local American Legion game and before long we're driving through the town of Williston, N.D., where Phil Jackson played high school ball (the gym is named for him). Jackson left the Lakers last week after his team of ego-centered, dysfunctional, underachieving and multi-millionaire players failed to win the NBA championship.
The next coach can have the Lakers. I'm rooting far more for Baker, Bruce, Hall, Eagle and everyone else trying to make a difference in and around New Town. They're working toward a much more important goal. They're the future or a Native American community where progress crawls along so slowly it took 60 years just to receive a basketball trophy.
Jim Caple is a senior writer for ESPN.com