By Jim Caple
Page 2
SIOUX CITY, Iowa, and GREAT FALLS, Montana -- Legion Field is home to the Great Falls White Sox, but tonight they're sharing equal billing on the marquee with a guy in a bear costume holding a shovel. It's "Smokey the Bear Night."
Welcome to the Pioneer League, where baseball dreams take flight like a hanging curveball thrown to Barry Bonds. Great Falls is a rookie-league team, and many of the players are so new to pro baseball that they wouldn't even think of charging you to sign their baseball card.
CAPLE'S LEWIS & CLARK TALLY
Miles: 585 from New Town to Great Falls (2,100 total, including side trips).

Total states: 8.

Weather: Warm and stormy.

Diet sodas: 4 units.

"Undaunted Courage" audiotape: Lewis and Clark reach the Pacific -- "O, the Joy!'' -- and endure a wet, miserable winter at Fort Clatsop.

Lewis and Clark Trail Markers passed: 26 (157 total)

Casinos: 19 total.

Price of gas: $1.97.

Typical speed though Montana: 80 mph.

Traffic citations: None.
"It's pretty neat to have a fan come up and stick a ball in your face and ask for your autograph,'' a player says.
The season is only five games old -- so young that some of the players haven't even been paid yet. A month ago, many hadn't even been drafted. Some just signed their first contract.
"It was pretty sweet,'' says pitcher Matt Zaleski, who grew up a Sox fan in the Chicago area. "It said 'Chicago White Sox' across the top of the page. It made you feel wanted.''
These players are among more than 1,000 amateurs drafted earlier this month. Who knows where their careers will lead?
"We start off every year with 30 players who all have the same dreams and goals,'' Great Falls general manager Jim Keough says. "If we have one or two who make the majors four or five years down the road, that's pretty successful. There have been a couple years when we don't have anyone reach the majors.''
Keough knows both stories well -- his brief baseball career never rose above Class A. And then there is Pedro Martinez, who not only pitched for Great Falls but roomed with Raul Mondesi. They are perhaps the most talented pairing here since Lewis and Clark paddled their way up the Missouri River two centuries ago.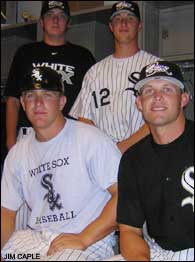 Poverty wages, low per diems -- who cares? These guys just want to play ball.
Legion Field is situated on a bluff above Black Eagle dam, and what remains of the waterfall of the same name. Given enough wind and enough andro, a promising slugger possibly could send a home run bouncing across the outfield parking lot and down the steep riverbanks into the Black Eagle, one of the five massive waterfalls that the Lewis and Clark Expedition fought for weeks to get past in June of 1805. They had to abandon their largest boat and portage their canoes and supplies across 16 grueling miles amid grizzly bear attacks, hailstones the size of golf balls and, as always the "troublesome mosquitoes.''
As Clark described in his journal entry of June 23, the limping, sore-footed men had to "haul with all their strength, weight and heart, many times every man catching the grass and the knobs and the stones with their hands to give them more force in drawing on the canoes and loads.'' The portage was so draining that every time they halted, the men fell asleep instantly.
It was sort of like the Great Falls White Sox's 13-hour bus rides to Provo, Utah.
Life can be difficult in rookie ball. The players I speak with are from cities such as Chicago, Tampa and San Diego. They're experiencing a bit of culture shock in Great Falls, where one of the main tourist attractions is the Sip n' Dip Lounge, a saloon with mermaids swimming behind the bar. Meal money is $20 per day. Salaries are almost low enough to qualify as poverty-level wages. Many players room with host families or crowd into cheap apartments with teammates.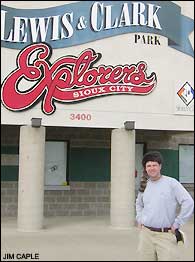 There's no escape from the influence of Lewis and Clark.
"Smokey the Bear Night" is typical. The team played in Billings the night before, bused four hours back to Great Falls and arrived in town at 3:30 in the morning. After catching some sleep, they were back at the ballpark in the early afternoon for batting practice.
While the day had been a sunny 82 degrees, the temperature cools quickly at game time. Thunderheads build and winds grow so fierce that I expect to see Dorothy and Toto flying by. In the eighth inning, a batter hits a screaming line drive to left field for a sure single, except the wind catches it just beyond the pitchers' mound and knocks it down as if it hit a wall. I've never seen anything like it. The sure liner turns into a 6-3 groundout. The game becomes a blowout in the storm, and the Sox lose. Smokey doesn't last the game.
Baseball isn't easy.
Talking to the White Sox rookies, I am reminded of a conversation with Desi Wilson at Lewis and Clark Park, a lovely modern ballpark about 1,200 miles and a world away down the Missouri. Located just below the Sgt. Floyd Monument to the only man who died on the Lewis and Clark Expedition, the park is home to the Sioux City Explorers of the Northern League.
Begun in 1993 by Mike Veeck and company, the Northern League resurrected the concept of the independent minor league, providing second chances and $15 per diems to ballplayers who'd been discarded or ignored by major league organizations. There are now several independent leagues across the country; and thanks to them, players such as Ben Weber and Brandon Donnelly are not only still in baseball, they're wearing World Series rings.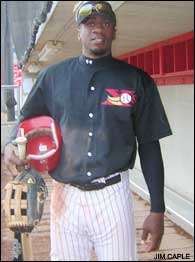 At 35, Desi Wilson is grateful to stil be playing the game -- and for the free buffalo wings.
Wilson set scoring records in basketball at Farleigh Dickinson and had a chance to play hoops professionally; but instead, he chose baseball when the Rangers drafted him in the 30th round in 1991. Even though he's playing in Sioux City at age 35, he says he's never regretted his decision. His career has taken him too many places.
He's played in the United States, Canada, Puerto Rico, Mexico, Venezuela, the Dominican Republic, Colombia and Japan. He's played in two independent leagues and in both Sioux Falls and Sioux City. He has nearly 5,000 professional at-bats, all but 118 in the minors. And for two glorious months in 1996, he was a San Francisco Giant.
"That was the best,'' he says. "Barry Bonds was my teammate. Bobby Bonds was the hitting coach. Dusty Baker was my manager. Not many guys can say that.''
Rarely has any player looked back so fondly on sharing a locker room with Barry Bonds.
LEWIS & CLARK HARDCORE
How hardy was Lewis and Clark's Corps of Discovery? Not only did just one man die along the route, he had to be buried four times.

Sgt. Charles Floyd died of what is suspected to be appendicitis on Aug. 20, 1804, when the expedition was in present-day Iowa. (Given the state of medicine at the time, he would have died even had he not been on the expedition.) The Corps buried him on a bluff that still bears his name, only to discover on their return that his grave had been partially uncovered. They refilled it.

According to Dayton Duncan in "Out West,'' Floyd's grave was uncovered again by a flood in 1857, forcing him to be reburied. He was dug up again in 1895, and his remains were placed in urns and buried again. They were dug up again five years later to be placed under the current memorial that stands above Sioux City.

Looking at the monument, I am reminded of how extraordinary the expedition was. To travel 8,000 miles across unmapped mountains and river rapids, to endure 40-below winters and the deep snows of the Rockies, to endure near starvation, malaria and dysentery ... and to have only one man die?

Either it was a miracle or the Corps was made up of an entire team of Cal Ripkens.
Wilson says the Diamondbacks offered him a coaching position recently, but he turned it down so he could continue playing. "I'm going to go out on my own terms,'' he says. "I'm not going out until someone says, 'No Mas'." Besides, "You never know in baseball.''
He is the last player to leave the dugout after the game. He chats politely with the batboy and his father for a few minutes, then walks up the runway and into the cramped clubhouse where the post-game spread awaits: buffalo wings, hot dogs, burgers and brats left over from the concession stands, and water.
"It's no problem,'' Wilson says. "There are a lot of people who don't have anything to eat in the Dominican Republic and Colombia. I appreciate what I have.''
Who knows where a baseball career will lead?
Like Keough, the players in Great Falls might never play at a higher level. Like Wilson, they might reach the majors briefly, then spend the rest of their careers in the minors, always looking for that second chance at stardom. Or, like Pedro Martinez and Raul Mondesi, they might become All-Stars earning millions upon millions, riding baseball farther than even the Great Falls winds can carry them.
It is June 20 when I pass through Sioux City. It is three days later when I pass through Great Falls. The solstice has passed -- the days now are getting shorter.
"It seems like the summer goes by too quick,'' Keough says.
TOMORROW: Unchanged since Lewis and Clark.
Jim Caple is a senior writer for ESPN.com