Commentary
The NBA All-Star Weekend party scene
Originally Published:
February 17, 2011
By
Kelley Carter
| Special to Page 2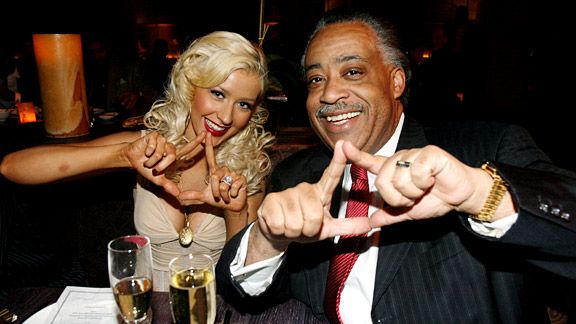 Getty ImagesWhere else but All-Star Weekend can you see Christina Aguilera and Al Sharpton partying together?
We all know Hollywood knows how to put on a show.
NBA All-Star Weekend happens in Tinseltown this year, and the stars will be out and about in celebration of the hoopmania. Of course, because it's Hollywood, expect reality TV cameras -- ahem, Lamar Odom and Khloe Kardashian -- to be circling around capturing some of the best candid moments of some of the biggest names in sports at some of the most exclusive events happening this weekend.
Here's a breakdown at what events some of your favorite celebrities and athletes might be tweeting about this weekend:
THURSDAY
The Baron Davis CT 200h Challenge
Location: Downtown Los Angeles
The Clippers guard and some of his celebrity friends will be racing Lexuses around downtown Los Angeles in the name of charity. Davis is raising money for his foundation, Rising Stars of America (RSOA). Participating celebs include Terrell Owens, Craig Smith, Dule Hill, Jessica Alba, Keyon Dooling, Michael Strahan, Anthony Anderson and Jesse Metcalfe. The winner will receive either a year's lease of a Lexus CT 200h or the opportunity to donate the lease of the vehicle to a charity of his or her choice.
NBA All-Star Block Party Kickoff
Location: Sportie L.A.
Former Laker Rick Fox will host a kickoff event and has invited friends to play in a celebrity hoops competition, get treated to on-site grooming like shaves and haircuts, to eat and to celebrate the forthcoming weekend.
Zo & Magic's 8-Ball Challenge
Location: JW Marriott at L.A. Live
NBA legends Alonzo Mourning and Magic Johnson host a pool tournament. On tap to participate and appear are Tichina Arnold, Anthony Anderson, Baron Davis, Chris Paul, singer Ciara, Dwight Howard, Dwyane Wade, DJ Biz Markie and Shannon Brown.
FRIDAY
Shaquille O'Neal presents "Shaq's All-Star Weekend" Celebrity Retreat
Location: Nokia Theatre
This event will be filmed, and starts out with a comedy show by Kevin Hart. Backstage is where the VIPs will be, hanging out at a retreat hosted by LL Cool J. Following the show, Lamar Odom and Khloe Kardashian will host a private afterparty. Dr. Dre, James Hardy, Theo Ratliff, Carmelo Anthony and actor Boris Kodjoe are expected to be in attendance.
All-Star Fashion With A Heart
Location: Millennium Biltmore Hotel
A fashion event to kick off NBA All-Star Weekend will benefit The HerShe Group, Altadena/Pasadena chapter of The Boule and 100 Black Men of Los Angeles. The celebrity fashion show will feature collections by Her Game 2, an officially licensed NBA line of athletic and leisure apparel for women designed by former NBA wife Deborah Williams, and Willis & Walker, a custom line for big and tall men by former NBA player Kevin Willis.
The Official Rick Ross and Nicki Minaj Players Ball After Hours
Location: Union Station
Let's call this the after-afterparty, considering that it doesn't kick off until midnight and goes until 7 in the morning. Will there be a Lil' Wayne appearance?
All-Star Idol Karaoke Superstars
Location: The Parlor Hollywood
Does every athlete secretly desire to be a pop star? Perhaps we'll find out at this event where guys including Damon Jones, Dante Hughes, Darrelle Revis, Dashon Goldson and Dominique Wilkins are expected to step to the mike in the name of charity.
Official Purp & Yellow All Star Party
Location: J Lounge
Matt Barnes hosts an event in celebration of all things Lakers. Celebrities expected to attend include Ray-J, the cast of "Jersey Shore," Ne-Yo and Trey Songz.
ESPN The Magazine's After Dark NBA ALL-STAR Party
Location: MyHouse
Come on -- if you're in town for the event, you're trying to get on the list to party here. Expect top athletes and hot celebrities to be hanging in celebration of the big hoops weekend.
SATURDAY
Ball Up Streetball & Entertainment League Charity Basketball Game
Location: Venice Beach
Top streetball players will go head-to-head with the celebrity entertainment league all-stars. Participating celebrities include Chris Brown, Common, Cedric The Entertainer, Joel David Moore, Clark Gregg, Dean Cain and Josh Morrow.
NBA Players' Association Gala
Location: JW Marriott
The party starts right after the skills challenge/dunk contest is over; expect top NBA players to be in attendance. One cool thing happening at this event is that Captain Morgan (the mascot, whom we assume will have plenty of the free-flowing liquid stuff) will be on the red carpet posing with players. For every photo uploaded, money goes to the First Mate Fund.
Celebrity Sweat VIP Party
Location: Playboy Mansion
Rapper Nelly hosts a party at the ultimate party pad in Los Angeles. He's hawking Celebrity Sweat, a new fitness series he helped to launch last fall. Word is, NBA and NFL players are infatuated with it. Word also is that NBA and NFL players are infatuated with partying at the mansion.
adidas and Foot Action Party
Location: The Standard downtown
A private brand party in one of the most exclusive hotels in downtown Los Angeles -- expect top athletes and celebrities to be in attendance here.
Kelley L. Carter is a Los Angeles-based entertainment freelancer.