Commentary
Page 2 crashes NBA All-Star parties
Updated:
February 20, 2011, 2:30 PM ET
By
Kelley L. Carter, Chris Palmer
and
D'Arcy Maine profile
| Special to Page 2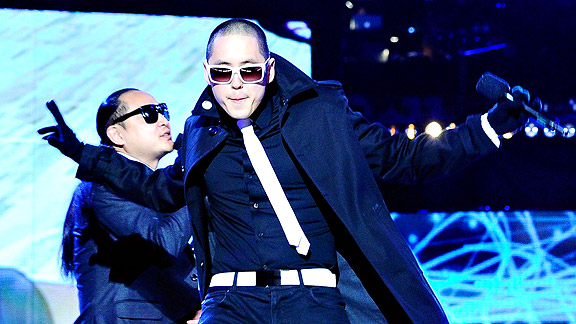 Kevork Djansezian/Getty ImagesFar East Movement performs Saturday night for All-Star Weekend at the Staples Center.
What the hail?
Your Page 2 Party Peeps once again braved inclement Southern California rain -- and hail, depending on what part of town you were in. In some cases, NBA All-Star party planners had to regroup at the last minute and move rooftop soirees indoors, or set up heated tents near the infamous Playboy Mansion grotto.
Here's our breakdown on some of Saturday night's throwdowns, bad weather notwithstanding:
Kobe Bryant Grauman Chinese Theatre Ceremony
Why this name? Bryant was honored at Grauman's Chinese Theatre. The Lakers guard became the first athlete to have his hands dipped in cement at the legendary Hollywood landmark.
When and where: Saturday afternoon, Grauman's Chinese Theatre in Hollywood.
Performers: The ceremony was MC'd by a very funny Jimmy Kimmel, who looked as if he was operating on two hours of sleep and apparently forgot to comb his hair.
[+] Enlarge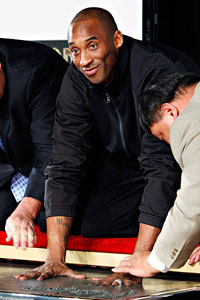 Paul Archuleta/Getty ImagesKobe Bryant attends his hand and footprint ceremony at Grauman's Chinese Theatre.
Celebrities we saw: George Lopez spoke about Kobe's impact on Los Angeles and pointed out fellow comedian Arsenio Hall in the audience of 300 or so fans. Lakers were well represented with head coach Phil Jackson (and girlfriend Jeanie Buss) along with GM Mitch Kupchak.
Overheard: Referencing the fact that Bryant was named after a steak, Lopez gave him a new nickname: Carne Asada Bryant. Lopez turned and looked at the fresh cement and quipped, "Cement is like a recliner to Mexicans. If there's any left over I'm taking it home." The most endearing moment of the ceremony came when Buss gave a six-minute heartfelt speech about the first time she met Kobe. Shortly after he was drafted they had lunch at a restaurant at the Forum and Kobe ordered his meal in Spanish. "Right then I saw a smart bright kid who I knew was special," Buss said. "I was smitten right from the start. He had me at hola."
Food and drink: Free popcorn and Vitamin Water was handed out to attendees.
Swag: Tons of Kobe jerseys from throwbacks to All-Star replicas.
All-Star Rating: Slam Dunk -- a historic Hollywood event with touching speeches about what Kobe means to Los Angeles.
---
Celebrity Sweat VIP Premier Party
Why that title? A relatively new DVD series that has a spokesperson in rapper Nelly, and boasts a diverse client base from top NBA and NFL players to hip-hop and R&B singers who use it to work out.
When and where: Saturday evening at the Playboy Mansion in Holmby Hills.
Performers: A hip-hop group that we couldn't quite identify (though to be fair, they did rock the crowd), and a ridiculously awesome DJ who only played hot Top 40 hits and back-in-the-day hip-hop classics.
Celebrities we saw: Here's the thing: Nelly was actually hosting this event, but we didn't see him. But … it actually didn't matter. C'mon -- we were hanging out at the Playboy Mansion! Near the Grotto. Could care less about famous faces. But since it's important to note, we did see actor Craig Robinson from "The Office" and Darryl Dawkins -- though we overheard folks only refer to him lovingly by his nickname, Chocolate Thunder, who was pulled in many different directions taking photos with ogling fans.
Overheard: "I can die happy now," one guy said to his buddy after taking photos with a pair of Playboy bunnies.
Food and drink: Naturally, you expect the grub to be classy at the Playboy Mansion, and thankfully, we weren't let down. Passed around treats included mini cheeseburgers, vegetable spring rolls and mini chicken tostadas. But super classy food stations were set up all over the tented party venue, and they offered up items like fresh cut sushi (rolls and sashimi) by several sushi chefs stationed there, assorted cut cheeses, hot food and dessert included chocolate dipped strawberries and mini red velvet cakes. For drinks, Brian the bartender told us a house specialty was the Sex On The Grotto (a rip-off of Sex On The Beach), which has pineapple juice instead of orange juice and is topped with a splash of 7-Up.
Swag: Celebrities and VIPs walked away with gift bags filled with Antonio Aguilar tequila, wine from Pal Dolan vineyards, workout DVDs, watches, T-shirts and more. But what you really want to know is how naked partygoers were. We understand. The short of it: It was a little less than Rated R and a little more than PG-13. Women -- presumably Playboy bunnies -- walked around in barely there lingerie that left very little to the imagination. Even women were clamoring to take photos with the hot-bodied ladies.
All-Star Rating: Triple overtime! Up until this point all weekend long, we hadn't seen an event that had people begging for more. It was tough for people to leave the Playboy Mansion -- some of it had to do with the sheer folklore of the party scene, yes, but really the music was awesome, the food was incredible and the crowd was just right. Exactly the perfect way to end three days of late-night partying and celebrating all things basketball.
---
The NBA Players Association Gala
Why that title? Another self-explanatory title. The NBA Players Association hosted a fancy bash that could only best be described as a "gala."
When and where: Saturday night, JW Marriott Hotel, across the street from the Staples Center.
Performers: This was a showcase of hip-hop royalty, past and present, with performances by Nicki Minaj, Rick Ross and Ice Cube.
Celebrities we saw: Carmelo Anthony, LaLa Vasquez, Kevin Love, Nicki Minaj, Rick Ross, Ice Cube, Captain Morgan.
[+] Enlarge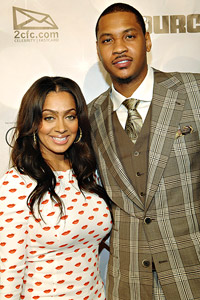 Duffy-Marie Arnoult/Getty ImagesLaLa Vasquez and Carmelo Anthony attend the 2011 NBPA All-Star Gala on Saturday night.
Overheard: "Sir, we're going to need you to remove your swashbuckle," said a confused-sounding security guard to Captain Morgan as he attempted to go through the metal detector in his full, standard-issue uniform. The Captain cheerfully obliged. And then struck his signature pose after he cleared security. The Captain was on the red carpet earlier, getting NBA stars to do the Captain's pose for charity, as part of the brand's One Million Poses challenge.
Food and drink: Buffet-style spreads of every kind of food you could possibly imagine. We were most impressed with the Thai station and the comfort food options like pigs in a blanket and our personal favorite, chicken and waffles. The bar was on the pricey side with glasses of wine going for $12 a pop. Those looking for something a little classier could order bottles of Cristal … for a cool $400 per bottle.
Swag: Isn't seeing hip-hop's reigning Queen Bee enough? Aside from the music, an art collection entitled the "Art of Basketball" was on display outside of the main ballroom featuring graffiti art on NBA backboards.
All-Star Rating: Blake Griffin-over-a-car slam dunk. Leave it to the NBA Players Association to throw the perfect party for NBA players. Tasty food, high-profile guests, incredible performances and a massive venue translates into a soiree worthy of the Association's finest. With all due respect to Newark, we wouldn't be surprised if Melo decided he would rather be traded to the Lakers after attending this event.
---
Adidas and Foot Action Party
Why that title? Because the event was put on by adidas and the gym shoe retailer.
When and where: The Standard hotel in dowtown Los Angeles
Performers: A couple of hours into the party, group-of-the-moment Far East Movement hit the small stage and played possibly one of the most energetic sets in All-Star history, culminating with their hit "Like A G6." They were followed by Chris Brown, who essentially gave a 30-minute dancing exhibition as the DJ played random songs. DJ Khaled was next up and worked the crowd into a lather with his hit "All I do is Win." Shortly after 2:30 a.m. Snoop Dogg and his entourage of a dozen rappers and buddies took the stage and opened with a medley of hip-hop songs through the ages: Warren G's Regulate; 50 Cent's In Da Club and Run DMC's seminal sneaker ode "My Adidas." Pretty cool to hear Snoop rap the words "My adidas only bring good news."
Celebrities we saw: Several athletes made cameos, including Clippers point guard Eric Gordon, T-Wolves rookie forward Wesley Johnson and Knicks guard Toney Douglas. Cee Lo Green and Busta Rhymes rounded out the bold face types.
Overheard: One of the dominant themes of All-Star Weekend was the weather. It was bad. The rain forced many events and parties to call an audible. The party was originally planned as a rooftop affair but the threat of rain put the kibosh on an open-air soiree. Event planners shifted the party to a first-floor lounge just off the lobby, which provided a tight but intimate setting. Early on staff was extremely stingy with the door, which led to a lot of open space inside making it relatively easy to move around and explore the small venue. Partygoers were able to mingle with some of the performers who obliged with pictures and autographs. The Standard typifies L.A. cool, but the focus was on having a good time and the energetic, festive mood seemed to grow exponentially as the night wore on.
Food and drink: Servers clad in red adidas T-shirts were on a constant loop with platters featuring chicken fajitas, sliders and, of course, chicken and waffles on a stick. Watered-down drinks kept party people running for the bathroom and caused a log jam at the bar of folks constantly looking for refills.
Swag: Style kids, sneaker heads and up-and-coming fashionistas were out in force as the level of fashion easily matched the chic, glitzy decor.
Rating: Jump-over-a-BMW-catch-an-oop-from-Baron Slam Dunk; One of the best parties of All-Star Weekend. The vibe was exclusive and fun and the party people got what they wanted -- great performances and a good time they would not soon forget.