Commentary
The NBA's All-Stars of rap music
Originally Published:
January 21, 2010
By
Kaitee Daley
| Special to Page 2
Sidelined swingman Marquis Daniels and his Boston Celtics (who've lost eight of their last 12 games) haven't exactly had the luck of the Irish this season.
But things are looking up for the lanky eight-year veteran. This month, Daniels had the hard cast removed from his surgically repaired left thumb, celebrated his 29th birthday and released his fourth mixtape.
MORE ON MARQUIS DANIELS
If you're interested in learning more about Marquis Daniels and his music, Kaitee Daley conducted a Q&A with him.
That's right -- a mixtape.
Now, before you launch into the ol' "NBA players can't rap" rant, you should know that Daniels -- who goes by the rap handle Q6 -- is taking the lyrical lane less driven.
Instead of using his NBA fame to mass-produce cheesy rap albums, Daniels works with budding artists, and promotes his music through shows and mixtapes. He's not the next Kanye West, but what separates him from his NBA-rapping brethren is that he's not trying to be.
The NBA has a long history of players trying to cross over into the rap game, and an equally long track record of cringe-worthy results. With news of everyone from Daniels to J.J. Redick cutting tracks, we couldn't help but wonder what an NBA All-Rapper Team would look like.
Besides, if Allen Iverson and Tracy McGrady can be voted NBA All-Star starters this season, who's to judge this team?
The Starting Five
[+] Enlarge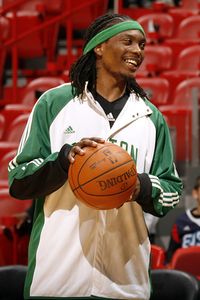 Issac Baldizon/NBAE/Getty Images Part of Q6's thumb rehab? Writing rhymes.
Marquis Daniels (aka "Q6")
Years in the rap game: 6
Albums: He headlines four official mixtapes, and his latest just dropped this week.
Hot track: "She Don't Like Me" with Trina and Drop, a complicated tale of a wealthy man's struggle, best encapsulated by the chorus, "She heard I got that cash, now why she tryna get with me? She don't really like me, she don't really like me … "
Killa Rhyme:
My life is very awesome /
Relax like Kevin Cossom /
I got so much green /
That's why they signed your boy to Boston /
My girl get what she want /
Don't really care 'bout what it cost him /
Diamonds out the freezer /
Stones cold, Steve Austin /

Q6 grew up in the Orlando, Fla., area, but let's just say some of his more enticing songs are not Disney-appropriate.
Scoop: Click here to read Page 2's Q-and-A with Marquis Daniels.
[+] Enlarge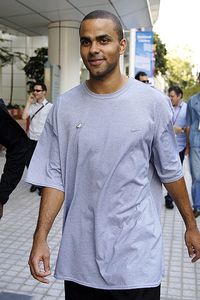 ERIC FEFERBERG/AFP/Getty Images Tony Parker's not afraid to grab the mic in front of thousands of fans.
Tony Parker (aka "Tony P")
Years in the rap game: At least 4
Albums: "TP" (2007) -- before his marketing team realized that putting Eva Longoria on the cover would boost sales approximately 134 percent.
Hot track: "Top of the Game" featuring Fabolous and Booba, but his "Summer Nights" spoof as Danny from "Grease" was a very close second. Pretending to be a member of the T-Birds just screams street cred.
Killa Rhyme:
A qui la faute? /
On était rien sans l'autre /
On était simple on était deux /

Aahh … unless it's French fries, French toast or French … braids, we're lost.
Scoop: Tony Parker's debut album is in his native tongue, and something about the romantic, flowery essence of the language just doesn't scream hip-hop. That being said, the Desperate Househusband could be killin' it lyrically and we still wouldn't understand. His first single, "Balance Toi" is an upbeat dance-club number, while some of his other songs -- like "Premier Love" -- take on more of an R&B vibe. Bottom line: None of his songs are unbearable. And anyone who freestyles after clinching an NBA title has our respect.
[+] Enlarge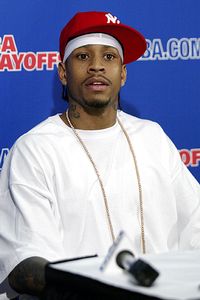 Layne Murdoch/NBAE/Getty ImagesIverson raps? Album called "Misunderstood"? That actually makes sense now.
Allen Iverson (aka "Jewelz")
Years in the rap game: About 9
Albums: "Misunderstood" (never released; no relation to his time with the Grizzlies)
Hot track: "40 Bars," an ode to "lust, AKs, rifles and 9s." Somewhere, David Stern is cringing.
Killa Rhyme:
Remains are found when the best-kept secret get heated /
You went platinum wit a ghostwriter /
So in the game you won, you cheated /
My slang bang when you need it /
You man enough to pull a gun, be man enough to squeeze it /
Die if you don't believe it /

Scoop: For a guy nicknamed The Answer, Iverson does a lot of questionable things. So it didn't come as any surprise when NBA commissioner David Stern shot down A.I.'s album release because the single "40 Bars" was violent (and crossed multiple lines of social appropriateness). But that's also exactly why he belongs in this starting five. You don't see Will Smith outselling Lil Wayne, do you? Iverson's flow isn't bad, and his Reebok sneaker commercials with Jadakiss were hotter than most music videos this decade. This is not a game. Not a game, not a game …
[+] Enlarge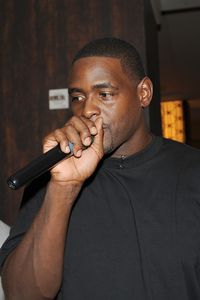 Allen Einstein/Getty ImagesC-Webb has retired, but his music lives on!
Chris Webber (aka "C-Webb")
Years in the rap game: 10, on and off
Albums: He recorded an album with Kay Gee of Naughty by Nature, but it was never released. (Word has it Webber tried to call a timeout in the middle of the last track, which threw everyone off … just kidding, Chris!)
Hot track: "Gangsta, Gangsta (How U Do)" featuring Kurupt (and a video cameo from Redman)
Killa Rhyme:
Your girl was impressed when she met us /
Woke up and made breakfast /
My fellas, you can't forget us /
Fetish for lettuce, from the home of J-Rose and Jerome Bettis /

Quite possibly the only time Jerome Bettis and lettuce have ever appeared in the same sentence. That has to count for something, right?
Scoop: In 1999, midway through his seventh NBA season, C-Webb released "2 Much Drama" via an independent label. The single "Gangsta, Gangsta (How U Do)" got decent airplay (in a few living rooms), but C-Webb was ultimately more well-known for his hip-hop friendships than his hip-hop skills. So why does he make the starting five? Webber produced "Blunt Ashes," a single from Nas' 2006 album "Hip-Hop Is Dead." And if Webber is good enough to sit behind the boards for Nas, he's good enough to produce for this team. Maybe he could even bring back those Dada sneaks.
[+] Enlarge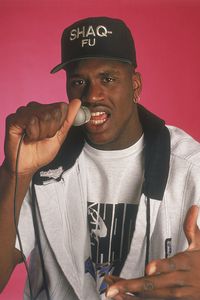 Getty ImagesShaq-Fu is the veteran of NBAers turned mediocre-at-best rappers.
Shaquille O'Neal
(aka "Diesel" aka "There's Not Enough Room For All My Nicknames")
Years in the rap game: 17 (the veteran of the team)
Albums: "Shaq Diesel" (1993), "Shaq-Fu: Da Return" (1994), "Best of Shaquille O'Neal" (1996), "Respect" (1998), "Shaquille O'Neal Presents His Superfriends, Vol. 1" (2002) and "How You Like That" (2002)
Hot track: "(I Know I Got) Skillz"
Killa Rhyme:
I get dirty after dark /
Treat you like Spielberg /
You get Jur-ass-kicked in the park /

Scoop: From Fu-Schnickens to "Kobe, tell me how my $%# taste?!" Shaq has done it all. We can talk "Kazaam" all you want, but the fact of the matter is, Shaq is the only NBA player to have an album go platinum (his debut, "Shaq Diesel," in 1993). And "(I Know I Got) Skillz," featuring Def Jef, peaked at No. 35 on Billboard's Hot 100 with lyrical gems like "I got a hand that'll rock you like cradle. Cream you like cheese, spread you on my bagel." (Come on, people, Patron is rapped about far too often. Bagels are a delicious and less expensive alternative.) Since his debut, The Big Aristotle has released one compilation album and four more studio albums. So while he may not be the most talented rapper, he's certainly prolific -- there's no disputing his starting-center job on this squad.
The Bench
SPIN MOVE
"Ballin'" is a popular phrase amongst rappers, but rarely can someone make the jump from entertainer to professional basketball player.
• Percy Miller, known to most people as rapper Master P, signed contracts with both the Charlotte Hornets and the Toronto Raptors, but never saw action in an NBA regular season game. "Make 'Em Say Uhh," on the other hand, got plenty of air play.
• Master P's son, the artist formerly known as Lil' Romeo, was awarded a full basketball scholarship at USC. Though it was widely reported that his athletic opportunities at USC were aided by his close friendship with top recruit Demar DeRozan, Romeo is a distinguished member of the USC squad -- he's the only player to have starred on his own Nickelodeon show.
• The Game (Jayceon Terrell Taylor) played high school basketball with Los Angeles Clippers point guard Baron Davis. Hate it or love it, the feuding rapper claims to have attended Washington State on a basketball scholarship before drug allegations benched his hoop dreams.
Kobe Bryant ("K.O.B.E." featuring Tyra Banks)
Uh, what I live for? Basketball, beats and broads /
From Italy to the U.S., yes, it's raw /
I'm-a search for the one that make my wealth feel poor /
Who can ignore the spotlight life of Grandma /

So Kobe has a thing for grandmothers? I'm confused -- what exactly was he trying to get at here? Maybe Tyra can help make top models, but top lyricists? Yeeeshhh.
Jason Kidd ("What The Kidd Did")
Besides the fact that Jason Kidd sounds like Nate Dogg (random), this song is painful. "They don't wanna know what the Kidd did …"? Oh, we know what you did.
Gary Payton ("Living Legal and Large")
This starts out like a Boyz II Men song, and then quickly turns into a G-funk track. But, I have to admit, The Glove does his thing. If he had put out more than one song, who knows, Tony Parker's starting job might have been in jeopardy. In fact, "Basketball's Best Kept Secret," the 1994 compilation album that features both Kidd and GP, is quite aptly named. The CD also includes tracks from Dana Barros ("Check It"), Cedric Ceballos ("Flow On" featuring Warren G), Brian Shaw ("Anything Can Happen") and Isaiah Rider ("Funk in the Trunk").
Ron Artest ("Michael, Michael")
The Queensbridge, N.Y., native released his first album, "My World," on his own Tru Warier label in 2006. Rumor has it he sold only a few hundred copies, but this past summer he entertained millions of bloggers with a rap inspired by the passing of pop icon Michael Jackson. Bizarre is the first word that comes to mind when listening to this. Then again, it's Ron Artest. I just hope Hennessy was involved, so he has some sort of excuse.
Kaitee Daley is an editor for ESPN.com. You can follow her on Twitter at @daleysports.