Commentary
What if the NCAA ruled the world?
Originally Published:
October 8, 2009
By
Dave Dameshek
| Page 2
I suppose it's good news that the SEC has acknowledged the refs got it wrong at the end of the LSU-Georgia game on Saturday.
After all, the excessive celebration penalty called against Bulldogs receiver A.J. Green was beyond awful. Defending it would be as absurd as nominating David Letterman for Husband of the Year.
[+] Enlarge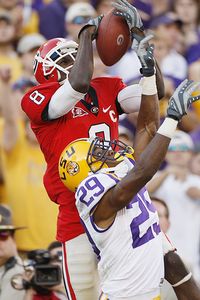 AP Photo/John BazemoreLooks like a great catch -- but don't you dare celebrate it!
If you missed it, Green made a dynamite touchdown grab to give his team the lead with 1:09 left against the visiting Tigers. The 90,000 fans in attendance went gaga. Green was understandably pleased too, but he didn't spike the ball, dance or otherwise call attention to himself, nor did he taunt the opponents. He celebrated with his jubilant teammates. You know, the way teams tend to do in such situations. The back judge threw his yellow flag. Or was it a wet blanket?
Great -- so the SEC isn't defending the call. I can't imagine Georgia coach Mark Richt cares much at this point, unless the SEC is going to schedule a do-over of the game's last minute. Spare me the excuse that the refs gave Georgia a "makeup call" by assessing the same 15-yard penalty after LSU took the lead just 23 seconds later. You know what they say about two wrongs, right?
How 'bout we just get rid of the stupid penalty so that the striped-shirted joy police are never again tempted to inflict their puritanical power at the critical moment of a big game? Seriously, for whose benefit is the excessive celebration penalty? Are there fans out there who are offended by seeing college-age kids get excited? The ongoing success of "The Real World" proves there are plenty of people who enjoy watching such things.
Here's a bold idea -- the next time a ref throws a flag for excessive celebration, the opposing head coach should just decline the penalty. That's right, I said it. It'd be a sacrifice for the greater good. LSU coach Les Miles might have lost the game if he had done so last week, but he also would've been lionized by all who believe in freedom of expression.
I know it sounds extreme, but it's time for someone to rise up against the NCAA's warped sense of wholesomeness. We need a revolution against the priggish. A coup for common sense. Anarchy against those who seek to impose their slide ruler of morality on the sports world. Like three wise men once said, "You gotta fight for your right to party."
If not, who knows? Maybe the NCAA's power will grow. I've gotta think NFL commissioner Goody-Goody-Dell and his "family friendly" league would support that. Ever since Janet Jackson's bosom burned our eyeballs and soiled our minds, the residents of Mount Pious have descended to stamp out any threat of joy on the fields, courts or rinks of play. They've hijacked our good times -- and it seems to be getting worse.
So beware, sports fans -- the self-righteous are winning. True, their rules fail to achieve the desired affect of controlling athletes' behavior -- witness the fact that the very night the laughably contrived pregame handshake went into effect, LaGarrette Blount slugged an opponent -- but I don't get the impression the NCAA gets such irony. If they did, they'd recognize the irony of a ref calling attention to himself by penalizing a player for calling attention to himself.
Maybe we've all just come to accept it as part of watching college football. But just imagine what the sports world would be like if the NCAA was in charge. I can see it now:
Tiger Woods' fist pump after nailing a big putt? Gone.
Brett Favre tackling his teammates after a touchdown? Gone.
Alex Ovechkin bouncing off the glass after a goal? Gone.
Roger Federer? Well, he'll probably be fine. There are benefits to being more machine than man.
However, cutting down the nets, the Lambeau Leap and the post-home-run curtain call? All gone.
No more ticker-tape parades, no more championship rings, no more locker-room champagne.
Good news, James Harrison -- no more visits to the Rose Garden.
Something will have to be done about the partisan spectators who attend sporting events. If they can't cheer respectfully and equally for both teams, their tickets will be revoked.
Local play-by-play broadcasters will be replaced by computerized voice synthesizers. That way, no matter what's happening on the field, things will stay nice and monotone.
Drinking milk in the winner's circle at the Indy 500? That's a no-no, unless you bring enough for the other drivers.
Olympic champions will no longer listen to their national anthem as they stand on a platform above their foes. Instead, all participants will share equal footing while "We Are The World" is played.
Any archived film or photographs of Red Auerbach lighting up a victory cigar will be destroyed … just to make sure no one gets any ideas.
Hoisting the Stanley Cup will be outlawed as a glorified form of taunting.
Sorry, God, but fair's fair. Players won't be able to genuflect on one knee after scoring. You wouldn't want the opponent to think you like the other team better.
And it should go without saying the victory formation will be banned.
But why stop at sports?
No more throwing square caps into the air after graduation.
[+] Enlarge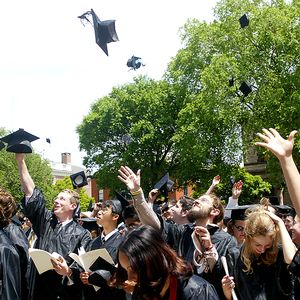 AP Photo/Stew MilneComing soon, a NCAA ban on excessive graduation celebration?
No more blowing out birthday candles. There are a lot more people who aren't celebrating a birthday on the same day. Why rub their noses in it?
No more exclaiming "Yahtzee," "Bingo" or "Checkmate" to punctuate a win. A gently worded note slid discreetly across the table will get the job done just fine.
After wedding vows are exchanged, you'll still be allowed to give the bride a ring, but the kiss? A little excessive, don't you think?
Oprah will still be allowed to give cars to her audience members. But if any euphoria is expressed, the transaction will be voided.
The ball dropping in Times Square on New Year's Eve will have to go, too. Sure, it's great that Earth survived another year, but what about all the other planets and their inhabitants? C'mon, Earthlings -- act like you've been there before.
And definitely no more game shows. Someone always winds up being happy at the end of those.
Of course, none of these rules have been passed into law. Yet. In the meantime, let's hope a brave coach declines the next excessive celebration penalty. His school's board of trustees won't like it, but at least the Beastie Boys will.
THIS WEEKEND'S BEST BETS
COLLEGE FOOTBALL
Georgia (+1) at Tennessee: If last week wasn't enough of a slap in the face, how does being an underdog to the Vols feel?
Boston College at Virginia Tech (-13.5): Underreported fact -- the Hokies' maroon-and-orange color scheme may be the ugliest in college sports.
Oregon (-3.5) at UCLA: You heard it here first -- the Ducks will win the Pac-10. Unless USC or Stanford or Oregon State or Arizona does. I guarantee it.
Michigan at Iowa (-8.5): Too many points for the Hawkeyes to lay, right? Not if you saw Indiana -- Indiana! -- almost beat Rich Rod's boys two weeks ago.
UConn at Pitt (-7): I still say Coach Wannstache should have convinced DeJuan Blair to play tight end.
NFL
Redskins at Panthers (-3.5): D.C. is getting points from a winless Carolina team? Ouch. I'm tempted to say how the mighty have fallen, but I can't remember when the Skins were mighty.
Steelers (-10) at Lions: Fast Rashard Mendenhall runs over Detroit.
Raiders at Giants (-14.5): Like a broken record, I repeat: I'm picking them until they prove me wrong.
Jets (-1.5) at Dolphins: Insert "Braylon Edwards will make Miami look childish" joke here.
Patriots (-3.5) at Broncos: Instead of a handshake, Bill Belichick gives Josh McDaniels a condescending postgame hair tousle.
Check out Page 2 every day for Dave Dameshek's podcast.
MOST SENT STORIES ON ESPN.COM