By Kieran Darcy
Page 2
NEW YORK -- "This is simply too good to be true," I said when I first discovered the Web site.
"Dodgeball" -- the movie -- had just shot straight to No. 1 at the box office, rekindling my desire to play that gym class favorite once again. Now I'd found an opportunity to do just that: The International Dodgeball Tournament of Champions.
Despite its gaudy name, the tournament was actually just a one-night event, taking place over four hours. For $200, anyone could enter a team of up to 10 players. I mentioned it to a few high-school buddies; very quickly, we had a full roster.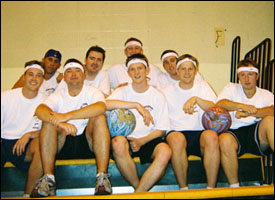 Do they look mentally tough enough to survive the tourney?
So at 6:30 on a Wednesday night in mid-July, we arrived at Dodgeball Stadium, also known as Martin Luther King High School on 66th Street and Amsterdam Avenue in Manhattan. The first order of business was a liability release waiver -- which included, in fine print: "I know that dodgeball is a hazardous recreational activity ... I know that there is a risk of injury or death if I participate in this sport."
Apparently, dodgeballs are now filled with cork instead of air. But we weren't scared off.
Next, we had to change into our uniforms. Some teams went all-out and had T-shirts made, with names printed on the back. We settled for leftover T-shirts donated by our old high school, Regis, a small Catholic school on the Upper East Side. But we spiced things up a bit by wearing headbands, as well.
We also named our team after our alma mater, for lack of a more creative moniker. But when the tournament director began calling out the names of the other teams, we realized we'd been badly outdone. "Ballsagna" was my personal favorite. "More Cowbell" wasn't bad, either.
In all, there were 24 teams split into three divisions. Each division had its own court. The main gymnasium was divided in half, and served as Courts 1 and 2. An auxiliary gym, called The Cage, served as Court 3. Each team was to play seven games -- one against each team in its division. Then the top two teams from each division would advance to the playoffs at the end of the night.
The rules of play were pretty standard, at least the way I remember from gym class -- except that catching an opponent's throw didn't bring one of your own teammates back in the game. The tournament organizers wanted to move the games along as quickly as possible.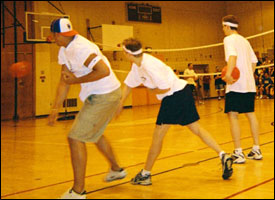 Watch that rotator cuff!
When we were called up for the first game, we lined up behind the end-line. When the ref blew his whistle, a few of my teammates sprinted forward to grab the four red balls spread across the halfcourt line. We snagged all four; and soon were dissecting our first opponent, a group straight from a Marilyn Manson concert. Six of us were still on the court at the game's conclusion. Our confidence bolstered, we settled back in the bleachers to scout the rest of the competition.
Several teams looked as if they might pose a challenge. Most of the players were male, although there was the all-female team -- and I had a personal connection with it.
When I'd first heard about the tournament, I mentioned it to my friend Shannon, who decided to put together a team with her friends. At the time, I didn't second-guess her. But the second they stepped on the court and the balls started flying, I started wincing and flinching. "Maybe mentioning this was a bad idea," I said to a teammate.
But the girls displayed plenty of guts. They held their own, despite losing their first game. Plus, the looks on the faces of the guys when a girl knocked them out -- priceless.
I'll spare you the exhausting, four-hour, blow-by-blow account of the entire tournament. But there were a couple of highlights.
One team, called Wack 'Em Up, earned everybody's contempt from the very beginning. They had one obnoxious player (wearing a Bad Boy T-shirt) who repeatedly made comments and motioned at opponents to throw the ball at him. When he was eliminated in one game, everyone on our side of the gymnasium stood and cheered wildly -- prompting some obscene gestures from Bad Boy.
But Bad Boy also had his one shining moment. In another game, he was the last man standing on his team, facing six opponents. He riled up the crowd by rolling the balls back to the other team instead of throwing them. But in the end, he was the last man standing. He took out every one of his opponents. Have to give him credit for that.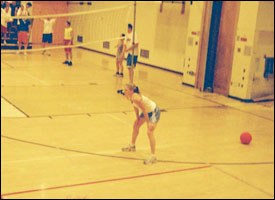 Kate stands alone -- and then victorious, in the tourney's best moment.
The all-girls team, clearly the fan favorite, found itself in a similar situation in the second game. Their best player, Kate, was all alone, facing five guys across the halfcourt line. And what did she do? That's right, she mowed down every single one of them. By the end, everyone in the gym was on their feet, watching and chanting "M-V-P!" as Kate's friends embraced her.
That's the one great thing about dodgeball (well, besides getting to peg other people with large rubber balls): You can hit a five-run home run to win the game. Or a six-run home run. You can win it all, all by yourself. Yes, it might be scary when three balls are flying at your head at once. But it's also a unique opportunity -- potentially, even better than being up with the bases loaded in the bottom of the ninth.
The girls delighted everyone by following up their dramatic win with another victory in their third game . But it was all downhill after that, as they finished with a record of 2-5.
As for us? We struggled a bit; lost a couple of close games along the way. I had my own small shining moment -- down to two players remaining on each team in one game, I made a bang-bang catch and throw to clinch a victory. And we beat the girls in our final contest to finish at 5-2. That was good enough to earn us second place in our division and a trip to the playoffs.
Our quarterfinal playoff game was a big disappointment. Despite the presence of four (semi-blind) referees, one of the opposing players sneaked back onto the court seconds after he'd been pegged in the leg. Up to that point, it had been a tight match. But our squad seemed to sputter when our protests fell on deaf ears; soon, we were eliminated.
After a few minutes of bitching, we were over it. Yeah, we didn't win the big plastic trophy. Yeah, one of us wasn't named MVD (Most Valuable Dodgeballer). But at least we didn't have to go back to a physics or calculus. Instead, we went out together for a couple of pitchers. And no, we weren't crying in our beers.
After all, they run these tournaments every week.
P.S.
When I woke up the next morning, my right arm was sore from all that throwing. Other than that, I felt fine.
Then I got to work, and e-mails started pouring in from my teammates. Such as:
From Brian Brockmeyer (9:30 a.m.): "You can't imagine how much pain I am in right now. The whole right side of my body is in bad shape. Damn."
From Brian Lennon (9:43 a.m.): "I really think my wrist may be broken. I think I am going to call my doctor for an X-Ray. How bad is that?"
By the end of the day, I'd heard complaints about pinched nerves, pulled muscles, and popped hammies.
So perhaps our competitive dodgeball days are over. But at least for one night, it was fun to go back in time.