By Kieran Darcy
Page 2
Welcome to the first College Hoops Report Card! Every Friday through March Madness, I'll be handing out grades for the best, worst and in-between of college basketball.
We decided to start this column this Friday, giving the season a chance to heat up over Thanksgiving week. But truth be told, we've been spoiled with exciting action the first 3½ weeks. We've seen heavyweights win titles (Texas in Kansas City, UConn in Maui, Duke in the NIT). We've seen contenders knocked to the canvas (West Virginia, Charlotte). And we've seen upstarts score huge upsets (Hawaii over Michigan State, Iona over Iowa State, UC-Irvine over Stanford).
November was a roller coaster for many teams. Take the University of Illinois-Chicago's ride, for example. The Flames, coming off a mediocre 15-14 campaign and predicted to finish in the middle of the pack in the Horizon Conference, opened this season in Alaska at the BP Top of the World Classic. And they played well, scoring wins over Montana State and San Diego State before losing in OT to Denver in the championship game.
They got home on Nov. 21. Two days later, they played their home opener, against St. Xavier, an NAIA school.
More College Hoops
Check out ESPN.com's College Hoops index for everything you'd want to know about the game.
Final score? St. Xavier 74, Illinois-Chicago 73. "We were just off, physically and mentally," said UIC coach Jimmy Collins. "I could tell during that day's shootaround. It did not look as if they were really buying in."
Two days later, the Flames were on the road again, playing Georgia Tech. Final score? Illinois-Chicago 73, Georgia Tech 51 -- UIC's first-ever win against an ACC squad. "We were so pumped for that game, playing in that atmosphere," said senior forward Justin Bowen, the Flames' leading scorer. "We were confident, alert, ready to play."
Three days later, the Flames faced Georgia Southern. Final score? Georgia Southern 89, Illinois-Chicago 69.
Lose to an NAIA team … blow out an ACC school … blown out by a Southern Conference squad -- all in less than a week. Call it November Madness.
It only gets better from here.
PHYS. ED.

I'll start with the grade for gym class. I'd like to use this space to spotlight players you haven't heard of, or players you probably don't know much about. I could have dished out straight A's to guys like Adam Morrison, J.J. Redick and Taurean Green, who are all off to great starts. But this week, I'm handing out an A to
Colorado State forward Jason Smith
.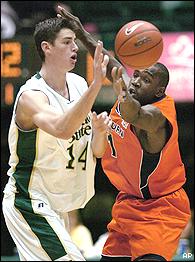 AP
Colorado State's big man has taken a big leap forward as a sophomore.
In five games, the 7-foot, 230-pound sophomore has averaged 21 points and 9.8 rebounds, propelling his team to a surprising 5-0 record. The Rams were picked to finish near the bottom of the Mountain West, but they've already recorded wins over in-state archrival Colorado, Denver and Auburn, among others.
Smith, who grew up in a small, no-traffic-light farming community less than an hour from campus, has been the biggest reason for the Rams' success. He has doubled his scoring average from a year ago, when he was the Mountain West Freshman of the Year. Who won that award the year before him? Andrew Bogut. Don't expect Smith to go anywhere near No. 1 in the NBA draft -- but don't be surprised if he is selected a couple years from now. He's pretty nimble for a 7-footer, with a nice shooting touch.
Smith spent the summer getting stronger in the weight room -- he tacked on 15 much-needed pounds to his frame. He also worked on extending his shooting range. But his coach lauds his overall effort as the biggest reason for his improvement. "Most big guys, you have to get on them to play hard," said CSU coach Dale Layer. "But Jason has so much passion and competitiveness. You can't coach that. That's what sets him apart."
Smith feels the biggest difference in his game from a season ago is confidence. He learned a lot from facing a player like Bogut as a freshman.
"[Bogut] is so savvy at picking up on double and triple teams," Smith said. "I've tried to learn from that. He always sees the open man."
If Colorado State beats IUPUI on Saturday, they'll start 6-0 for the first time since 1970-'71. And who knows? Maybe we'll be seeing Smith, and his Rams, wearing a Cinderella slipper come March.
SCIENCE

One of the most critical coaching decisions thus far has been
Michigan State coach Tom Izzo
scheduling a game at Hawaii on the way to the Maui Invitational -- a game the Spartans lost by 22 points. Izzo has admitted the mistake -- there was no need to test his kids
before
they played three games in three days in Maui. And in their two games since the tournament, the Spartans looked sluggish in beating IPFW (84-73) and hanging on against Georgia Tech at home (88-86). Why the "+"? Well, the Spartans are definitely battle-tested early. That could pay off in the Big Ten wars.
MATH

The most eye-popping stat of the season thus far is
Kentucky PG Rajon Rondo
pulling down
19
rebounds against Iowa. In fact, Rondo is leading the Wildcats with an average of 10.8 boards per game (he averaged 2.9 a year ago). And he's only 6-foot-1! Everyone knew Rondo would have to increase his scoring load for the Wildcats to win this season, but this is ridiculous! Rondo gets an A, but the 'Cats frontcourt players get an F for letting Rondo embarrass them.
LANGUAGE

The most interesting quote of the season thus far is highly debatable -- but I'll go with something
Wake Forest coach Skip Prosser
said after a win over UNC Asheville on Nov. 21:
AP
Wake may be better off with Gray looking to score more.
"I think Mr. Magoo could see [Justin Gray's] turnover totals, and I think that it was time for him to maybe watch someone else at point for a little bit. … We're still tweaking things."
This is a solid B+ quote. The "+" is for the Mr. Magoo reference. The "B" is for being open to change. I watched Gray struggle mightily at the point in Wake's two Coaches vs. Cancer Classic games at Madison Square Garden, committing 17 turnovers, paired with just seven assists. Not coincidentally, he made only 12 of 36 shot attempts in those two games.
Ever since, Prosser has let Gray play more off the ball, and he's looked more comfortable -- particularly this past Tuesday, when he torched Wisconsin for a career-high 37 points.
Yes, Gray is a pretty good ball handler and passer. And yes, he'll probably have to play the point at the next level. But on this team, Gray needs to focus on scoring first. That should be his priority, not running the point.
RECESS
Some more observations from Madison Square Garden over the past couple of weeks:
• When Justin Gray led Wake Forest onto the floor for warmups, he just looked so … alone. I know Chris Paul was ready for the NBA -- but especially after Wake's premature exit from the NCAA tourney last season, I can't help but wish he'd returned for one more go-round.
• I was disappointed with the heckling Bob Knight received from some fans. Yes, Knight will probably always be a target -- but he did nothing to warrant it, even when his team was getting torched by Syracuse.
• With their teamwork and enthusiasm, Florida will be one of the most enjoyable teams to watch all season.
• Duke is also No. 1 in the country in "amount of time it takes for bench players to run and greet on-court players when timeouts are called."
• I'd like to officially kick off the Rodney Carney to the NFL campaign. The Memphis swingman might be the most athletic player in all of college hoops. Yeah, he could probably have a decent career in the NBA. But I'd love to watch him running downfield and snatching passes in midair, the wide-receiver version of Antonio Gates.
• There wasn't much to see in the way of cheerleaders during the Coaches vs. Cancer Classic or the NIT. But UCLA did bring a five-member dance team to New York. The most amusing thing (to me, anyway) was that, at least from my vantage point, the dancers received mostly polite applause after their routines and no vulgar come-ons. Think that might have something to do with the fact no beer was served at the Garden during the NIT?
HISTORY

Here I'd like to take a walk down memory lane every week, remembering a player that made his name in the college game, not the pros.
The highlight of the season thus far has been the Maui Invitational -- everyone has been talking about it, particularly the Michigan State-Gonzaga triple-OT Instant Classic. That got me thinking about how the Maui tournament began: with that legendary upset by NAIA Chaminade over No. 1-ranked Virginia and 7-foot-4 center Ralph Sampson on Dec. 23, 1982.
I was too young when this game was played to remember any details. But from doing a little reading, it seems one of the Chaminade heroes, if not the hero, was 6-foot-6 Tony Randolph, who outplayed Sampson that night, outscoring him 19-12. Turns out Randolph was actually a rival of Sampson's back in high school.
According to the last reports I found, Randolph still lives in Hawaii, working with troubled youths. What a memory that game must be, the greatest upset in college basketball history.
AP
Hey, who cares what kind of socks you wear if you can score like Adam Morrison.
ART

There are many works of art in college hoops -- individual aspects of a player's game that are a thing of beauty. But to start the season, I must show some love for
Adam Morrison
-- the total package. And I don't mean just his game. I mean the long hair. I mean the long, striped socks. I mean the mustache that makes him resemble Johnny Depp (well, kinda anyway).
Shrink him a few inches, swap his Gonzaga jersey and shorts for a Parental Advisory T-shirt and some cargo shorts, and … well, let's just say we goin' Sizzler.
ENGLISH

Here I'll give a college hoops reading recommendation every week. Nothing that's happened on the court this season has had nearly as much impact as what
IUPUI senior guard Maushae Byles
is doing
off the court
(with credit to the excellent college hoops blog
yocohoops.com
, where I first found the story, and to the Indianapolis Star's Barb Berggoetz for writing it). Byles donated bone marrow -- a painful procedure -- to a stranger who was dying from leukemia.
CLASS PARTICIPATION
I don't know about you, but back in my elementary school days I always got a grade for class participation. Here I will grade you, the readers, every week -- according to the quality of the feedback I receive. I'm looking for good questions -- I'll answer a couple of the best ones in this space every week. You can also nominate people for the different subject categories every week. Just e-mail me here.
For this first edition of the Report Card, I'll give you a poll instead. Who was the most valuable player in college basketball in November? Vote in the poll at the top-right of this page. Your choices are:
LaMarcus Aldridge, Texas
Marco Killingsworth, Indiana
Adam Morrison, Gonzaga
J.J. Redick, Duke
Shelden Williams, Duke
HOMEWORK ASSIGNMENT
Sorry guys, but I'm gonna have to assign some homework, too. Don't worry -- it'll be fun, I promise. There's lots of good games coming up this week, but in particular, try to watch:
No. 4 Villanova vs. No. 5 Oklahoma (Saturday, 5 p.m. ET, ESPN). It'll be fascinating to see how Nova's four-guard lineup fares against a bigger, stronger Sooners squad.
No. 8 Boston College vs. No. 14 Michigan State (Tuesday, 9 p.m. ET, ESPN). Pretty evenly matched teams -- is MSU worn out yet? I'll be at this one. Should be a dandy.
Kieran Darcy is an editor at ESPN.com and a contributor to ESPN The Magazine. You can e-mail him at kieran.d.darcy@espn3.com.