By Kieran Darcy
Page 2
Quick pop quiz: How many undefeated teams are left?
None, right? Duke, Florida and Pittsburgh all lost for the first time last Saturday.
But you're wrong.
There are no undefeated teams left in Division I -- or Division II, for that matter. But in the no-athletic-scholarship land of Division III, the Lawrence University Vikings are 14-0, the last of the undefeateds.
Lawrence is a small school of about 1,350 undergrads, located in Appleton, Wis. Its men's basketball team plays in the Midwest Conference, and the Vikings have been attracting standing-room-only crowds of 1,000-plus people at Alexander Gym this season.
But the program wasn't always this successful. In fact, the men's basketball team didn't post a winning record once between 1955 and 1981. The program was still struggling when coach John Tharp took over in 1994. But in Tharp's third year, the Vikings won their first conference title since 1943. And he has continued to bring in better and better talent, building Lawrence into a Division III national power. Two years ago, the Vikings made the Elite Eight of the NCAA Division III Tournament, the school's best-ever finish. Last season, Lawrence won its conference for the second straight time but fell in the second round of the tournament.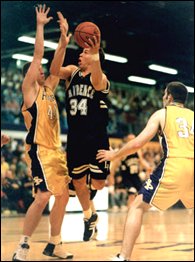 Lawrence University
Chris Braier and Lawrence hope to survive this weekend and remain undefeated.
Tharp feels this year's Lawrence squad is special. "I think teams need great chemistry in order to have special seasons, and this team has it," Tharp says. "They make the extra pass, and we have great leadership."
That leadership starts with senior co-captain Chris Braier, Lawrence's first All-American. The 6-foot-5 power forward (no one on Lawrence's roster is taller than 6-8) is averaging 15.2 points and 12.3 rebounds per game, up slightly from his averages of 14.7 ppg and 12.0 rpg over the first three years of his career. Braier is a biology major who has decided to pursue law school after graduation.
Going into this past weekend, Braier and his teammates were aware they were one of four remaining undefeated NCAA teams. On Saturday afternoon, they had a game at St. Norbert College. Before the game, they heard Pittsburgh had lost to St. John's. And after beating St. Norbert 79-68, they got word that Duke had lost to Georgetown -- something they razzed freshman guard Doug Kadison about the whole way home, since he's a big Duke fan.
Saturday evening, Braier had most of his teammates over to his apartment. With the TV tuned to "SportsCenter," the Vikings found out Florida had lost to Tennessee. Lawrence was the last of the undefeateds. "It was exciting," Braier says. "Lots of people from campus came by. Everyone was celebrating. It felt good."
But it was back to business at practice the next day. The Vikings face a brutal schedule over the next few days. They play at Monmouth (Ill.), a team they lost to last season, on Friday night. Saturday afternoon, they play at Grinnell, known nationally for its unique offensive system based on mass substitutions and taking as many 3-pointers as possible -- a headache to prepare for. And Tuesday night, they play at Ripon, their oldest and most bitter rival.
Hey, college hoops fans ...
Want to contribute to the College Hoops Report Card? Send your questions, and nominations for the subject categories, here.
Can they run the table? "If we play up to our potential, it's absolutely possible," Tharp says. "But we're trying not to talk about that. We just want to go about our business."
"It's in the back of our minds," Braier admits. "But our goal is to win our conference championship and get back to the tournament. If we win every game, so be it. But all we're worried about is the next one."
PHYS. ED.

No one should be all that surprised that Colorado's
Richard Roby
is having an outstanding season at Colorado. After all, his talent runs in the family.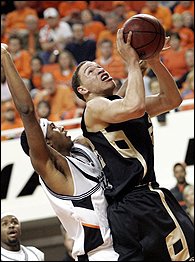 AP
Richard Roby has been on fire for the Buffaloes.
Roby's half-brother is Denver Nuggets forward Kenyon Martin. But he has a different style game. Roby is a 6-foot-6, 195-pound swingman who can penetrate and score inside but also can shoot the 3. And he's on quite a roll, averaging 28 points per game over his last four. This past week, he scored 27 points, including the game-winning basket, in an 80-78 overtime win at Oklahoma State -- Colorado's first win at Gallagher-Iba Arena since 1980. And he followed that up with 30 points in an 81-59 home win over Nebraska. For the season, he's averaging 18.5 points per game, plus 5.4 rebounds and 2.5 assists.
A year ago, Roby was the first Colorado freshman to lead the Buffaloes in scoring (16.0 ppg) since Chauncey Billups in 1995-96. But the Buffs finished 14-16 and 11th in the Big 12. Before this season, the Big 12 coaches picked Colorado to finish ninth even though it returned all five starters. Led by young Roby, this experienced bunch has gotten off to a great start at 14-3, 4-2 in the conference.
Colorado coach Ricardo Patton has seen a lot of improvement in Roby. "He's gotten better at not trying to do so much off the dribble, and instead coming off screens shot-ready," Patton says. "Some guys talk about wanting to improve and get to the next level, and it's all talk, the effort doesn't match the goal. Rich really works hard every day, and he's reaping the rewards."
Roby admits he'll consider making the jump to the NBA after this season. It helps that he has an expert so close by in Martin. "It's so nice, the way it worked out that way," Roby says. "It's a bonus."
More College Hoops
Check out ESPN.com's College Hoops index for everything you'd want to know about the game.
Martin and Roby have the same father. They didn't grow up together, but they finally connected and have gotten to know one another over the past few years. With their schedules being so busy in-season, it's tough for them to get together very often -- but they talk on the phone, and trade messages on their Sidekicks. The two did hang out over Roby's Christmas break, though, and Roby's actually planning to go to Martin's game Friday night against the Clippers.
"It's great to have him to turn to," Roby says. "He knows how it is; he knows the pressure. He tells me little stuff. Like keep your head in the right spot, keep working hard, don't be satisfied."
Sounds like some pretty good brotherly advice.
SCIENCE

The Maryland-Baltimore County Retrievers defeated Maine 83-62 Sunday, in their first game since coach
Randy Monroe
allowed the team back into the locker room.
That's right -- after a 72-58 home loss against New Hampshire on Jan. 11, Monroe banned his players from their own locker room for several days. He also banned them from wearing any clothing with the school's name on it.
Now, Monroe isn't the first coach to employ such a tactic. But personally, I find his actions rather appalling. I don't know how nice the UMBC locker room is, but for all the time and effort those players devote to that program, I think they deserve to get dressed there instead of in some courtside media room, which was the replacement during the ban.
And anyway, it doesn't appear his motivational ploy worked very well. The Retrievers lost the only game they played during the locker room ban, 74-73 to Hartford -- a game during which Monroe was whistled for a technical foul with 8:24 to go and UMBC holding a 58-49 lead. And after the Maine victory, UMBC lost again, 62-50 at Albany on Wednesday. The Retrievers are 7-11 on the season.
In protest, I've decided not to wear any of my UMBC gear the rest of the year.
MATH

I'm sure you've already read all about the game. And you've probably even read about the team's jubilant eight-hour, 500-mile bus ride home. No need to rehash all the stories that were already written. Suffice it to say:
North Dakota State 62, Wisconsin 55
And, as I screamed after seeing that score slide across my television screen Saturday:
Holy &*$%!
LANGUAGE

Before West Virginia faced in-state rival Marshall on Wednesday, WVU center
Kevin Pittsnogle
said (according to The Associated Press):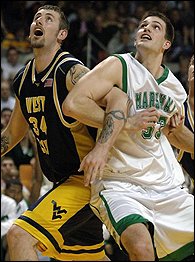 AP
Did Pittsnogle get Pittsnogled?
"We're going to do it. I have faith in my teammates. I know coach doesn't like it, but I'm going to do it anyway. I guarantee a win."
I'm guessing Marshall has a bulletin board in its locker room. And that statement just might have provided some inspiration for the Thundering Herd's 58-52 win over the Mountaineers.
West Virginia was ranked No. 9 in the AP poll, in the top 10 for the first time in 24 years. It had won 12 games in a row, the longest winning streak in Division I. Pittsnogle and company had every reason to feel confident. But why issue a guarantee? And risk further motivating an in-state rival with a losing record for which this was, without question, the biggest game of the year?
It doesn't sound as though Pittsnogle learned his lesson, either. "I'm still glad I said it," he said after the game. "There's nothing wrong with what I said. I think it was just more like confidence."
I was tempted to give Pittsnogle an "F," but his wife, Heather, is due to give birth to their first child on Feb. 2. Perhaps his preoccupation with that is clouding his better judgment.
RECESS
Thoughts from games I watched this past week:
• I can understand Jim Boeheim being a little whiny after Syracuse's loss to Pitt on Monday. The Orange did have to play UConn (at home), at Villanova and at Pittsburgh within an eight-day span. Their Big East schedule has been brutal. But maybe Boeheim should have scheduled his team's first true road game (on a non-neutral floor) a little sooner than Jan. 11 at Notre Dame. Then maybe it would have been a little better prepared for this tough stretch.
• Marco Killingsworth has gotten more attention, but take a closer look at Indiana's Robert Vaden. He scored 26 in the Hoosiers' loss at Iowa, including making 8 of 12 shots from downtown. The 6-5 sophomore is averaging 14.9 points, shooting 51.5 percent from the field, 50.6 from 3-point land and 90.9 from the foul line. Plus, throw in 4.8 rebounds and 4.4 assists per game. Pretty darn impressive.
• Gotta give BC a lot of credit for its win at North Carolina on Wednesday -- particularly after their tragic bus accident the day before, when a bicyclist was struck and killed. The fact that the Eagles were able to win under such circumstances shows some strong character they have as a team.
HISTORY

Georgetown's win over Duke was its first over a No. 1-ranked team since Feb. 27, 1985, when the Hoyas toppled St. John's 85-69. That game will forever be dubbed
"The Sweater Game."
It was a classic Big East matchup. The Hoyas, led by Patrick Ewing, were ranked No. 2 in the country. The Redmen, led by Chris Mullin and Mark Jackson, were ranked No. 1. And St. John's had won 19 games in a row, including a 66-65 squeaker at Georgetown four weeks before.
But Georgetown coach John Thompson, father of current Hoyas coach John Thompson III, had a trick up his sleeve. In case you've forgotten, St. John's coach Lou Carnesecca's trademark was his "colorful" sweater collection, and he'd been wearing a particularly colorful lucky sweater that season. So Thompson had a T-shirt made with the same design as that sweater. And moments before tip-off, Thompson opened his suit jacket and revealed the shirt for everyone to see -- including Carnesecca, who reportedly laughed heartily.
Unfortunately for Carnesecca, the game was no laughing matter. Gerogetown won, behind 20 points, nine rebounds and six blocks from Ewing. Both teams did go on to make the Final Four that year. But as everyone knows, it was fellow conference foe Villanova that took home the national title.
ART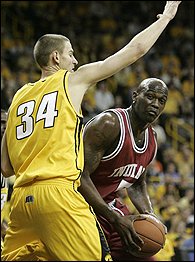 AP
Iowa had Killingsworth and company all bottled up.
I've seen enough of Iowa this season to know it is one of the best in the country when it comes to the art of team defense. Every team's capable of an off night -- the Hawkeyes' defense clearly wasn't up to snuff in their 85-55 loss at Michigan State on Saturday. But they bounced back in a big way against Indiana on Tuesday in a 73-60 victory.
Watch the Hawkeyes play man-to-man defense if you get a chance. They pressure the ball well. They get their hands in the passing lanes and up in the faces of shooters. And the players off the ball are almost always in good position to play help defense, if necessary. No wonder Iowa is sixth in the nation in field goal defense (37.4 percent) and is holding opponents to just 58.9 points per game.
Against Indiana, the Hawkeyes held the Hoosiers scoreless for the first 4:40 of the second half, which allowed them to increase their 30-27 halftime lead to 44-27. Indiana had a couple of good looks at the basket over that stretch, but the Hoosiers were smothered for the most part, and several of their shots were blocked. Indiana came into the game second in the nation in field goal percentage, at 51.6 percent. Iowa held the Hoosiers to 36.7 percent and a season-low 60 points.
ENGLISH

This week, after watching old-school Big East powerhouses such as Georgetown, St. John's and Seton Hall score big wins, I couldn't help but think back to the glory days of the conference. I grew up a huge Big East fan, back in the days when Georgetown vs. Syracuse was perhaps the biggest regular-season matchup of the year. The new Big East that debuted this season is a superconference -- it's completely stacked, and I do love that to some degree. But I must admit, I wish we could go back to the Big East of old.
For that reason, I'm recommending "Big Hoops: A Season in the Big East Conference" by Bill Reynolds. In it, Reynolds chronicles the 1988-89 season -- a season in which Seton Hall reached the national championship game. It will give you a nice taste of what the Big East used to be.
CLASS PARTICIPATION

You guys were with me
last week
-- 59.2 percent of you didn't like that Indiana fans rushed the court after the Hoosiers' win over Illinois.
This week, my poll question to you is, which do you prefer -- the old-school Big East, or the brand-new Big East? Please vote in the poll at the top right of this page.
And remember, please send me questions for next week's column, or nominations for the different subject categories. You can e-mail me here. Now, here are a couple of the questions I received in the past week:
Give me a grade on the Missouri Valley? Can the league get four teams in the tournament?
-- Rob Derry
The Missouri Valley gets an "A" in my book, Rob. There's definitely a decent chance the MVC gets four teams in the Tournament this year -- which could be more than the Big 12 or Pac-10 gets. Northern Iowa, Southern Illinois, Creighton and Wichita State are the MVC's primary candidates. For a great read on the Missouri Valley Conference, check out this story by ESPN.com contributor Kyle Whelliston, who recently spent a week traveling across the conference.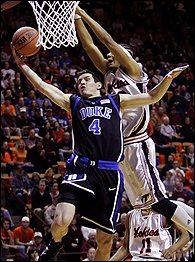 AP
Duke will go as far as J.J. Redick can carry them.
What player do you feel has that NCAA Tournament-carrying run in him this year? I like Marco Killingsworth, for instance.
-- Mitch Wile, Halifax, Nova Scotia
Killingsworth has a lot of help, Mitch -- Robert Vaden, for instance, among others. In fact, as I looked at my list of legitimate Final Four contenders, their stars all had good supporting casts. And then there's somebody like Dee Brown, a guy I do see almost single-handedly carrying his team. But I don't see those players and those teams going that deep in the Tournament. For instance, I don't see Illinois getting back to the Final Four.
That said, of my Final Four contenders, I think Duke needs J.J. Redick to carry it more than any other team needs one player to carry it -- even more than Gonzaga needs Adam Morrison. Sure, Redick has Shelden Williams, as well as plenty of other talent around him. But I just feel as though Duke cannot afford a really subpar NCAA Tournament game from Redick. He's capable of taking Duke to the Final Four. But all the way to a national title? That's a tall order.
HOMEWORK ASSIGNMENT
Arizona at North Carolina (Saturday, 1 p.m. ET, CBS): Two erratic teams that could both use a big-name nonconference win.
Washington at Stanford (Sunday, 8 p.m. ET, check local listings): It's the first Sunday without football in a long time. So tune in and see whether the Cardinal can score a huge win.
Pittsburgh at UConn (Tuesday, 7:30 p.m. ET, ESPN Full Court): Another reality check for the Panthers.
Duke at Boston College (Wednesday, 9 p.m. ET, ESPN): The game BC fans have been waiting for ever since their ACC move was announced.
Kieran Darcy is an editor at ESPN.com and a contributor to ESPN The Magazine. You can e-mail him at kieran.d.darcy@espn3.com.