HOUSTON -- With two seconds left, everything went into slow motion. There was a baseball pass … then a second pass, intercepted by a blur in a white uniform. And then it was over.
The Texas A&M-Corpus Christi players celebrated in typical style -- sprinting to center court, massing into a giant collective hug before donning their championship T-shirts. But there is nothing typical about their story.
The coach … well, he took another leap. Pretty similar to the one he took 18 Marches ago. Except maybe, just maybe, a wee bit more vertical.
And in that brief moment he had to himself, when his feet left the ground and his arms surged above his head, fists clenched, he didn't have time to contemplate the journey. He didn't have time to look at the logo on the uniforms, or the mascot, or the fans in the stands. All he had time to do was release an expression of pure happiness for his players and satisfaction for a job well done.
After a long, challenging nine-year pregnancy, Ronnie Arrow had finally given birth to a basketball program.
---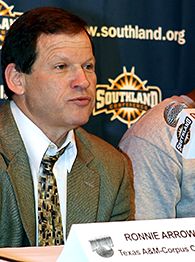 Steve Nurenberg
From no pencils to an NCAA Tournament berth, Ronnie Arrow built the Corpus Christi program from scratch.
If Arrow looks vaguely familiar, he should. He's one of the perennial stars of NCAA Tournament highlight reels -- leaping in celebration after his No. 11 seed South Alabama Jaguars upset the Alabama Crimson Tide 86-84 in the first round of the 1989 Big Dance.
Arrow brought the Jags to the Dance again in 1991. His time at South Alabama didn't end like a fairy tale, however -- as is so often the case in the coaching profession. Four games into the 1994-95 season, following back-to-back blowout losses to Southern Utah and Evansville, Arrow was forced to resign.
Arrow, a coaching lifer, was suddenly without a job for the first time in his professional life. Prior to taking the South Alabama job in 1987, he'd been the head coach at San Jacinto Junior College for 10 years, winning three national championships.
Arrow subsequently took a job as a national recruiter for Excel Communications, a long-distance phone company. But after a couple years away from the game, he realized he wanted back in.
In the spring of 1998, Arrow got a phone call from his good friend Tim Floyd, now the coach at USC. Floyd had heard about an opening for a head coach at a school called Texas A&M-Corpus Christi. There was only one catch:
The school didn't even have a team.
---
Texas A&M-Corpus Christi is a university of 8,600 students in Corpus Christi (pop. 314,100), the eighth-largest city in Texas. The city is also a very popular vacation destination, since it sits right on the Gulf of Mexico. And the school is nicknamed The Island University, since the campus is on its very own island.
The university has undergone several transformations since it was first established in 1947. In 1989 the Texas Legislature approved an expansion of the school to make it a four-year comprehensive university. In 1994 that expansion came to fruition with the arrival of the school's first freshmen and sophomores.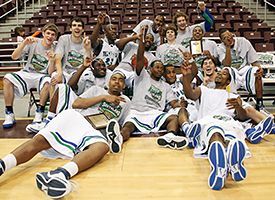 Steve Nurenberg
For the seven seniors on the Islanders, the Southland title means a dream trip to the NCAA Tournament.
Another aspect of the university's expansion plan was the introduction of an athletics program. "Athletics is hugely important for student engagement and school spirit," says Ken DeDominicis, a vice president for institutional advancement who was heavily involved in these efforts.
With that in mind, DeDominicis proposed an unusual move. He wanted Texas A&M-Corpus Christi to go straight to Division I. "We wanted to get the name of the university out there," says DeDominicis. "Why not go for the whole enchilada?"
The school wasn't going to field a football team, so the men's basketball team would be its highest-profile program. Now it just needed the right person to take the helm.
---
"Took about two seconds," to accept the job, Arrow says now.
But only when Arrow arrived at Corpus Christi full time did he realize just how big of a challenge he faced. "We had nothing. No papers, no pencils, no mascot," says Arrow. "We didn't even have a logo."
He also didn't have any players, save for three transfers who had to sit out their first year anyway. So Arrow spent that whole first year on the road, recruiting. But he did still hold a Midnight Madness event to kick things off in the fall of '98. "I was in a tux, and my two assistants were there, with the three transfer kids and about six boosters," says Arrow. "We did some shooting, and some passing. … And I told the guys, 'Y'all will remember this, 'cause from now on there will be a lot more exposure.'
"I thought it'd be, max, three years before we'd be in a conference."
---
On Feb. 27, 2006, the Texas A&M-Corpus Christi Islanders wrapped up their seventh season of Division I men's basketball with a 93-69 home victory over Texas-Pan American. For the seventh straight season, there would be no March Madness in Corpus Christi.
That wasn't because of a lack of effort, or improvement. Arrow had guided the Islanders to an impressive 13-13 record in their first season, 1999-2000. The Islanders hovered around .500 for the next four seasons as well. Then, in 2004-05, the Islanders had a breakthrough campaign, going 20-8, including a noteworthy win at Florida State. And they followed that up with another 20-8 season in 2005-06, becoming the first independent team to register back-to-back 20-win seasons since Notre Dame in 1989.
But without a conference affiliation, the Islanders had no chance to compete for an automatic bid to the NCAA Tournament, and no realistic chance for an at-large bid either.
Holding on to the slimmest of hopes that they might receive a call from the NIT, the Islanders kept practicing for almost two weeks after their final game last season. On Selection Sunday the team gathered at Beamer's -- a local burger joint -- to watch the NIT selection show and see if the phone would ring.
"We wrote letters, and I kept calling people. People told me we were being considered," says Arrow. "But lookin' back, I don't know if an independent could ever get in [to a postseason tournament]. But I always had to keep that carrot out there for the kids."
It was a disappointing day. But the players and coaches immediately turned their attention toward the future and went to work, knowing the 2006-07 season would be different. Knowing next season they'd have seven seniors. And knowing they'd finally be joining a conference.
---
Ten minutes before the tip-off of the Southland Conference tournament championship game this past Sunday afternoon, the national anthem was playing in the arena. Inside the Islanders' shoe box of a locker room, nestled in the far left-hand corner of the gym, associate head coach Andy Helton was barking at the players. "Let's go git it!"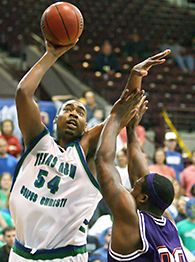 Steve Nurenberg
Seven-foot center Chris Daniels was the Southland Conference Player of the Year.
The team then huddled up in the middle of the room to say the "Our Father," their standard pregame ritual. But before they launched into the prayer, Arrow leaned in from behind the huddle and said, in his raspy Southern twang, "We're champions, boys. Let's go prove it."
Yes, this season the Islanders finally had that chance.
On July 1, 2006, Texas A&M-Corpus Christi was formally admitted into the Southland Conference, meaning these seven seniors would finally get a chance -- one single chance -- to make an NCAA Tournament, and make a dream come true:
• Taurean Mitchell. One of Texas A&M-Corpus Christi's starting guards, Mitchell actually grew up in Corpus Christi. But that doesn't mean he always wanted to be an Islander. "As a freshman [in high school], I'd never heard of the team," says Mitchell. "I knew most of the players, and I had played with them, and I was like, 'This is not a good team!'" But Arrow was the first Division I coach to offer Mitchell a scholarship and he decided to stay home and play in front of his family and friends.
• Josh Ervin. Ervin is Mitchell's backcourt running mate and fellow co-captain. In fact, the two are practically interchangeable -- they're the same size (6-foot-1), and both handle the ball very well and will knock down an open perimeter shot. Ervin hails from Houston.
• Kevin Menifee. A 6-5 swingman from Pittsburgh who can lock a player down defensively and swarm the glass for rebounds -- all while appearing to barely break a sweat -- Menifee is also the brother of former UConn and current WNBA star Swin Cash.
• Seth Engelken. A 6-7 power forward from Missouri, Engelken will scratch and claw for every loose ball and rebound he can get his fingers on, and he also handles the ball pretty well for a big man.
• Chris Daniels. The 7-footer from San Antonio was the Southland Conference's Player of the Year this season (15.2 ppg, 6.6 rpg, 1.5 bpg), and has NBA scouts checking him out. He can opt to return for one more season at Corpus Christi after regaining the year of eligibility he lost due to academics as a freshman. He says he probably will return for one more year.
Daniels is also quite the character. One of his many nicknames on the team is Big Greasy -- "because I used to weigh 300 pounds. And my lips are extremely big. I got teased a lot as a little kid. Imagine these lips on a 6- or 7-year-old's body!" Deep down, Daniels seems like quite the teddy bear -- which is rather ironic since, according to the team's media guide, he sleeps with a teddy bear. "Aw man they're just playin', I don't sleep with no teddy bear," Daniels replied when questioned about that. "They just told me to say that for fun."
• Josh Washington. J-Wet (because his jump shots usually splash through the net) is the team's sixth man, and he provides instant offense from behind the 3-point arc (he's the team's second-leading scorer). Washington hails from Lubbock, Texas, and played two seasons for Bob Knight at Texas Tech before transferring to Corpus Christi, hoping to get more playing time. Washington also stands out from the rest of his teammates because he wears a green T-shirt during warm-ups, while the rest of the team wears blue shirts. "I've been wearing it since our first conference game, and it's brought me good luck," says Washington. "The guys call it the green light shirt."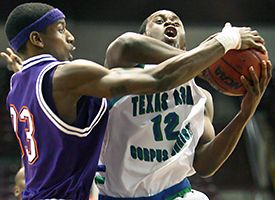 Steve Nurenberg
Senior guard Josh Ervin averages 8.2 points per game and shoots 40 percent from the 3-point arc.
• Cedric Smith. Most teams can't afford the luxury of bringing a player as good as Smith off the bench. He's the team's third-leading scorer at 9.8 ppg, plus he's shooting 59.2 percent from the field -- which is actually down from the 66.2 percent he posted a season ago, which was second in Division I. Odds are, if Smith puts up a shot, it's going in.
Besides those seven seniors, Texas A&M-Corpus Christi features:
• Scooby Johnson. Scooby, like Smith, shoots a very high percentage from the field (60.4 percent), and averages a similar 9.2 ppg off the bench. He's also the guy on the team most likely to have his own late-night talk show someday.
• Matt Slatnick. Every Cinderella needs a walk-on who can play and Slatnick fills that role perfectly. The 5-11 sophomore from Austin can really fill it up from beyond the 3-point arc if he gets open looks.
• Carl Nelson. Nelson, a 6-11 sophomore, only averages six minutes per game, but provides valuable breather time for the other big men, particularly Daniels.
And then there's the scout team, aka the "White Team" (because they always wear white uniforms in practice) -- the group of five guys who don't often see serious minutes during the games but are responsible for learning the opponent's plays and showing them in practice. That group is led by 6-foot sophomore guard Dominique Taylor, and also includes 5-10 freshman Brandon Roberson, 6-foot redshirt freshman Adan Montalvo, 6-5 junior Cameron Teague and 6-7 redshirt freshman Chad Nelson.
Seven Islanders average at least 20 minutes per game (and an eighth, Engelken, averages 15.2), and no player averages more than 27 minutes -- meaning this team is pretty deep for a Cinderella, and Arrow keeps his players fresh.
Also, Texas A&M-Corpus Christi is second in the nation in field-goal percentage (52.4 percent), behind only the defending national champs, Florida (52.7 percent) -- pretty darn impressive.
The Islanders didn't have any eye-opening nonconference wins this season. They lost at Oklahoma State by 22, at Mississippi State by 24, at UNLV by 10 and at Purdue by 18. But all those games were before January. The Islanders rolled through their first year of conference play, winning the regular-season Southland title with a 14-2 record (23-6 overall).
Last Thursday, the first day of the Southland tournament, the Islanders took care of No. 8 seed Southeastern Louisiana 80-72, shooting 59.6 percent but committing 26 turnovers, which allowed the Lions to hang around. On Friday, the Islanders knocked off No. 4 seed McNeese St. 87-66, shooting 56.4 percent and pretty much controlling the game the whole way.
That set up Sunday's championship game against No. 3 seed Northwestern State, which won the conference tournament a year ago, and went on to upset Iowa as a No. 14 seed in the first round of the Big Dance.
A fitting opponent for the final step.
---
With two seconds left, everything went into slow motion.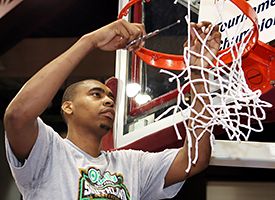 Steve Nurenberg
Team of destiny? Chris Daniels and his teammates won't be an easy win for Wisconsin.
The Islanders had jumped out to a 44-36 halftime lead, but the Demons kept hanging around, and hanging around, and hanging around. And all of a sudden Northwestern State trailed by only one, 79-78, with two seconds to play.
Josh Ervin stood at the foul line, to shoot two. But there was a delay of several minutes, as the referees tried to get the correct time displayed on the scoreboard. Then Northwestern State called a timeout, to ice the shooter.
Ronnie Arrow and the Islanders were going to have to wait even longer.
Finally, Ervin received the ball from the referee. Dribble, dribble, dribble, spin, dribble … good. Dribble, dribble, dribble, spin, dribble … good. 81-78. Timeout Northwestern State. Following that, timeout Texas A&M-Corpus Christi.
Then -- finally -- there was a baseball pass … then a second pass, intercepted by a blur in a white uniform. The Islanders were going to the NCAA Tournament.
And several minutes later, standing on a ladder holding a pair of scissors, Ronnie Arrow cut the cord, and held his piece aloft for the crowd that had gathered below to see. He lingered on that ladder for a moment. And his eyes fell on the logo on the uniforms, and the mascot, and the fans that had poured down from the stands.
"This is a culmination of all the players who for eight, nine years have helped build this program," says Arrow. "We've come a long way."
Now he gets to watch his baby grow.
---
Note: Kieran is currently in Corpus Christi with the Islanders, and will be following the team to Chicago for its first-round game against Wisconsin on Friday. Come back to Page 2 for more on the Islanders on Wednesday and Friday.
You can e-mail Kieran at kieran.d.darcy@espn3.com.