CORPUS CHRISTI, Texas -- A couple minutes after 7 p.m. Sunday evening, the Texas A&M-Corpus Christi team bus pulled out of the parking lot of the Wyndham Hotel in north Houston. Soon after the team's departure, assistant coach Stott Carter stood up and popped a VHS tape into the VCR on board.
What movie would the Islanders be watching on their way home to Corpus Christi?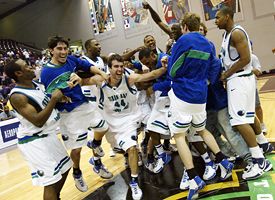 AP photo/Jessica Kourkounis
These are heady times for the Islanders.
"Hoosiers," of course. How appropriate. After all, the Islanders are the "Hoosiers" of this year's Big Dance -- the only first-timers in the field of 65, going dancing in only their eighth season of play and their first as a member of a conference.
Ever since Texas A&M-Corpus Christi clinched its ticket to the tournament Sunday afternoon in Houston, life's been a lot more hectic -- and exciting -- for these Islanders.
By the time the team had cut down the nets in the Campbell Center and met with the media, it had less than an hour to get back to the hotel to watch the selection show. A party for the team and its supporters had been set up back at the Wyndham -- complete with a giant projection screen TV.
The Islanders didn't have to wait very long to find out their next opponent. The Midwest region was the first revealed, and right after Wisconsin popped up on the screen as a No. 2 seed, well … you know what team appeared next.
"OHHHHHHHH!!!" the players and the couple-hundred-strong crowd yelled collectively, many of them leaping out of their seats.
But beyond that initial explosion, there was little in the way of wild celebration. It seemed everyone in the room had been hoping the Islanders would receive a slightly higher seed. "I thought we'd get a better one," said starting power forward Seth Engelken. "But Wisconsin's our opponent, and now we've just got to get ready for 'em."
After that excitement was over, the team got food from the buffet and watched the rest of the selection show. Soon after, they were boarding the bus to head home.
It was a happy bunch of players, but not a rowdy bunch, on the ride back. Meanwhile, the coaches in the front of the bus quickly got to work -- calling colleagues to ask for game tapes of the Badgers and calling recruits to see if they'd watched the Islanders' monumental win.
The ride back took almost five hours. And the bus was a lot more crowded for the last hour or so, after stopping to pick up the school's cheerleaders and band members, who had made the trip to Houston for the conference tournament and whose bus had broken down on the way home.
As the team bus pulled onto campus just before midnight, head coach Ronnie Arrow swung around from his front row seat and said to the newcomers, "Hey, we really appreciate y'all coming."
Then it was time to go rest and start preparing for the next journey.
---
The players were given Monday off from practice to rest and recuperate. All they were asked to do was lift weights. "We needed it," says starting guard Josh Ervin. "We were hurtin' in places we didn't even know we had."
Ervin (J-Erv) went to see a movie, "300," with reserve guard Matt Slatnick. Josh Washington (J-Wet) had been planning to spend the day at the beach, but ended up indoors all day watching movies instead. "The weather just didn't cooperate!" Washington said.
When the weather does cooperate, Corpus Christi is one heck of a place to go to school. From downtown, you cruise down Ocean Drive for several miles, with Corpus Christi Bay and lots of beachfront resorts on your left -- and, next thing you know, you see the "Texas A&M University-Corpus Christi" sign on your right, you're on a separate island, and you're rolling onto campus, with palm trees surrounding the dorms and seagulls squawking everywhere.
And yes -- the university has its own beach. The place really looks more like a resort area than a college.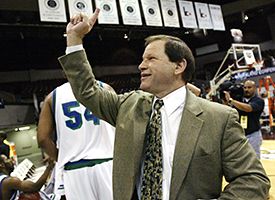 AP photo/Jessica Kourkounis
Welcome to the Big Dance, Ronnie Arrow. It's a long way from the Cold Dome.
An additional perk, if you play basketball for the Islanders, is that you get to play your home games at the American Bank Center, the Islanders' brand new arena, which opened in November 2004. Before that, the team played its games at the old Memorial Coliseum -- which Arrow had another name for. "We called it the Cold Dome," Arrow says. "There was an ice hockey rink underneath, and it was so cold in there, when you talked you could see the frost.
"Our last three years there, for recruiting, we'd just do drive-by visits. We'd drive the recruits by the arena, but never get out of the car."
The American Bank Center, on the other hand, is a state-of-the-art arena that seats 8,700 for basketball and has ceiling-to-floor windows on one side that look out on Corpus Christi Bay. "It's as nice a building as anywhere in the country," Arrow says. "It might not be the biggest, but it is beautiful."
Arrow and his assistant coaches, unlike the players, were extremely busy on Monday. They fielded lots of calls from players' parents and families about tickets and hotels in Chicago. They had to make trips to the airport to pick up game tapes that were shipped to them. And then the three assistant coaches divvyed up the responsibility for scouting each of the Islanders' three potential opponents in Chicago -- Wisconsin, UNLV and Georgia Tech.
Wisconsin isn't the only team preparing for the second round.
There was also recruiting to do. After all, this NCAA Tournament opportunity is the kind of exposure Corpus Christi's coaches dream of -- and must take advantage of. So on Monday, associate head coach Andy Helton flew from Corpus Christi to Tulsa, Okla. -- then drove two and half hours to Wichita, Kan., to see a recruit play.
"This is fun work though," says Helton. "Man, what a thrill."
---
On Tuesday, media requests really picked up for Arrow. He did several radio spots, as well as an appearance on ESPN's "Outside the Lines."
Earlier in the day, the coaches had a film session with players, breaking down Wisconsin. Then the team gathered at its usual practice spot, Moody Sustainers Fieldhouse, for a 3 p.m. practice.
For the first 15 minutes or so, there were lots of smiles on display -- lots of players joking around and kidding with one another. But that didn't last long.
"Hey! Are we just happy to go guys?" Arrow suddenly screamed at his players. "Then why don't we just get on a plane right now! I got three hours before we got to go do something. That's on y'all."
The players quickly got serious, and Arrow put them through an intense 2 1/2-hour practice -- including making his first unit run sprints on more than one occasion for missing free throws or generally making mistakes. No more fooling around.
Then came the really fun part of the day. After practice, the team headed over to the Padre Staples mall for a 6 p.m. pep rally. About 400 people showed up -- Texas A&M-Corpus Christi is actually on spring break this week, if school was in session there undoubtedly would have been a lot more people -- and the players signed autographs for a full hour.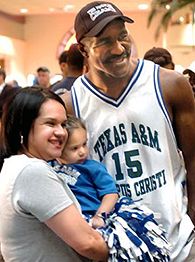 George Tuley/Corpus Christi Caller-Times
Evander Holyfield stopped by the Islanders' pep rally to offer words
of encouragement.
They also got an inspirational speech from a very special guest in attendance -- four-time world heavyweight champion Evander Holyfield, who's fighting Vinny Maddalone at the American Bank Center on Saturday night.
"People told me I could never be the heavyweight champion of the world," Holyfield told the Islander. "And I've been the champ four times.
"It's not about your size, it's about how big you think. It's not about what school you go to, it's about strength and determination."
After the pep rally, the team headed over to Beamer's -- the burger joint where they watched the selection show last year, one of the most disappointing days of their careers -- and had a final meal in Corpus Christi.
The mood was jovial as the team mingled with friends, family and fans. But they couldn't stay too late. The bus was scheduled to depart at 7 a.m. Wednesday for Corpus Christi International Airport, where the team would board its charter flight to Chicago.
Normally you'd be crazy to leave tropical Corpus Christi for the Windy City this time of year.
But as Arrow says, "There's a job to do."
---
Note: Kieran is following the team to Chicago for its first-round game against Wisconsin on Friday. Come back to Page 2 for more on the Islanders on Friday.
You can e-mail Kieran at kieran.d.darcy@espn3.com.