CHICAGO -- The Texas A&M-Corpus Christi men's basketball team had a run-in with the police early Wednesday morning. Actually, it was more like a "run-behind."
The Islanders' bus got a police escort to Corpus Christi International Airport as the team headed for Chicago and its first-ever NCAA Tournament game. There were well-wishers waiting for them at the airport, and some say this is the biggest thing that has ever happened to the city.
Also waiting for the Islanders at the airport was their own chartered plane. There was no convenient way for the team to fly commercially from Corpus Christi to Chicago -- only a few airlines fly into and out of Corpus Christi -- so the NCAA provided a charter.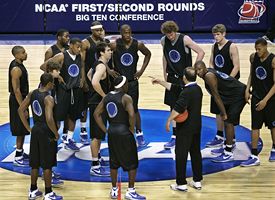 AP photo/Brian Kersey
Texas A&M-Corpus Christi is aiming to become
the fifth No. 15 seed to defeat a No. 2 in NCAA Tournament history.
The flight was delayed for a couple of hours due to fog. But once it got going, the players really enjoyed the ride -- they had never ridden on a charter before. "It was a lot of fun," said starting forward Seth Engelken. "There was a lot of food, and we were able to spread out and just chill out. Most guys slept for at least some of the flight. Some guys listened to music, and a couple were flirtin' with the cheerleaders."
After landing in Chicago around 2:30 p.m. and making a quick pit stop at their hotel on Michigan Avenue, the Islanders got right to work, heading to the West Loop Athletic Club for a 4 p.m. practice. There they continued to work on defending Wisconsin's swing offense.
After practice, the team headed for dinner at Giordano's, a well-known deep-dish pizza restaurant, where they were joined by about 20 athletic department staff members and school administrators. The atmosphere was one of celebration. "It was really nice, to soak it all up a little," said associate head coach Andy Helton. "I think everyone really enjoyed themselves."
It was a whirlwind day in what has been a whirlwind first postseason experience for these Islanders. After dinner, the team had a brief meeting, then headed to bed. Thursday promised to be an extremely busy and exciting day.
---
At 12:05 p.m. Thursday, in the bowels of the United Center, Josh Washington (J-Wet), Taurean Mitchell (T), Josh Ervin (J-Erv) and Chris Daniels (Big Greasy) walked out from behind the curtain and onto the stage in the media interview room. The bright lights stunned each of them for a second as they took their seats for their pregame press conference.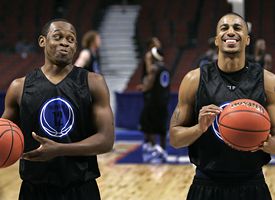 AP photo/Brian Kersey
Islanders Josh Ervin (left) and Josh Washington
share a laugh during Thursday's shootaround.
After the Islanders' first-round win in the Southland Conference tournament on Thursday, there were four reporters at the postgame press conference. At this Thursday's pregame press conference, there were about 34.
The players handled themselves well. Ervin got a few laughs when he said, "I really like the fact that not too many people know about us. I think we can go out here and really prove to a lot of people that Texas A&M-Corpus Christi can really play some basketball."
Daniels came off as pretty confident when asked about the prospect of playing against Big Ten Player of the Year Alando Tucker: "He's a pretty good player. But we've got Kevin Menifee, who's an athlete, a flat-out athlete. … They also gotta guard us, as well. … We gonna see what's goin' on."
Coach Ronnie Arrow came on after the players, and he soon had the press corps cackling with his dry wit. When asked if he has talked to his team about the history of No. 15 seeds upsetting No. 2 seeds in the tournament, Arrow's response was: "We did bring it up. And thank goodness there is a No. 5 in the numerical system. We know only four times has a No. 15 [seed] beaten a two, and we hope to be No. 5."
After Arrow wrapped up his press conference, the team had a 40-minute shootaround on the United Center floor. Except for the enormous size of the venue, it was about the same as any shootaround the Islanders have had since the Southland Conference tournament began last week. They wore the same black -and- blue reversible practice jerseys. They clapped their hands every time they huddled up. They did the same stretches and shooting drills. Arrow didn't say very much. Instead, he mostly just paced up and down the court with his hands buried in his sweat-suit pockets, watching his players intently and occasionally barking a command or a few words of encouragement.
Pretty much the only other differences were that Jim Nantz and Billy Packer of CBS were watching on one sideline and the team had a small cheering section of schoolchildren on the other.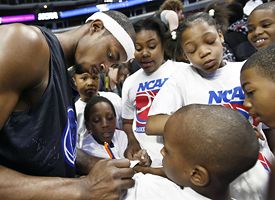 AP photo/Nam Y. Huh
Islanders forward Kevin Menifee signs autographs
for schoolchildren at the United Center.
When the buzzer sounded signifying the end of the Islanders' court time, the players went into the stands to slap fives with the schoolchildren and sign autographs. And they kept doing that as they left the court to return to their locker room.
"Hey, what's up with that Kentucky hat?" forward Scooby Johnson teased one of the kids before signing an autograph.
"We really appreciate it," Ervin told another very young fan.
One older gentleman went up to Daniels and said, "You're gonna shock the world tomorrow!" Daniels' response: "We gonna try."
Then Daniels got lost on his way back to the locker room. Can't really blame him -- it's a pretty darn big place.
On the way back to the team bus, a few players peeked their heads inside the Chicago Bulls' locker room, a couple taking pictures with disposable cameras. Then they boarded the bus, ate their box lunches and headed back to their hotel.
But their work wasn't done for the day. Coach Arrow wanted to have one last regular practice later that afternoon, at the University of Illinois-Chicago. The team practiced for about an hour and 15 minutes, focused almost entirely on game strategy -- defending Wisconsin's offense and how to counterattack.
Arrow was riding his troops pretty hard. "I respect No. 42 [Alando Tucker] immensely," Arrow said. "But I respect what we do and our program even more. We're not going to change up everything we do. … We're going to show them what we've got."
Following practice, the team had a couple of hours to relax before the team dinner at the hotel at 8 p.m. -- then there was one more team meeting, and lights out at 11 p.m. A lot of the guys turned on the tournament games while they were relaxing. "It's started to become reality to us, that we're playing in this tournament," Engelken said. "For me, I'm just gonna try to remember that it's just basketball, the sport I've been playing since I was 5 years old. Between those sidelines, it's all the same game."
But, deep down, they all know that Friday's game is different. Friday's game is the biggest game of their lives.
On Friday afternoon, these Texas A&M-Corpus Christi Islanders can author one shining moment that will never burn out.
Note: Kieran is covering the Islanders' first-round game against Wisconsin. Check back Friday night for Part IV in the series. You can e-mail Kieran at kieran.d.darcy@espn3.com.