FAIRFIELD, Conn. -- They might have been the cruelest 30 seconds I've ever witnessed in sports.
The Mount St. Mary's Mountaineers, the No. 4 seed in the Northeast Conference, had just fought off one final furious rally by the No. 3 seed Sacred Heart Pioneers. The Pioneers, playing at home, now trailed 68-55 with less than 40 seconds remaining. Sacred Heart guard Corey Hassan missed a 3-pointer, Mount St. Mary's Markus Mitchell pulled down the rebound and all the Mountaineers had to do was dribble out the clock.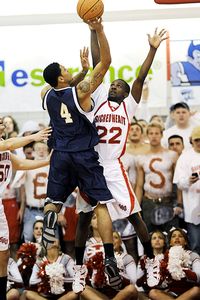 AP Photo/Douglas Healey
Mount St. Mary's took out Sacred Heart on its home floor to get to the Big Dance.
The Sacred Heart players, seeing there was nothing more they could do, simply coalesced in front of their bench and helplessly watched the clock wind down, tick after agonizing tick.
It wasn't supposed to happen this way. This was the season coach Dave Bike and his Sacred Heart team were going to get over the hump and make the Big Dance for the first time. It's been a long journey. Bike has been the coach at Sacred Heart for 30 years -- the second-longest tenure of any Division I men's basketball coach, behind only Jim Boeheim at Syracuse.
For much of Bike's tenure, Sacred Heart was a Division II program. He led the Pioneers to a Division II national championship in 1986. But in 1999, the university decided to bump its athletics program up to Division I, presenting Bike and his staff with a new challenge.
It took several years of blood, sweat and tears, but a season ago, the Pioneers finally reached the conference championship game. Sacred Heart played in-state rival Central Connecticut State at CCSU and had a 10-point lead midway through the second half before letting the game slip through its fingers in the final minutes.
This season, the Pioneers went 13-5 in the NEC, good for third place. And by beating No. 2 seed Wagner in the semifinals, combined with top seed Robert Morris getting upset in the other semi, Sacred Heart earned the opportunity to host this year's NEC title game. And Sacred Heart had beaten Mount St. Mary's in their one previous meeting this season, 67-59 on the Mountaineers' court.
Now, an admission: I traveled to Fairfield on Wednesday to watch Sacred Heart win. You see, earlier this season I spent some time on the road with the Presbyterian College Blue Hose, a team in its first season of transition from Division II to Division I. Presbyterian played the toughest schedule in America this season, dreaming of one day having the opportunity to earn a Big Dance berth.
Sacred Heart seemed on the verge of completing that journey, and I wanted to witness its celebration in person. With the Pioneers playing at home and no doubt having learned a great deal from last season's championship game experience, I figured Sacred Heart was a pretty sure thing.
I know, I know …
The fans certainly did their best to spur on the Pioneers. There were 2,774 people crammed into the supposedly 2,100-capacity William H. Pitt Center. They were there early, wearing their white Sacred Heart T-shirts and waving their white rally towels. And many must have worn out their vocal cords by the end of the night, because it was one of the loudest, most electric buildings I've ever been in.
The Sacred Heart players looked jittery early on -- fumbling handoffs, forcing entry passes, balls glancing off their fingers. Mount St. Mary's smothering man-to-man defense was undoubtedly a big reason why -- the Mountaineers seemed to have a hand in every passing lane, allowing no easy passes, let alone easy shots.
Mount St. Mary's held Sacred Heart scoreless for nearly seven minutes early in the first half, opening up a 13-4 lead. But Sacred Heart clawed its way back, led by its two senior starters, guard Drew Shubik and forward Brice Brooks. When those two were freshmen, Sacred Heart went 4-23. Can you imagine how badly they wanted to win this game?
Sacred Heart got within one point, at 20-19, late in the first half. The game followed that pattern the rest of the way. Mount St. Mary's opened it back up to 28-19 … Sacred Heart closed the gap, even taking the lead briefly at 29-28. Mount St. Mary's went up 40-33 … Sacred Heart cut the deficit to 44-42. Mount St. Mary's went up 50-42 … and finally, with just more than two minutes to play, Sacred Heart cut it to 57-55 on a layup by sophomore guard Chauncey Hardy.
Anyone in the building would tell you Sacred Heart played its guts out. Its players showed a ton of, well, heart. But in the end, they just couldn't get over that hump.
Mount St. Mary's reeled off 11 straight points, mostly from the foul line, to close the game. And as painful as those final 30 seconds were, it got worse.
The Pioneers had to remain on their bench and watch Mount St. Mary's celebrate all over their home floor while waiting for the awards ceremony. Most of them couldn't bear to watch. Shubik had his head between his knees. Bike stared straight ahead into space. Meanwhile, the Sacred Heart fans slowly filed out of the building, stunned at what had just taken place.
When the ceremony was over, the Sacred Heart players quickly retreated to their locker room, while the Mount St. Mary's squad took pictures at center court and prepared to cut down the nets.
Sacred Heart's postgame news conference was predictably subdued. Bike and his players made no excuses. In fact, they all basically agreed on the central reason for the loss.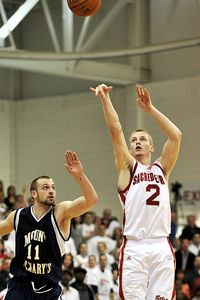 AP Photo/Douglas Healey
Sacred Heart simply didn't shoot well enough to win, losing their second consecutive conference championship game.
"It's hard to look good when you shoot 29 percent," Bike said. "I thought the effort was there. We just didn't get enough points."
Added Shubik: "Hats off to them; they outplayed us tonight."
And Brooks: "Guys just didn't play as good as we normally do."
And Hardy: "We missed shots that we normally make."
Sacred Heart came in averaging 72.4 points per game. It scored only 55 Wednesday night. It's a pretty simple game, when it comes right down to it.
When the news conference was over, the Sacred Heart players disappeared from the room before you could snap your fingers. When I turned around in my seat, I understood why. The Mount St. Mary's players, visible through the glass windows surrounding the room, were waiting their turn -- wearing their white NEC champion T-shirts and hats, many with small pieces of net poking out from the backward brims.
That's when it really struck me -- how cruel this time of year can be.
When asked what he and his team were going to do the following day, Bike said: "Relax, I guess. The guys will go to class, I hope. I don't know. I don't have class, so I don't know what I'll do."
This Sacred Heart team has had another practice, another game to look forward to ever since October. It doesn't have those things to look forward to anymore, at least not for a long while. Some of these players, like Shubik and Brooks, never will get another chance.
For many of us, March Madness is the most wonderful time of the year. We obsess over the bracket. We eat up all the games. We embrace the latest incarnations of Cinderella.
But what about the teams that fall just short? March must be a miserable month.
So if your team's in it this March, appreciate it. Relish every moment of it. But don't forget how precious it is.
I'm afraid my March might be just a little less joyful this time around. But I won't forget the good fight Sacred Heart fought. And how far it's come.
Kieran Darcy is an editor for Page 2. You can e-mail him at kieran.d.darcy@espn3.com.