WEST LONG BRANCH, N.J. -- On Wednesday, smack in the middle of the 2008 Olympics, the reigning United States national champion in the javelin wasn't in Beijing preparing to compete for a gold medal. Instead, he was sitting in his old coach's office on the campus of Monmouth University.
Why?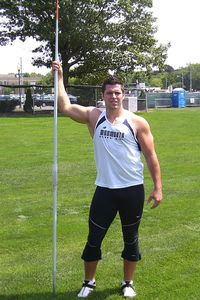 Kieran Darcy / ESPN.com
Bobby Smith is the only U.S. track and field champion not in Beijing.
A little over a month ago, at the U.S. Olympic track and field trials in Eugene, Ore., Bobby Smith of Hopatcong, N.J., was the surprise winner in the men's javelin competition. On his fifth of six attempts in the finals, Smith threw a personal-best 249 feet, 6 inches, which put him in the lead and eventually held up as the best throw of the competition.
Normally, the top three finishers in each event qualify for the U.S. Olympic team. Smith's problem? His best throw, even though it won him the national championship, didn't reach the Olympic qualifying standard.
The real problem that day was the weather. A strong headwind blowing into the competitors' faces meant that it was going to be extremely difficult for any of them to reach the Olympic standard (268-4). Smith battled the elements better than anyone else but still came well short of achieving the necessary distance.
Smith was aware at the time that he'd fallen short of the Olympic mark. But after the event was over, he raced over to the judges, hoping against hope that there was an exception to the rule. "I thought that if I won, I might go [to the Olympics] anyway," Smith said. "Just because we'd probably want to send the best one, your best athlete."
The judges informed Smith that, alas, the rule was hard and firm, so Smith is the only U.S. track and field champion not at this year's Olympic Games.
"It hurt, obviously," said Smith. "But I still won, and I threw my best, so that's all I can ask from myself. It just happened that the wind was in our face, and not at our back."
What's more, Mike Hazle and Leigh Smith -- the second- and fifth-place finishers at the trials, respectively -- had reached the Olympic standard in previous meets in the past year and a half. By rule, those two qualified for Beijing.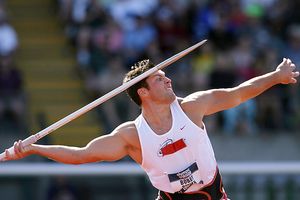 Andy Lyons/Getty Images
The conditions at the Olympic trials in Eugene, Ore., were far from ideal, but Smith still put on quite a show.
Smith admits to feeling mixed emotions in the aftermath of the trials. On one hand, he'd made a dream come true, becoming the national champion and getting to take a victory lap around Hayward Stadium. On the other hand, his USA team coat was taken away from him almost as soon as he put it on. Hardly anyone from the media wanted to talk to him afterward. And he didn't get to go to the Olympics and fulfill his ultimate dream.
But the hardest part, he said, has been dealing with the predominant reaction he's gotten since.
"What really hurt, or what really brought me down to earth, was when I was home, and people took it as a negative," Smith said. "Some people were afraid to approach me. They were just like, 'Oh man, that sucks you're not going to the Olympics.' And I'm like, 'I just won the national title!' It doesn't suck. Yeah, I'm not going to the Olympics, but I just won the national title."
Smith has dealt with setbacks before. Between playing football -- he was a running back and captain of Monmouth's football team -- and throwing the javelin, Smith suffered several serious injuries in college. He tore the ACL in his right knee as a sophomore. He tore the meniscus in that same knee as a junior, in addition to having Tommy John surgery on his right elbow due to throwing the javelin. In his final year at Monmouth, 2005-06, he broke his right ankle.
Smith bounced back from each injury, seemingly better than ever.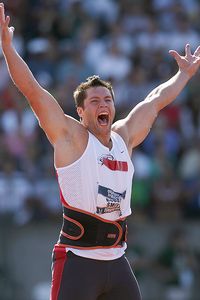 Andy Lyons/Getty Images
When the trials were over, Smith wasn't sure whether he was going to the Olympics. But he knew he was the national champion.
"Bobby's special -- and it sounds like a cliché, but it's because of his work ethic," said Joe Compagni, Monmouth's head track and field coach. "He is so tough. So many people, going through all those surgeries, would have thrown in the towel. But it was never even a thought for him, I don't think. It was always, 'I'm gonna come back.'"
Smith has already begun bouncing back from his latest adversity. After winning the national championship, he had the opportunity to compete in his first two international meets, in Finland, and made the finals in both. Now, after taking a week off to drive across the country with his old college roommate, he is back in New Jersey, starting to train for next season. In the meantime, he needs to figure out who's going to be his coach, where he's going to live and train, and how to support himself at the same time -- you don't exactly rake in the dough as a javelin thrower. But his smoldering green eyes are already focused squarely on the 2012 Olympics in London.
His college coach, for one, is confident that goal is within reach. "I think that [Bobby] is more than willing to do the work necessary," said Compagni. "Physically, he has the ability to do it. Think of the best athletes in most sports -- when they are at their best is when they've been doing it for a big block of time. [Bobby] has really only been a full-time javelin thrower for two years. And he's already made big progress from where he was in college."
The men's javelin prelims in Beijing are on Wednesday, and the finals are on Saturday. Smith plans to watch, and he said it won't be too difficult for him. But he admits he got a tad misty-eyed when he watched the Olympics' Opening Ceremony. "When they played that one song by David Cook, 'Time of Your Life' -- that was the song I always listened to at trials," Smith said. "And I definitely got a little choked up, realizing how close I was to being there."
But Smith believes his time will come. "Maybe it was a blessing in disguise," he said. "Maybe I wasn't ready for the Olympics yet. But I feel like I'm just starting to learn and train as a javelin thrower.
"Better throws are definitely ahead of me."
That said, Smith was kind enough to take a reporter outside and demonstrate how to throw a javelin. When the interview was over, Smith lingered on the field.
"I'm gonna stay here and throw," Smith said. "That felt good."
Kieran Darcy is an editor for Page 2. You can reach him at kieran.d.darcy@espn3.com.