By Michael Davies
Special to Page 2
Day 4: Adventures with Taki
International Media Center, Yokohama, June 3, 5:55 p.m.
I am about to witness the future of home entertainment.
Brazil and Turkey minutes away from kickoff in Ulsan, South Korea, and I am sitting in Japan with a perfect seat on the halfway line in the media tribune, with a perfect view of the entire field and stadium. I can see Rivaldo, Ronaldo and Batsuk; I can hear the Brazilian fans to my left and right; if I could, I'd sing along with the Turkish national anthem, I would. Is it a tape? Is it Memorex? No, it's the Satellite Stadium, "a seamless, ultra-wide, high definition, digital, mega-screen, distortion-free image transmission" that promises in its promotional literature to "reproduce all the excitement of the players and fans found in a real football stadium."
I want one.
Its three enormous, side by side, 16:9 ratio, JVC flat screens deliver the most phenomenal image across a seamless 320 square feet. It is mind-blowing.
My Japanese friend, Taki, has come down from Tokyo to watch the game and enjoy a couple of jars of Kirin afterward. Taki was born and raised in Japan, moved to Chicago when he was 14, is football crazy and now lives in Bristol, Conn., where he's one of the producers for "Gol ESPN, Football Extra" on ESPN International. With his long hair, suede Puma sneakers and unhealthy fascination with electronica, he looks more like a DJ than a sports producer. But it's great to have him down here -- I was starting to talk to the floorlamps.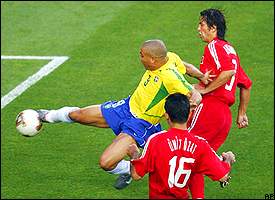 AP
Ronaldo was back in form, scoring here against Turkey.
(Note to self: Must actually speak to another writer in the media center).
Taki has an encyclopedic knowledge of international football and a genuine passion for the game. He plays on a team in Connecticut called the Glastonbury Celtics. He breaks down the Croatia-Mexico game I just watched with staggering insight into the influence of Mexican club soccer on the national game and the idiocy of the Croatian coach's team selection. As he takes me play by play through the game, I realize that if he was traveling, there's no way he should have been able to see it. But somehow he knows everything that happened. Ah, this one they call Taki, he possess hidden powers.
The game starts, and we are transfixed for the next two hours. Brazil reminds me of Chelsea. Stop laughing. Great individual players but not much of a team. But Ronaldo reminds us all of the old Ronaldo with that phenomenal shimmy and left foot step over. Rivaldo reminds me of Denzel Washington. Excellent acting gets Hakan Unsal sent off. The poor South Korean referee has a 'mare of a game, Brazil's winning penalty clearly awarded for a foul committed two yards outside the area.
Rather like England yesterday, the Satellite Stadium (incidentally, developed and provided by The Japanese Ministry of Public Management for some reason) has a poor second half. As the image flicks off the left side screen for the third time in five minutes, the English journalist in front of me turns to his mate.
"I'm not buying one of these."
I'm not sure they'll be at Circuit City in time for Christmas.
The Restaurant/Bar Buraisen, Noge-cho, 9:30 p.m.


Hidetoshi Nakata
The Buraisen bar's business card describes itself, in English, as "Barian, Unusual, Relent, Aggressive, Indelicate, Savage, Exciting and Necessary PLACE".
Yowzer.
I don't know who wrote that, but he certainly has never actually stepped foot into Buraisen. It is charming, laid back, and the food is superb and cheap. Without Taki, I would have been lost, but he suddenly morphs out of his Connecticut Electronica DJ personality and becomes full-on Japanese. He's reading me the vertically written menu full of wonderful Japanese characters I recognize from the tattoos of some of my favorite NBA players. He's bowing to the owner and barman and pulls out a wonderful gesture I can't do justice to in asking them if they wouldn't mind taking a picture of us. It's a wonderful hand-off-the-camera, hunchy-shoulder maneuver that I will practice later.
We watch the second half of Italy-Ecuador as the Italians, who you would expect to play far more attractive football, effectively kill the game with a 2-0 lead. We eat Goya, an Okinawan cucumber dish presented, the owner proudly tells us, "in the Chinese style" (which would explain the pork) and Nankotsu, fried/boiled chicken bone (sounds inedible, tastes like crunchy chicken bone, actually very tasty) and drink a fair amount of Kirin. I have lots of questions for Taki about Japanese culture and even more about Japanese football and their pride in being co-host of the World Cup.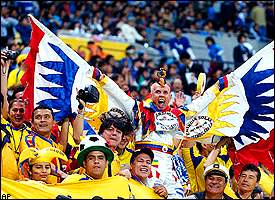 AP
Ecuadorean fans show their true colors against Italy at the Sapporo Dome.
To sum up: Japanese people often bow back at their television newscasters when they bow to them at the beginning and end of the broadcast. Magic. Hidetoshi Nakata, who plays for Parma in Italy, is the David Beckham or Michael Jordan of Japanese football. The Japanese side will succeed or fail tomorrow on his back. Understood. It is a phenomenal matter of pride for Japanese and South Koreans that their teams perform well at the World Cup, but even more important that one does not do better than the other. Seems fair -- there is, historically, no love lost between the two host nations. As Bill Bryson wrote in The Times after witnessing the joyous reaction of the Koreans to the opening ceremonies in Seoul the other night, "The Koreans haven't looked this happy since the Japanese pulled out in 1945." We discuss his grandparents' rice farm in Chiba and his desire to take me there to witness the traditional Japanese rural lifestyle. Fat chance.
Minato Mirai 21, Yokohama, 12:45 a.m.
Taki takes the train back to Tokyo from Sakuragi-cho station, while I, mildly drunk and talked out (poor Taki really paid the price for being my first conversation partner in five days), walk back through the modern complex of galleries, shops, hotels and public buildings that is the Minato Mirai 21 district in Yokohama. It's all moving walkways and escalators, but they have long since been turned off. A musical jingle precedes a prerecorded announcement in Japanese, and the lights go off, in a synchronized, choreographed fashion, accompanied by quite angelic, beautiful music.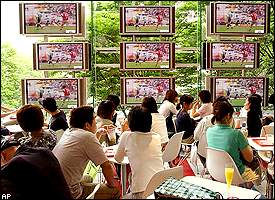 AP
Triple shot: The Nakata Net. Cafe, which is run by soccer star Hidetoshi Nakata, combines soccer, electronics and caffeine.
They do everything beautifully here. Cards made by local children illustrating tomorrow's weather forecast are placed next to my hotel bed each evening. Drugstore purchases are exquisitely wrapped and presented to the buyer, held in two hands with a bow. Shopping malls, deserted for hours, are closed with exquisite ceremony.
In the center of the mall, a four-story open atrium, enormous posters of the Japanese star player, Nakata, looking, frankly, like a God, loom over me from all sides. I stop and look up, wondering if he's going to sleep at all tonight, wherever he is.
I continue to walk, and just as I start to feel a little lost, a friendly face, a bellman I know from my hotel, steps through a door and beckons me inside. How did he know I was coming? It's a back entrance into the hotel lobby. I never would have found it.
"Mall closed," I am told. "You locked in."
Back in my room, 1 a.m.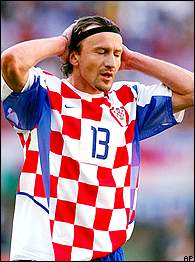 AP
The confused Mario Stanic agonizes after Croatia's 1-0 loss to Mexico.
I scan the best football writing on the Internet, ESPN.com's Soccernet, The Times of London, Football 365. The Argentinian papers apparently described the England performance as "Desorientado." As always with the English media, the first 35 minutes of England's domination are largely forgotten, but at least there's criticism of everyone. The line of the day is from Rick Broadbent in The Times about the Croatian coach's weak deployment of my least favorite Chelsea player in their loss against Mexico:
"Trailing to Cuauhtemoc Blanco's second-half penalty, Mirko Jozic took off his last front man and played Chelsea's Mario Stanic as a solitary striker. In terms of great escapes it was like giving Steve McQueen a pogo stick instead of a silver motorcycle. Stanic looked confused, the blond streaks in his hair his only highlights."
Tomorrow, I travel with Taki back to Saitama to see Japan's opener against Belgium. I am going to buy a Japan shirt this morning, probably with Nakata's name on the back. And I will cheer on Japan with everything I've got for all my new Japanese friends; for Taki, for Satoe Sugie, the head concierge at my hotel, the staff at the world's best Starbucks, the charming taxi drivers, railway ticket agents, chambermaids, waitresses, barmen, media center staff and even the nice, polite newscasters I now bow to on television. It's been less than a week. But I know I will miss the gentility and friendliness of this country when I return to shouting, in-your-face, garbage-filled and taxi-honking New York.
The way I miss New York when I go anywhere else in the world.
Michael Davies, a native of London, is executive producer of ABC's "Who Wants to be a Millionaire." He'll be filing five diary entries per week from the World Cup for Page 2.