By Michael Davies
Special to Page 2
Day 23: How to solve the referee crisis -- make Blatter ref the games
June 23, 1:25 p.m., Shinkansen back to Yokohama
George and I watched the highlights of the Spain-South Korea game last night in our rooms and talk about the refereeing controversy that is now all over the English language Sunday papers. An Italian consumer rights group and a right wing Italian politician have apparently already filed lawsuits in Italy alleging fraud and defamation against FIFA and the Ecuadorean official in charge of their
game
(funny how that word gets lost in all this) with Korea. And now the president of the Spanish Soccer Federation has resigned as a member of FIFA's referee committee (strangely unconstructive decision if that's where he's looking to effect change) in protest over the poor refereeing yesterday that he believed handed victory to the host nation, Korea. After watching the replays, I am more sympathetic to Spain's complaints than I was to Italy's, particularly in the instance of Fernando Morientes' goal that was ajudged to have been preceded by Joaquin Sanchez dribbling the ball out of bounds. Which it clearly wasn't.
But let me repeat the key phrase in that sentence -- after watching the replays. It has been reported that 22 television cameras have been covering each of these World Cup games. The replays are in super slo-mo, startlingly clear and accurate. But the referees watch these games in real time, they have to cover an enormous pitch, larger than an American football field, with few stoppages (as opposed to the American code) and with little help. They have two touch judges, one on each side of the field who cover half the field each. How many umps (or are they refs?) are there in an NFL game, like 19?
The facts are that: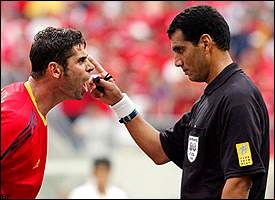 Egyptian referee Gamal Ghandour, right, makes his point with Spanish captain Fernando Hierro.
1. There is no conspiracy. If there were, Italy and Spain would still be in the tournament. This is not like the pairs skating or ice dancing or whatever it was at Salt Lake City. These guys are trying to make the right call.
2. Referees are only human. Is it really fair to have expected the ref to overrule the line judge when the line judge was in a better position (and that was his job) to call that line?
3. Is the line judge going to see that line every time? Isn't that line often going to be hidden by the ball, a defender's or a forward's boot? Perhaps, then, he should have made no call -- but perhaps he just saw it differently, saw something that made him think the ball was out. It happens.
4. There have always been mistakes at The World Cup (England's third goal in 1966, Maradona's Hand Of God in '86), and there are also mistakes made every week in the Premier League, Serie A and Major League Soccer. But more cameras are covering this World Cup, more angles, more slo-mo and more opportunities to prove refs wrong.
5. Sepp Blatter has completely let these refs and linesmen down by not supporting them. These are not millionaires like the players and coaches. They are true fans of the game. Do you have any idea how hard it is, how many years of unpaid service you have to put in to become a ref at this level?
6. Lawsuits over football refereeing decisions are, in my opinion as outside the spirit of the game as contestants who attempt to sue game shows when they don't like their questions. Oh, sorry, got a little distracted. But where does it end? There is more than a hint of xenophobia about this whole thing. Most of the refs who are bearing the brunt of the complaints are from smaller countries -- Ecuador, Korea, Egypt.
7. Something needs to be done to protect refs in the future.
George and I know how to solve this problem.
1. FIFA should experiment with adding two more assistant refs so each half of the pitch has two line judges on each side. That way, they are more likely to be able to see if the ball has crossed the bye line on their side, where it will be their call, but they can ask for help. Offsides would require two flags, one from each side to be called. That way, there would also be more scoring.
2. FIFA should also experiment with adding penalty box refs elevated above the goals looking for pushing, holding, shirt tugging etc. It's getting ridiculous in the box during corners and free kicks. These guys could also help with, or make penalty calls. Also it would be really funny to watch them dodging wayward shots over the bar.
3. Replays should absolutely not be considered. It would kill this game, it doesn't need any more stoppages or another reason for players to harass the referee.
4. Players should agree, in writing, to abide by the rules at the beginning of the tournament and to not argue with the referees. I want to see players carded for arguing. You just almost never see it. I also want to see more cards for not retreating 10 yards -- or rather for retreating 10 yards then taking little pigeon steps back to seven yards as soon as the ref turns around.
5. Italy and Spain should be allowed to play their own World Cup Final -- Blatter should referee -- over two legs in Barcelona and Palermo. The winner can call themselves The Best Of The Worst Losers In The World and take their trophy made of chocolate and their ball and go home.
5.15 p.m., Pan Pacific Hotel, Yokohama
After yet another stop at the Takishimaya Department Store outside Yokohama station in search of officially licensed products, George and I arrive back at the hotel. In the lobby I run into Deaton Bell, a producer from ESPN with Veronica Paysee, the charming and beautiful Uruguayan-American on camera talent who has been traveling all over Korea, and a little bit in Japan, doing features for ESPN and ABC Sports. Not that Deaton isn't charming and beautiful as well, it's just you just couldn't imagine him being host of a music video show on Univision. They're in Yokohama to do an interview with Pele. Remember him? Quite useful Brazilian of yore. And I think of 10 questions I would ask if I can just sneak over there with them and somehow get two minutes.
"Mr. Pele, Michael Davies from ESPN.com, I have 10 questions:"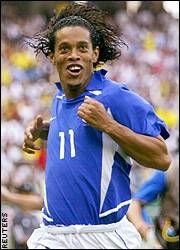 Reuters/Paulo Whitaker
At least Ronaldinho's game is pretty.
1. "If you were managing the Los Angeles Lakers Summer Soccer Team, would you play Shaq at center forward or center back?"
2. "Ronaldinho is not good-looking, ugliest World Cup player of all time?"
3. "Have you ever suspected that Arsene Wenger, Michel Platini and Dunga are part of a cell phone theft triumvirate?"
4. "My mate George Waud, how much does he look like the Senegal coach, Bruno Metsu?"
5. "Worst refereeing decision ever made in your favor?"
6. "There's one minute to go in extra time, you don't want the game to go to penalties, you're alone on goal, you look over your shoulder and see that Francesco Totti is writhing in the center circle, holding his face like someone just through acid at him, do you try and beat Gianluigi Buffon, or gently tap the ball out of bounds?"
7. "Soccer or football?"
8. "Brazil play good football or plays good football?"
9. "Name a weaker team than Turkey, Germany or Korea that ever made it to the World Cup semifinals?"
10. "Rivaldo, Golden Boot, Emmy or Academy Award?"
I head over to the interview room with them and am stopped at the door. A classic "and you are ...?" I tell him I'm Michael Davies from ESPN.com, "Oh, I read you on Page 2" he says, "That Sports Guy is hilarious!"
I hang around for half an hour but feel way too English to actually ask if I can ask my questions. But I've been invited to a press conference on Friday. I will get you the one they call Pele. Even if I have to call myself the Sports Bloke.
7.35 p.m., Room XXXX, Pan Pacific Hotel, Yokohama, or maybe a completely different hotel in a completely different city
Back in a new room I quickly check my e-mail. I have two from ... Wade. The first I absolutely do not understand a word of, it's something about Patton. The second is all very nice until the bottom:
No diary entry yet today; your devotees are counting on you! Tisk Tisk!
I am officially scared. I swear ... Wade, ESPN does not publish the diary over the weekend. I send three days on Monday. Don't be angry. Please? I promise I'll e-mail you back next week. Plus, The Sports Guy is much funnier.
Michael Davies, a native of London, is executive producer of ABC's "Who Wants to be a Millionaire." He'll be filing five diary entries per week from the World Cup for Page 2.