By Michael Davies
Special to Page 2
Day 24: Dubious World Cup Power Rankings take three
June 24, 11.25 p.m., walking back to the hotel
It being George and Dom's last night, we head back to Buraisen, perhaps the finest bar this side of Bhutan. The food is phenomenal, the drinks keep coming and the locals at the bar seem very keen to make friends, particularly with George. Two young women can't stop staring at him, and giggling, perhaps they think he's Bruno Metsu. George is great in situations like this, particularly after a tumbler or two of Sake.
"God shone his light on you two didn't he sweeties!"
The truth is, God could not have shone his light less on either of them. The lights were almost certainly off when he was doing this particular handiwork.
We struck the same pose when we found this Fatima Whitbread photo from 1987.
"Especially you" identifying the shy one who looked like an Asian version of former British javelin thrower Fatima Whitbread (if my editors at ESPN.com can find that photo, they are gods), "you cheeky, little monkey!"
Of course, none of them understood a word. I leave Dom and George as their third tumbler of sake arrived, leading the bar in song, cheering "Nippon, Nippon, Nippon." They've only been here since Wednesday. But they love it here too. This country is especially good for George because 99 percent of the time, no one can understand, nor take any offense, at anything he's saying.
I walk back to my hotel, the two miles or so, through Sakuragi-cho, up the escalators and along the moving walkways of Landmark Plaza and Queen's Tower and through the back door of the Pan Pacific.
Nine more days until I go home. Four teams left in the draw. Here's how I dubiously rank them tonight.

Bruno Metsu

George Waud
Davies' dubious and ever changing World Cup Final Four Power Ranking
1. Brazil
Ronaldinho is out of Wednesday's game against Turkey, and Ronaldo appears far from 100 percent fit. This game will be closer than their first meeting -- that one finished 2-1 -- but the score might not be. Get past this one, get Ronaldinho and a fully fit Ronaldo back and I can't see them losing the final. Key player on Wednesday -- Roberto Carlos.
2. Turkey
The only team left that can beat Brazil (albeit without Ronaldinho and with a slightly gimpy Ronaldo). I was wrong about them last week. I said I'd watch them and if they impressed me, I'd move them up. In Osaka they showed me plenty. Key player on Wednesday -- Hasan Sas.
3. Germany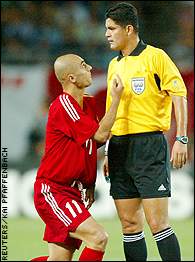 Hasan Sas pleads to referee Oscar Ruiz during Turkey's victory over Senegal.
Technically stronger than most people give them credit for, but in terms of creativity they make England look like Brazil. Do not appear to be getting much better as tournament progresses, played best football against Saudi Arabia, first half against Ireland and when down to 10 men against Cameroon. Performance against the United States was miserable. Physically, I think they will be too strong for South Korea and mentally just way too German. Key player on Tuesday -- Oliver Kahn.
4. South Korea
Ultimately, a loss would give them a chance to play for third place against Turkey or Brazil in Korea. It would still feel like a final, and Guus Hiddink's men should be more than happy with that. Their luck, which they have nevertheless earned, must be about to run out. Unfortunately for the rest of the world, looks like that will be against Germany. It would be great for football to see them in the final. But not necessarily great for Korean football. Expectations would grow out of control and it would be practically impossible for the nation's footballers to satisfy those expectations. Key player on Wednesday -- God.
June 25, 2 p.m., The Media Center
George and Dom have left for the airport (not until though, we have found even more officially licensed goods -- I am now wearing my official Cameroon warm-up jacket, which is confusing everybody) and I am in deep football withdrawal. Where has it all gone? Fifty-eight games down, just four more to go. I have no train to catch or airport to get to. I go to the tape viewing room with a bunch of tapes of games I didn't see -- Tunisia-Belgium anyone? But can't be bothered. So I do what I always do when I'm bored, I go get my haircut.
The Style Council, Landmark Plaza, 4.30 p.m.


Shinji Ono

Koji Nakata

Takayuki Suzuki

Junichi Inamoto
I would be causing less of a stir if I were a goat. Nobody, and there have to be a dozen hair stylists here, wants to go anywhere near my strange Western hair and my mysterious, wonky bald spot. Finally, a young man, he looks by far the most Bohemian and adventurous, walks over with a Japanese hair magazine and sign languages me to pick out a picture of what I want done. Now this is a little ridiculous. This is all Japanese boy band hair, or I could pick members of the Japanese National Soccer team -- ah, an Inamoto, a Suzuki, a Nakata K., or an Ono. Yes, an Ono, that's what I want, but a long one. After a 20-minute wash -- they must have found me terribly unclean -- a one hour, painstakingly slow, hair-by-hair haircut -- another wash, a massage, a dry (I have no hair left to dry), I am the proud owner of arguably the worst haircut of my life. I look like Zinedine Zidane.
Tomorrow, thank God there is football. Will he shine his light on the dull Germans? I'll be keeping my eye on the refereeing.
Michael Davies, a native of London, is executive producer of ABC's "Who Wants to be a Millionaire." He'll be filing five diary entries per week from the World Cup for Page 2.