By Michael Davies
Special to Page 2
Day 25: The Column Of ... Wade
June 26, Pan Pacific Hotel, Yokohama, 1:05 a.m.
Today, I did absolutely no writing. I forgot my pen and notebook. That just sounds so juvenile, like the dog ate my homework. But it's the truth. And it was good for me. And deep. When you're writing a diary for public consumption, you spend the whole time thinking how you're going to write everything that's happening to make it sound good. And you try to make good things happen, just so you can write about them. I needed a day off writing, I needed a day off making things happen, I needed to spend some time walking around Tokyo lost in my thoughts. I needed to watch the first World Cup semifinal for the simple joy of rooting against the Germans. So that's what I did. And here's how deep it was. I thought about just two things:
1. Why am I doing this?
I have come up with two reasons that make any sense, George and ... Wade. Lots of writers talk about how satisfying writing is, but the fact is that though it of course fulfills some deep inner need to talk about me, me, me, me, me, me, it is mostly more of a burden than a matter of any satisfaction. Maybe that means I'm not a writer -- but I cannot tell you how much pleasure it gave me to log onto ESPN.com this morning and see my mate George Waud's picture next to Bruno Metsu and a beautiful photo of Fatima Whitbread. My editors are world class -- no writer, not Keats, Wordsworth or Shelley ever felt that good. And then there's ... Wade. I take back everything I said about him over the weekend. He's a star. In my e-mail this morning he sent me a beat-by-beat account of the Berhalter, Reyna and Mathis appearance on Letterman:
They had Berhalter try to kick the ball off the roof between two water tanks on an adjacent building; Greg hit the post; Reyna was next, and dropkicked it right through, rousing applause; next, Dave decided he wanted someone to hit the roof of the building on the other side of Broadway. They took a commercial break to clear the sidewalk below, and Dave wanted "someone with a cannon," so, of course, they picked out Mathis; Dave asked him how far it was and Clint says "3 quarters of a mile" (audience laughs) and then sure as s--- Clint launches a massive volley that arcs across Broadway 500 feet in the air and lands on the ledge/roof portion that's all of 6 or 7 feet wide; audience roars, Clint bows, amazing stuff.
Now I seem to be getting quite a lot of e-mail from readers. Most of them either: a.) Hate me and my writing b.) Quite liked it in the beginning and grew to hate it and then me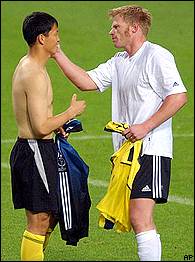 Oliver Kahn, right, and the Germans were simply too much for the upstart South Koreans.
c.) Hated it, gave it another chance, hated it more and me also.
But not ... Wade. He is my fan: It's not just me, Michael, there are thousands. Writes ... Wade. I do not believe this for a minute, but I'll take it. From now on, this is the column of Wade.
2. Why am I so at peace with the exits of England and the USA?
Because, it is simply not their time yet. England is a young team -- impossibly young, really -- with a new coach, a new captain, a nascent sense of self-belief, major fitness problems coming into the Cup, a couple of their strongest players at home and almost no experience playing with each other, particularly down the flanks, where the majority of creativity in a soccer game logically reveals itself. Had they managed a victory against Brazil down to 10 men, and advanced even further, perhaps, against weaker teams, won it even, it wouldn't have felt right. They're not good enough yet, it would have ruined them, they wouldn't have played good enough football for a very demanding public. And to those who point out that Germany don't seem good enough but their public seems happy enough with their progress, I say this: I don't give a crap about the health and development of German football. I want to get a chance to watch this England team grow and be great, and lay the groundwork for great English football for years to come. The same applies to the United States. But perhaps even more so. A World Cup semifinal or final berth -- even a win -- would not, in my opinion, perhaps my lone opinion, have been healthy for the long-term good of U.S. soccer. For as much as I want soccer to take off in the U.S. (and be renamed football) -- and I'm sure reaching the World Cup final would have made that even more likely than it seems to be now -- the most important thing, in my mind, is that the foundation, structure and future of American soccer is as bright as possible. Project 2010 is still the right way to go. And that called for the United States reaching the quarters this time. Now, everyone involved in U.S. Soccer -- and I suppose that includes me now -- must go home and figure out how we're going to grow youth soccer, particularly in the inner cities, how we can raise the profile and quality and benefit from the college game (a uniquely American strength), how we can get Major League Soccer involved in the training and development of more young players, and what we want the MLS to be. And also what our point of view, particularly at ESPN and Fox, is going to be toward English, European and World Soccer. How do we take care of those fans, grow them and use them to grow the domestic game and league?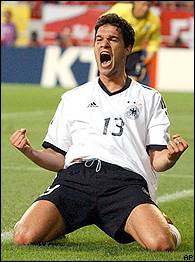 Michael Ballack won't play in the final -- a cruel fate that Davies wouldn't wish on anyone, not even a German.
And while we're at it, how do we bring together more effectively the Hispanic and English-speaking soccer worlds in the United States, and meld that uniquely American union into something awesomely powerful? We need to reach out into the communities where football already has a foothold. And get into the communities where it should have one.
People far more important and knowledgeable than me will figure out how to upgrade the squad -- there is such a solid foundation there, but also considerable room for improvement in several positions. That's what's so scary about this team -- how well they play with the limited resources they have. They will have so much more in the future. I tried to think a little more about the refereeing controversy, but it made my head hurt. Too much has been written about the subject already. Tonight's game seemed well-enough officiated, though I would have liked to have seen the German goal disallowed for something. Can't think what, but something. Well at least I picked Germany ahead of Korea in my dubious power rankings. And Ballack was carded, so he will miss the final. Actually, I can't be happy about that. I wouldn't wish that on anyone -- even Ballack. Germany did as I'd imagined and were just too physical and straightforward (give it to Neuville, let him run around a bit, get it to the wing, cross it, repeat, defend and repeat again) for the Koreans, who seem to do better against namby-pamby, artsy-fartsy Portugese-Italian-Spanish sides. If Brazil wins tomorrow it sets up a classic Brazil-Germany final just like the one in ____ or the semi they played in ____ or was it a quarter in ____ or a group match in ____. What? You've got to be kidding me!?! Brazil and Germany have, apparently, never played each other in the World Cup before. Oliver Kahn, meet Ronaldinho. You both played minor characters in "Star Wars." ... And Wade, I will come to Dallas ... if you can figure that out.
Michael Davies, a native of London, is executive producer of ABC's "Who Wants to be a Millionaire." He'll be filing five diary entries per week from the World Cup for Page 2.