By Michael Davies
Special to Page 2
Day 26: Just watched football
June 26, 11:15 a.m., Assist Your Wellness Drugstore, Queens Mall, Yokohama
The "Assist Your Wellness" drugstore is a fascinating and glorious adventure. I have been here seven or eight times in the last week and a half looking for various things -- aspirin, deodorant, but mostly cold medicine. The problem is everything is written in Japanese, the staff speaks no English and even the packaging seems to give no clues.
This morning I'm again looking for cold medicine, which I have failed spectacularly to acquire on three previous occasions. So far, I have returned to the hotel only to find out, from the assistant concierge, that what I have would be great for back pain, athlete's foot or a sleeping disorder. My Vitamin C tablets have also turned out to be the Japanese equivalent of Tums. Now, standing by the rows of deodorant, a young long-haired man picks out the same aerosol can product (I couldn't find roll-on) that I purchased yesterday. He looks around to check that none of the sales staff are looking, takes off the top and sprays some in his hair. He leaves. I must say that I was wondering why my pits have been so sweaty but my underarm hair has been looking so darn fine.

Ruud Gullit
Oh my God, I just walked right pass Ruud Gullit, former manager of Chelsea. He might also have played for AC Milan and Holland.
6:55 p.m., Saitama Stadium Media Center
The press room is enormously crowded, but I'm not sure how many of these people are actually journalists. The American guy opposite me seems to be delivering a motivational sales speech to a very confused looking Japanese woman. He is talking very loudly, telling her how much he earns, how much he needs to make over the next five years so that he can retire, and how much he plans to have in the bank by then. I can hardly pretend to be a shining example of discretion, I talk way too much about my problems with underarm hygiene, but this is outrageous. After five minutes of listening to him brag on and on about the methodology of the sales manager evaluation process and about how he has been the No. 1 performer in the southeast region for three straight years, I finally catch his eye and give him my best "Shut the %$@# up, we're trying to work here" stare.
But the truth is that the writing is becoming impossibly difficult. George e-mailed me today after reading yesterday's less-than-stellar entry and suggested I might have to pay to fly him back, my drunken muse, so I might actually have something to write about. But the problem is there are so many things that it is now impossible to write any more about:
1. Refereeing controversies
Just not interesting anymore. Everyone's weighed in, it's been blown out of all proportion but not enough will be done to fix what is wrong. Conspiracy? Just can't believe it but who knows? In this World Cup anything is possible. But that last sentence in and of itself has become overused to the point of meaninglessness.
2. World Cup upsets
After everything I've written, how much more would I rather be watching Brazil play France in an hour or so, rather than Turkey? Let me just say this: the atmosphere in the press room before this World Cup semifinal -- you could cut it with a spoon. Sometimes there can be too many upsets. Why so many? Too many reasons to write about have all been written about too much -- I bore people silly with my lecture on the problems European teams have with playing on Bermuda Grass. Notice the Germans play the game about eight feet above it? Bored yet?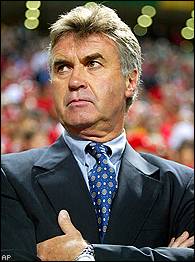 AP
Mind your own business, Guus. They might be unimaginative English players, but they're our unimaginative English players.
3. Performance of England
Even Guus Hiddink has weighed in about the lack of English creativity when a man up for 33 minutes plus injury time against Brazil, "England were the worst" he said yesterday ... blah, blah, blah, blah, blah, blah, blah. All I can say is -- come on Tim Henman! And by the way, Guus, your team scored a grand total of zero goals in its final 210 minutes of World Cup football at home in front of massive crowds pulling almost universally for your team. Moreover, your team played 49 scoreless minutes plus first-half injury time against 10-man Portugal in the first round and only managed to score when it was down to nine men. Still, Portugal had opportunities to score. We don't need you knocking our team -- we have our media.
4. The future of soccer in the United States
I refuse to debate this with any more nonbelievers. But the one thing you might notice about the guys who really want to tell you how much they hate soccer and how much they just know it will never work in America is just how angry they get as they're saying it. Methinks the lady doth protest too much. Or the men! Or maybe that's my point. Aha! By the way, best line to use with people who hate the other football -- you're out of the demo, grandpa! This is a young man's game.
5. My underarm hygiene
I have received a request from my future wife to stop writing about this. I am embarrassing her in front of her clean friends.
6. George Waud
Yes, he looks like Bruno Metsu, yes he's funny when he drinks, yes, Michel Platini stole my cell phone from his pocket, but, he's back in Los Angeles.
7. Wade
George, frankly, is jealous.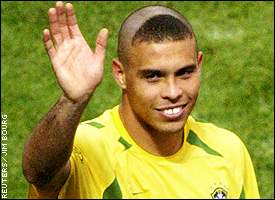 Maybe Ronaldo's haircut incited that angry mob.
8. World Cup hair
OK, this is just getting ridiculous. What on Earth does Ronaldo call that? He looks like an extra on "Star Trek." As I have said, young men with way too much time on their hands. The Turkish have announced that if they win tonight they're all going to shave their heads. My mother would tell them to do a jigsaw puzzle.
8:32 p.m., The Media Tribune, Saitama Stadium
With much kudos to The Sports Guy, whose live diary of United States vs. Poland made me laugh out loud, here is my alternative, minute by minute livecast of Brazil vs. Turkey, laptop battery permitting:
1 -- Err ... still in the bathroom, there was a long line.
2 -- It's a bloody long way up to the Media Tribune.
3 -- Take my seat and have a look at the flags around the stadium -- Brazil, natch, lots of Turkey, as 'spected, Wales, OK, Israel, all right, Chile, uh-huh, A Scunthorpe United Union Jack? Brazil fans outnumber Turkey fans 10-1 but it's all even if you take out the Japanesezilians.
4 -- Oh, yeah, there's a football match going on, nice cross from Fatih Akyel, one of my favorite names in the game.
5 -- Ronaldo's bloody useful.
6 -- Corner to Brazil, Kleberson takes it, and Turkish keeper, Rustu Recber, another great name, grabs it. Would not have beaten Shaq to that ball though. Still think U.S. Soccer should push FIFA for special corner kick teams. The United States would be unbeatable.
7 -- First Brazilian dive followed by first Brazilian dirty foul.
8 -- First Turkish dirty foul unless I missed one while I was in the bathroom.
9 -- Second dirty foul by Brazil, free kick Turkey, taken by Emre Belozoglu. Brazilian keeper Marcos (always think of Imelda) saves with a double-handed punch -- I don't like the punch, never have, never will.
10 -- Turkey fans away to my right start chanting, "DOOGIE H, DOOGIE H," I think that's right. Brazilians to my left reply, "ALI, ALI." Very confusing.
11 -- Err, sorry, wasn't watching, talking to Deaton Bell, the ESPN producer for Veronica Paysee. I'm sitting between them.
12 -- Veronica is getting very frustrated with Brazil, she seems extremely nervous for someone from Uruguay.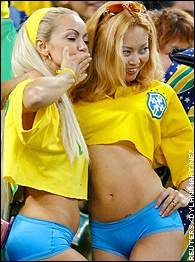 Reuters
And these were the tamest tottie shots of Brazilian fans we can show you.
13 -- Nice studs up dirty foul by Doogie H -- terrible shot by Roberto Carlos for Ali.
14 -- Rivaldo's bloody useful.
15 -- All right, I've lost count of dirty Turkish fouls. Ronaldinho makes appearance off bench as ball boy.
16 -- Sorry, talking to Veronica.
17 -- Roberto Carlos is not having his greatest game.
18 -- Lots of Brazilian goalmouth action -- sounds like a porno promo.
19 -- Nice dive by Yildiray Basturk, free kick to Doogie H.
20 -- Imelda saves from Alpay Ozalan, I catch the replay on a monitor a few rows in front of me, wow, that is a phenomenal save. Gordon Banksish.
21 -- Cafu somehow fails to score, Luiz Felipe Scolari looks disgusted -- I doubt he would have done better -- but I'd like to see him come in.
22 -- Roberto Carlos stuns the crowd by taking a shot with his right foot. Rarely uses it to walk. Hops mostly.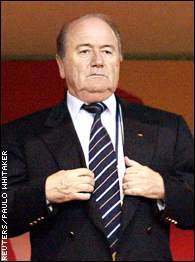 Reuters
FIFA boss Sepp Blatter: Alone again, naturally.
23 -- Sepp Blatter makes an appearance on the stadium big screen -- he looks like he's picking his nose and, unsurprisingly, no one looks like they want to sit anywhere near him.
24 -- All Brazil -- but got a little bit distracted by the Brazilian girls in bikinis dancing away to my left. It has been written that this is the importance of Brazil making it to the final. What the British call tottie shots.
25 -- The Turks might be distracted too, they're being overrun in midfield.
26 -- Brazil is playing that double tap triangle EA Sports FIFA 2002 for Playstation 2 defense.
27 -- I'm daydreaming about buying World Cup edition of FIFA 2002 when I get home. I will replay England-Brazil a thousand times and slide tackle, dirty foul Ronaldinho until he's carried off on a stretcher. Oh, Turkey get a free kick.
28 -- Time wasting. High quality.
29 -- They finally take a kick. Hate to say it (whenever people say that they really mean they love saying it), Turkey doesn't look in the same class.
30 -- Strange Middle Eastern sounding music coming from the Turkish section.
31 -- Inspires Bulent Korkmaz to play beautiful ball into the box and Turkey almost scores.
32 -- Could make something up but the truth is, a bit dull.
33 -- Roberto Carlos takes a free kick but it's not that good.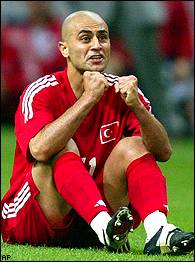 AP
Hasan Sas, brought to you by Maybelline.
34 -- Ref makes Hasan Sas leave field to remove necklace. And while he's there he should remove the mascara.
35 -- Shot from Rivaldo. Great save.
36 -- Shot from Rivaldo, misses by an inch. Scolari looks disgusted, I would really like to see him out there trying to do better.
37 -- Scolari still upset on sideline -- I swear he's going to bring himself on.
38 -- Rivaldo almost slides in and scores. Turkish 'keeper is having a cracking game, but right now he's on the ground with something of a headache.
39 -- Rivaldo takes something like his 50th shot -- it's blocked -- his leg hurts, hardly surprising.
40 -- Nothing happens for 59 seconds until Gilberto Silva is booked for something I missed.
41 -- Time wasting. Once again. High quality.
42 -- Belozoglu takes kick, over the bar, three points!
43 -- Roberto Carlos is quite nippy.
44 -- Dirty, dirty, dirty Brazilian foul.
45 -- Roberto Carlos cross is fumbled by the 'keeper, he gets kicked in the head, there's almost a fight. Yes.
46 -- Very little happens until halftime.
Halftime
46 -- How can it possibly be the 46th minute again?
47 -- Very cold, says Veronica.
48 -- Still cold.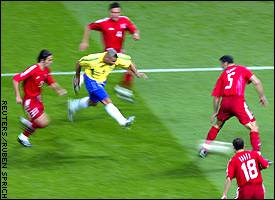 Reuters
Ronaldo's shot was a blur for the Turks.
49 -- I'm just thinking about how hungry I am (strangely enough, craving a Turkey sandwich) when Turkey runs down the Brazilian end and think about scoring. That's a good idea, thinks Ronaldo, and in a counter-attack puts some spell on the Turkish defenders who seem to melt into the turf as he accelerates through and hits a cheeky shot past Recber. 'Keeper will watch that on the replays and think he could have, should have, saved it.
50 -- I taunt the Turkish fans from a good 400 yards.
51 -- I completely forget I'm meant to be writing a minute-by-minute gamecast.
52 to 94 -- Just watched football.
Final whistle. Not a classic. The Brazilians should have scored three. Would not have flattered them. If Germany lets them take that many shots, 18 in the final analysis, 11 on goal, the Germans will be dead on Sunday. Who's going to control the game for Germany in midfield? I'll save my preview for Friday.
Michael Davies, a native of London, is executive producer of ABC's "Who Wants to be a Millionaire." He'll be filing five diary entries per week from the World Cup for Page 2.