By Michael Davies
Special to Page 2
Day 27: Who Wants To Have No Life?
June 27, 8:54 p.m., Pan Pacific Hotel, Yokohama
I have just finished watching the Japanese version of "Who Wants To Be A Millionaire" on Fuji TV. The host is Japanese Regis meets Stalin, a cruel and sadistic basket, they make surreal videos about the contestants (I think tonight's show was a special featuring hookers -- ABC almost made me do that), and they shoot the whole show in extreme closeup.
Ping!
I have a great idea, that, moreover, is much harder for you the reader than me the writer -- a Davies Diary Quiz. The prize -- my extra Nakata shirt, signed by Bruno Metsu look-alike and Wenger/Platini/Dunga crime victim George Waud (I am modeling it in the bathroom mirror to the right). I bought it last week, but was given another one today as a gift by the manager of the Pan Pacific hotel for all the nice things I've said about his establishment -- the greatest hotel in the history of civilization!! (Any chance of a Toda shirt, Kenichiro San?)
Same place, 11:01 p.m.
There's a problem with the quiz. An ugly, pernicious, creeping, foul problem.
Lawyers.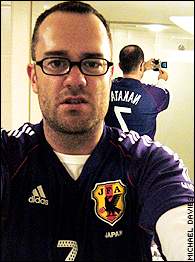 Michael Davies
Michael Davies models the fine Nakata shirt that the lawyers don't want you to have.
I really should know this by now. I sometimes play a game show professional in the TV reality show that is my life. Lawyers hate competitions. Riots present less problems. Want to incite a mob to go and kick the crap out of a bunch of defenseless senior citizens? No problem. Want to give away a football shirt by having people answer a few simple questions -- ooh, too dangerous, better not, we might be sued in federal court.
I have been forbidden from giving away the shirt. They want me to pull the quiz. But I say, "No!" Screw the shirt. We will play for the love of the game. I kiss football!
So I ask you this, I implore you, I summon the fighting spirit of the mighty TODA! -- play the quiz for your love of the game that the man has always put down, that the aristocratic lawyers of yore named football to imply it had not the nobility of games played on horseback, that the people made their own, that they professionalized against the will of the lawyers who did not want the people to receive a penny for their efforts, who advocated amateurism in the name of keeping the masses down. Play to express your anger, to prove you can make a difference. Play to protest bad refereeing decisions in all walks of life, play because the vast majority of U.S. lawyers probably aren't watching the World Cup, play because even though you, like me, have no life, to have no life is better than to lead the life of a quiz-squashing advocate with a half-assed law degree from some scummy, low-rent institution.
Play for David O'Leary.
Play because you didn't want the shirt anyway, because even though I only wore the shirt once, you know about my problems with deodorant.
The Davies Diary first quadrennial World Cup Quiz for nothing other than to protest the subjugation of my game-show producing rights by the man
1. Name the airline that tells me I'm on the hooligan list when I check in at JFK.
2. Name the three things that the Irish fans dressed as Leprechauns on the train to Niigata to see Ireland-Cameroon want for breakfast.
3. Who's hard, bald, Danish and has a really great name?
4. With what kind of music does Taki have an unhealthy fascination with?
5. What do I sometimes forget to put on?
6. Who is my controversial choice for man of the match for the United States against Portugal?
7. What is the Japanese word for hangover?
8. What is the name of the head concierge at the Pan Pacific Hotel in Yokohama?
9. Name the Japanese player whose only decent touch of the match set up Inamoto's goal against Russia.
10. Name two U.S. players who sometimes do that funny, girly thing with their arms when they run.
11. What former England winger calls me Dave when I jog past him?
12. Who is the first player to look sunburnt in England's game vs. Nigeria?
13. Name the ice cream man I suspect of being my father.
14. What are the England fans singing as they dance around in a conga line toward the end of the England-Denmark game?
15. What word could be placed after "projectile" to describe my condition on the train back from that game?
16. How many Chunky Kit Kats am I eating on my diet?
17. What's happening on Aug. 24 (trick question)?
18. Which website accused me of "ruining my own argument"?
19. Name the bar in Noge-cho that I frequented on numerous occasions.
20. Who snores?

Bruno Metsu
21. Who looks like Bruno Metsu?
22. Name three people who might have stolen my cell phone.
23. Name the former British javelin thrower who looks like the girl we met at the bar in question No. 19.
24. How many times before this Sunday have Brazil and Germany played each other in the World Cup?
25. What drugstore product had I been putting under my arms until I realized my mistake?
26. And finally, because, like the World Cup, one must prove himself more worthy than the rest, even though I am being forced by a lawyer standing behind me figuratively, with a figurative gun to my figurative head to emphasize that there is absolutely no prize or other consideration for the winner other than much respect: How the hell, in 25 words or less, did Germany make it to the final of the World Cup?
A couple of rules:
No Mingers
No Germans
No Arsenal fans
I will read all the submissions when I get back next week and notify the "winner" by July 15.
I am the final judge and I don't work for FIFA. So trust me. Editor's note: Sorry, Page 2 has closed the contest. Keep reading Page 2 for Michael Davies' first post-World Cup entry, where he will announce the winner of "The Davies Diary first quadrennial World Cup Quiz for nothing other than to protest the subjugation of my game-show producing rights by the man."

Michael Davies, a native of London, is executive producer of ABC's "Who Wants to be a Millionaire." He'll be filing five diary entries per week from the World Cup for Page 2.