By Michael Davies
Special to Page 2
Editor's Note: Michael Davies is blogging the 2006 World Cup for Page 2. Each day throughout the monthlong tournament, he will file reports from Germany (and back home in New York). Check back for more updates.
The "working" press room, FIFA World Cup Stadium, Munich, 7:05 p.m., June 24

Well that was crap. I take back everything I wrote about Sweden -- except for the fact they're clearly several pickled herring short of a smorgasbord. Nuts. How could they play with so little passion in the last 16 AGAIN!? Remember last World Cup and that shocking loss to Senegal? Losing is not the problem. It's how little life and fight they showed for Sven, Goran, Anders and Mats. Pitiful.
I would love to write that I still think Germany are overrated. That they still haven't been challenged. That they still are getting all the breaks and haven't played anyone good, or anyone good who actually showed up to play. Ecuador sent their reserves, Sweden sent their Under-11 girls. I would love to write that after the first 10 minutes or so, which they dominated, Germany did little else. That their celebration at the final whistle was completely over the top, and remaining on the field for 15 minutes milking it from every corner of the ground like they just won the World Cup is going to come back and bite them in their collective ass.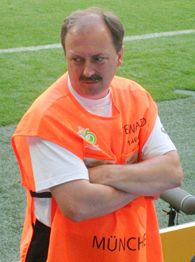 Michael Davies
Davies: "Exactly the same steward from the Germany/Costa Rica game. He really has no interest in the football whatsoever. Seems miserable. Needs a hug."
But these are the Germans. They have gone from being an ordinary, eminently beatable football team for the last three years and 51 weeks since the last World Cup, and have peaked at exactly the right time. They are playing confident, irrepressible football, their crowds are awesome -- loud, full of song, relentless, inventive, and in every corner, level, row and particle of the stadium. And … and this is so important it needs its own paragraph:
They have Michael Ballack.
I had the great pleasure of watching the game from the second row sitting next to former New York Cosmos goalkeeper and legend Shep Messing and his very knowledgeable son, Zach. They had literally come straight from the airport to this inferno of red, gold and black. All the three of us could really watch was the Chelsea (YEEEEESSSS!!!!!) midfielder Ballack. He was imperious, oozed class, was everywhere, radiated a magnetic presence that drew his teammates to find him and his opponents to always think he was there. He is big, broad, athletic and charismatic. Looks like a quarterback, said Shep. A free safety, said Zach. All I could think about was the Chelsea midfield next season -- Essien, Lampard, Ballack, Makelele, Joe Cole, Robben feeding Shevchenko. Insane.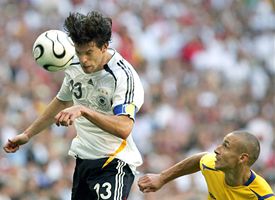 Christof Stache/AP Photo
Michael Ballack, one of the game's best, at work.
Great players create an illusion of time and space, I was once told by the classical music critic of the English Daily Telegraph. It is the smartest thing that any journalist has ever said to me about football. Ballack never seems rushed, always seems to have the time to do what he wants to do, and never seems to do the thing that you or his opponents expect. Time almost stands still, or moves very slowly in a Matrix-like 360-degree camera movement, when he's preparing to receive the ball and executes a pass, a shot, a flick, a header, a ball fake.
Deuschland laid down the gauntlet this evening. They did it with their speed, their physicality, their proficiency in playing in small three- and four-man commando units all over the field, with the teamwork, communication and trust that Klinsmann's system demands. They did it with their fans, who are joyous and, let's face it, intimidating. Man of the match Klose was good. He combines well. But the duelist who removed the glove and swatted it in the faces of Ronaldinho, Riquelme, Rooney, Robben, Ronaldo and Raul was Ballack.
I'm in the mood for a little more alliteration.
He's a big, ballsy, bossy, brilliant bastard.
The "working" press room, FIFA World Cup Stadium, Munich, 3:30 p.m., June 24

Like this bizarre, white, glazed, elephantine donut of a stadium, Germany has grown on me greatly over the last 16 days. I laughed when I saw the official 2006 World Cup logo -- "Time To Make Friends" it optimistically stated, but was read by almost everyone as an order through clenched teeth by an SS officer about to cross-examine a terrified-looking Allied soldier in the torture chamber. "We have ways of making you talk" might have been more appropriate.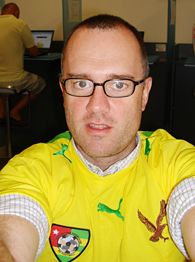 Michael Davies
Davies: "Me in my completely neutral Togo shirt -- it confused everyone."
But the beauty of Munich, the structured Bohemia of Schwabing, the casual elegance of Cologne, the mouth-watering drive down the Weinstrasse, German words like Elfenbeinkuste and Flughafen, the easy-going, young Berliners I hung out with at the Kaisergarten, the production values on German television, the fact that I'd hire every single one of the always-friendly, endlessly patient and tirelessly hard-working volunteers at the stadium media centers, the clean, efficient and beautifully designed modern, public transportation systems, the quality of the shopping, the food, the parking, the everything at the cleanly laid-out airports, Lufthansa's entertainment system and desk clerks, Torsten Frings, the plethora of endlessly fascinating sausage, the autobahn, how well everything is built, the perfect lines on the Audi A6, the razor-sharp elegance of the Mercedes S-Class, the outstandingly sporty new BMW 3 series wagon, the general sense that on a daily basis German society wakes up and tries to figure out how to preserve its past, how to improve how everything in the present works, and how to drive toward a modern future, has won me over.
And yet, I desperately want the Germans to lose to Sweden today. For the following 10 reasons:
1. The Scandies are insane. They try and convince you they're all from different countries up there -- but they all speak basically one language and they're all as loopy as each other. Yes, there's something to be said for German sensibleness and efficiency. But give me a bunch of guys called Sven and Goran and Anders and Mats, friends from the bank where they all work, dressed as Vikings, flesh painted blue and yellow from head to toe, drunk off their heads, without a malign thought to anyone, win, lose or draw, who will sing and laugh and smile without a care in the world until they wake up with monstrous hangovers to go to work in Stockholm on Monday morning. Give me them, any day. They applaud other teams' national anthems, not politely but with a significant portion of the seafaring gusto they bring to their own. That is national character. Even if Scandy is just one country.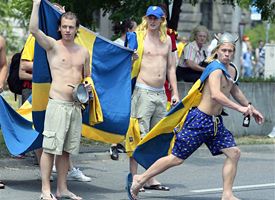 Uwe Lein/AP Photo
Some of those crazy Scandies.
2. I'm married to a half-Scandy. My daughters are quarter-Scandies. The Scandy gene is so dominant, there is no evidence of Britishness whatsoever. They are blond, blue-eyed, permanently tan, kind, have perfect teeth and are mildly insane.
3. I just hate it when the Germans all sing Deutschland, "Deutschland" in unison. It gets my goat. Can't 'splain it, can't 'ticulate it, just don't like it.
4. Narrow toilet paper. It might be good for the environment, but it is a heinous crime against humanity.
5. The German obsession with orders and accurate documentation. They really, really need to get over that if the rest of the world is ever going to take them not too seriously. I saw a number of young American fans turned away by security at Nuremberg for not having passports to go with their tickets. Who brings a passport to a football match? This was only done at Nuremberg, only by one ticket agent, and because he had seniority none of the other ticket agents would do anything about it.
6. I'm sick of the German love affair with their own fussball team. They don't deserve Klinsmann, they killed him in the press before the World Cup and now they think he's a genius. I loathe the English football press, but at least they have consistently hated Sven from the start. The Germans have, a little bit, ein bischen, forgotten that there are any other teams in this World Cup other than their own. Sweden could serve them a nice reminder.
7. I have restaurant reservations tonight in Schwabing with some of my English friends. And I guarantee that if Germany loses the bars will be less crowded, we'll be able to get a taxi, and generally, we'll have way more fun.
8. Franz Beckenbauer has way too many commercial endorsements. I love the Kaiser, he's done an amazing job on this World Cup, but he is literally the star of every commercial. He must have made a fortune.
9. I just don't like the look of Bastian Schweinsteiger. I don't like his hair, I don't like his face, I don't like the chunky way he walks because his thighs are a bit too hefty.
10. I would rather play Argentina in the final. Seriously, it's less of a mental block. We beat them in the last World Cup, and we beat them in a friendly in Geneva in November. Only problem is, I can't see how, unless about half our squad manage to play so far out of their boots they literally hover around the field for the next three matches, we can possibly make it to the final.
Michael Davies is a British-born television producer whose forthcoming projects for ESPN include the World Series of Darts and the documentary film "Once In A Lifetime" about the New York Cosmos, which will air on ESPN in October after being released theatrically by Miramax in July.
Michael
Davies
WORLD CUP DIARY