Page 2
EDITOR'S NOTE: Here at Page 2, we think we know what we're talking about when it comes to athleticism and sports. But if you promise not to tell, we'll share a little secret with you: We aren't elite athletes. (Except in our dreams, of course.) So to get the straight skinny about the way this world works, we rounded up the Real Thing -- athletes, active and retired, including some currently in the employ of ESPN. We asked them a number of questions about sports and about their peers. Through the course of our three-week package on Athleticism and Sports Degree of Difficulty, we'll let ... The Athletes Speak.
Today's question: WHAT IS THE SINGLE HARDEST FEAT TO PERFORM IN YOUR SPORT? WHY? AND WHO'S BEST AT IT?
Here's what they told us.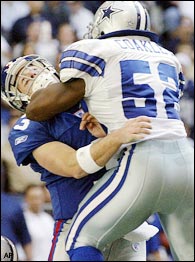 We bet "The Bachelor" Jesse Palmer doesn't tell the ladies about the time he met Dexter.
Dexter Coakley, linebacker, Dallas Cowboys
"Running the ball 20-to-25 times a game, knowing everyone is focusing on you. That's hard. I watched Emmitt (Smith) do it for so many years and, honestly, probably got to a point where I took it for granted. That's a mistake. It takes a special person to be able to handle that load. The guys I like now, (Priest) Holmes and Jamal Lewis and (LaDainian) Tomlinson, those guys are studs."
Mark Webber, Formula One driver
"To have a F1 car at the limit for every condition at every circuit on every lap is the hardest feat to perform. It's hard because the conditions in which you drive an F1 car are always changing. To have the ability to go straight to the limit is something that can happen, given time; but it's all about cutting down that learning phase and learning what the car can do. Michael (Schumacher) is on his own when it comes to that."
Seth Kelsey, ranked No. 1 in men's epee (fencing)
"Perfect hand touch when you need one. Slip right around the guard and you have to find the right distance, the right timing; and when you really need it, it seems to be a lot more difficult than normally. You really need it when it's 14-14 overtime and you don't have priority. I'm the best at that. In the world."
Degree of Difficulty
Check out more Page 2 content:

WHAT IS THIS?


Check out Jim Caple's essay

BRACKETS


Coming up: Vote for best female athlete

The BIG GRID

Coming up: Page 2's panel ranks 60 different sports in order of most difficult.
Coming up: Basketball: Underrated or overrated?

The ATHLETES SPEAK


Coming up: Hardest thing to do in sports? Most impressive feat you've seen? And more ...

Page 2 TRIES ...


Coming up: Surfing, water polo ... and a surprise

LISTS


Coming up: Feats we'd like to see
Teemu Selanne, right wing, Colorado Avalanche
"Oh, I think it's playing at your best level for 82 games, plus playoffs. Right now, that's Joe Sakic. He's got to be my friend now."
Tom Tolbert, former NBA forward, ESPN basketball analyst
"Guarding Shaq. He's 350 pounds, agile and quicker than you think. I had to do it in practice for a whole year -- during the 1992-93 season with the Magic -- and it's the most difficult thing I've ever had to do. I haven't seen every single NBA big man guard Shaq, but Erick Dampier has done as good a job as anyone I've seen. If Shaq gets you in his wheelhouse, forget it. Guarding him one-on-one is the toughest thing in basketball."
Zdeno Chara, defense, Ottawa Senators
"It's scoring. You're playing every night, back-to-back games, people are banging you. It comes down to total sacrifice. (Peter) Forsberg is the best at it. He's right up there."
Sean Salisbury, former NFL quarterback, ESPN football analyst
"The hardest feat is to play quarterback well. A QB has to discern what the opposing defense is doing and make quick decisions while making a three-, five- or seven-step drop. On top of that, he has about 3.2 seconds on average to get rid of the ball. Right now, the best all-around quarterback is probably Peyton Manning. He's the complete package in terms of reading defenses, knowing what audibles to call and being a team leader."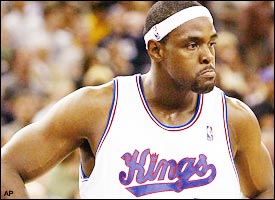 Cheer up Chris. At least you got to date Tyra Banks.
Chris Webber, forward, Sacramento Kings
"Getting a quadruple-double. I've come close; but as far as I know, Hakeem Olajuwon is the only one who has ever done it."
Daniel Alfredsson, right wing, Ottawa Senators
"Scoring goals. Martin St-Louis is the best at it right now. He does it with speed."
Barry Melrose, former NHL coach, ESPN hockey analyst
"Skating is the most difficult thing about hockey, and Mike Modano of the Dallas Stars is the best. You cannot be a great hockey player unless you are a great skater; and while much of that comes naturally, it also takes practice because fundamentals are so important. Shooting, passing and stick-handling all happen while skating, sometimes while skating backwards. So it is the basis for everything else that happens in hockey, which only adds to the difficulty because a player has to make his way around the ice in order to do anything else."
Keith Brooking, linebacker, Atlanta Falcons
"To me, making an open-field tackle, that's the hardest thing. Usually, it's when you're covering a back out of the backfield or something, but I don't want to limit it to that. There are just times, out in space, when you have to make a tackle and you know the guy with the ball -- whether it's a back, a (wide) receiver or a tight end -- he's got the edge. You have to play angles, pursue, keep yourself squared up. And he's out there wiggling around and he's thinking he's faster than you . . . and you just have to make a move and wrap him up. I guess the best guy is (Ray) Lewis. He can chase people down and, even from a poor angle, still deliver a big hit."
J.T. Snow, first base, San Francisco Giants
"Hitting a home run is the single most difficult thing to do in sports''
Laveranues Coles, wide receiver, Washington Redskins
"Playing quarterback at this level has to be (a hard thing). You sit in the film room and watch everything the quarterback has to (assimilate) in a timeframe that is like that (snaps fingers). You better have a computer between your ears. People think it's just going back there and throwing the ball. OK, you try reading the defense, finding a receiver, not paying attention to all those people buzzing around you. Just getting the ball from Point A to Point B -- it's a job, man."
Chad Senior, modern pentathlon (sixth in 2000 Summer Olympics)
"Perfection. Covering all the events to the best of your ability is the hardest. It takes a little luck. Some days you feel great running, you feel great swimming, you feel great fencing, you got a good horse, and you don't succumb to the nerves in shooting. Velo (Velizar Iliev, a U.S. Olympian) is pretty solid. He's pretty damn consistent. He might not be the best in any of them. But he's right on their heels in all of them, which is real impressive."
Bret Boone, second base, Seattle Mariners
"Hitting consistently on a daily basis. And it's not a physical thing. I think the mental side of baseball is the toughest thing in sports."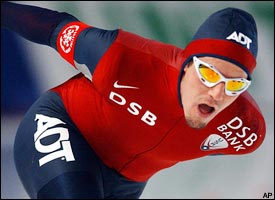 Not to mention being on TV in those outfits. Those things have no secrets.
Chad Hedrick, speedskater, 2004 World All-Around champion
"In long-track ice speedskatng, I think the hardest thing is to compete at a high consistent level everytime. One day, you feel great; and the next, you feel like you haven't trained in a month. Its crazy!"
Tony Azevedo, water polo
"The hardest feat to perform is my sport is being the center and trying to score while some gigantic foreigner is dunking you, grabbing your b---s and doing anything he can to hurt and stop you. Then after that, you still have to swim to the other side and play smart defense, knowing that in just 35 seconds, you will get pounded again. Who is the best? Well, it was Terry Shroeder. Now it is either our own Ryan Bailey or Russia's (Revas) Tchomakhidze."
Tom Pappas, decathlete, World Champion
"The hardest feat in the decathlon is to compete at an elite and world class level in all 10 events."
Tony Kanaan, Indy Car driver
"I think it's a combination of a lot of things, but definitely the concentration and the ability to judge and make decisions is the hardest. Things happen so quick. One decision in our sport can change your life completely from the good to the bad in an instant. Timing and deciding things right in a split second is very difficult.
The best in our sport is the guy that wins races and I think, right now, Schumacher is the best guy."
Justin Gimelstob, tennis
The serve is a real skill, a real talent, and right now (Andy) Roddick is the best server.