Page 2
EDITOR'S NOTE: Here at Page 2, we think we know what we're talking about when it comes to athleticism and sports. But if you promise not to tell, we'll share a little secret with you: We aren't elite athletes. (Except in our dreams, of course.) So to get the straight skinny about the way this world works, we rounded up the Real Thing -- athletes, active and retired, including some currently in the employ of ESPN. We asked them a number of questions about sports and about their peers. Through the course of our three-week package on Athleticism and Sports Degree of Difficulty, we'll let ... The Athletes Speak. Today's question:
WHAT IS THE MOST AMAZING THING YOU'VE SEEN AN ATHLETE DO?
Here's what they told us.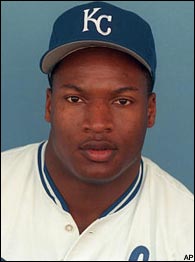 No matter who you ask, they all have a Bo Jackson story to tell.
Bret Boone, second baseman, Seattle Mariners
"Bo Jackson was on first base and we picked him off. He didn't even try to go back to first; he just took off running to second. They threw the ball to me and we had him out by 15 feet. But Bo is still running at me full steam. I'm thinking, 'You've got to get in a rundown, dude.' But he's running like he's going to run me over at the plate. I'm thinking, 'What are you doing, dude? Well, I guess he'll slide.' But then he's five feet away and he's still in full stride. And I'm like, 'Holy s---, what the hell's going to happen?' And I jumped back out of the way. And then he came to the base at full speed and went 'pop!' -- stopped right on the bag. He was safe, but they called him out because the ball beat him. That's the most amazing thing I've ever seen. I had the ball 15 feet before he got there, waiting for him, and he made me not tag him. He said to me, 'Boonie, you know I was safe.' I said, 'You're right.' He just scared me."
Tom Pappas, world decathlon champion
"I wasn't alive, but Bob Beamon's long jump in 1968 in Mexico City."
Dexter Coakley, linebacker, Dallas Cowboys
"I've seen Emmitt (Smith) make some cuts where you know he shouldn't be able to do that kind of stuff. And I'm not talking about big, huge plays. Some of the best runs he made here were three-yard runs where he should have been stopped for a three-yard loss. He did it so often, though, it was overlooked. But it was marvelous to see up-close, believe me."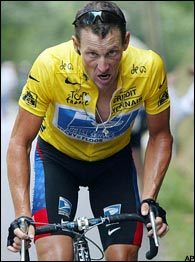 How can you not be impressed?
Mark Webber, Formula One driver
"I've seen too many inspirational sporting achievements to be able to single just one out. But those that spring to mind include Paula Ratcliffe winning the 2003 London Marathon, Lance Armstrong (the 2003 Tour De France), and several disabled athletes achieving phenomenal things."
Keith Brooking, linebacker, Atlanta Falcons
"Probably the touchdown scramble that (Michael) Vick had in overtime at Minnesota a couple years ago. He's probably 15 yards behind the line of scrimmage at one point, and then he just explodes upfield and it's like everyone else is in slow motion. It was so stunning that, even when he was in the end zone, half of us still didn't understand what we had just seen. Heck, even the Vikings fans were clapping as (Vick) ran off the field. They knew they had just witnessed an amazing thing."
J.T. Snow, first baseman, San Francisco Giants
"Bo Jackson. He was with us on the Angels one year. This was after he had the hip replaced, and we were stretching in the outfield. It was when they were remodeling the stadium and there were these construction workers straddling a girder on the upper deck. And one of them starts getting on Bo, shouting, 'Bo knows this' and 'Bo knows that.' And without warming up, Bo grabs a ball from the ball bag and throws it at the guy. The guy was straddling the girder at the top of the stadium, but Bo throws the ball right to him. And he caught it. I don't know what was more impressive -- Bo's throw or the guy catching it. No one playing today compares to him. He would grab flies out of the air with his hands.''
Tony Kanaan, Indy Car driver
"There is this race in Greece, it's 100 kilometers -- running -- straight-through. I think that is unbelievable. You can ride a bike for 200 miles, but I think running is so tough. I don't know the name of the race, but they just had one and a Brazilian won it. That is how I got to know it."
Tom Tolbert, former NBA forward, ESPN basketball analyst
"The most amazing feat I've seen is skier Franz Klammer coming down the hill in the Olympics. I thought he was about to lose his lunch as he came around the corner on one ski at about 85 mph, arms waving, then getting both skis down and winning the gold at the Winter Olympics. When I think of great athletic achievements I've seen, I always think of Klammer."
Seth Kelsey, ranked No. 1 in U.S. in men's epee (fencing)
"I saw a backpacker climb down from 14,000 feet with high altitude pulmonary edema, which is really nasty. And he survived. He was backpacking in Nepal. They had no rescue services available, so he had to walk down, with a little help. He managed to get down to 9,000 feet, but it was a long way because they were stuck in a valley. He also happens to be my dad."
Eddie Guadardo, pitcher, Seattle Mariners
"Pat Mahomes. He was like all-state in Texas in three sports. One day I saw him kneel on the left-field line and still throw a football all the way to the warning track in right field. I couldn't believe it. He would jump up and grab the bar on top of the batting cage and just hang there. It was like 12 feet high, but he did it like it was nothing.''
Laveranues Coles, wide receiver, Washington Redskins
"You watch (Michael) Jordan, and it seemed like he did something incredible every game. But I saw this clip of him -- a guy checking him really close, and he takes the ball to the hole and just hangs there forever. Then, while he's still up there somehow, he moves the ball to his left hand and scores. Just an unbelievable combination of skills, and all of it on one play."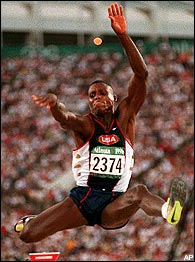 This would've been the image everyone remembered, but then Carl tried the national anthem.
Chad Senior, modern pentathlon
sixth in 2000 Summer Olympics)
"Michael Johnson (in Sydney). That was pretty amazing -- the 200, specifically. And Carl Lewis getting his last medal -- that was probably the most memorable moment in sports that I have. You know, he was an old man. He was done. It was his last jump, and he wasn't winning. That was the end; that was pretty amazing. He's done so much his whole life, and his back's up against the wall, and he does it again."
Tony Gwynn, former outfielder, San Diego Padres; coach, San Diego State University; ESPN baseball analyst
"I saw Pete Rose break Ty Cobb's all-time hits record, and that was an amazing thing. And Orel Hershiser's streak of 59 consecutive scoreless innings was a terrific feat. My Padres teams faced him twice during that streak, and he was just unbelievable."
Sean Salisbury, former NFL quarterback, ESPN football analyst
"Two plays pop into my head. One was when I was playing against the Lions and Barry Sanders was within the three-foot bubble of Joey Browner. Sanders stopped completely and left Browner clutching air and on the ground. It was amazing. I remember seeing the play from the sideline and just staring in complete disbelief .. The other was a game when John Elway was a freshman and Stanford played USC. The play started on Stanford's 45 and Elway started scrambling from side-to-side. Finally, right before he was going out-of-bounds at about the 40-yard line, he stopped and threw completely across his body to his receiver (Kenny Margerum) waiting in the endzone. Margerum was being covered by Ronnie Lott at the time. That ball was thrown so hard and fast that Lott couldn't make a play on it and Margerum was knocked down by it."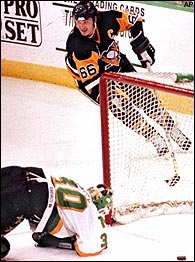 Lemieux puts it past Minnesota's Jon Casey in the '91 Finals.
Daniel Alfredsson, right wing, Ottawa Senators
"Mario Lemieux scoring that goal against the Minnesota North Stars on a 1-on-2 (in the Stanley Cup final in 1991). It was amazing because of how he did it and when it was scored."
Barry Melrose, former NHL coach, ESPN hockey analyst
"Just about any goal Mario Lemieux scored. He was so big (6-foot-4, 230) that he could get to any spot on the ice and find space to score. He could put the puck in the net from odd angles near the goal line, snap off a wrist shot and unload a slap shot or one-timer as quickly as anyone, and he could put the puck just about anywhere he wanted in the net by squeezing it into the smallest cracks. Mario made the best players in the game look bad on a regular basis, and nearly everything he did was an amazing athletic feat."
Tony Azevedo, water polo
"Well, Kirk Gibson's home run (in the World Series) is definitely high on my list. Lance Armstrong winning the Tour de France, post-cancer, takes the cake in my book, though."