Commentary
Luther Campbell: City needs Heat win
Updated:
June 3, 2011, 1:44 PM ET
By
Patrick Dorsey
| Special to Page 2
It's not surprising that Luther Campbell -- the hip-hop artist/record label owner also known as Luke Skyywalker and Uncle Luke -- wants a Miami Heat championship. But the reason why might be.
Because, he says, with the sputtering economy, local government corruption, and even long-running sports struggles involving the Dolphins and the University of Miami, his hometown needs it.
[+] Enlarge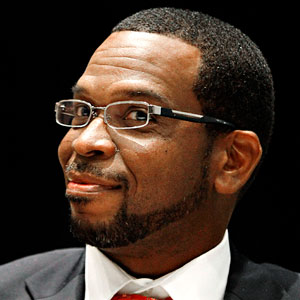 AP Photo/Alan DiazLuther Campbell ran for mayor of Miami-Dade county, and says the area needs the Heat's success.
"I think for the times right now in the city," Campbell said by phone Thursday, "it would be great if something like this happened."
But Campbell is more than just a homer. He's serious about the city, having just completed a surprisingly successful campaign to become Miami-Dade County Mayor in the recent post-recall election. He didn't win, but he did finish fourth with 11 percent of the vote (20,962 ticked boxes) despite raising just $12,000 throughout.
The 50-year-old Campbell said he got support from several athletes, including former Hurricanes Warren Sapp, Bryant McKinnie and Edgerrin James. Heat-wise, Campbell said he received texts from "a couple of guys" from the team, including friend and assistant coach Keith Askins, telling him he had their vote.
Now he's keeping a close eye on the Heat's own campaign, as he has for much of the season. He used his column with the Miami New Times to call for coach Erik Spoelstra's firing, but "I had to eat my words about that." He said he might go to a game, most likely in Dallas (like back in 2006, when he was at the clinching Game 6), but prefers to watch the action from sports bars (his favorite, he said, is Miami Prime Grill).
"I love the Heat to death, but I really think that when they assembled the team [of LeBron James, Dwyane Wade and Chris Bosh] ... corporate America actually took over the game," the former 2 Live Crew frontman said. "[I want] to be among real people of Miami, who love the team for what the team is. I get more excitement out of that."
Here are some more thoughts from Campbell, about the Heat and a possible repeat run in the 2012 mayoral election...
On the country's Heat hate:
"That's what fuels greatness. ... The money [doesn't] really fuel these athletes to take the game to the next level. So I love it when professional athletes are hated, because at that point it's not about the money, it's more about pride."
On how it compares to the 1980s Hurricanes teams to which he was so close:
"The similarity is the level of hate from the media and the level of hate from the fans when they go to a city. ... As far as the showboating, no. The Heat don't have it. ... Now you see it's all about business with these guys right now. Which is a great thing."
On running for mayor again in 2012, and which entertainers he'll bring in to help with his campaign:
"All of them. Puff Daddy [Sean Combs], Chad Johnson, you name it. Were going to bring in every University of Miami player [we can], as well as other people from Miami as far as athletes are concerned. Puff Daddy's going to do events. Pitbull is going to do events. Rick Ross. We'll have a wide-range of entertainers and athletes that's going to be a part of this, because this is very important."