By Wayne Drehs
ESPN.com
EDITOR'S NOTE: ESPN.com's Wayne Drehs is spending the week behind the scenes with the unsung people in Jacksonville who make the Super Bowl what it is -- the party planners, the limo drivers, the beer distributors and, yes, the bouncers who muscle the rest of us out of the really cool shindigs. His series on Super Bowl Lives continues with the official concierge of the Super Bowl ... and all her phones.
Roads are closed everywhere. She can't turn left. She can't turn right. In front of her, a sea of taillights. Behind her, a police cruiser.
"They must not realize I'm the Jacksonville concierge," she jokes.
Her cell phone rings. For the 12th time in 35 minutes. Another person with another problem to solve. This time, it's Jacksonville host committee President Michael Kelly. His request is a tough one: Kansas City Chiefs head coach Dick Vermeil wants dinner reservations for 8 p.m. Saturday night at one of the hottest steak houses in down.
"Dru," he tells her, "this one, we've got to get done."
She holds a Sharpie in her right hand, a tattered piece of notebook paper in her left. A brown leather briefcase rests on her left leg while her big black book sits on her other leg. Her cell phone is forced into her ear by her right shoulder. And she's still driving the car -- with the bottom of her wrists.
"This is how it's been all week," she says. "Just crazy."
Jones is the owner of Jacksonville Concierge, the official concierge service of the Super Bowl. She's the ultimate Super Bowl problem-solver. The crap that nobody else wants to deal with -- dinner reservations, concert tickets, hotel rooms . . . it's her job to track down and finalize it all for the city's most important visitors.
At the absolute last minute.
More than pulling the yellow M&Ms out of P. Diddy's candy dish, the job is tee times, party tickets and dinner reservations. It means running around the city like a madwoman, communicating with Hollywood assistants, NFL secretaries, the general public and her 18-person, all-female staff -- with a cell phone permanently glued to her ear. Another cell phone waits on backup.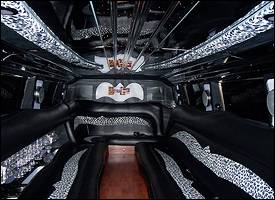 Yes, getting there really is half the fun.
So far this week, she's booked everything from a hotel room for Owen Wilson to a trip to an alligator farm for Robert Kraft's grandchildren and an airplane for Earth, Wind and Fire.
She hasn't slept in 36 hours and doesn't plan to anytime soon. When she sits down for lunch on Thursday afternoon, it's the first time she's had a plate of food in front of her since Wednesday morning. Even then, her mind is racing so fast and the phone is ringing so constantly that she can barely stomach more than a few bites of a sandwich without thinking about what needs to be done next.
"It's been that nuts," she adds. "But you just do it. The expectations, with people this high-profile, is that calls will be returned. Reservations will be made. And there's no exception to that."
After hanging up the phone with Kelly, the host committee president, she calls the restaurant where Vermeil wants to eat. She explains the situation. Yes, Saturday. Yes, at 8 o'clock. An NFL head coach.
"He specifically asked for this restaurant," she says. "If there's any way to assist us, it would mean the world to me."
The feedback isn't positive.
"Are you sure?" she says. "There's nothing you can do?"
The answer is no. They simply don't have enough tables, and they can't bump another VIP out of his reservation. The best the restaurant can do is 10 p.m. Jones passes the information on to Heather Surface, the public relations director for the host committee. Surface isn't thrilled.
"This one is going to take some figuring out," Jones says.
She has a number of dinner reservations waiting for her to fill at several Jacksonville restaurants -- just not this one. She suggests a couple of alternatives for Vermeil, and waits to hear back.
Meanwhile, she drops one of her employees off at the Seven Seas cruise ship -- her company is handling all the concierge needs on each of the five ships in for the Super Bowl -- and the phone rings again. It's Daniel Snyder's assistant. He needs a table for six at Morton's Steakhouse for lunch on Saturday. The Sharpie and the scrap paper come back out and the scribbling begins.
Morton's. Snyder. 6. 12:30.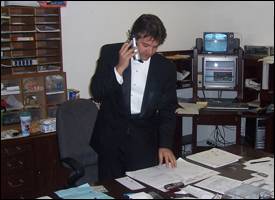 Suppose Richard Gross is phoning Ty Law and asking him to give the rest of his riders some tipping tips?
"OK," she says. "We'll get it taken care of. Thank you very much for calling."
Later in the day, she'll transfer the scribbled sheets of paper into her black book. It's a book that looks more like an NFL playbook than a list of VIP names and phone numbers. There are arrows, circles, straight lines, wiggly lines. Some names are in blue, some are in black. Some are written straight, some are crooked.
But there's a method to this madness. She starts at the back of the book and works her way to the front. Each night, when the phone stops ringing and the rest of the city goes to sleep, she thumbs through the book to make sure she didn't forget anything.
"I've had all the electronic gadgets," she says. "But I like this better. It's just what works for me."
The Morton's reservations are simple. One phone call and they're done. But it isn't always that easy. Earlier in the week, when she tried to make a reservation for NFL Vice President Jim Steeg (the man who opened the door for Jacksonville to be awarded the Super Bowl), one restaurant told her, "I've never heard of him. And I've had a lot of people call telling me they're from the NFL."
Jones calmly tells the man, "Sir, you need to realize that this man is the reason we even have a Super Bowl. We really need to get him a table."
It happens.
Jones has owned Jacksonville Concierge for four years now. She came to it when she realized she was the person all her friends called when they needed something hard to get.
"I figured out there had to be a way to make a living off of these relationships I had built," she said.
And she has. She'll make her money this week on handling fees, gratuities and her contract with the host committee.
Still sitting in traffic, her phone starts to buzz and ring again. Somebody is looking for tickets to the Playboy or Maxim party.
"Still can do Playboy, sold out of Maxim," she says. "Playboy is $2,000 each."
The caller wants to think about it.
"Excellent, sir. Just give me a call when you know what you want to do," she says. "It's my pleasure. Have a wonderful day."
Born and raised in Jacksonville, the Florida State graduate oozes southern hospitality the way confidence drips from the pores of Terrell Owens.
She's always smiling. Always cheerful. Always radiant. Even when streets close and Jacksonville police force her to circle the same neighborhood for 15 minutes, she laughs. When a working phone hasn't been installed at the concierge desk of the Miracle cruise ship, she shrugs.
"Nothing rattles her," says one of her employees, Dottie. "That's probably the reason she's able to do the job she does."
When she tries to call Surface at the host committee but accidentally dials another Heather in her cell phone, she calmly says, "Oops, I'm sorry. Wrong Heather. But I'll talk to you soon, sweetie."
The most frustration she shows all day, amidst the chaos and craziness? When she can't find a parking spot, her other line is ringing and she can't get off the phone with a jibber-jabbering associate. She merely puts the phone on her leg -- while the person is still talking -- takes a deep breath, picks it back up and explains, "Sweetie, I hate to be rude, but can I give you a call back later? I'm really busy right now."
It works. And no sooner is she off the phone then it buzzes again. This time, it's good news. A group that had chartered a 40-bedroom yacht has fallen through. Three days before the biggest sporting event in the year, in a city where hotel rooms are scarce to begin with, 40 rooms have opened up; and they're a football toss away from Alltel Stadium.
"A concierge's dream," she says. "And this is a guy who you know is willing to negotiate."
She crisscrosses town, picks up a package of concert tickets, drops off another employee at a cruise ship and checks in at the makeshift media center office. There, she's told that Vermeil wasn't excited about the alternative dinner options. So she suggests more.
Another associate explains that the VIP group from San Diego, a group of 16 businessmen for whom Jones is planning a weekend of meals and activities, isn't sure what to do on Saturday night. Money is no object, prompting Jones to recommend an NFL players party at which VVIP tables (very very important) are selling for $12,500 each.
"That makes it a lot more fun," she says about working with a limitless pocketbook. "But it also radically increases the expectations. Especially when you're dealing with new clients whose likes and dislikes you're not familiar with."
More traffic. More phone calls. More scribbling. It doesn't stop. When she isn't on the phone, it's ringing. When she is on it, voice-mails are piling up. At one point, she finds herself holding her cell phone to her ear with nobody there.
"It's just habit," she says.
Back at the media center, nearly shaking after being away from e-mail for five straight hours, she stops for a bottle of water. Now she is told that Vermeil is excited about the second round of alternative dinner options.
"Great," she says, reacting as nonchalantly as if she had found a nickel under her car seat. "That's good."
At some point, life will return to normal. She'll go back to sending roses to wives and booking golf trips for husbands. Though the game will end sometime Sunday night, Jones doesn't expect normalcy to reappear much before Wednesday and Thursday. But when it does . . .
"Wow," she says, taking a deep breath and pausing for a few seconds. I don't know. "I haven't thought that far in advance. Maybe . . . "
The phone rings again.
"Hold that thought. Let me grab this."
Wayne Drehs is a staff writer for ESPN.com. He can be reached at wayne.drehs@espn3.com .