By Wayne Drehs
ESPN.com
EDITOR'S NOTE: ESPN.com's Wayne Drehs is spending the week behind the scenes with the unsung people in Jacksonville who make the Super Bowl what it is -- the party planners, the beer distributors and, yes, the celebrities who frequent the really cool shindigs. His series on Super Bowl Lives continues with high-rolling tales from a limo driver on the night before the big game.
Instead, he's here, on a remote highway on the city's west side, racing against the clock to satisfy the needs of another high-profile client. Five minutes ago, he was standing in his company's parking lot, wondering where the night was going to take him now that Law, who had originally scheduled the limo for Saturday night, has canceled.
"Team curfew," a friend explained.
SUPER BOWL LIVES
Wayne Drehs is spending the week with the unsung people in Jacksonville who make the Super Bowl what it is:


Then the next call came in. Another limo company botched the reservations for an executive of Red Bull, leaving some 18 amped-up middle-aged men stranded at their private plane at Cecil Field on the city's west side. Their destination: the Sports Illustrated party, on the city's far east side, ASAP.
It should be a 30-minute drive to pick them up. An hour to make it to the party. Velasquez is confident he can do the whole thing in an hour.
His foot is slammed to the floor. With some 3,000 pounds of weight at the edge of his finger tips, this Hummer is ultimate yacht on wheels, complete with neon lights, laser pointers, six flat screens and a PlayStation. It roars down the road like an 18-wheeler on THG.
It's pitch black. Velasquez isn't 100-percent sure where he's going. The only light is the reflection of the headlights off the lane lines, which race by in a streamlined blur.
Speed limit: 45 mph.
Hummer speed: 81 mph.
He blows past a Mustang. A Corvette. If a deer should pop its head out of the woods to see what the supercharged roar is all about, it will be obliterated.
"I wish the po-po (police) could give me an escort," Velasquez says. "But they usually understand. When a VIP customer like this says go, you go."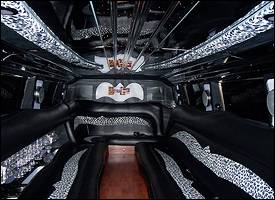 Yes, getting there really is half the fun.
His income depends on it. Velasquez is paid $20 an hour by A.A. Susie Limousine (the company for whom he drives), plus tips. Friday night, after hauling Law and his buddies around, Velasquez walked away with a $300 tip. On his first ride tonight, a simple pick-up and drop-off at the airport, he pocketed a pair of twenties.
This is supposed to be the biggest night of the year, for one of the hottest cars of the year. Tooling around Jacksonville in one of these, the night before the big game, is like having Michael Jordan on your pickup basketball team. Not only are you going to win, but you're going to look good doing it. And everybody will be staring at you along the way.
When Velasquez stops the Hummer at an 18-pump gas station, almost half the people come by to take a look. When he pulls into a Wendy's drive-thru, all the employees crowd at the window for a peek. And when he passes a DeLorean on the highway, its passengers stare at him, not vice versa.
The car that makes crazy people do crazy things. As Velasquez explains it, bachelorettes drop their pants, prom dates lose their virginity, CEO's wrap neckties around their heads and ordinary business people caterpillar down the vehicle's center.
"Everybody gets off on the Hummers," Velasquez says. "People feel like they rule the world in the back of one of these things.
"That's why I tell people the ultimate rule of this job: You never know. You just never know."
Like Friday night, when Velasquez pulled Law and his buddies around town. Or when Fat Joe came by to check out the Hummer and shake Velasquez's hand. Or when Chapelle walked by, took a look at his Lincoln Town Car, took a look at Law's Hummer and said, "And I'm in this piece of s---?" Chapelle then hopped in back and rode around with Law and his buddies for over an hour, experiencing the life.
Another driver tells a story from a night earlier in Super Bowl week, when he was flagged down out at the beach by a random guy on the side of the street. He offered $1,000 cash for a ride to the airport Hilton, some 45 minutes away. "Show me the cash," the driver said.
The man pulled out a wad of $100 bills as thick as the bible. And they were on their way.
"You never know," he added.
But on this night, the eve before the big game, the unthinkable has happened. An influx of out-of-town limo providers has flooded the market, leaving too many cars for too few people. A $300-to-$400-an-hour rate early in the week, with a 10-hour minimum, is down to $200 an hour now, with a six-hour minimum.
And Richard Gross, A.A. Susie's owner, is contemplating taking even less. He spent the entire afternoon driving his stretched-out Infiniti F45 -- the only one of its kind in the country -- all across town, hoping to drum up some business for Saturday night. He still doesn't have the buzz he wanted.
"Nobody saw this coming," says Gross, whose week was complicated further when a burglar broke into his vehicles last Wednesday and caused in excess of $20,000 worth of damage. "We thought we'd be getting as much as $1,000 an hour for something like the Hummer."
Instead, his company is being turned into a glorified taxi service. A ride to the airport here, a trip to the Sports Illustrated party there, a pick-up from a downtown nightclub here. The Red Bull boys are paying $550 for their pick-up and drop-off.
Velasquez finds Cecil Field, races down the airport entrance and parks the Hummer directly in front of the private airport gate.
Within seconds, 18 eager-to-party 30-and-40-year-olds climb into the club on wheels. They have two requests: A stop for Red Bull, beer and vodka; and the SI party. Now.
After loading up on liquor, the Hummer is on the interstate and heading for the party, weaving in and out of traffic like a road-hugging BMW. It's been 40 minutes since the Hummer left the shop, and Velasquez tells the passengers they'll be partying with the swimsuit models in another 40 minutes.
This group is a tame one, leaving Velasquez to reflect on some of his more entertaining trips during his seven-plus years as a limo driver. Sex, orgies, passengers throwing stuff out the window, hanging out the window.
Just a few weeks ago, he says, a soon-to-be-married woman on her bachelorette party stood up in front of the partition, pulled down her blue jeans and forced her "all-too-perfect" backside up in his face.
"I won't be able to do this in two more days, so what the hell," she said. "Tell me, Mr. Limo Driver, do you like this?"
Said Velasquez, who is married: "It was all I could do to keep from driving off the road."
At another bachelorette party, 10 female passengers spent the entire night begging him to pull the car to the side of the road and join them in the backseat for some window-fogging entertainment.
"And these weren't some skanks," he said. "They were incredible. Just beautiful, clean girls. One of them had this limo driver fantasy."
But he had to say no. It's Rule No. 1 in limo driving.
"The job of our drivers is to facilitate the party, not join the party," says Gross, the A.A. Susie's owner. "Once they do that, we've got problems."
Velasquez says female passengers are often raunchier than the men. "They need the attention," he says. "So they'll pull down their pants, ask me if I like the way it looks."
Sex, he says, is common in what he calls, "Vegas on wheels."
"What goes on in the Hummer stays in the Hummer," he says. "And as long as they clean up any messes, I don't care what they do back there. That's why they're here, to let their hair down and relax a bit."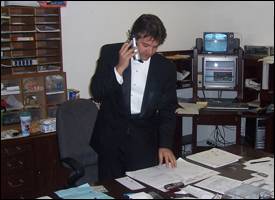 Suppose Richard Gross is phoning Ty Law and asking him to give the rest of his riders some tipping tips?
On this night, there are no such shenanigans. Just the Red Bull crew, growing more and more impatient by the minute. "Are we there yet," one asks from the backseat, as if he were a Griswold headed to Wally World. "Do you know where you're going?"
Two minutes later, the Hummer rolls down 3rd Street, the main drag in Jacksonville Beach, and turns heads. Even the police bow to its presence, opening up blocked-off roads so that Velasquez can drop off his VIPs.
He parks the car, runs around the vehicle, opens the back door and watches the group file out. The executive is last. He's already paid for the ride. This is when Velasquez normally would be tipped for his Mario Andretti-like effort.
The executive gives him nothing.
Velasquez smiles and tells the group to have a good night, but seethes when he gets back in the driver's seat.
"Nothing," he says. "Absolutely nothing. Not even five dollars. Guy like that, absolutely made from money . . . I put this thing on wings to get him here as quickly as I could. And what do I get? Nothing."
Another call takes him near the World Golf Village, to pick up a passenger named "Dan Devine."
"Maybe the Notre Dame coach," he says. "You never know."
Instead, it's a group of 20-something kids who've pooled their cash for a ride back to the beach, where Velasquez has just dropped off the Red Bull guys. They tip him $5.
The big night is hardly the financial windfall he'd imagined. Nor has he crossed paths with any celebrities, as he did the night before. But Velasquez does his best to keep his head up. Super Bowl Sunday, he knows, will be a big day. Twelve-hour minimums. High-profile corporate clients. And, hopefully, improved tips.
"If every night could be someone like Ty Law -- not only because of the tips he gives, but just because of how friendly and gracious and accommodating he is, how fun he is to work for -- this would be the greatest job anyone could have.
"Instead, it's just really, really good."
Wayne Drehs is a staff writer for ESPN.com. He can be reached at wayne.drehs@espn3.com .

Wayne
Drehs
VEGAS ON WHEELS