Going into LeBron James' first NBA Finals, the promotional line was "We Are All Witnesses." The line coming out might as well have been "Hey, Did You See Anything?"
The 2007 NBA Finals were the lowest-rated in prime-time history, drawing an average of only 9.2 million viewers and an 11 percent share -- meaning eight of every nine televisions in use was tuned to something else. Sure the 500-channel era is reducing ratings for many broadcasts, but NBA viewership is declining both in overall terms and relative to other sports: the last time the NBA Finals had higher ratings than the World Series was 1998. In the past decade, only the 2001 championship series, matching the Lakers and Sixers, drew a decent audience, an average of 18.9 million viewers. Otherwise, the NBA Finals increasingly are being greeted with a collective national shrug.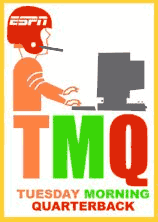 Maybe shoes are to blame. During the same period that sales and status of basketball-themed shoes have risen -- with adidas, Nike and Reebok booming and suburban malls full of chains such as Foot Locker with retailing that centers on the basketball shoe -- ratings for the NBA have gone south. Chart the two; NBA appeal and basketball-shoe appeal would appear inversely proportional. So obviously there's only one hope for the NBA -- we must drive down the popularity of the basketball shoe in order that the popularity of basketball itself can rise. Why does the NBA flounder? In TMQ's view, there are three issues. First, NBA playoff games start too late. Doesn't the NBA know almost half the United States population lives in the Eastern time zone? Second, if you extol individual performance, as do the NBA and its partners, especially the shoe companies, fans will lose interest at the point in the season when team-oriented play takes over -- and in the past decade, most NBA championships have been won by team-oriented teams. Third, high school kids, guaranteed contracts and me-first-itis have caused the quality of professional basketball to decline. Viewers aren't fools; why should they watch a team that plays basketball as poorly as (in this year's case) the Cleveland Cavaliers? Until quality play once again becomes the standard in the NBA, popularity will keep waning. One hopeful sign: John "Sonny" Vaccaro just retired -- more on that below.
Start times seem the easiest problem to repair. Last year,
Tuesday Morning Quarterback complained
that the NBA Finals didn't tip off until after 9 p.m. ET, while the Suns-Mavericks series, the most exciting matchup of last year's postseason, didn't tip until 10:30 p.m. ET. The NFL is able to play night games in Texas and Arizona without starting them past bedtime on the East Coast, and except for opening weekend, the NFL's latest start time is 8:30 ET. The NFL gets much, much better ratings than the NBA, and the NFL also does not start games after 9 p.m. in the East. Maybe, just maybe, there is a relationship between these facts! Last year's late tip times were nothing compared with this year's start-time debacles. No one could have guessed that Golden State vs. Dallas would be the story of the NBA playoffs, providing some fascinating basketball. But once the Warriors had jumped ahead with two wins, they were the talk of the sports world. Why didn't the NBA rearrange start times so more viewers could see the games? Game 6 of the Dallas-Golden State series, with a third quarter that was as entertaining as any basketball you will ever watch, didn't tip until 10:30 p.m. ET. The East Coast ratings suffered because the third quarter did not begin until after midnight ET. What made matters doubly annoying was that the NBA scheduled a television doubleheader that night -- Houston at Utah tipping at 8, followed by Dallas at Golden State at 10:30. The East Coast saw every sleep-inducing play of the Rockets-Jazz game, then went to bed as the hot contest began. Utah is in Mountain time zone, so the local start was 6 o'clock. If a game can start at 6 local in Utah, why not at 6 local in California? Had the NBA merely moved up the start time of the Warriors-Mavericks game to 6 p.m. local, it would have aired at 9 on the East Coast and drawn a much better audience. Instead, the NBA showed the entire country a game that was likely to be dull, then showed only the West Coast a game that was likely to be exciting. And the NBA wonders why more people don't watch its product! Then, most games of the Suns-Spurs matchup, this year's best playoff series, aired at 10:30 p.m. ET and went unwatched. When the Cardinals or Cowboys play at home on "Monday Night Football," the games start at 6:30 or 7:30 local. Why can the NFL arrange this but not the NBA? Tuesday Morning Quarterback contends that late-start basketball games are a special turnoff for viewers because the best part of a basketball game is often the end. If the game doesn't even begin till 9 p.m. or later in the East, half the United States population knows it will be asleep before the best part arrives. In that case, why watch any part at all? Please, NBA: Look at a map of time zones overlapped with the population density of the United States, and get your act together.
Now, on to the problem of promoting individuals, then acting surprised when individuals falter. As
Jemele Hill pointed out
, the Spurs -- who have won four of the past nine NBA championships -- play a team-oriented 1980s style. Adding the Pistons' 2004 crown, team-oriented teams have won five of the past nine titles. NBA marketing is oriented around promoting spectacular individual moves by individuals: "See LeBron! See Kobe!" is the essence of the current NBA pitch. But when individuals play a team, the individuals usually get beaten, as happened in this year's NBA Finals. Think about the men's NCAA championship, which pitted a team, Florida, against a collection of individuals auditioning for the NBA draft. The team won handily -- the Florida-Ohio State game wasn't close in the second half. For a decade or so now, basketball marketing has focused on extolling the individual over the team. But teams based around the ego of an individual usually are
losing
teams, or at least they lose when the playoffs come. In sports, team accomplishment is a praiseworthy goal and pursuit of individual glory only breeds cynicism. If basketball promotes individual stardom rather than team accomplishment, we shouldn't be surprised that viewers become disenchanted. Finally, there's the decline in the quality of professional basketball. We all need food, energy, medicine. We do not need sports; sports are a discretionary use of dollars. For this reason, quality is the essence of sports as an entertainment product. The quality of professional football games is extremely high, hence high demand and high popularity. The quality of NBA games is low, hence faltering interest. As TMQ has noted before, the decline of basketball quality ties closely with the disastrous decision, somewhat more than a decade ago, to allow high school kids to jump en masse directly to the NBA. Many were talented but short on fundamentals; they brought an immature, self-centered style that has plagued the sport since. (Before you retort that people like me who don't want high-school-ish players in the NBA don't want to see young African-American males become rich, bear in mind, the high school kids who make the NBA almost always are displacing a young African-American male.) As of 2006, a player must be at least 19 or one year out of high school to join the NBA, and although that's a start, it is still not enough to reverse the decline of play. Compounding the problem is that the arrival of fully guaranteed contracts renders NBA players uncoachable: They are paid the same whether they play well or poorly, so why should they heed the coach? Stephon Marbury, for example, might have become a great basketball player with some coaching. But he defies coaches and they have no contract leverage over him; the result is a selfish style of play so flawed Marbury is grating to watch, and the New York Knicks, once a jewel of the NBA, are grating to watch, as well. The impressive thing about the players of the Pistons and Spurs of this decade is they voluntarily accepted coaching discipline to win -- but most of the league does not follow the example.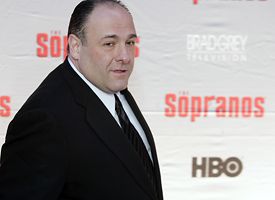 AP Photo
He'll play the man who ruined professional basketball.
Then, there is the Sonny Vaccaro factor. A former executive for all three big shoe firms -- adidas, Nike and Reebok -- Vaccaro, more than anyone else, deserves blame for promoting flashy individualism over quality performance. From the standpoint of marketing sneakers, Vaccaro was a genius. He was instrumental in making fancy, expensive basketball shoes trendy, and he helped pioneer the idea that customers should buy a new style every year. As a shoe salesman, Vaccaro had no peer. But his impact on basketball was corrosive. In 1984, Vaccaro started an invitation-only summer basketball circuit, the ABCD Camp, loosely modeled on New York's Rucker League. The ABCD Camp emphasized flash and glitz over fundamentals. It celebrated the crashing slam dunk, but you could graduate from ABCD without knowing what a back pick is. ABCD helped produce Kobe Bryant, Tracy McGrady and others -- taking them as high school kids and turning them into celebrity athletes who had shoe-selling power but who acted as though they cared only about themselves, fancy cars and wealth.
Here
, Stephen Danley, who attended the ABCD Camp as a player in 2001, asserts the camp's glory-boy atmosphere ruined Lenny Cooke and Sebastian Telfair by turning them into selfish gunners. Both had a chance to become basketball greats. Cooke instead was a bust: declaring for the NBA draft out of high school and being picked by no one, he's now with the Minot, N.D., Skyrockets of the CBA. (Note: The cheerleaders of the Skyrockets are the
Rockettes
.) Telfair has been a liability to every NBA team with the misfortune of holding his contract. He has been traded twice already. Vaccaro had enough pull to exert a deleterious impact on the Amateur Athletic Union, whose many camps and events, attended by far more players than ABCD, often became mini-ABCDs -- rewarding individual showboating, right down to ranking players individually rather than as members of teams. The first ABCD Camp was held in 1984, the last in 2006. Good riddance!
Here
, Eric Prisbell reports the big three shoe companies have replaced me-me-me basketball camps with ones that emphasize teamwork and good citizenship. This is welcome news. Assuming the shoe companies are serious and now want to promote sportsmanship -- they might sense their long-term market position will fade unless they change their ways -- we can expect that, a few years from now, the quality of NBA play will begin a cycle of upswing.
HBO is said to be making a movie about Vaccaro
starring James Gandolfini and written by David Aaron Cohen, screenwriter for the theatrical version of "Friday Night Lights." Gandolfini and Cohen are both good at what they do. But will the movie be celebrity worship, or will it depict the damage Vaccaro did to the sport? If you love basketball as a sport, rather than as a marketing vehicle, hope for the latter. And as for Vaccaro himself -- we all hope he has a great place in the mountains or at the beach, with a porch with a view of the sunset. Sonny, put your feet up and have a glass of wine. Enjoy life. Live long. Just don't make a comeback.
Is Memorial Day the new Labor Day?
On June 15, 2007, just as school let out in my county, the Official Domiciliary Residence of TMQ received a Lands' End catalog headlined, SUMMER'S END SALE! The next day, our mailbox held an Oriental Trading catalog -- the Official Wife of TMQ loves to give children's parties and thus is a major
Oriental Trading
client -- with a Halloween cover. Now it's August, has any reader yet seen Christmas decorations or heard Christmas music in a store?
Wealthy ex-presidents reach into your pockets:
Recently, the Congressional Research Service announced the federal subsidies requested for the coming fiscal year by ex-presidents Jimmy Carter, George Herbert Walker Bush and Bill Clinton. Globe-trotting Carter asked for only $2,000 for travel; Bush and Clinton, both millionaires, wanted $50,000 from taxpayers for travel. Bush said he needed $69,000 for "equipment" and $13,000 for postage. Is Bush planning to mail 32,000 thank-you notes next year?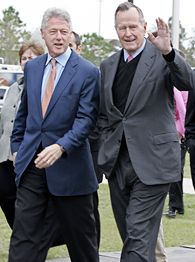 AP Photo
Hi, we're rich, give us your money.
What's really offensive is that all three filed for the maximum presidential retirement payment of $191,000 annually.
All these guys are wealthy
, the elder George Bush having significant inherited wealth, yet all want taxpayers to hand them pensions seven times higher than the typical Social Security sum. This is extra galling because Carter and Clinton aren't even retired! Carter continues to write books that sell well; Clinton is active on the corporate speaking circuit, having earned an estimated $10 million speechifying in 2006. Clinton prattles on and on about the horrors of inequality, yet demands $191,000 in bonuses from taxpayers whose median household income is about 1/20th of his estimated $10 million. Why didn't the three ex-presidents request no pension at all? That would have been the dignified thing to do. To top it off, Clinton requested $79,000 for telephone service. It is impossible, physically impossible, to spend $79,000 on telephones! If Clinton had a 10-cents-a-minute long-distance plan, he could talk long-distance 24 hours a day, 365 days per year -- and you can imagine Clinton doing this -- yet fail to burn through $79,000. The most expensive package offered by Verizon Wireless is an international super-phone with unlimited texting and four hours of talk time daily; this sells for about $3,000 per year. Clinton could purchase two dozen of the most expensive cell accounts available in the United States for the tax-subsidized telephone budget he requested. Is Clinton's $79,000 phone request fraud, or is Clinton planning to use the money to buy phones for staffers working on his private speaking business? An ex-president who had financial problems might legitimately turn to the taxpayer. For all three living ex-presidents to be quite wealthy yet demanding public subsidies is shameful -- to say nothing of a failure of leadership.
NFL-NBA disparity grows even bigger:
The new ESPN-ABC-TNT broadcast deal for the NBA will pay the league $925 million a season. That sounds great for the NBA -- until you compare the contract with the NFL's much richer 2006 broadcast deals. The new basketball broadcast contract represents a 21 percent increase from the previous contract; the 2006 NFL deals nearly doubled football's previous contracts. In the new basketball agreement, ESPN and ABC get the rights to show 90 regular-season games, the NBA Finals and all but one of the NBA playoff series, as well as to broadcast NBA games over the Web, cell phones and in other new media that might develop soon (that is, tomorrow). For all these NBA rights, ESPN and ABC will pay about one-half as much as ESPN pays each year for "Monday Night Football" -- and the MNF deal covers just those 17 games, no playoffs, no Super Bowl, no digital rights. That is, the market now prices the entire NBA schedule plus playoffs and even the championship as worth significantly less than 17 regular-season NFL games.
Cheer-babes of the Frozen North: Although college football remains a tantalizing nine days away, teams already are nearly halfway through the sked in the Canadian Football League, which must complete its season before glaciation advances across the stadiums. The defending Grey Cup champion B.C. Lions are playing well.
You'd think it would be too cold in Canada for the cheerleaders to model swimsuits, but you'd think wrong.
Here is Shannen
of the B.C. Felions, who boast the best pun of any cheerleader squad name. According to her team bio, one of Shannen's favorite pastimes is to bike the seawall that protects Vancouver from flooding. There was a flood in 1948, and this spring the dikes along the Fraser River strained to hold back meltwater from an unusually heavy snowpack at high elevations.
Global warming might cause more snow
: Yes, I know that sounds ridiculous. And if there is serious global warming, the CFL might find it can switch to an NFL schedule, but the sea level rise won't be good for Vancouver.
Here is a scientific bibliography
on the Fraser basin, with many contributions from my distant relative Don Easterbrook, a geologist.
Clang! Clang! Clang!
For the first time in three seasons, no one in American basketball missed 1,000 shots. Two seasons ago, Allen Iverson took 1,818 shots and missed 1,047; one season ago, Iverson missed 1,008 shots and Kobe Bryant took 2,173 shots and missed 1,195. This past season, Bryant led the clang parade with 944 misses; Iverson, who appeared in only 65 games, must have been disappointed that he managed only 732 misses! Michael Jordan had three seasons in which he missed more than 1,000 shots; Bryant and Iverson have each done this twice. All are staring at the taillights of Wilt Chamberlain, who missed 1,000 or more shots for six consecutive seasons. But the high miss numbers for Chamberlain -- his 1,562 clangs at Philadelphia in 1961-62 is a sports record unlikely to be broken -- came because he shot so much, and he usually shot well. In five of Chamberlain's thousand-plus-miss seasons, he shot better than 50 percent. For his career, Wilt the Stilt was a .540 field goal shooter, a solid-gold figure. Jordan just missed a career 50 percent, finishing at .497. Bryant, by contrast, is a career .453 shooter and Iverson only .423 for his career. Today's NBA miss numbers trace to poor shooting -- especially the crazed off-balance heave-ho -- whereas Jordan's and Chamberlain's miss numbers were the byproduct of scoring a lot.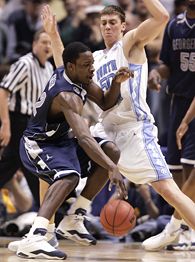 AP Photo
The Georgetown-UNC game: Armageddon of bad shot selection.
Clang! Clang! Clang!
The losers in the men's Final Four were a combined 16-for-67 from the 3-point line, and seven of the hits came in the final two minutes of decided games. This means the losers were a combined 9-for-60 from long range when it mattered. The winners were a combined 23-for-54 -- not only hitting their 3s but attempting fewer.
Clang! Clang! Clang!
During North Carolina's epic collapse against Georgetown in the NCAA men's Elite Eight, from the point with seven minutes remaining in regulation at which the Tar Heels appeared to have the game won until the point when the Hoyas danced in victory at the horn ending overtime, UNC shot 2-for-22. But it wasn't just that the Tar Heels missed their shots, it was the kind of shots they took -- ego-feeding long-range heave-hos. Discounting the final minute of overtime, when UNC was down by 10 points and had no choice but to fire 3s, the Tar Heels attempted nine 3-pointers during their epic collapse, missing all nine. At no juncture until late in overtime did North Carolina need a 3-pointer. Repeatedly, rather than work the ball low for the kind of high-percentage shots likely to seal a victory, North Carolina players hurled wild 3-point attempts in the general direction of the basket for "everybody-look-at-me" reasons. With six minutes remaining in regulation and North Carolina ahead by nine, the Tar Heels' Danny Green not only fired a crazy 3 but did so with 20 seconds on the shot clock. Afterward, Green said that if he'd hit that attempt, North Carolina would have won. Actually if he'd dribbled for 20 seconds, then bounced the ball off his foot out of bounds, North Carolina would have won -- there were 14 seconds remaining when the Hoyas tied the score to force overtime.
Start the play!
Now, North Carolina and Georgetown are tied, and the Tar Heels have the ball with those 14 seconds remaining. The Heels dribble-dribble-dribble and don't start a play until five seconds are left; Wayne Ellington runs out of time and takes a crazy off-balance 3-pointer that clangs. The Hoyas win in the extra session, completing the epic comeback. If you have the ball and 14 seconds in which to win, don't waste the chance, start the play! Instances when teams dribble-dribble-dribble at the end of the game or half, then end up with a hurried off-balance heave-ho, drive TMQ crazy. In April, the Cavs and Heat were tied at 83-83, Cleveland ball with 11 seconds remaining, inbounds pass to LeBron, dribble-dribble-dribble, doesn't start the play until down to three seconds, then only has time for a crazy off-balance 3 that, of course, clangs. In Game 5 of the Cleveland-Detroit playoffs, series tied at 2-2, the Pistons had the ball at half court at the end of regulation with the score tied and 10 seconds remaining. (Actually 9.6 seconds because NBA timekeepers can sense tenths of seconds.) Chauncey Billups took the inbounds pass and dribbled, dribbled, dribbled. He didn't start his move toward the basket until three seconds remained, then, with time about to expire, he heave-hoed a crazy off-balance 3-point try that clanged. How could 10 seconds of sports be more screwed up than this? Detroit did not need a 3-pointer to win, yet this normally high-IQ team ended up with basketball's lowest-percentage shot. The Pistons ran no play -- no picks, no nothing; four guys stood watching as Billups dribbled. After barely drawing iron, Billups grinned at the cameras. All that week, the NBA had been promoting Billups as "Mr. Big Shot." You sense that he took a crazy, unnecessary 3-pointer because he knew that if it did go in to win the game, he would be lavished with praise by sportswriters, extolled on "SportsCenter" and so on. And where was Detroit's coach when all this was happening? My 12-year-old, Spenser, was yelling "Start the play!" at the tube when Billups was still 30 feet from the basket and doing nothing. As regulation ended, Spenser snapped off the television, pronouncing, "Detroit will lose in overtime, and after that, they deserve to lose." Truer words were never spoken.
Spider-Man becomes Superman:
TMQ didn't think "Spider-Man 3" was as bad as reviewers contended. Sure the plot was disjointed -- that's the life of a superhero, you just never know when the next runaway neutron beam will turn a store clerk into an evil super-being. But the flow of information in the movie seemed messed up. At the end, Sandman knows Spider-Man is Peter Parker and Uncle Ben was Peter's guardian. How does Sandman discover this? He doesn't have any special mental powers; he's just an escaped con who accidentally was transformed into a 40-foot-tall sand monster. Meanwhile, the professor at the university where Peter takes his advanced physics class -- and where, inexplicably, the fashion model Blonde Bombshell is taking the
same
advanced physics class -- seems awfully blasť about discovering an extraterrestrial life form that alters human DNA. Somehow, I think the professor would have done a little more than call Peter to tell him the stuff he wanted tested was a sinister extraterrestrial life form, then put the extraterrestrial life form into a jar and gone home for the night. Here are my two complaints about the transfer of Spider-Man from comic to cinema. First, Mary Jane. In the comics, M.J. is ballsy, independent, fun-loving and fast; in the movies, all she does is whimper and fall off skyscrapers. The comic book M.J. was sexually aggressive: She was one of the first female characters in popular culture to be presented as sex-loving but also well-adjusted and successful, rather than stuck in standard Madonna-or-whore stereotypes. In the comic books, Mary Jane and Peter have an interesting relationship because M.J. is an independent woman and sexually self-confident, whereas Peter is withdrawn and would rather study chemistry books than get busy. In the movies, M.J.'s self-confidence is gone; the Mary Jane character is so passive and whiny, you wince whenever she enters the frame. Why did the producers of Spider-Man feel they had to enfeeble the Mary Jane character? (Note: Natural blonde Kirsten Dunst dyed her hair red to play Mary Jane, and natural redhead Bryce Dallas Howard died her hair blond to play Spider-Man's new love interest, Gwen Stacy.)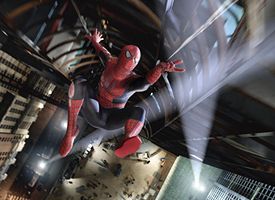 AP Photo
In the movies, Spider-man can fly! And just where are those webs coming from?
My second complaint is Spidey's web-slingers. In the comics, the spider bite gives Peter disproportionate strength and keen senses, but that's all. Using his knowledge of chemistry, he invents a spider-silk fluid, then designs mechanical shooters he wears on his forearms. The web shooters have limited range and are used sparingly because running out of fluid is a constant problem. These restrictions on Spidey's power mean that in the comic books he must outsmart foes. In the comics, he's a smart guy in a mask with really fast reflexes. In the movies, Spider-Man has become Superman plus webs. He's constantly depicted as, in effect, flying by leaping off skyscrapers -- although we never see how he gets to the tops of the skyscrapers in the first place! -- then shooting a web hundreds or thousands of feet to snag on another building. Making Spider-Man fly introduces into the Spidey movies a disregard for the laws of physics that drives TMQ crazy in the era of computer-generated special effects. If Spider-Man actually leaped off a 60-story building, then shot a web up to the top of another just as he as about to hit the ground, the web would need to travel away from his body at thousands of feet per second. Then, even if we assume some perfectly efficient binding substance that sticks the web to the top of the building, when the angular momentum of Spidey's fall was transferred up the silk to the building, the force would rip apart whatever the web stuck to. That is, even if we assume superpowers for Spidey and his web fluid, the buildings of Manhattan are still made of normal materials that would fail if used the way the movies depict Spider-Man using them. More annoying is that in the movies, Parker does not design the web-shooters -- webs just come out of his arms. The spider bite gave him a web-shooting power, and apparently a power to make openings in his arms that instantly appear and instantly heal, although we never actually see this. In the movies, there is no limit to the amount of webbing Spidey can shoot, which allows him to swing across buildings like crazy and engage in lengthy special-effects battles. This renders a lot of the movie action really silly.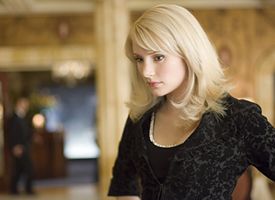 AP Photo
Peter Parker's paramours suffer hair-color confusion issues.
And where is the mass of the web fluid coming from? Spider silk is strong for its weight -- industrial chemists continue to study the stuff -- but in some of the lengthy battle scenes of "Spider-Man 3," Peter shoots what must add up to dozens of pounds of fluid. This mass must originate somewhere: Are we to believe the spider bite gave Spider-Man the ability to materialize mass? If the webbing is made biologically within Peter's body, not chemically in a lab as in the comic books, Peter would need to eat an amount of mass at least equivalent to the weight of webs he shoots. So, if he shoots 10 pounds of webbing in a dustup with Little Goblin, he would need to consume at least 10 pounds of food -- probably quite a bit more. Even if he has a spider stomach that can hold and digest 10 pounds of food, Peter would be eating constantly, in huge quantities, if his body were generating a substance he expelled in large amounts. The comic book reality for Peter Parker avoided this problem, and thus was believable as long as you accepted the spider bite premise. In the movie reality, even if you accept the premise, what happens still makes no sense on a physical law basis. Spider-Man-as-Superman, his powers far greater in the movies than in the comics, mirrors what Hollywood did to Supe himself. In the original Superman stories (up to the "infinite crisis" and "reboot" versions of D.C. Comics; since then, continuity has gone out the window and nothing adds up), Clark Kent was very strong, could leap such long distances he appeared to fly, had X-ray and heat vision, and could exert a hypnotic power on those within his field of view. By the television show, Supe's hypnotic power had disappeared, but he had acquired the ability to just plain fly. Still, Superman needed to breathe and eat -- he was, after all, a carbon-based biological being. Clark had other restrictions, such as needing regular exposure to sunlight. Krypton orbited a dying red star; radiation from our solar system's young yellow sun gave Kent his super-strength. Supe's television super-strength had limits, and he couldn't fly in space any longer than he could hold his breath. In the movies, Superman is so ultrastrong he can reverse the rotation of the Earth, and he's able to even more than fly faster than the speed of light. In "Superman Returns," the 2006 remake of the first "Superman" movie, Supe can remain in space for
two and a half years
without breathing or eating as he travels an enormous distance at warp speed. Power at this level makes Superman invincible, which is why all four Superman movies involve some tedious variation on the Man of Steel losing his powers -- otherwise he couldn't be threatened. In the comics, Superman did not need to lose his powers constantly to set a plot in motion because he was not invincible. The movie version of Spider-Man now faces the same problem as the movie-version Superman. In the movies, Spidey has become so Superman-like that it's inconceivable any villain could defeat him, and thus there is no tension.
Actual football item:
New Raiders coach Lane "Hey, Mom, I Got My Learners' Permit!" Kiffin is back on the job after being diagnosed with mononucleosis. He's also had an outbreak of acne and missed study hall, and he plans to retake his SATs.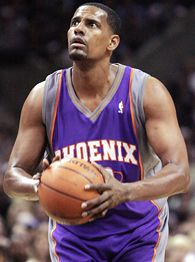 AP Photo
The Suns gave up two first-round draft choices to get rid of him.
How long until private equity firms buy, then flip, NBA draft picks?
Phoenix sold its first-round choice to Portland for $3 million, exactly the swap the two clubs also made in 2006. Over the past two drafts, Portland has paid the Suns $6 million for draft picks used on Sergio Rodriguez and Rudy Fernandez. Portland also bought the 30th choice in the draft from Philadelphia. Miami, drafting 20th, exchanged places with Philadelphia, drafting 21st, in return for cash. Houston bought the 31st choice from Seattle and the 54th choice from Orlando, both for cash.
Cutting-edge NBA trades:
Portland traded Zach Randolph and two minor players to the Knicks for Channing Frye and Steve Francis, then immediately released Francis, negotiating a buyout of the remainder of his contract. The key deal terms were that New York would get rid of Francis at the Trail Blazers' expense, while Portland would be rid of the years remaining on Randolph's guaranteed contract. So the trade was: New York took a contract Portland did not want in return for the Blazers taking a contract the Knicks did not want. Meanwhile, the SuperSonics, who knew they would lose free-agent forward Rashard Lewis, cooperated with Orlando, which signed Lewis, to help the Magic satisfy some convoluted NBA contract rules. In return for cooperation, Seattle received from Orlando $9 million in salary-cap space. But here is the NBA Trade of the Year: The Suns sent Kurt Thomas and two first-round draft choices to Seattle for a second-round draft choice. That's right -- a player and two first-round picks for a second-round pick. Phoenix wanted Thomas' guaranteed contract off its books and was willing to sacrifice first-round choices, especially as Phoenix always sells them anyway. The SuperSonics also gave the Suns $8 million in cap space in the deal.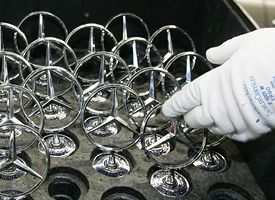 AP Photo
Globalization backfires: Daimler-Benz lost more money than Enron.
It's fine for foreign companies to buy American firms as long as they pay too much:
Recently, Daimler-Benz "sold" its Chrysler division to private equity firm Cerberus -- "sold" in quotes because Daimler-Benz, in effect, paid Cerberus $677 million to take Chrysler's debts and pension obligations off Daimler's books. In 1998, Daimler spent $36 billion to acquire Chrysler, a sum that equates to about $47 billion in today's money. Had Daimler in 1998 simply placed its cash into conservatively managed investments, the amount would have risen to about $70 billion by 2007. Thus, in terms of opportunity cost -- what Daimler might have done instead with the money it had in 1998 -- the company lost about $70 billion on Chrysler. Daimler's opportunity-cost loss exceeds the Enron bankruptcy, which wiped out about $50 billion.
All the news that fits our agenda:
In the past year, The New York Times has done a good job covering sports concussions, no-show college courses for football-factory players and other subjects the powers that be of athletics would rather the media not discuss. But the preference of journalists for bad news seldom has been on better display than with the disparate Times treatment of two recent studies involving race and the NBA. One research paper was played by The New York Times on Page A1 under the holy-cow banner, "Study of N.B.A. Sees Racial Bias in Calling Fouls." The paper claimed new research shows that white NBA referees call fouls against black players at a higher rate than against white players. The 37-paragraph Times article did not find room to mention that the study also concluded, and here I quote the study directly, "black players on average receive fewer fouls than white players" -- that wouldn't have helped the headline! Nor did the paper find space to mention that the researchers did not actually know which calls were made by white or black officials but rather used a statistical formula to assume away this data gap. (
Here is the study
.) Two weeks after The New York Times devoted front-page space to a conjectural analysis that damned the NBA on racial grounds, another study found that a third of NBA league and franchise management officials are black, the best minority manager percentage ever in professional sports. Unlike the foul calls study, which used computer projections to infer race, the minority-manager study employed hard data. How did The New York Times play the second study? As a three-paragraph box on Page C19.
More officiating concerns:
Former NBA ref Tim Donaghy has pleaded guilty to two federal charges related to score-fixing. Are there other bad officials out there? Let's hope not. TMQ continues to think that lack of consistency, including seemingly arbitrary standards that change game by game, is what plagues basketball officiating. In the first Final Four game this year, Georgetown vs. Ohio State, Buckeyes center Greg Oden played 20 minutes and Hoyas center Roy Hibbert played 24, both driven to the bench early by ticky-tacky calls. One foul was called on Hibbert when he was 20 feet away from a long rebound. One on Oden was called for -- well, I was watching Oden on the play and I think he was whistled for being near the man with the ball. Then in the second game, Arron Afflalo of UCLA drew three fouls in the first five minutes and sat out most of the game. Two of the three quick fouls Afflalo drew seemed indistinguishable from things other players on both teams did throughout the contest. Officiating in both the NCAA national semifinal games seemed capricious, and was indicative of capricious officiating throughout the NBA and NCAA. At one point, Oden leaped into the air and body-slammed a Hoyas defender who had established position with both feet down; referee Ted Valentine called blocking rather than a charge. And it was in open court, no obstructed views; The Atlanta Journal-Constitution ran the photo the next morning as an example of a call that made no sense. Later in the same game, Hibbert shuffled both feet not once but twice while holding the ball under the basket, then slam dunked, and he was not called for walking. Yet at other times in the games, players were whistled for walking for the slightest foot twitch. Trailing by four, Georgetown had an inbounds with 2:35 remaining; on the inbounds, Valentine called the Hoyas' Jeff Green for an offensive foul that was invisible from my seat in the Georgia Dome, and the call was the decisive moment of the game. The NFL had a bad officiating year in 2005, worked hard to improve and had a good officiating year in 2006. Basketball needs to improve its officiating, especially if the crews who worked the Final Four were the best the NCAA can do.
The solution: Female refs?
The wagering guidelines given to NBA referees prohibit pro basketball officials even from legally wagering or from being present at any facility, such as a licensed casino, where lawful wagering occurs. Violation by a referee, the NBA said, would lead to "termination of his or her employment." There is only one female official (Violet Palmer) in the NBA! But as TMQ has noted, with female officials beginning to appear in high school football and basketball, don't be surprised if double-X officiating becomes a hot trend in Division I football and men's basketball, then eventually professional sports. A woman playing in the NFL or NBA remains hard to imagine, given the strength and size advantages possessed by men. But officiating does not require strength and size: rather, knowledge, good judgment and composure. Men have no inherent advantages in those categories. It is only tradition that football and men's basketball officials be male -- and tradition has a habit of changing. Tuesday Morning Quarterback's bet is that women will make excellent sports officials, owing to poise and good judgment. On the male-female sports boundary, Tuesday Morning Quarterback pointed out last season that the NFL has no rule prohibiting a woman from playing. In rules terms, a woman could play in the NFL today if she could make a team. The flip-side question is why men don't try to play in women's leagues, given their physical advantages. A male player who couldn't quite make the NBA would dominate the WNBA, and presumably earn more than he could by, say, delivering boxes for UPS. The reason this doesn't happen is that anti-discrimination standards generally don't apply to organizations such as the WNBA. There is a federal statute banning gender discrimination in private employment, but it has an exception for situations in which gender is a "bona fide occupational qualification." That's the actual phrase, which lawyers insist on referring to as BFOQ. Movie studios can call having men play gladiators a BFOQ, the WNBA can say being a woman is a bona fide qualification, and so on. Legal rulings have supported the notion that nightclubs and casinos can restrict cocktail-waitress hiring to attractive women, on grounds that sexiness is a bona fide occupational qualification when expensive drinks are being served. Some high-end steakhouses will hire only male waiters, and there have been legal cases calling this discrimination. Because it's not clear that having the steaks brought by men is a necessity for running a proper steakhouse, what is "bona fide" might not be definite. But being a woman surely is a BFOQ for playing in the privately run WNBA. Whether boys can demand to play on girls' teams at public schools is a thornier question: Expect an excruciating legal ruling on that one.
"Here's your tuition bill, plus a surcharge for being editor of the Harvard Crimson":
In my professional life, I've run into quite a number of people who say that in college they were editor of the Crimson, Harvard's famed newspaper. I often have wondered how it was possible that I personally could know such a high percentage of former Crimson editors. Well, it turns out that everyone who does anything for the Crimson receives the title "editor." Last semester,
the paper listed 800 editors
. This means there are thousands, if not tens of thousands, of people who truthfully can say, "I was editor of the Harvard Crimson."
Final Four leftover points:
My son Spenser and I stayed at the Hyatt Regency Atlanta, where decorative throw pillows were the size and shape of a person. If you put one under the sheets, you could fool a coach at bed check. Getting the throw pillows out of the way was a physical problem. They took up a significant fraction of the open space in the room; we had to call housekeeping to remove them. Attention fancy hotels, enough with the 10-ton throw pillows! As recently as a few years ago, the Final Four had the feel of a college-town event, as opposed to the corporate-logo festival feeling at the Super Bowl. Now big-deal-itis is creeping in.
RazorGator Experiences
just became the "official provider of hospitality packages" for the Final Four. Hotel rooms and plane flights to the Final Four increasingly are available only as packages, like Super Bowl travel, with percentages going to the sponsor. And the venues keep getting bigger. As recently as 1996, the Final Four was held at the 19,229-seat Continental Airlines Arena, which was designed for basketball. This year's games were at the Georgia Dome, which was designed for football. The court was offset to one side of the dome; 53,000 people sat in a kluged arrangement that afforded only about two-thirds of the spectators a reasonable view. Next year's Final Four is at the 65,000-seat Alamodome, also a football venue. Next year, the court also will be set to one side of the facility, meaning thousands of people will pay high prices to arrive and discover they can't see the court. Tim Tucker of The Atlanta Journal-Constitution reports the NCAA is considering football domes in Detroit, Indianapolis and Houston for the Final Fours from 2009 on. Those Fours, Tuckers says, might have an ominous change -- rather than set the court to one side of a football dome, reducing total seats but also affording most spectators a view, the NCAA wants to put the court dead-center -- allowing all seats to be sold, but assuring that hardly anyone will see anything! Television viewers won't care. But if the Final Four is held at, say, 65,000-seat Ford Field, with the court in the center and all seats sold, practically everyone who pays thousands of dollars to attend the event in person won't be able to view the game. One reason college basketball remains so popular is the public sense that the sport has not "sold out." If attending the Final Four at vast expense becomes a huge bummer for individuals, to channel still more bucks to the NCAA, there could be a PR backlash against college basketball.
Where the spectators should have been in Atlanta:
On Sunday of Final Four weekend, between the semis and the championship, my deal with Spenser was that I would take him to
World of Coca-Cola
if he would accompany me to Martin Luther King Jr.'s birthplace. I figured what with Atlanta swarming with Final Four-goers, the
King National Historic Site
would be a mob scene. Instead, Spenser and I practically had the place to ourselves. I was shocked by how few people had come to behold one of America's most important places. There were a thousand people at World of Coca-Cola for every one at the King historic area. The old
Ebenezer Baptist Church
, which sits across from an elegant new version of the church, echoes with King's sermons played on an audio loop. The pews creak when you sit in them, the carpet is slightly moldy, the walls could use paint; that is to say, close your eyes and you can imagine yourself there in 1962. Stand on the porch of King's birth home, on Auburn Avenue, and you'll see things the great man never saw as a boy -- skyscrapers of the Atlanta skyline, luxury cars tooling down the street. Within the home, little seems to have changed. I found it haunting to think I could stand in the home and see just what was seen by the young Martin, who by my reckoning was one of the three greatest Americans of the 20th century (the others being Franklin Roosevelt and Norman Borlaug). All you need to do, if you're in Atlanta, is go to the national historic site office and sign up for the home tour. You'll stand exactly where one of the greatest men ever to live once stood. Nothing against Coke, but why is its fizz 1,000 times more popular than doing this?
Leftover reform-of-basketball points:
Michael Wilbon of "Pardon the Interruption" and The Washington Post has been crusading for the NBA playoffs to become a seeded tournament. Hear! Hear! TMQ has long maintained that the NFL postseason should be a seeded tournament; the NBA postseason should, as well. The current NFL and NBA playoff structures preserve things no one cares about -- East-West rivalry, conference affiliation -- at the expense of the best possible games. As Wilbon noted, if the NBA postseason had been a seeded tournament, the Suns and Spurs might have met in the Finals, which would have been far more exciting and popular than what we got. Want an argument for seeded tournaments? Look no further than the NCAA basketball brackets, which are consistently fascinating. "Consistently fascinating" is not a phrase often used to describe the NBA playoffs. Want to reform basketball more? Enlarge the court. Today's typical NBA and big-college performer is taller and broader in the shoulders than a generation ago. With each passing year, there is simply less room to maneuver on the court. Less room to maneuver means fewer artistic old-Celtics-style backdoor plays, more crazy off-balanced 3 attempts and out-of-control elbows-flying drives down the lane. Players have gotten bigger; the court needs to get bigger.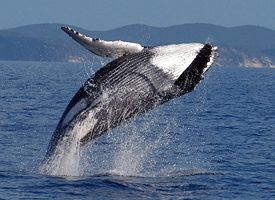 AP Photo
Male humpback whale does backflip to celebrate the approach of a female.
The whales would podcast -- har har, get it?
Only male humpback whales sing, so marine biologists have long assumed they sing to attract females. A few years ago, researchers, including James Darling, began to suppose that male humpbacks might be singing to other males -- to demarcate territory and prevent fighting. Darling's key insight was that when two males previously unaware of each other's presence sang near each other, they would swim together briefly and execute something resembling a friendship ritual, then depart and stop singing. In the offseason, this theory about whale song seemed to be confirmed when two female humpbacks became lost in the Sacramento River, then ignored humpback songs coming from the direction of the open ocean. So female humpbacks pay no attention to what male humpbacks say: This marine mammal is closer to human than previously supposed!
Here
, use Public Radio Exchange to download a podcast of Darling detailing the latest in whale-song research. Given trends in technology, how long until the humpbacks begin podcasting?
Next Week: My NFC preview -- and what California high school kids were right about in 1962.
In addition to writing Tuesday Morning Quarterback, Gregg Easterbrook is the author of "The Progress Paradox: How Life Gets Better While People Feel Worse" and other books. He is also a contributing editor for The New Republic, The Atlantic Monthly and The Washington Monthly and is a visiting fellow at the Brookings Institution
.