Portugal does big things, on and off the field
EURO 2008 COVERAGE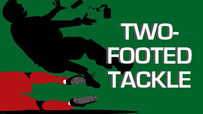 Check Page 2 each weekday during Euro 2008 for a tournament diary by David Hirshey and Roger Bennett
.
Previous entries
June 6:
Tourney preview
June 9:
Rough weekend for Switzerland
June 10:
Down goes Italy
June 11:
Villa, Spain flying high
•
Soccernet Euro 2008 index
Friday's live coverage
on ESPN360.com:
• Italy vs. Romania,
11:50 a.m. ET
• Netherlands vs. France,
2:30 p.m. ET
It's hard to say whether Portugal made more news on the field or off it Wednesday. Barely an hour after Cristiano Ronaldo ignited
a comfortable 3-1 defeat
of the Czech Republic, Portugal's coach, Phil Scolari, made an even bigger score. Scolari, who guided Brazil to a World Cup championship in 2002 (and who just might lead Portugal to Euro gold) was named manager of English Premier League powerhouse Chelsea. The fact that Chelsea broke the news before the sweat on Portugal's uniforms had time to dry was curious, because the club upstaged not only Portugal's impressive victory but also the tournament itself. Who's representing Scolari anyway,
Scott Boras
?
Despite all the sideshows swirling around them -- Scolari counting those rubles Roman Abramovich has waiting for him at Stamford Bridge, and Ronaldo scouting the tapas bars around the Bernabeu -- the Portuguese have shown they are all business when they step on the field. They became the first team to advance to the knockout round, and the only thing they are banking on is hoisting the Euro trophy on June 27.
They will want to make sure, however, that they win their last game against the already-eliminated Swiss to avoid facing Germany next. The Germans have the attacking power to punish a Portuguese defense that at times looked vulnerable to the pace and muscle of the hard-running, shoulder-separating Czechs. By packing the center of the park, the Czechs forced the Portuguese to operate on the flanks, where, despite their flicks and tricks, they couldn't hurt them.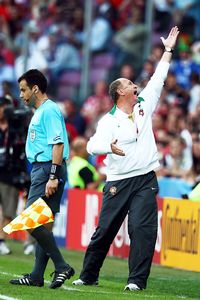 Phil Cole/Getty Images
Big Phil tells the Portugal fans exactly how many months he expects to last at Chelsea.
As always, it took a moment of genius from You Know Who to inspire them. Leaving his marker for dead, Ronaldo ran into a sliver of space between two defenders where Deco had threaded the ball and lashed a low drive that left a vapor trail on its way past Peter Cech. It was another emphatic statement from The World's Greatest Player that he has no intention of being buried under the avalanche of pressure and overwhelming expectations that has descended on him in the shadow of the Alps.
If only he didn't turn his goal celebrations into preening, winking orgies of self-love more appropriate for a catwalk than a soccer pitch. What exactly was he trying to communicate when he placed his arm across his head and exposed his flat palm?
A cryptic symbol? A gang sign he was flashing to Paul Pierce? Or was it simply his way of saying, in a language only those in the one-name pantheon of soccer greats know: "Do not forget me. I am Ronaldo."
Speaking of forgettable, the anticipated blood feud between the Turks and the Swiss, who famously brawled following a World Cup qualifier three years ago, never materialized Wednesday -- possibly because a water polo match broke out in the middle of their soccer game. The rain, which would have intimidated even Noah, reduced already mediocre play to slow-motion kickball. With the Turkish defenders flailing around as if they were drowning in the Bosphorus Strait, the Swiss sliced past them to take a surprising 1-0 lead that buoyed the home fans. All of a sudden, visions of a once-unthinkable place in the quarterfinals paddled by.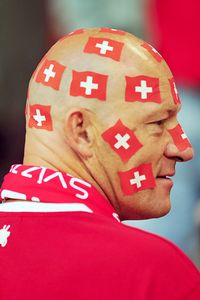 Daniel Mihailescu/AFP/Getty Images
Talk about a bad day. This Swiss fan cut himself shaving and then watched his team get eliminated.
But in the second half, when the rain subsided and the watery bog began to dry, the Turks used their superior speed and slick passing to find yawning gaps in the Swiss defense. First came the equalizer from substitute Semih Senturk in the 57th minute. And then, as the clock ticked down to its last desperate minutes, the Swiss dream went slip, slidin' away when Turkish poster boy
Arda Turan
ripped a shot from the edge of the box that deflected off a Swiss defender and into the goal. So it's the Turks who move on to a decisive match with the Czech Republic, while the Swiss are sent home. At least they don't have far to go.
Coming attractions
Croatia versus Germany (11:50 a.m. ET, ESPN2) -- This is a matchup of the two coolest coaches in Euro. One (Croatia's Slaven Bilic) is a rock star in his country; the other (Germany's Joachim "Jogi" Low) is clad head to toe in Hugo Boss and looks like he just stepped off the stage with Radiohead.
The difference is what's at stake for each. Germany is the oddsmakers' uberfavorite, and the expectations of Low couldn't be higher. Not only do the Germans need to win -- as they did in their effortless victory over Poland -- they need to win it all. In doing so, Low finally will emerge from the giant shadow of his predecessor, Jurgen Klinsmann, the beloved former superstar.
Croatia, which began the tournament as a dark horse, looked like a lightweight in its first game, barely scraping past Austria. And Lucas Modric, the much-hyped playmaker who cost Tottenham Hotspur $32 million, did nothing to impress besides slotting away a penalty kick.
In the end, look for Polish-born striker Lucas Podolski -- who scored both of Germany's goals against Poland -- to inflict damage on Croatia, especially now that he doesn't have divided loyalties.
Prediction: Germany 2, Croatia 0
Austria versus Poland (2:30 p.m. ET, ESPN2) -- Since both teams likely will be starting their summer vacations next week, there isn't much worth playing for. Sure, there's pride -- especially for co-host Austria -- and the chance that Germany and Croatia could get stuck in an elevator for a few days and have to forfeit their games. But what's really worth playing for here is beer. A Vienna brewer, Ottakringer Brauerei, has promised a lifetime supply of its liquid gold to the first Austrian player who scores a goal in the tournament. It's a pretty safe bet, but it's also a pretty good incentive. Poland, meanwhile, will have to settle for a victory.
Prediction: Poland 1, Austria 0
David Hirshey is the executive editor of HarperCollins Publishers. He has been covering soccer for 30 years and played himself (almost convincingly) in the soccer documentary "Once In A Lifetime." Roger Bennett lives in New York but still is scarred by this. Hirshey and Bennett are at work on the forthcoming "ESPN's Ultimate World Cup Guide." The two will be writing about Euro 2008 Monday through Friday on Page 2, unless their astrologer tells them not to.