So long, farewell to some MLB stars
Originally Published:
December 30, 2009
Page 2
As we get ready for 2010, we also look back at 2009 -- specifically the players, coaches and other sports figures who called it a career in the past calendar year.
On Monday, we said farewell to some NFL stars. On Tuesday, we paid tribute to some NBA stars.Today, it's Major League Baseball's turn.
This isn't a comprehensive list, just a few of our favorites. The greats, and those whom you may have already forgotten.
BARRY BONDS
Has any great athlete ever gone out with less notice, less appreciation and more animosity than Barry Bonds?
[+] Enlarge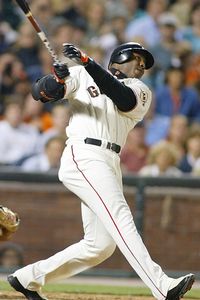 AP Photo/Eric RisbergBarry Bonds, one of the most controversial figures in sports history.
His retirement still is not 100 percent official, but Bonds hasn't played the past two seasons, his agent recently said no team is likely to sign him and, perhaps most importantly, he's almost as old as Jamie Moyer. So it's safe to assume that we'll never again see kayakers waiting for his hits to splash into McCovey Cove, or teams treating him like Kelly Leak with the game on the line, or Bonds himself relaxing on a leather recliner in the clubhouse.
That won't make many of you sad. Which is too bad. Bonds deserved better. That was especially the case after the U.S. government spent millions of dollars and devoted years and countless man-hours turning Bonds into the most hated figure in sports (and likely convicting him of absolutely nothing).
Is Bonds a likeable guy? No, but he isn't alone in that regard. Was he a good teammate? Maybe not in the clubhouse, but he was about as good as they get in the batter's box. Did he take performance-enhancing drugs? Probably, but again, he wasn't alone, and he may not have taken them when they were specifically banned.
He was, however, the best hitter anyone has ever seen since Ted Williams was spitting at fans, or perhaps since Babe Ruth was drinking every beer and sleeping with every woman he could get his hands on (but they are heroes, of course). Bonds broke Hank Aaron's career home run record in 2007, led the league in on-base percentage and had a 1.045 OPS, but two months later he was out of a job.
Some of that was his fault. Would it have killed Bonds to be a little friendlier? Could he have been more forthcoming about his alleged PEDs use? Did he have to drag his kids out and use them as props at news conferences? Could he have been just a little nicer?
None of that was really the issue, though. Fans eagerly root for selfish athletes who behave badly and treat their wives worse. If fans who took such pleasure in so loudly jeering Bonds were truly honest, they would admit that his one unforgivable sin was that he hit all those home runs and scored all those runs while wearing another team's jersey.
-- Jim Caple
SEAN CASEY
When Sean Casey comes up for election to the Baseball Hall of Fame in a few years, he's liable to get a handful of votes from the Baseball Writers Association of America. Not because Casey, a three-time All-Star who finished with a .302 career batting average, had a Cooperstown-worthy career, but, to quote Hall of Fame sportswriter Hal McCoy, "There's no debate, and there never will be a debate. Sean Casey is the nicest guy in professional baseball. Ever."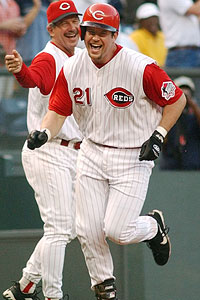 AP Photo/Tom UhlmanSean Casey's friendly demeanor will serve him well in the broadcast booth.
Ever is a long time -- but Casey, aka "The Mayor," was no doubt well-liked by scribes, teammates and opponents over the course of his career. He earned his nickname, in part, for his propensity to chat up runners at first base, and in 2007 he was voted "the friendliest player in baseball" in a poll of players conducted by Sports Illustrated. The outcome wasn't even close. Casey earned 46 percent of the vote, and the next closest players, Jim Thome and Mike Sweeney, earned 7 percent each.
Someone that popular and well-liked is bound to get some respect votes for Cooperstown. But being cordial wasn't the full extent of Casey's resumé, which he compiled over a 12-year career with the Cleveland Indians, Cincinnati Reds, Pittsburgh Pirates, Detroit Tigers and Boston Red Sox.
Of players in MLB history who've amassed more than 3,000 career plate appearances, Casey has the 181st highest batting average. He wasn't a prototypical big-bopping first baseman, and never had more than 25 home runs and 99 RBIs in a season (though he did reach 99 on two occasions). Yet he finished in the top 10 in batting average three times, surpassed 40 doubles on three occasions, and was the Tigers' best hitter in the 2006 World Series versus the St. Louis Cardinals, hitting .529 with two home runs.
Casey won't make it into Cooperstown, but in 2008 he was elected to the Irish American Baseball Hall of Fame in New York City -- a testament to the many admirers of "The Mayor."
-- Cam Martin
DONALD FEHR
[+] Enlarge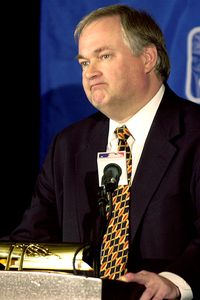 AP Photo/Paul ConnorsDonald Fehr was fierce when it came to representing his players.
Great Lies About Sports, Chapter VI: In addition to the money-driven, ego-laden, steroid-swollen-for-entertainment human hand-eye circus known as professional baseball, there is something called "The Game" -- a quasi-mystical entity existing in a nebulous ether of respect, honor and doing things the right way, all to the tune of James Earl Jones voice-overs.
Fehr, bless his heart, never cared about The Game. He cared about grubby reality, about getting the best deal for his clients in a nasty, unsentimental, take-no-prisoners business. In more than a quarter-century as head of the baseball players' union, Fehr saw average salaries rise from $289,000 to $2.9 million despite owners fighting him tooth and nail; in the face of public ridicule and Congressional pressure, he stood up for civil liberties, fighting to protect players from invasive drug testing. (Oh, and what happens to "anonymous" tests? They get leaked, possibly by the federal government.)
In short, Fehr did his job. He did it well. Though his doggedness could frustrate anyone solely interested in watching large men hit balls with sticks -- or Montreal Expos fans -- ask yourself this: In a deregulated, Rand-ian economic era when the wealthy few run roughshod over the workers they employ, who wouldn't want Fehr in their corner?
-- Patrick Hruby
LUIS GONZALEZ
Bottom of the ninth, bases loaded, Game 7 of World Series, tie game, one out. Mariano Rivera winds up …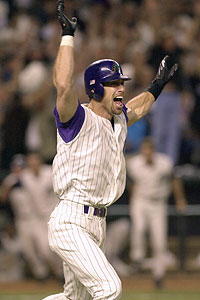 AP Photo/John BazemoreLuis Gonzalez, a name that will live in infamy when it comes to Yankees fans.
This isn't some backyard inner monologue playing in a Little Leaguer's head. This is the exact instant under the lights at Bank One Ballpark that changed the life and legacy of Luis Gonzalez forever. Since 1990, when Gonzalez began his major league career, the New York Yankees had won four World Series -- in 1996, '98, '99 and 2000. At that moment, on Nov. 4, 2001, the Yankees were two outs away from a fourth straight World Series win -- facing the Diamondbacks, from Arizona, where no team in any sport had ever won a professional championship. That is, not until Luis Gonzalez stepped into the box with his trademark wide-open stance and hit an opposite field floater over the head of Derek Jeter to win the game and the Series.
The 42-year-old Gonzalez retired in 2009 after having played with six ballclubs in 19 seasons -- many of which were unmemorable, save for those magical years in Arizona (1999-2006) where Gonzo seemed fueled by premium unleaded, blasting 57 home runs in 2001 alone. It's heroics like those that once motivated a man at an auction to bid $10,000 for a wad of Gonzo's chewed gum (back in the days when that stuff didn't happen every day). The five-time All Star who is Arizona's career leader in home runs (224), RBIs (774), runs (780), hits (1,337), doubles (310), on-base percentage (.391) and slugging percentage (.529) will join the Diamondbacks' front office, working for the organization he helped define.
Gonzalez walked away with a modest career batting average of .283, uninspiring seasons in Houston, Los Angeles and Florida, and a statistics surge squarely in the eye of MLB's steroid era. Still, nothing can assuage the electricity of Gonzo's 2001 Yankee-slaying walkoff wonder; the blooper heard 'round the world.
-- Mary Buckheit
JEFF KENT
When the New York Mets traded David Cone to the Toronto Blue Jays for Jeff Kent and Ryan Thompson in 1992, a lot of people thought the deal included a future Hall of Famer. It's just that nobody thought it was Kent.
[+] Enlarge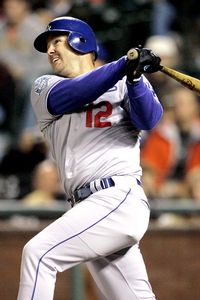 AP Photo/Jeff ChiuJeff Kent's offensive production was rare for a second baseman.
Seventeen years later, Kent has put together a body of work that looks Cooperstown-worthy: eight 100-RBI seasons, six 90-run seasons, an MVP award, four Silver Sluggers, a lifetime .290 batting average, and more home runs than any other second baseman in history. If you compare his lifetime stats to those of the other dominant second baseman of the past generation, Ryne Sandberg, it's no contest: Kent played 134 more games -- basically one season -- and ended up with 95 more homers, 457 more RBIs, and higher lifetime marks for batting average (.290 to .285), OBP (.356 to .344), slugging (.500 to .452), and OPS+ (123 to 114). So if Sandberg is a Hall of Famer -- and he is -- Kent's spot in the Hall seems assured.
Kent didn't win many popularity contests in the past two decades. From the beginning of his career to the end, he went his own way and ruffled more than his share of feathers. And he's either really clumsy when it comes to washing his truck or really stupid when it comes to riding his motorcycle.
On the field, though, he was one of the most steady and dependable players in recent memory (and that includes his glovework, which he worked hard to improve after a shaky start). Five or seven or nine years from now, when he eventually gets his Cooperstown moment, someone should call David Cone to get his reaction. I bet he'll be as surprised by how that trade worked out as everyone else.
-- Paul Lukas
CURT SCHILLING
[+] Enlarge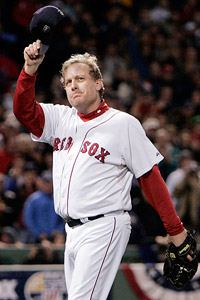 AP Photo/Winslow TownsonCurt Schilling was one of the greatest postseason pitchers of all time, without question.
While Curt Schilling's career ended with an injury-filled whimper and not one of his many postseason bangs, you can easily argue that his most lasting impression won't involve either of these kinds of moments. What Schilling will be most remembered for is his contribution to the sports world's definition of chemistry.
Why chemistry? Easy. While Schilling's numbers (three World Series rings, 3,000 strikeouts, 11-2 record and 2.23 ERA in the postseason) are impressive, the one thing more consistent than his right arm was his mouth. And it was his mouth that proved the one thing that builds chemistry on a team is winning.
From his radio appearances to his blog to being locked and loaded with an opinionated sound bite, Schilling always had something to say -- whether it was requested or not, whether his team was winning or not. And that's where Schilling's legacy comes to fruition -- when his team was winning he was a lovable leader; when his team was losing he was a loudmouth.
Derek Jeter didn't hug A-Rod until they won a World Series. Kobe and Shaq felt the love only when they were winning three straight titles. And Schilling's teammates loved what he had to say only when they were getting ready for a victory parade.
Thanks, Curt, for debunking a long-held sports myth.
-- Mike Philbrick
SAMMY SOSA
For one electrifying summer in 1998, Sammy Sosa helped re-energize baseball as he and Mark McGwire went neck-and-neck in pursuit of the single-season home run record.
[+] Enlarge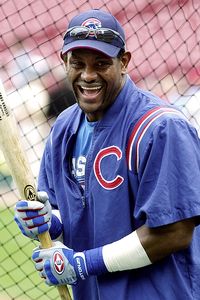 AP Photo/Al BehrmanWill Sammy Sosa ever make the Hall of Fame? There are serious doubts.
Oh, those were simpler times, before performance-enhancing drugs became a part of the lexicon and when Capitol Hill hearings focused on politics. Unfortunately, Sosa's career may be remembered as much for the blips as for the big flies.
There was the corked bat incident in 2003. Sosa maintained it was a simple mix-up, but it resulted in an eight-game suspension. There was the sneeze that sidelined him with back spasms in 2004. There were the plaguing suspicions of banned substance use.
Still, Sosa was unarguably one of the game's most powerful hitters. The Dominican outfielder was a seven-time All Star, six-time Silver Slugger winner and the 1998 National League MVP. He had three 60-home-run seasons (1998, 1999 and 2001) and was the fifth player in history to hit 600 home runs. Sosa finished his 18-season career with 609 home runs (sixth all-time), 1,667 RBIs (26th) and a .273 batting average.
Retirement has not been extremely kind to the former slugger. Once considered a clear first-ballot Hall of Famer, news of a failed 2003 drug test leaked weeks after Sosa announced his departure from the game, leaving him in PED-linked limbo.
But whether it was pressure at the plate or controversy off the field, Sosa never seemed fazed. He has maintained that he'll be inducted into the Hall of Fame. He's eligible in 2013, and if the recent photo fallout is any indication, he clearly wants to look good when that time comes.
-- Maria Burns Ortiz