So long, farewell to some NFL stars
Originally Published:
December 28, 2009
Page 2
As we get ready for 2010, we also look back at 2009; specifically, at the players, coaches and other sports figures who called it a career in the past calendar year.
This isn't a comprehensive list; just a few of our favorites. The greats, and those whom you may have already forgotten.
TEDY BRUSCHI
[+] Enlarge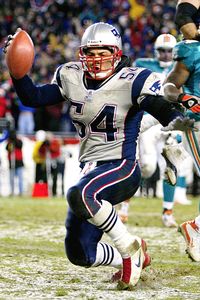 AP Photo/Winslow TownsonTedy Bruschi now works as an ESPN analyst.
Tedy Bruschi's story is the NFL's version of the classic American rags-to-riches tale. First, there were delusions of grandeur in his rookie year: The Patriots made the Super Bowl but fell to the mighty Brett Favre and the Packers. Then reality set in, as the Bill Parcells-Bob Kraft feud came to a head, resulting in the Pete Carroll era. Ouch.
Then with a little bit of strategy (the hiring of Bill Belichick) and a little bit of luck (Mo Lewis taking out Drew Bledsoe, paving the way for Tom Brady), Bruschi's dreams were realized. To win the Super Bowl? Sure, that was probably on his list somewhere. But there's no way that was a bigger moment than being immortalized on this T-shirt. After Super Bowl XXXVI, the praise and the wins kept coming, and Bruschi's ability to always be in the right place at the right time was Tecmo-esque as he led the vaunted Patriots defense.
Life was good for Bruschi and the Pats. Tedy even managed to squeeze in playing saxophone with the Boston Pops in his spare time. (Seriously, Google it.)
The penultimate chapter of Bruschi's career was one he definitely wasn't accustomed to: playing the underdog. After suffering a stroke following his first and only Pro Bowl appearance in 2005, Bruschi's life -- let alone his career -- was on the line. He responded by defying the odds, coming back earlier than anyone expected -- eight months later -- and earning the NFL's Comeback Player of the Year award in the process.
And in his final act, when Bruschi decided to retire in August, he closed the book on a career any player would envy, right down to an emotional Belichick calling him "the perfect player."
-- Mike Philbrick
TONY DUNGY
Neither gone nor forgotten, it seems odd to bid farewell to Tony Dungy, when thanks to network television we're likely seeing and hearing more of him than ever. But the transition from NFL coach to NFL commentator is thornier than the addition of a few consonants would indicate, so here we are.
TD and I were classmates 35 years ago at the University of Minnesota. He was the tough, fast, angular Gophers quarterback, and I was a fat, freckled kid from the East who thought he wanted to write.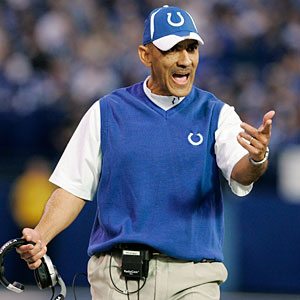 AP Photo/Darron CummingsTony Dungy may end up making an even bigger impact after his coaching career.
By the mid-1970s, Minnesota football was well past its smashmouth glory, so Dungy wasn't nearly the biggest athletic star at his own school. Those were rare rich days at Minnesota, and the list of Gophers luminaries was wide and bright. Paul Molitor and Kevin McHale both burned hotter there, as did Herb Brooks and those names that became the core of that 1980 U.S. Olympic hockey miracle: Verchota and Ramsey and Baker, Broten and Christoff, Janaszak, McClanahan and Schneider and Strobel. Go for ice cream at Bridgeman's in Dinkytown, or go out for a Grain Belt at the Cabooze or the Pilot's Club or the 400, the Improper Fraction or Stub & Herbs and those were the names you heard and the faces you saw. This was back when you could catch Prince, just a kid, performing at a fraternity party, or playing the Prom Ballroom in St. Paul for a $5 cover.
Post-grad, TD slipped away for a few years to play in the NFL as a defensive back. Won his first ring with the Steelers in '78. He returned to the U of M as a DBs coach in 1980, then set out again and never much looked back.
Since then: Pittsburgh and K.C. and a couple of years with the Vikings, then down to Tampa and up to Indianapolis. One of the most respected coaches in modern NFL history, he retired this year with a 139-69 record in the regular season, a 148-79 record overall and a reputation for genuine excellence.
These days TD seems to be in his natural element on television, and we catch a glimpse of the teacher and tough-love father confessor he must have been in the Colts' locker room: intense but even-tempered, analytical, thoughtful and unafraid, patient and gracious and nimble in his thinking. All of that, sure. But in him too, as purposeful and cold as Ahab, is the ambition to win That One Great Thing. A killer of a kind, then, hard when he had to be. So to mistake Dungy's warmth -- or his resolute faith -- for weakness is an error of some magnitude.
It is a mistake the kids Dungy helps through his prison programs are unlikely to make more than once. How very much they need to be gathered up and held by someone like him.
So I wish him well. Coming and going, changing, unchanging, winning, losing, adapting and failing to adapt, aging and ending and trying to make wisdom or sense of what comes to him and to you and to me, I wish us all well.
-- Jeff MacGregor
TRENT GREEN
[+] Enlarge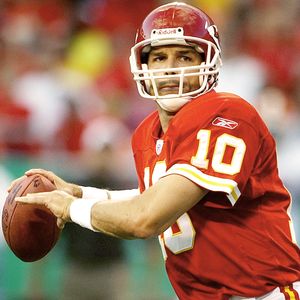 AP Photo/Orlin WagnerTrent Green had a pretty darn good career for a 223rd draft pick.
Trent Green was drafted by the San Diego Chargers with the 223rd pick in the 1993 NFL draft, two picks before Mr. Irrelevant. That guy got a trip to Newport Beach. Green went on to become a two-time Pro Bowler.
After his rookie year as a clipboard holder with the Chargers, Green had a very brief stint in the Canadian Football League before returning to the NFL as a backup with the Washington Redskins in 1995. He won a Super Bowl ring as a backup with the St. Louis Rams in 2000. Green finally got his shot as a regular starter in Kansas City, where he passed for 4,000 yards in three consecutive seasons, making him one of just four quarterbacks to achieve that feat. He was selected for the Pro Bowl after two of those seasons -- in 2003 and 2005.
However, injuries and interceptions hindered Green over his 15-year career. Concussions sidelined him in 2006 and 2007, ultimately factoring into his decision to retire from football and pursue a career in broadcasting.
Green will not go down as one of the best quarterbacks to ever play in the NFL. He won't be enshrined in Canton. But the truth is, even if he often goes unrecognized in the larger debate, Green was a good pro quarterback, which is more than most people can say.
-- Maria Burns Ortiz
RODNEY HARRISON
Rodney Harrison may or may not be a Hall of Famer, but he was a participant in at least two iconic plays -- think David Tyree and Trent Green -- that helped underscore his mixed-bag reputation as a ball-hawking safety who played dirty.
[+] Enlarge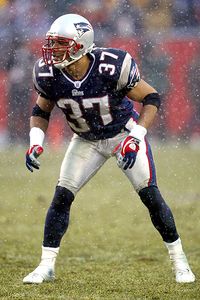 AP Photo/Jim RogashRodney Harrison was a key component of two Super-Bowl-winning teams.
Harrison, of course, couldn't wrest the ball away from Tyree, whose helmet grab helped doom the perfection-seeking 2007 Patriots during Super Bowl XLII. But if it had been any other defensive back, would the play have so iconic? Tyree beating Randall Gay just wouldn't have the same cachet, and that's because Harrison (who was fined more than $200,000 by the league for aggressive play in his career) was often at the center of drama during his 15 years in the NFL.
In the 1999 preseason, few fans knew the story of grocery stock boy Kurt Warner when Harrison (then of the Chargers) took out Rams starting quarterback Trent Green with a season-ending blow to the knee. Warner, the Rams' backup, ascended to the starting job, thrived in the position and led St. Louis to two Super Bowl appearances and one title, winning two league MVP awards in the process.
Where is the Greatest Show on Turf without Rodney Harrison?
The former safety is the only player in league history with 30 interceptions and 30 sacks, which speaks to the versatility he brought to the game. He made two Pro Bowls in his career, which is the same number of times he was named dirtiest player in the NFL, once by Sports Illustrated and once by ESPN.com. His value, it seems, was always in the eye of the beholder, and he played a significant role on two Super Bowl-winning teams in New England.
In 2007, he was suspended for four games by the league for using human growth hormone. He admitted taking the drug, but said it was to help him recover from injury, not to gain a competitive edge. If you're a Patriots fan, you might be more inclined to believe him. It's all in the eye of the beholder.
-- Cam Martin
---
We can all remember the career of Rodney Harrison as one filled with hard hits, a couple of Pro Bowls, a couple of Super Bowl rings with New England -- and, in case you forgot, a few more really hard hits.
We can even throw in there how Harrison is the only player in NFL history to record 30 sacks and 30 interceptions.
That being said, the lasting element of Harrison's career isn't what he did while in the National Football League, but what the league is missing without him. Sure, everyone's first thought will be that there are far fewer concussed wide receivers out there. Fair enough, but what Harrison's retirement really took away from the game can be summed up in two words: ego boost.
That's right: Without Harrison, a two-time NFL dirtiest player honoree, there's no one out there to make the current crop of dirty players feel just a little bit better about themselves.
Dallas' Flozell Adams? When he looks in the mirror, he can no longer give himself a lift by saying, "Hey, at least I'm not Rodney Harrison." And Richie Incognito? Despite what his name may indicate, he is definitely no longer hidden from the upper echelon of the dirty player lists.
So whether you praise Harrison for his picks or hate him for his hits, there's no one else around to take all the dirty criticism. And with all those accusations up for grabs, that makes the league a nastier place without him.
-- Mike Philbrick
JAMAL LEWIS
[+] Enlarge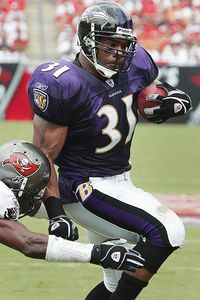 AP Photo/Chris O'MearaJamal Lewis' career didn't end the way he wanted, due to injury.
Football isn't records-obsessed like baseball is (Brandon Marshall broke the single-game receptions record earlier this month and it was barely a footnote), but the single-game rushing record is still a mark that commands instant respect. It means you were the super-stud, the workhorse, the guy who put the game on his back. And for four years that record belonged to Jamal Lewis.
The date was Sept. 14, 2003. Lewis was playing for the Baltimore Ravens, who were facing the Cleveland Browns that day. He ran for 82 yards on the game's second play from scrimmage and added another 98 yards by halftime. When the game was over, he'd racked up 295 yards, obliterating Corey Dillon's previous record of 278. Lewis could have ended up with the NFL's first 300-yard day, and then some, but a 60-yard run was called back due to a holding penalty.
A little over four years later, on Nov. 4, 2007, Lewis lost his spot in the record books to Minnesota's Adrian Peterson, who broke the record by one yard -- one yard! -- setting the mark of 296 that still stands today.
Lewis was placed on injured reserve earlier this month, and had already announced that he was retiring at the end of this season. He won't end up in the Hall of Fame, and some people will always remember him for the prison term he served in 2005 for brokering a drug deal. But for a while there he could honestly and accurately say he'd had the best day of anyone in the history of his profession. We should all be so lucky.
-- Paul Lukas
JOHN MADDEN
[+] Enlarge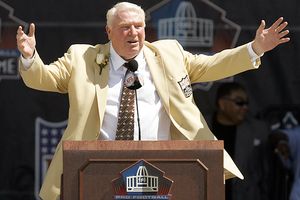 AP Photo/Tony DejakIt's been strange not having John Madden in the booth this season, hasn't it?
In many ways, John Madden is the easiest person to say goodbye to on this list. That's not to say he wasn't important, because few people in NFL history have had such a dramatic impact across so many generations. Taking over the reins of the Oakland Raiders at the age of 32, Madden was the league's original boy genius, and his 76 percent winning percentage and victory in Super Bowl XI give him a coaching résumé that Josh McDaniels can only dream of.
Madden then managed to seamlessly transition into announcing, quickly becoming the pre-eminent voice in the league. His presence never failed to lend gravitas to a contest. Unlike baseball, a sport in which you hear the same announcer call your team's games day in and day out, football fans were accustomed to hearing a new voice each week. Madden transcended this environment, forming a real bond with all fans while becoming the most beloved commentator in the game. He was certainly the one guy you absolutely wanted to call your team's game each week, in part because that meant your team was doing well.
Madden also managed to make bus rides cool, turducken popular, and "BOOM!" an acceptable thing to yell in public. But the reason it's easy to say goodbye is that Madden will never truly disappear from our lives. Thanks to his pioneering video-game franchise, future generations will still know his name decades from now. We can only hope that his voice is brought back and preserved in future editions. Even though he may have retired from the real game, we look forward to him chastising us for not punting on fourth down on the virtual gridiron for years to come.
-- Toby Mergler
KENECHI UDEZE
[+] Enlarge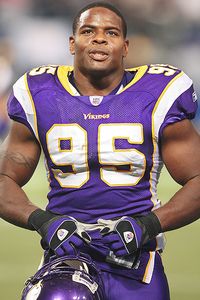 Tom Dahlin/Getty ImagesKenechi Udeze's leukemia is in remission, and he hopes to stay involved in football.
I must confess I had never heard of Kenechi Udeze before doing some research about players who retired in 2009.
Udeze was the first-round pick of the Minnesota Vikings in the 2004 NFL draft, out of USC. He started on the defensive line for the Vikings in each of his first four seasons, and tied for the team lead in sacks in 2007, with five. In those four years from 2004 to 2007, Udeze played in 51 games for the Vikings -- with 11 sacks and 117 tackles.
But that's not what impressed me.
In February 2008, at the age of 25, Udeze was diagnosed with leukemia. He missed all of the 2008 season while battling the disease, which included a bone marrow transplant from his brother and chemotherapy. But Udeze did not give up on his NFL dreams. He did not view his diagnosis as a death sentence. In fact, he worked his way back into shape, and even participated in Minnesota's minicamps earlier this summer.
Unfortunately, Udeze wasn't quite able to make it all the way back. Numbness in his feet -- a side effect of the chemotherapy -- limited his movement and left him unable to continue his football career.
Some might look at Udeze's NFL career as a disappointment. I look at it as an inspiration. And I have one more person to pray for this holiday season.
-- Kieran Darcy