Still hungover from Pats-Indy, right about now you're wondering if they actually play pro football outside New England and Indianapolis. Are there passionate, crazy fans in other great football towns out there? Of course there are. And the reason I know this is because around 2 a.m. last week in Nashville one of them tried to kick down the door of my hotel room.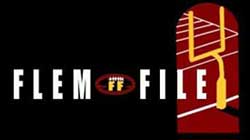 Poor guy. Overexcited about the upcoming game and the Titans' chance to improve to 6-2, this extremely inebriated fellow wound up at the wrong hotel room, absolutely convinced his cowboy boots could do what his key card couldn't.
I don't get the whole grown man who doesn't live on a farm dressing as a cowboy thing. It strikes me as sad and funny, like Don Cheadle's character from "Boogie Nights." But I still tried to help the guy, honest. Because we've all been there. Although he didn't seem to enjoy my sense of humor. When "YOU'RE AT THE WRONG ROOM SIR!" didn't work, I tried "Housekeeping, you want towel?" from "Tommy Boy."
We were having ourselves a good, old-fashioned high noon at the Hilton standoff when he suddenly turned greener than his giant khaki cowboy hat, then rushed off down the hall clawing for a garbage can or an elevator shaft to barf into.
I shut the door, knowing that if this was Tennessee Titans Observation No. 1, man, I was in for a wild week. Yeehaw, indeed.
Tennessee Titans Observation No. 2: A sweet yellow lab was wandering around the Titans practice fields last week. I know this because 10 minutes after arriving I very nearly stepped in a huge pile of dog crap. After two long days on Thursday and Friday spent talking to (almost) everyone in the organization for an upcoming feature in The Magazine, the sun was shining, my notebook was full and I was feeling right at home. I set off across the practice field back toward the media workroom and the dog began to approach me. As I turned to greet her, I swear to god, she saw my reporter's notepad and stopped dead in her tracks, hunkered down and started growling at me. I guess that's canine for No Comment.
TT0N3: Linebacker Keith Bulluck -- a great linebacker who is now a walking enigma because he gets tons of coverage for not being well known -- told me that a few times each game the stars line up and his scouting, instincts and ability perfectly mesh with the play the offense has called. What happens next, I asked. "My Spidey senses tingle, man," he said.
TT0N4: I think Vince Young has a little bit of Steve Spurrier disease. Spurrier was a great coach at Florida, sometimes, simply because his players were so much better than everyone else. Then he jumps to the parity-ridden NFL and what happens? Not so good. Young, meanwhile, could throw the ball up for grabs at Texas because his receivers were almost always better athletes than their defensive counterparts and would therefore almost always come down with it. He's learning in the parity-filled NFL that's not gonna happen very often anymore.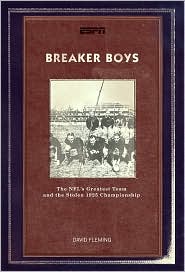 Buy the book
Click here to purchase "Breaker Boys: The NFL's Greatest Team and the Stolen 1925 Championship" by David Fleming. Click here to read an excerpt.
For more on "Breaker Boys" check out breakerboys1925.com
TTON5:
Had a long convo with Titans defensive coordinator Jim Schwartz about play calling and risk. Before long, he couldn't help but tell the stories while pretending to be up in the booth during a game, taking in all the info from his underlings and then sending the plays down to the field shooting from the hip like he was in an old western gunfight. In the course of our talk he invoked chess, fishing, mutual funds, car shopping, relief pitchers, an ink board with multicolored pens and about 80 other things while trying to educate me on this particular topic. I left there thinking, "If I'm a rookie corner or linebacker and I need someone to coach me up and prepare me for the pro game, this is the guy right here." And I think the Titans' defense reflects that.
TT0N6: If Tony Romo got $67 million for a handful of starts what kind of second contract has Ben Roethlisberger earned? I'd start the bidding at nine figures.
TT0N7: Besides a flashbulb fast, and hungry, swarming defense, it's the relaxed, confident, collegial feel in Tennessee that tells me something special could be happening here. Talented, fast and too young to know better swagger: that's a dangerous team to play in a one-and-done playoffs. Things are coming together so perfectly right now that no one here wants Pacman back, at least not this season. It would ruin the kind of locker room chemistry I saw here on Friday when, apparently, it was "Your momma" day with the Titans. A few of the best? "Your momma is so old she was coached by Madden." Or, "Your momma's on Facebook."
TT0N8: Had a nice chat with QB Kerry Collins who's now in his 13th year in the NFL. Wow. Do I feel old. I covered his immense early struggles with the Panthers while working for Sports Illustrated. I interviewed him at what had to be his lowest point, in the locker room of the Metrodome, and I actually patted him on the back after we finished talking as a kind of "hang in there kid" gesture. Right or wrong? I don't know. It's what my gut told me to do. Ya know, we spend a lot of time exploiting guys like Collins for headlines when they screw up, but we don't ever give equal time to pointing out when these guys straighten themselves out and become productive players and citizens. The latest example of that is Titans DT Albert Haynesworth, a one-time media monster who's now having a monster season.
TTON9: For all the attention given to the two-deep safeties in the Cover 2 defense, the single most important factor in the whole scheme is whether or not the corners can disrupt receivers at the line of scrimmage. One of the most subtle (and difficult) post-snap reads that a quarterback can make is finding the wideout who got away clean. Anyone can read the split of the safeties but this is all about depth, timing and body language.
TT0N10: I credit this one to my buddy Or back in Detroit. He says that, finally, the Lions will actually be worth watching on Thanksgiving this season when they play Green Bay. Think of how much that instantly improves your Thanksgiving. This has been a big week for Or. His daughter scored her first hockey goal and his son's peewee hockey team is playing a game on the ice at Joe Louis Arena before a Red Wings game. Meanwhile my own daughter recently set the youth soccer world record for consecutive minutes played without ever touching the ball. Turns out, she hates soccer. Man -- sniff, sniff -- I love that kid.
TT0N11: Titans players can't do anything at their facility without walking down a long hall covered in a collage of pictures from Super Bowl XXXIV -- the biggest one is a shot of Kevin Dyson on his back trying to stretch the ball to the goal line. (Remember Steve McNair on that last drive, shedding tacklers like an overcoat? Doesn't seem like the same guy who was in Pittsburgh Monday.) Fisher told me he's thought about what he would have done had the Titans gotten another 3 feet. Would he have kicked the extra point to tie or go for the win with two? He would have kicked. Really? Come on, Coach, I say. Not once, have you ever daydreamed about going for the win? Once? Come on. "Nope," he said. "Never."
TTON12: Flew to the game next to Charlotte Mayor Pat McCrory. Sporting a nice Panthers-blue sweater and a serious problem with his seat (welcome to regional jets Your Honor), I think McCrory is the only Republican mayor you'd ever see reading Rolling Stone on a plane. But he's a good guy with a decent sense of humor in a profession where ego and ability are usually inversely related. When a passenger recognized him and asked, "Are you the mayor of Charlotte?" he responded, "For another two days I am."
TT0N13: Good news/bad news: I was stuck in a slow, crowded security line at the stadium, but surrounded by the Titans' cheerleaders at the time.
TT0N14: The stadium here features a 75-foot portrait of former Titan Frank Wycheck who, one could argue, helped usher in the modern era of the versatile tight end. Always gracious and helpful with the media during his playing days, Frank's now the color guy for Titans radio. Just as it should be. Because normally it's the players and coaches who bitch about the media the most who, 10 seconds after retiring, grab a mike and start spewing the kinds of clichés and uninformed screaming that they hated as players.
TT0N15: Finished Truman Capote's "In Cold Blood" while I was in Nashville. It reminds me of "Ball Four" in the way that if this book is shocking and groundbreaking now, think what it must have been like when it came out 50 years ago?
TTON16: How about TO being the "normal" one now in Philly? This is to football what K-Fed is to child custody in L.A. Although, let me say this, one of the absolute worst examples of the media overstepping its bounds are the folks calling for Andy Reid to step down to spend more time with his family. This coming from people who probably spend just as much time on football, and perhaps even more time on the road and away from their families, as Reid.
I think Ravens coach Brian Billick put it exactly right when he told me, "This profession glorifies the workaholic. Fans, owners, they want that coach sleeping in the office. You know, the Jon Gruden-I'm-in-at-4 a.m.-every-day-bulls---. But at the same time those same people are out there going, "Well, what kind of a father are you that you're never with your kids?" So, really, we're damned if we do and damned if we don't. Kids of coaches have every right to dog-cuss their dads. But I'd wager a majority of them wouldn't. So we need to be careful painting too bleak or too one-sided a portrait, like we're all such a--holes for loving what we do and spending so much time at it."
TT0N17: I watched the defensive end formerly known as Julius Peppers during 10 critical downs in the third quarter in Nashville and here's the exact words from my notebook: Pushed backward by a TE … Tackle [has him] eight yards deep using only his RIGHT HAND … Is he hurt? Has to be hurt … There goes another $5 million … Standing straight up after snap … No forward drive … Guessing on most reads … Hasn't crossed LOS … Freeney affects play even when he doesn't make it himself, not this guy.
TT0N18: One cornerback on how the Packers keep getting the ball downfield. "See, Favre knows that they know that the word is he can't go deep so they'll be cheating up … until he gets one over their head and then they think that Favre thinks that they'll be sitting back, only Favre thinks that they think that they'll actually think he thinks this so they'll actually be playing up more to try and jump a route and make up for the bomb they gave up. Only Favre knows this." If you say so.
TTON19: On the first drive of the game you got to see the difference Young makes. On third-and-7, he drops back to pass and everyone's covered and the Panthers' pass rush is about to collapse on him for a big, drive-stalling sack. Young makes two cuts and escapes the pocket and turns a negative play into a backbreaking 16-yard gain. The Panthers' body language was never the same and five plays later the Titans score. The game's most respected defensive minds, like Tony Dungy, say that's the most difficult thing about playing versatile, athletic quarterbacks. You can do everything perfectly and instead of containing them they'll go for 15 yards. Mentally, that's hard to overcome and the worry that it's going to happen again takes a cumulative mental toll on tacklers who play tentative instead of all out.
Nevertheless, if I'm a Titans fan the last thing I want to hear in defense of Young's passing struggles is that it doesn't matter how he plays because he just wins, baby. Anyone else remember the last young QB we heard that about? Yeah, it was some guy named Mike Vick who was one more season away from becoming the next Kordell Stewart before he got into trouble with the law.
TT0N20: Special teams isn't really one-third of the game. Please. Coaches just say that so players will take them seriously and try hard. But there are times when it almost gets to 20 percent. Like when Titans kicker Rob Bironas blasts the ball out of the end zone on a kickoff or Titans punter Craig Hentrich crushes one out of his own end zone all the way to the Panthers' 30.
TT0N21: I swear the Panthers' strategy is to keep the game scoreless and hope for a late-game fumble by their opponent so they can win 3-0 on a 48-yard field goal.
TT0N22: Is there a better sports highlight than a fat guy running with the football? I love when the game makes you laugh out loud and that was Shaun "Big Baby" Rogers picking off a pass and returning it for a long TD even though he was gassed after his first 10 strides (maybe eight). I did a profile of Big Baby a few years ago and when he told me he could do a 360 dunk I immediately called B.S. Well, he stood up, pushed the coffee table back and did one for me where he dunked a couch pillow into a corner of the ceiling. The landing left an impact crater bigger than Wyoming.
TT0N23: One more week to send in your recollections and awesome stories from your family's traditional mud football games. Then I'll put them together for a pregame column.
TT0N24: Line of the week comes from a columnist in Nashville who said the reason QB David Carr wears gloves is so he won't leave fingerprints on these horrific performances. You look at his body language and it reminds you of Joey Harrington and Tim Couch: a guy who was just hoping for the final whistle to blow. Young takes a lot of risks with the ball but that beats a guy like Carr who looks afraid to throw the thing 6 yards downfield. He makes me miss Vinny. Did I just say that?
TT0N25: At the NashVegas airport, I almost knocked into Sheryl Crow who was wearing black tights and a fleece top while pushing her child through the security exit. I think she's one of the few celebrities who looks exactly like you'd think in person. A few minutes later another female singer from a band called, I'm not really sure (SugarHam? Sugarbland? Sugarstand? Help me out, people) announced to me over the intercom in the men's room that the airport was equipped with wireless service. Good to know, thanks, uh, SugarSlam.
TTON26: From a review of my book "Breaker Boys: The NFL's Greatest Team and the Stolen 1925 Championship" in Friday's Charlotte Observer: "Brisk and unflinching, David Fleming's chronicle of the Pottsville Maroons recounts the story of that seminal team's inaugural NFL season. Set against the backdrop of the 1920s cultural renaissance and the brutal grind of Pennsylvania's coal country, 'Breaker Boys' relates the team's origins, rise to fleeting glory and the overreaching ambition that helped bring it down. In many ways, the Maroons were the embodiment of their times. Though the story seems ready-made for Hollywood, Fleming's real power lies in his descriptions. No football expertise is necessary to feel the impact of pads on flesh, or to catch the buzz of a bygone era." -- Nathan Hartle.
TTON27: After the way I started my trip to Nashville it seemed only fitting that my final interaction in town would be with a pseudo cowboy. Heading to my gate at the airport I crossed paths with an old cowboy crooner who was working the little Spinal Tap stage they have set up inside the terminal. (I swear.) No one was paying the poor guy any attention but, dang it all, he just kept on doing his own thing and quietly rocking out.
Just like the Titans.
David Fleming is a senior writer for ESPN The Magazine. His latest book, "Breaker Boys: The NFL's Greatest Team and the Stolen 1925 Championship,", published by ESPN Books, has been optioned as a movie. In addition, he is the author of the memoir "Noah's Rainbow."The Flem File will run each Thursday during the NFL season.