A couple of weeks ago I made one small request in the column for FlemFilers to send in highlights and humorous anecdotes from the traditional Thanksgiving family football games that break out this time of year in every backyard, every muddy lot and every snow- and ice-covered middle school football field.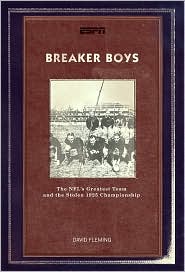 Buy the book
Click here to purchase "Breaker Boys: The NFL's Greatest Team and the Stolen 1925 Championship" by David Fleming. Click here to read an excerpt.
For more on "Breaker Boys" check out breakerboys1925.com
It was an offhand remark, really, one that I didn't think would amount to all that much. Boy was I wrong. (I really do have to stop underestimating you.) The response was overwhelming, to say the least. Your e-mails were touching, hilarious, gross, poignant, creative, warm, sad and, most of all, energetic and entertaining examples of the three F's that make Thanksgiving so great.
Family. Food. Football.
Which means they were way too good not to share. So below is a compilation of readers' very own ruminations and recollections on the grand American tradition of the Thanksgiving day family football game.
Enjoy, Flem.
Game name: Turkey Bowl
Submitted by: Lee H. in Santa Fe, N.M.
Location: East Texas
Participants: Lee. Brother Jeff. Dad as all-time QB. "Trust me, Tom Brady had nothing on our dad. He NEVER lost a game as the QB."
John Facenda quote: "For some reason one small pine tree was left in the middle of the clearing."
Best quote: "I'll always love my dad for a lot of reasons."
Turning point: "On one play, when I had possession of the ball and I was in desperate need of a TD, I cut my passing route really close to that tree. That tree executed a perfect block on my brother just as he turned to follow me downfield."
Big finish: "… as my brother smacked into that tree and went down in a heap with a serious blow to his chest, Dad shouted, 'Jeff! Are you alright?' as he lofted a perfect pass to my outstretched arms so that I could score the tying TD."
---
Game name: Dorothy Levinson Thanksgiving Memorial Bowl
Submitted by: Adam L.
Location: Vermont
A tradition for: 15 years, at least.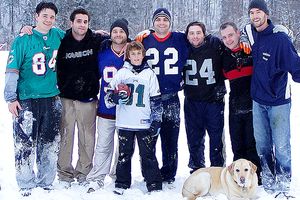 Rebekkah Rotwitt
From left to right, Adam Levinson, Jon Levinson, David Levinson, Brett Rothberg, Mike Levinson, Josh Levinson, Dan Levinson, Doug Rotwitt and Dakota (dog).
Intro:
"Three or four players are now on the wrong side of 30. With each passing year a little more water overflows from the hot tub, a few more beers are needed to recover, a few more holding penalties overlooked. It's impossible to say how long the game can go on. But for those who question whether or not we should risk our lives and reputations each November, I present to you seven reasons why the show must go on."
Seven: "Rumor has it that Spencer (boyfriend of Nicole) will be playing this year. We don't know much about the kid -- but he certainly must have a lot of energy, determination, and willingness if he's dating my cousin."
Six: "Upon scoring the game-winning TD, will Mike race over to Sari and ask for her hand in marriage?"
Five: "Bad wrists, balky backs and ongoing bad ankles present challenges to each team. We need to find out whether the game ends by choice or by force."
Four: "Each year speculation abounds that Matthew will finally enter the ranks. Concerns about coachability and illegal performance enhancement have left Matt off the final roster in previous years. Will 2007 finally be the year?"
Three: "We're going for three Snow Bowls in six years -- and really what's better than that?"
Two: "What greater joy exists for the next generation of stars than to see their aging, past-their-prime fathers cursing, spitting, and fighting, while making the rare acrobatic catch or perfect throw or touchdown-saving tackle?"
One: "Who can be the best teammate, who can do the least while appearing to actually contribute, who gets the better bed or the better room, who can shop the most, who can bring the most stuff, who can drink the most, who craps the most frequently? This is what it's all about."
---
Game name: Turkey Shoot
Submitted by: Mike P.
Location: Stevens Point, Wis.
Participants: Mike. Dad. Cousins. Younger sister. Uncle formerly known as Jeff.
Game conditions: "It was a sloppy wet snow on the ground that day which makes for the best games."
Ominous pregame ritual: "We started the day as we often do by heading into the woods to shoot our turkey."
Funny quote I: "The first turnover of the day occurred after my younger sister slipped a snowball down my unsuspecting father's pants. His reaction was to throw the football wildly and start grasping at his backside."
Funny quote II: "This is one of the reasons Uncle Jeff isn't part of our family anymore and we opt to play Scrabble instead of contact sports."
John Facenda quote: "His expression can only be equated to the eye of the tiger going horribly wrong."
Turning point: "After a few more possessions my extremely competitive uncle escalated the intensity -- when his young daughter playfully started playing 'bump and run coverage' he elbowed her in the face. This brought about the tackling portion of our game, leading to broken ribs for one 45-year-old man. When Uncle Jeff decides he has had enough of his two older sons taking cheep shots on him he lays out Steve with a vicious forearm on a crossing route. Problem is Steve was on defense. This immediately turned into an all-out brawl."
Big finish: "Grandma had to come running out of the house, rifle in hand firing in the air to get the pile to stop fighting.
---
Game Name: The Big Altoona Bowl
Submitted by: John B.
Location: Altoona, Pa.
Participants: "The game pits the old guys (over 30) and the kids (under 10) against the young guys (everyone in between) in a two-hand touch affair with a two-hour running clock. The old guys have won four straight years, something we are reminded of at every opportunity."
Tradition: "Dating back over 20 years."
Now you know how the Jets feel: "After losing consistently, the old guys switched to the West Coast offense about five years ago and we have yet to find an answer."
Good times: "My friend and teammate leaves the game completely pissed off every year."
Geez, I can't get them to write about my Pennsylvania football book but: "Every couple of years, the local newspaper does a story on our game. People come back home from all over to play in this exclusive game, open only to people who were a part of the neighborhood at one time in this small Central Pennsylvania city."
Ominous line: "Someone always gets hurt."
Your secret is good with me: "My family thinks I'm coming to visit for the holidays, but really I'm going up to make my glorious return to the football field after tearing my ACL in the game two years ago."
Highlight I: "Trailing late, our QB drove us the length of the field on our final possession in an Elway-esque drive to force a fourth-and-goal situation. He found my friend and eventual college roommate in the corner of the end zone for the tying score. To this day, there is still a debate as to whether or not he caught the ball. But the touchdown counted and we walked out of there with the sweetest tie anyone has ever experienced."
Highlight II (subtitled: boy, this kid could really use some anger management): "On what would be the final play of the game, their whole team flooded the right side, leaving [name withheld]'s younger brother wide open on the left. They threw the screen pass back to him and he ran an estimated 60 yards for the game-winner. Any mention of that around [name withheld] to this day will infuriate him to no end."
That's the spirit: "The best way to wash away the bitter taste of defeat is with a cold beer and more than a few servings of Thanksgiving dinner."
If it were true ND form you would have lost by 30: "We found ourselves trailing big at halftime. Nothing had gone our way all day. During the half we all ran up to a friend's house to 'get something to drink' and when we came back, we had all switched to green (instead of our usual blue). In true ND form, we came out in that second half on fire and ended up winning by two touchdowns!"
Exactly: "Because of the game, Thanksgiving is my favorite holiday.
---
Game name: Kneed For Speed Bowl
Submitted by: E.
Location: Pittsburgh, Pa.
Pre-submission clarification: "I'll do this just because I am bored. Before I get to the football story let me just point out that you are smoking crack by giving any credit to the Steelers' offensive line."
Ominous line: "He and I aren't close anymore."
Narcissistic game-opening narrative: "The game was tied at nine in a race to 10 as most backyard games are played. My opponents had the ball with fourth-and-goal on their own half of the field thanks to a brilliant open-field tackle by me."
Narcissistic middle passage: "The wide receiver catches it and runs toward the sidelines. He then takes the ball in two hands and launches it back over his head to the waiting QB who had no one around him. He sprinted down the other sidelines toward what I am sure he thought was going to be the game-winning TD. I took a good angle and had him dead to rights when I felt something heavy on my leg."
The John Facenda line: "I collapsed in a heap."
Narcissistic closing narrative: "My best friend at the time had chased me down the field and laid what I am sure was a clip on the back of my knee. I was fortunate to escape injury but the alleged TD still makes me mad to this day. We argued about that for a long time and they walked off the field claiming victory."
The overly serious finish: "When we still do get together the 'clip' always comes up in conversation and an argument ensues. I will go to my grave certain his head hit the back of my knee guaranteeing it to be a clip."
---
Game Name: Neely Bowl
Submitted by: Chase N.
Location: Spartanburg, S.C.
Amazing origins: "Twenty-one years ago, my parents hosted a gathering with my dad's seven brothers and sisters on Dec. 23. My uncle started a pickup football game in the backyard with all the nephews at the time. Twenty-one years and about 30 nephews later, we still play the Neely Bowl on Dec. 23. Each year the capable nephews and uncles head to the local soccer complex to play the game while the girls go to a chick flick."
The what award? "Every year the boy cousin who misses the Neely bowl for the lamest reason gets the panty award. Recent winners have chosen Christmas Shopping with their significant others, going to the chick flick instead of playing in the game, etc. This is a more recent development in the Neely Bowl."
John Facenda line: "… too many comebacks and close games to count."
I shouldn't be laughing but I am: "My cousin Eric, who played offensive line for Furman University, once blocked my father on a run play. This knocked my dad out, and as he was waking up, he began taking orders for his lumber company, Neely's Building Supply."
---
Game Name: Flem Bowl
Submitted by: Flem
Location: Detroit
Conditions:
"We played the game 12 times in a row in awful conditions -- knee-deep snow, bitter cold, rain, mud, freezing rain."
Amazing stat: "I have three brothers and the games have always been Brothers II and III (myself and Greg, both former Div. I college wrestlers) versus Brothers I and IV (Bill and Bryan, uh, not so much). The two middle brothers have never been defeated. Ever."
No, seriously: "Bill and Bryan have tried everything, including pregame 'training camp,' the Run-n-Shoot offense complete with wristbands, and wearing bright green uniforms hoping to make us laugh so hard we couldn't tackle. Wait, have I mentioned that Greg and I never lost?"
Sad, ironic part of our domination: "Bill's a high school football coach."
John Facenda passage: "I felt the sting of knuckles across the bridge of my nose and when the warm, salty trickle of blood crested my top lip, something deep, dark and buried inside me was about to snap like a dry twig when, driving by in a car, an older woman yelled at us to stop fighting. The melee halted. And without thinking each of us -- battered, bruised and bloodied -- stood in unison and, instantly transported back to our childhoods, dutifully waved and responded 'Happy Thanksgiving Mrs. Gilbert.' We all cracked up. Then I punched my little brother in the stomach. Hard."
My brother's keeper: "The last game we played 75 percent of the participants pulled hammys."
Way too heavy confessional: "The four of us have been through a ton together yet, right now, we're probably as distant as we've ever been. I really miss this game."
One more time: "Did I mention that my team is un-de-freakin-feated?"
---
Game Name: GCE (Greatest Catch Ever) Bowl
Submitted by: Ian M.
Locations: La Crosse, Wis.
Players: Ian, two uncles, a cousin, dad and the best friend.
Best player description: "My dad, the speedster that he is (a 5-8 high school science teacher)"
Pride cometh before the fall: "My best friend likes the idea of picking one off when my dad goes deep. He lets my dad get behind him to help display his athletic dominance. My uncle cocks back and throws the deep ball. My best friend's eyes become huge. He is playing center field and just waiting for the ball to float down. He misplays it though and can only get a fingertip on it."
John Facenda line: "Then history is made."
Sarcasm font: "So Dad does what every good wideout does."
Big finish: "He puts his hands behind his back to make the grab … in full stride. TOUCHDOWN!!!!"
The word is … shocked: "My best friend is shocked, I am shocked, My uncles are shocked."
The aww ending: "To this day my friend and I still talk about that catch and that day. The day my dad made the greatest catch I have ever seen."
---
Game Name: The Mud Bowl
Submitted by: Matthew M, from Pensacola, Fla.
Location: Unknown
Worst conditions: Mud and 33 degrees.
Participants: Matt, dad, Bert, Meg, Jake, Chris and 6-12 other people from the neighborhood.
Not intended for gambling purposes: Jake was the youngest and was considerably overweight at the time, but he's skinny now.
Sounds like a football term but it isn't: "He then told us to run a squirrel route."
We only fought after … : "Any play that involved Bert covering Jake or Bert and his dad after Bert ran for a touchdown because his dad only touched him with one hand instead of the required two for tackle and then high-pitched yelling ensued while we waited to see if Bert was going to get in trouble and have to stop playing to scoop the backyard or move the woodpile 20 ft to the left OR any time Meg or one of her friends made the mistake of walking near Bert and he would hit them in the head with the football."
OK now this makes sense: "Our last game was probably six or seven years ago."
Aww ending: "We can still remember it as if it were yesterday."
---
Game Name: The Hart and Freed Turkey Bowl
Submitted by: Ryan H.
Location: Lincoln, R.I. (just across the street from the greyhound park)

A tradition since: 2001.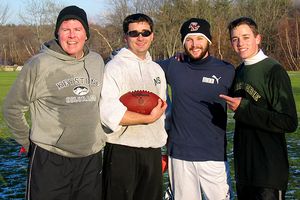 Nan Hart
2006 Turkey Bowl Champions (left to right): Jay Hart, Rich Freed, Ryan Hart, and Reilly Hart.
Cool stat:
"The fact that the game was decided on the final play for the first three years of the series has made it not only a highly anticipated yearly event, but serves as fodder for families-wide bragging rights."
Cheaper than a defibrillator: "In 2001, the three 48-year-olds got to use a sub."
Tell me about it: "No one ever cares what the middle kid thinks."
John Facenda line, 2001: "Having torn my rotator cuff and labrum in my left (throwing) shoulder two weeks before the last game of the season, I QB'd the entire Turkey Bowl with my right arm."
Final play 2001: "Wearing a bright yellow golf shirt that has been scorched into all of our memories since that day, Dick jumped in front of a sliding Rich and took the interception 48 yards for the score and an improbable upset victory, which we were able to relive that night since my uncle Jack taped the game. Dick pulled approximately every muscle in his body on his 48-yard sprint to glory and vowed never to play again.
John Facenda line, 2003: "At this point, I was ready to flip out … then they kicked off."
Final play 2003: "The ball went right to my dad, Jay, in the end zone, who proceeded to drop the ball. Since he was tired and the ground was covered in slush, he kept just trying to pick the ball up instead of laying on it. In the end, there was a great collision, which resulted in Rich getting an elbow to the sternum but also recovering the football."
John Facenda line, 2004: "Alas, it was not to be."
Final play 2004: "It was raining. The field was sopping wet. With our team down one point with 45 seconds to go, we decide to go for a two-point conversion. I drop back into a shotgun but my WRs are having trouble gaining traction. Before I can do anything, I'm being forced out of the pocket to my right. I gunned it for the corner of the end zone. Reilly left his man and got there just before I could dive across the line, deciding the Turkey Bowl for the third straight time on the final play."
---
Game Name: The Blood Bowl
Submitted by: Drew M.
Location: Virginia
Add it up: "Tackle + head + slate walkway = lots of blood."
Good idea: "We played the game in my grandparents' backyard."
Bad idea: "The end zones were a line of pine trees and the slate walkway to the garden."
You knew this was coming: "Every game ended the same, with a fistfight over a late hit, someone bleeding from some part of their head and my grandmother swearing that it was the last time we were allowed to play football at Thanksgiving."
---
Game Name: Tide Bowl
Submitted By: Jason C.
Location: Philadelphia
Conditions: "Only one snow game, and every year seems to have some mud involved."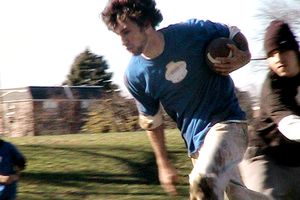 Anna Conzelman
Jim Blaney (blue) is either breezing past Jeff Maichrowycz (black) on the way to the end zone or his lifeless body is in the process of falling to the ground after being clubbed from behind by Maichrowycz.
Mandatory Dolphins joke:
"We've had one torn ACL and one broken ankle in two different games, not the same one -- that would have been worse than the Dolphins season."
Vomiting: "Occurred only once and it was more like stuffing than turkey."
Best play: "Reverse wide receiver screen pass. The RB flips it to the WR, the WR hits another WR for a screen, the blockers release and one of them gets it or you chuck it deep. Led to one TD and numerous sacks."
Aww item: "Can't wait 'til the game this year. Man I enjoyed answering this."
---
Game Name: Turkey Day Backyard Bowl
Submitted by: Sean T.
Location: Grove City, Pa.
That's gonna leave a mark: "In 2001 my younger brother, who was 10 at the time, goes over the middle. My 16-year-old cousin (6-1, 220 pounds) is coming the other way. Ball goes up, they're not looking at each other. Pow."
John Facenda line: "He wound up on his back with his feet over his head, covered in mud and snow."
Winds of fortune: "In 2003, on my middle school's field, it's windy, snowing, cold, and almost impossible to grip the football. Last drive of the game, I blitz off the corner, the QB throws the ball up and I get both hands on it. At that moment, the wind picks up, and blows the football into my kid brother's hands."
Unintentionally humorous transitional phrase: "Unfortunately, he was not on my team."
Big finish: "He took the ball from end zone to the 1-yard line. Two plays later, game over."
---
Game Name: Meehan Football Bowl
Submitted by: Jeremy M.
Location: Asbury, N.J.
Players: Jeremy and "20 kids that showed up in their favorite NFL jerseys and sweat pants, plus one dad, a big fella, close to 250 pounds of solid mass, standing only 5-8 at best."
Ominous line: "[The big fella] hadn't made a tackle and of course he decided to take it out on me."
Long story short: "Last play of the game, I'm running a kick return back and after blowing by about seven guys, I get blindsided by the big fella who not only takes me off of my feet but cracks my nose in the process. He gets a historic tackle and I get my ninth broken nose."
John Facenda line: "You could make out the swelling, the crooked nose, and of course, the mixture of blood and mud."
Injury update: "This year I'm making my (not so) glorious return from my ACL surgery, in true Donovan McNabb style."
Proper perspective: "Hopefully, I won't suck as much as the Eagles though."
Line that sums up the reason for these games and this entire column: "It's the best two hours of the year."
David Fleming is a senior writer for ESPN The Magazine. His latest book, "Breaker Boys: The NFL's Greatest Team and the Stolen 1925 Championship,", published by ESPN Books, has been optioned as a movie. In addition, he is the author of the memoir "Noah's Rainbow."The Flem File will run each Thursday during the NFL season.