The signature play of this beautifully backward NFL season took place during Week 2 in Jacksonville. The setting was divinely contrarian. It was 93 degrees at kickoff despite the fact that it's football season. The Jags, a hot preseason pick for the Super Bowl, were well on their way to an 0-2 start. And uber accurate Jags quarterback David Garrard had already thrown more picks than he did in all of 2007.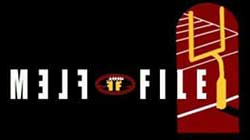 On fourth-and-1, Maurice Jones-Drew grabbed the ball and nail-gunned himself through the line of scrimmage. A diving Bills linebacker, Paul Posluszny, managed to get a hand into MoJo's passing grill, grotesquely cork-screwing his helmet, Linda Blair style, past his flattened septum, over his silly-putty'ed cheek and across his mangled ear hole until the helmet was completely backward.
MoJo, god love him, just kept right on running, plowing ahead for 9 more yards and another 15 tacked on for the face-mask penalty.
If you wanted a commemorative Fathead to summarize the 2008 season so far, this was it: A gutsy Jones-Drew violently racing, crashing, plowing himself backwards into the future.
Wrong-side up. Upside-down. Inside-out. Everything in the NFL is wonderfully reversed this season. I always figured parity would lead us to boredom and certainty, not spontaneity, innovation and, well, chaos.
The whole season started with Brett Favre reversing his retirement. Then Tom Brady's knee bent backwards. The antiquated single wing became new and fresh in Miami (where, it should be noted, Tuna spelled backwards is "A nut"). Washington loses to the Rams. The winless Chiefs knock off the undefeated Broncos. Tom Coughlin has the league's best winning percentage in October (.882), an 11-game road winning streak and, reportedly, the Manning of choice. So, natch, the Browns blow out the Giants on Monday night.
If this backwards world keeps up, we should just go ahead and rename this column the Melf File.
Adam Jones gets kicked out of the league, maybe for good, for fighting with the guy he pays to protect him? Atlanta owner Arthur Blank signals excitedly for an incomplete pass on the Falcons' biggest catch of the season? Detroit's GM for life, Matt Millen, gets canned?
The Cards beat Dallas on a backwards punt. The Vikes return a backwards field goal 55 yards for a touchdown against the Saints. Jay Cutler passes the ball backward against the Chargers, but the call gets (you guessed it) reversed. The Rams fire Fakhir Brown, then hire him back two weeks later.
If there is a prevailing theme in '08, it's very close to what Jerry Seinfeld once told a frustrated George Costanza: If every instinct you have is the wrong one, then the opposite would have to be right.
Consider this:
• Flem tells you defense wins championships. And Melf says: Denver is leading the AFC West with a 30th-ranked defense that couldn't stop Cloris Leachman.
• Flem calls the Texans 2008's It Team. Melf says they needed a last-second score against Miami to avoid an 0-5 start.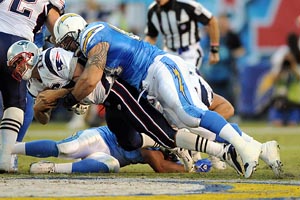 Christopher Hanewickel/US Presswire
The Pats are definitely down with Matt Cassel under center.
• Flem warns that jet lag can be toxic to a football team. Melf watches the Cards and Pats lose by 21 and 20 respectively after staying put for a week on each coast.
• Flem watches Jason Elam shank a 33-yard potential game winner. Then Melf sees him nail a 48-yarder to beat the Bears.
• Flem anoints the Cowboys as Super Bowl champs. Melf wonders how they're going to beat the Rams this weekend, even with Roy Williams.
• Flem says it's a young man's game. And Melf notes that the teams using Brad Johnson (40), Brett Favre (39), Jeff Garcia (38), Gus Frerotte (37) and Kerry Collins (35) are a combined 19-9.
• Flem reads all about the NFL's new fan behavior program. Then Melf watches Adam Jones play for the Cowboys on Sunday.
• Flem thinks rookie QBs need to be nurtured and brought along slowly with care. Melf notes that Matt Ryan completed 22-of-30 (73 percent) for 301 yards and a TD for a passer rating of 116.1.
• Flem doesn't think there are any good young DBs in the league. Melf can name three -- Tennessee's Cortland Finnegan, Buffalo's Ashton Youboty and Tampa's Tanard Jackson -- right off the top of his head.
• Flem did a cover story on Jeremy Shockey. But even Melf knows that the real story in New Orleans is the record-breaking pace of quarterback Drew Brees.
• Flem was certain the Lions' run game couldn't get any worse. Melf did the math, and Detroit is actually gaining 2.7 yards per game less (77.8 to 80.5) than in 2007.
• Flem believes no one should reference himself more than 18 times in a single column. Melf thinks the number should be closer to two. And instead of railing against the backwards season, we should all try to embrace it and use it to our advantage.
That means picking up Brad Johnson for your fantasy football team before he throws for 400 yards this weekend. That means picking Cincinnati to thump Pittsburgh and Kansas City over the Titans in your office pool. That means Joe Flacco is about to blow up. Julius Peppers is about to snag six sacks. And it's probably going to snow in Miami for the Ravens game.
It also means sending Melf warm regards and bouquets of warm compliments for this column instead of the usual hate mail and resignation form letters that guy Flem normally gets.
---
FLEM FILE MASCOT

Longtime readers of the Flem File will recall that each year we try to adopt a football-playing namesake to be the column's mascot. The talented but self-deprecating former Washington Redskins tight end Zeron Flemister set the gold standard for the Flem File Mascot while holding down the post for three glorious seasons ending in 2006. Former Cowboy Cory Fleming was the original, but former Titans fullback Troy Fleming and CFL kicker Sean Fleming have also benefited from the powerful karma of Flem File Nation.
This year's candidate, I am happy to report, might just top them all.
Flem Filers, please meet your new mascot: No. 31, the 5-foot-11, 190-pound Youngstown State University redshirt freshman defensive back David Fleming.
For starters -- and this is huge, obviously -- the name's a perfect match. And I'm OK with the fact that it was not done as a tribute to me (his dad is also a David Fleming and his brother, this is awesome, is Davin Fleming or, as he put it, "David, just with an 'n' instead of a 'd'"). Flem Jr. grew up in Dayton, Ohio, just a few blocks from where my in-laws used to live and less than an hour from my l'il fighting RedHawks.
But I was sold just a few minutes into our first conversation when I asked him what kind of music he liked, and Fleming replied, "Rap, but also some R&B ... you know, for the ladies."
"Oh my god," I said, "I think we're related."
"Maybe," the cooler, smarter, taller David Fleming said. "When I was in high school checking on recruiting and rankings, I used to Google my name and all your stuff [and by that he means hilarious columns, insightful magazine pieces and two world-changing books] would come up instead. And I was like, 'Man, who is this guy?'"
Right back at ya, kid.
As it turns out, defense is Flem Jr.'s first love. But before his sophomore season at Centerville High School, the Elks' first three quarterbacks went down in a single scrimmage, and our man Fleming stepped in and ran the team's wide-open offense, eventually leading Centerville to a 9-3 record in 2007. Fleming was named the Great Western Ohio Conference Central Division Athlete of the Year, an honor he shares with previous winners, Ohio icons Kirk Herbstreit and A.J. Hawk.
Idiotic college coaches who couldn't look past his height passed Fleming over for scholarships, but he caught the eye of the staff at YSU, a national powerhouse in the 1990s under Jim Tressel. Unfortunately, this season the Penguins are 2-5 and on a three-game skid since knocking off No. 2-ranked North Dakota State.
Something that is certain to change this weekend against Southern Illinois inside a packed Stambaugh Stadium now that David Fleming, and the rest of the fightin' flightless birds, have the full support of the Flem File.
---
FLEM FILE FIVE

In honor of Tony Romo missing a month with a hurt pinkie: Top Five Hardest Situations to Look Tough In:
5. That waiting area/wuss bullpen in Ann Taylor stores.
4. TIE: Badminton; and getting tackled by a kicker or Deion Sanders.
3. NASCAR driver slap fights.
2. Drinking from your kid's juice box.
1. Maypole dancing.
---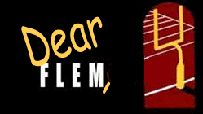 DEAR FLEM

In the crazy, topsy-turvy world of the NFL sometimes fans just need someone to talk to. So once a week Mag senior writer David Fleming will exchange e-mails with one lucky (we think) reader. If you'd like to have an e-mail exchange with Flem, click here and pour your pigskin heart out. Go ahead, Flem's listening.
Dear Flem:
I read your offer and thought, "There are so many more needs to be met than of this die-hard Bengals fan." But you know what, NO THERE AREN'T. As a matter of fact, this line of thought is exactly the Cincinnati way, to stay in a state of denial, never fully breaking ties, but always dragging behind the wagon. I love the Bengals, and never won't.

So I only have one question: When will pain cease?
-- Sincerely, Jamie Farris, Cincinnati, Ohio
FLEM:
Well, first of all, I think Bengals fans deserve this space as much as anyone. Probably more. A columnist friend of mine in Columbus summed up the Bengals last week by calling them, "sadder than an orphanage fire for almost two decades... "
JAMIE: I think Bengaldom (or as most of my cohorts refer to, Bengal "dumb") has definitely permeated life in general here in Cincinnati, because I saw your name in the inbox and just knew that it was one of those 7-10 business day letters you get when you've been denied the job/credit.
FLEM: When will the pain cease? I'm afraid we both know the answer to your question -- and it's not good -- but I'm here to help you get through it, OK? On the short term, they've got to get rid of Marvin Lewis. I mean, the team hasn't gotten any better, hasn't gotten any closer to forming an identity, hasn't improved at all on defense -- he has to go. Defense was supposed to be Marvin's specialty, and honestly I can't think of a player he found and drafted that has gotten better under his tutelage.
JAMIE: Well, we actually like Marvin Lewis.
FLEM: Listen, I don't think I have the necessary training to deal with Stockholm Syndrome.
JAMIE: Marvin has been a blessing after the "regimes" of Dave Shula or Dick LeBeau, but it's become apparent that he's only a stopgap between mediocrity and greatness. When you have someone like LeBeau, a defensive genius for the Steelers organization, whose career was almost sideswiped by Cincinnati, you have no choice but to point the blame elsewhere -- that being at owner Mike Brown. There will never be a coach that can be any kind of savior for Cincinnati until Brown relinquishes control of this team and our town.
FLEM: Good point, we both know the one common denominator between the Bengals and all the losing dating back almost two decades now -- the owner. I wrote a while back that he seems cognitively dyslexic: When he should use his brain, he thinks with his wallet, and when he should think with his wallet, he goes with his heart.
JAMIE: Change is not what we need. What we need is a miracle. That's the difference between us and the rest of the NFL have-nots -- they have hope in something. What do we need? Maybe a string of good draft picks that will weather the normal NFL growing pains, maybe a change of the guard that won't put up with the mediocrity we are destined to have, maybe the law of averages that says what goes up must come down, but we don't have any of those things ... we have Mike Brown.
FLEM: You need to vent, I can tell. So share with me the top three most disappointing events/days/games in your time as a Bengals fan ... and if you need to make it five or even 10, go ahead, it's the Internet.
JAMIE: Let's see ... I was born in 1978, so I don't remember the career-ending injury to Greg Cook, and was only a few years old when we choked in Super Bowl XVI. I believe the three worst days in Bengal history were the weekend of Jan. 20-22, 1989, Super Bowl XXIII. In a season in which they really only should have lost one game (a complete fluke against a VERY good Houston Oilers team), we were sending nine players to the Pro Bowl. I remember sitting in front of the television for two straight days, all of Saturday and all of Sunday, listening and watching the hype. Out of nowhere, rumors were flying around that one of the "key ingredients" of this team, later announced as Stanley Wilson, had been found with illegal substances and had to be suspended for the game.
FLEM: You can say it: It was a cocaine binge.
JAMIE: So there was an air of uncertainty, even though Wilson was a role player, that felt like this could really be detrimental to team chemistry -- I was 10, so I actually remember thinking, "I don't know what detrimental means, but that sounds bad." Of course, we came out kinda rusty. Of course, Tim Krumrie would break his leg. Of course, Jerry Rice would make catch after catch to prolong key fourth-quarter drives. Of course, Lewis Billups would drop a game-clinching interception with only minutes to play (my memory has become numb, so some of these details may be completely delusional).
FLEM: Actually this is, maybe, the most eloquent, detailed rant I've ever read. If this kind of detail is tattooed on every Bengals fans' psyche, you guys have my ultimate pity, I mean, respect.
JAMIE: ... Of course, Joe Montana was Jesus resurrected as a quarterback in the Super Bowl. I have hindsight. But as the game was being played, no one in their right mind, wearing the black and orange, could believe how we were self-destructing. There were glimmers of hope that day, but really they were cruel and unusual punishment for a city's psyche. All because of Stanley Wilson.
FLEM: Hmm. We haven't even gotten to David Klingler, Akili Smith, Ki-Jana Carter or Dave Shula? You, my friend, are old-school.
JAMIE: Yeah, you could say that Dave Shula was a numbnuts, that David Klingler and Big Daddy Wilkinson and Ki-Jana Carter and every other draft pick, with the exception of Corey Dillon, was to blame, but that's just too long of a list to not look elsewhere. We're talking about a man, in Mike Brown, who threatened a city with the possibility of moving to another city, in order to have a new stadium built -- promising that a winning team would then follow. From Day ONE, it was all about the MONEY for Mike Brown, and some of the most loyal fans in the world continue to help line his pockets and, in the same breath, hurt their pride.
FLEM: This is clearly the wrong time to ask this question, but I think you need to deal with this straight on: Could the Bengals go 0-16? And in some weird way, would that be cool to be the best worst team ever in the NFL? Would that bring change?
JAMIE: The Bengals WILL go 0-16 ... they have one of the toughest schedules, they have overpaid an offensive line that can't protect it's greatest asset, our beloved Carson Palmer, and they have a talented defense that still, after all these years, doesn't have a leader. They keep giving money to a player who doesn't want to be here -- (cough) Chad Johnson -- and they won't re-sign the one player who still believes in this organization -- T.J. "Who's your mama."
FLEM: So how do you keep watching and buying and hoping?
JAMIE: Somehow they create enough buzz in the offseason to give us hope in the draft, to talk up the workouts in the offseason, and to sign or re-sign just enough to prepare us for the next season. I lived in Cali for the past six months, and all I could think of was, "Man, I can't wait to get back to Cincinnati and watch my Bengals." We LOVE the Bengals.
FLEM: Why?
JAMIE: Why, Flem, I couldn't tell ya.
---
THIS COLUMN WRITTEN WHILE LISTENING TO: Beastie Boys, Ill Communication.
David Fleming is a senior writer for ESPN The Magazine and the author of the memoir "Noah's Rainbow" and "Breaker Boys: The NFL's Greatest Team and the Stolen 1925 Championship," which has been optioned as a movie. The Flem File will run each Wednesday during the NFL season.