By DJ Gallo
Special to Page 2
On Saturday night, one player will stride to the podium at the New York Hilton and give his acceptance speech as the Heisman Trophy winner.
The four other Heisman finalists also will have prepared their speeches, just in case. Sadly, their words will never be heard.
However, thanks to Page 2's extensive contacts throughout college football, we were able to get our hands on the acceptance speeches each of the finalists has prepared, in advance.
Here's a look.
Jason White, QB, Oklahoma
"Wow. What an honor to win a second Heisman Trophy. I was reminded today that there have been three Mannings who have played college football; and among them, they have zero Heismans. Meanwhile, there's just one of me and I have two Heismans. Heck, I even have as many Super Bowl championships as they do and I'm still in college. I find this both humbling and, well ... quite amusing."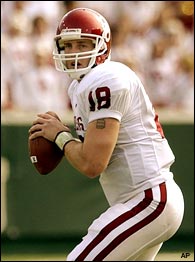 If Jason White wins a second Heisman, let the bidding begin!
(Note to self: Pause so audience can laugh at the Mannings. If it seems to be a particularly anti-Manning crowd who would be warm to it, break into standup routine on Eli Manning. If not, continue below.)
"Speaking of awful quarterbacking -- cough, Eli Manning, cough -- I'd like to promise my teammates, coaches and the fans of Oklahoma that I will not stink it up like I did after I won the Heisman last year. I heard the whispers: 'Dude, Heisman Trophy winners are supposed to wait to start sucking until after they reach the NFL, not before.' That type of talk is what motivated me to continue to improve during the offseason and have an even better year this year. I know I have one last chance in my life to play a great football game because, let's be honest, I don't have much of a shot in the NFL. So I intend to go out in style and play to the best of my ability in the national championship game on Jan. 4.
"There are so many people I should thank.
"First of all, the NCAA. They've granted me so many extra years during my career, I feel like one of those Duke or North Carolina basketball players -- like Chris Duhon or Dante Calabria -- who seem to have had a five-or-six-year career and been around forever. Except that I actually have had a six-year career and been around forever. So thanks, NCAA. I've got degrees coming out of my butt.
"I would also like to thank the Oklahoma sports information department for doing a great job on my Heisman Trophy campaign. I think the tagline they used -- 'Jason White: Even-Betta-Than-Gino-Torretta' -- really resonated with Heisman voters.
"And, of course, I couldn't have gotten here without my parents, coaches and teammates.
"Lastly, and I'm speaking to the viewing public here -- if you've ever wanted a Heisman Trophy of your own, check out eBay tonight. I don't need two, so I'm putting this baby up for sale. Bidding will start at $1,000.
"And being that I likely won't get taken until the sixth or seventh round of the NFL draft, and that I'll get cut a week or two into training camp, I'll need the money."
Adrian Peterson, RB, Oklahoma
"I can't believe this. I'm completely shocked. Finally, huh? Finally a freshman has won the Heisman Trophy. I didn't really prepare anything to say."
(Note to self: That first part will be committed to memory. After saying: "I didn't really prepare anything to say," take out your notes that have what you prepared to say. This will appear Hollywood-savvy and funny and boost your marketability once you turn pro.)
"It's an honor to be the first freshman to win the Heisman. And think about it -- if I'd gone to Penn State I wouldn't have even been allowed to play 'cause that elderly dude up there doesn't like playing freshmen.
"I do have to be honest, though. I'm a little bit disappointed by the atmosphere here. When I was told the Heisman was given out by the Downtown Athletic Club, I expected it to be sort of like a Bally's kind of thing with a lot of hot chicks running around in sports bras.
"But I haven't seen a single sports bra; and everywhere I look, I just see old men in ugly blazers.
"I guess I should thank some people. First of all, my great teammates and my wonderful family.
"I also want to say thank you to my coach, Bob Stoops. He's been a great example for me. The way he wears that visor all the time -- regardless of whether it's sunny or not, and even when it's raining and the top of his head gets drenched -- and despite how stupid visors look, is very inspiring to everyone on the team. It reminds us that no matter what challenges are put in your way, you have to persevere, even if the way you do it is seen as unpopular or not stylish. At least, I'm pretty sure that's why he wears the visor. That, or he wishes he was an LPGA golfer."
Alex Smith, QB, Utah
"Great -- I'm the Heisman Trophy winner. Did a car just backfire outside or was that the sound of my hopes of having a successful NFL career exploding?
"What an honor to have my name mentioned in the same sentence as Eric Crouch, Chris Weinke, Danny Wuerffel and Gino Torretta. You know ... or not.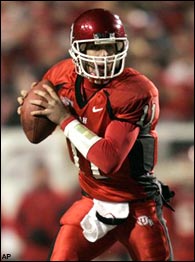 "Hmmm, maybe I don't want to win this thing ..."
"Regardless of how this unfortunate turn of events could affect my future, I am proud to be a part of a solid Utah team. In fact, I think we have a great team. I'm going to go as far as to say that even if we had this Heisman statue playing in place of one of our starters, we'd still beat Pitt in the Fiesta Bowl by two touchdowns or more. Not that beating a Big East team is all that impressive, but you get my point.
"I have to thank my coach, Urban Meyer, for all that he taught me during my career. However, I have to admit that I don't really agree with his decision to leave Utah for Florida. Utah is undefeated, has the new Heisman winner and is playing in a BCS Bowl. At Florida, he can expect some undergrad to start up FireUrbanMeyer.com the first time he fails to go for it on 4th-and-short. And as recently as one year ago, the program was stupid enough to put a crocodile on the front of their football media guide instead of an alligator.
"Not to mention the fact that they are 7-4 and playing in the lowly Peach Bowl and haven't had a Heisman winner since Danny Wuerffel in 1996.  What -- you're expecting to woo highly-touted recruits by telling them they can become the next Danny Wuerffel?
"Yeah, good luck with that.
"Anyway, thanks to those who voted for me to win the Heisman. My lousy NFL career will be on your heads."
Matt Leinart, QB, Southern Cal
"This is very exciting. I'm surprised to be standing up here with all of the great players who were in contention.
"I'd like to thank my parents for their love and support, as well as my teammates for making my job so easy.
"Especially Reggie Bush. In fact, I should really be thanking our offensive coordinator, Norm Chow. Had he called more plays for Reggie, I wouldn't even be in sniffing distance of the Heisman because everybody knows I'm about one-tenth the athlete Reggie is.
"Many thanks to Pete Carroll, too. Nearly everyday, I thank my lucky stars that he was an almost comically bad NFL coach who was banished to the college level at a job most other coaches didn't want at the time. Had he not coached the Jets and Patriots into the ground, I never would have had the opportunity to play for him at USC.
"I also want to give some credit to my former teammate and mentor, Carson Palmer, who won the Heisman two years ago. Watching him continuously throw into double and triple coverages earlier this season reminded me what mistakes I needed to avoid to continue to develop as a quarterback. And then seeing him improve over the last few weeks gave me confidence that winning the Heisman would not necessarily mean my pro career will be a disaster.
"Last but not least, I need to give a tip of the hat to Kyle Orton. Halfway through the season, he was the clear frontrunner for this award, only to suffer a meltdown of Chris Rix-ian proportions, leaving me at the top of the list. I will forever be indebted to him for that. Thank you, Kyle."
Reggie Bush, RB, Southern Cal
"I know I only have a few minutes to speak; but in that time, I'm going to do my best to erase any idea people might have about how everyone with the name 'Bush' talks. I can say 'nuclear' correctly. I know that 'misunderestimate' is not a word, and I'm fully aware that there is only one Internet.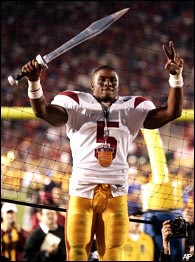 Reggie Bush sure knows how to work a crowd.
"No, I kid, I kid. It's been a great year for Bushes and Bush homonyms.
"George W. won a second term. Kurt Busch won the Nextel Cup. And now I have won the Heisman."
(Note to self: Gauge audience's reaction so far. If they seem receptive, try this line: "In fact, 2004 would have been the best year ever for us if it wasn't for the increasing popularity of Brazilian waxes.")
"Seriously, it's an unbelievable honor to win the Heisman Trophy and join a long and distinguished list of USC backs from the past, including Marcus Allen, Charles White and Mike Garrett. O.J. Simpson, not so much. Although I like what you all have done by putting O.J.'s Heisman portrait on the floor of the men's bathroom underneath the urinals. That's a nice touch.
"I want to thank my coaches, teammates and parents for making this possible. But I really want to thank Mike Williams for contacting an agent last winter; because without that and the NCAA's refusal to reinstate him, there's no way I would have gotten enough votes to win.
"And lastly, thanks to Karl Rove for running my Heisman campaign. He offered to help me out in his free time after George W. was re-elected. Big props, K-Ro. You rock. Your idea to concentrate on the base and shore up the Heisman votes in the red states and those with USC ties is what brought this home for me."
 DJ Gallo is a regular contributor to ESPN the Magazine, as well as the founder and sole writer of the award-winning sports satire site SportsPickle.com.