By DJ Gallo
Special to Page 2
Just like us regular folk, many athletes and coaches make New Year's resolutions.
So, of course, Page 2 just had to find out what the biggest names in sports are promising to do in the coming year. We were surprised at the honesty and candor they accorded us (even though they have no idea that's what they did).
Here are the athletes' answers ... in their own words, made up by us.
Eli Manning: "Have my daddy teach me how to tie my shoes by my own self. Oh, and start wearing pull-up dipes like a big boy."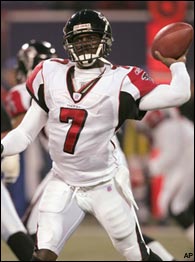 If Mike Vick wants to stay on the field, his social life might suffer a little.
Kobe Bryant: "Come up with a list of former teammates and coaches who don't hate me, and then do everything I can to make them hate me."
Michael Vick: "Stay away from those parties my brother throws."
Michael Phelps: "Fulfill my dream of swimming in a pool full of beer."
Jeff Garcia: "Remind everybody that Terrell Owens is the one who wears tights and drives around in a light-orange VW Beetle convertible, not me."
Terrell Owens: "Imply that other people are gay so it will deflect attention away from my tights and light-orange VW Beetle convertible. And by the way, what's the deal with those Tom Brady Gap ads?"
Tom Brady: "Don't do any more Gap ads."
Bob Huggins: "Raise our program's graduation rates to never-before-seen levels of ... someone."
Urban Meyer: "Buy FireUrbanMeyer.com and re-direct it to my personal website, UrbanMeyerIsGreat.com."
Bill Belichick: "This might surprise some people who think I'm all business and don't have a creative side, but I've always wanted to design my own signature line of gray hooded sweatshirts, size large, with the words 'New England Patriots' on the front."
Isiah Thomas: "Look into rumor that the coach I hand-picked last year has the most losses of any coach in NBA history."
That bald Notre Dame lady: "Say I was just kidding. And read a self-help book about how not to overreact to inconsequential things."
Mike Martz: "Actually know what I'm doing instead of just pretending I do."
Latrell Sprewell: "Get a part-time job so I can afford to feed my family."
Ricky Williams: "Work for the legalization of ... uh ... wait ... I forget what I was talking about. Dude, do you know I could make a bong out of that tape recorder you're holding?"
Chad Pennington: "Start studying my playbook more than my journalism ethics textbook."
Mack Brown: "Lose to Oklahoma by less than we did in 2004."
Drew Brees: "Get my mole removed. Split it in two and then have it sutured back onto each cheekbone so it looks like I have permanent eye black."
Carmelo Anthony: "Finally reveal that I am actually Whoopi Goldberg."
Ray Lewis: "Strut and dance after every tackle, even the ones I'm not in on -- which is most of them these days. And, like every year, incorporate new and even more feminine moves into my pre-game dance routine. For instance, in 2005, I plan to add several more hip thrusts to the routine as well as jazz hands. Lots and lots of jazz hands."
Doug Christie: "Petition the NBA to let me play in games while my wife carries me around in one of those baby backpacks."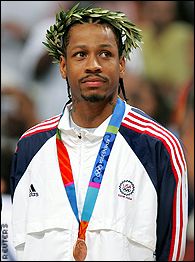 One thing The Answer knows -- gotta take care of the servants.
Peyton Manning: "Actually run a play that my offensive coordinator calls so he can feel appreciated. But I probably won't do it until we're in a meaningless preseason game, because I'm smarter than he is and don't want to risk it in a game that counts."
Allen Iverson: "Continue keeping it real. Also, build a servants' quarters addition onto my mansion on Philadelphia's Main Line."
Pete Rose: "Bet $50,000 to win $500 that Tom Sizemore won't win an Emmy for playing me."
Roy Jones, Jr.: "Record my new rap album, tentatively titled 'Mama Could Knock Me Out'."
Kaz Tadano: "Because it will make my teammates more comfortable, I resolve not to  appear in any gay porn videos."
Scott Boras: "Squash that last shred of my conscience that says greed is wrong."
J.J. Redick: "Venture into that weird painted part of the basketball court once per game."
Gary Williams: "Have my sweat glands surgically removed so I can cut down on my dry cleaning costs."
Gary Bettman: "Start sitting in a booster seat at CBA negotiations so the players take me more seriously. And, of course, during those meetings, make it a point to never mention that the NHL's financial problems are all my fault because I pushed for over-expansion."
Dominik Hasek: "Work to end the lockout so I can return to the NHL and then quit on a team one last time."
Phil Mickelson: "Win another green jacket. And this time, ask for one with more room up top for my ample bosom."
LeBron James: "First, I want to reach the highest level of the Chamber of Fear and defeat all of the animated Japanese people. Second, I want to win a championship. But if I can accomplish the first one, the second one doesn't really matter that much."
Jeremy Roenick: "Make my money last throughout the lockout by investing it in a top-notch sports-gambling tips firm."
Karl Malone: "Go small-game hunting in Mexico, bag one, bring her back to my house, and mount her in my bedroom."
That 'Under Armour' Guy: "Continue protecting this house to the best of my abilities thanks to my tight-fitting clothing."
Mike Holmgren: "Stress the point to those who want me to get fired that Rome wasn't built in a day. Although it probably didn't take six years, either."
Mike Fratello: "Now that I'm not on TV anymore, get people to stop calling me the 'Czar of the Telestrator.' Although I don't like the 'Czar of the Hairpiece' much better."
Mike Piazza: "Let Anna know that I'm not interested in her offer even if Kris does cheat on her."
Darko Milicic: "Continue filling my teammates' water bottles with only the freshest and purest water in hopes of earning some playing time."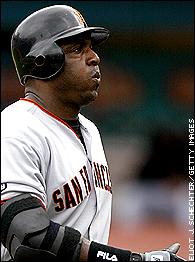 Use Head & Shoulders, Barry. It's safer.
Larry Brown: "Quit something. Probably the Pistons."
Barry Bonds: "Stop using flax seed oil shampoo."
Moises Alou: "Convince Barry that he shouldn't rub anything on his body other than his own urine. Or mine."
Shareef Abdur-Rahim: "Win the trust of my Trail Blazers teammates by getting a DUI or assaulting someone."
Mark Cuban: "Develop a new reality show called 'The Dork,' where contestants do impersonations of me in hopes of winning a million dollars."
Steve Spurrier: "Petition the NCAA for four more years of college eligibility for Danny Wuerffel."
Sergei Federov: "Dispatch my team's enforcer to beat the crap out of Enrique Iglesias."
Pavel Bure: "Dispatch my team's enforcer to beat the crap out of Enrique Iglesias. And then re-dispatch him to beat the crap out of Sergei Federov."
Tim Duncan: "Continue working with a trainer in hopes that I can show human emotion by 2010."
Joe Paterno: "Repeat as national champions."
Denny Neagle: "Remember to give hookers a generous tip from now on so they will keep their mouths shut. You know ... after."
Mark Brunell: "See a doctor to find out why my arm makes a sound like a pop gun every time I throw."
Phil Jackson: "Continue to live by Buddhist principles, such as writing tell-all books."
Vijay Singh: "Talk to Eli Manning for pointers on how to develop such a winning personality."
Lance Armstrong: "Spend more time training, because I can't take another minute of sitting at home listening to my girlfriend's music."
Jim Edmonds: "Dive for every ball, even routine fly balls. Same as every year."
Leo Mazzone: Keep on rockin' in the free world."
John Elway: "Partner with Ashlee Simpson to fight the terrible affliction that is acid reflux disease."
Drew Henson: "Try out for an NBA team."
Why doesn't Nomar wear Mia's name on his Cubs jersey?
Nomar Garciaparra: "Thank Mia, because I don't feel as though she's been sufficiently thanked."
Brett Favre: "Teach the media to eat out of the dish that I'll leave for them instead of just my hand all the time."
Tom Coughlin: "Visit a Turkish prison for new ideas on how to instill discipline in my team."
Dusty Baker: "Sorry, I don't make New Year's resolutions until the weather gets warmer and I can think more clearly."
Jason Giambi: "Stay off the steroids and fit into my old Little League uniform."
Jose Lima: "Spend more time with the JUGS machine. And I mean my wife, not that pitching machine."
Johnny Damon: "Remind people who are still making jokes about my hair that they're a bit late for the originality train."
Curt Schilling: "Call a press conference to demand my picture be removed from the dictionary alongside the term 'attention whore'."
DJ Gallo: "Don't chide people for being unoriginal one second, and then turn right around and use the clichéd 'picture next to the word in the dictionary' line the next."
DJ Gallo is a regular contributor to ESPN the Magazine, as well as the founder and sole writer of the award-winning sports satire site SportsPickle.com.