By DJ Gallo
Special to Page 2
Outside of Michelle Kwan's withdrawal from competition, the biggest news from the opening weekend of the Olympics was probably the dramatic downhill victory by Frenchman Antoine Deneriaz on Sunday, who seemingly came out of nowhere to take gold in the event on the final run of the day.
The most surprising part was that Deneriaz even showed up for the competition, since I assume most of his countrymen fled Turin after seeing the German team march into Stadio Olimpico during the Opening Ceremonies.
Headlines …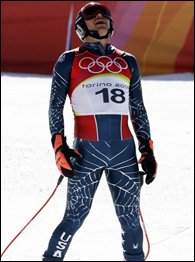 AP
Bode Miller probably could have used some schnapps after his disappointing finish in the Downhill.
Report: Bode Miller's blood test positive for schnapps
Distraught Michelle Kwan fights urge to hit somebody in the knee with a pipe
U.S. team of Ennis Del Mar and Jack Twist prohibitive favorite in men's doubles luge
Olympians admit they miss the wild nightlife of Salt Lake City
Janet Jones Gretzky loving even odds on Canadian hockey team winning gold
Dick Cheney makes late bid for U.S. biathlon team
Ten Things I Thought I Thought While Calling Rick Tocchet to Place a Luge Bet …
1. Ever since the Cold War ended, the Olympics don't seem to have the same intensity or importance. But even if the United States and the Soviet Union were still competing superpowers, I doubt the athletic rivalry would be remotely close to what it once was. I mean, can you imagine trying to get a good jingoistic hatred for the Soviets going over the halfpipe competition? "Seriously, dudes. Communism is, like, so stupid and stuff. I'm gonna grab some big air for America, man. I mean, totally." And then the Soviet snowboarder would pull a Khrushchev and take his board off and bang it on the snow: "Mother Russia is -- how you say? -- like, totally rad. We will shred the halfpipe just like the capitalist pig Americans. But I do like blue jean very, very much. And also what you call the rock and the roll. It is very good. Unlike capitalism." See what I mean? It just wouldn't have the same edge.
2. Not that the Olympics aren't important anymore. They are. For example, any U.S. athlete who fails to win gold is embarrassing all of us and essentially letting the terrorists win. So keep that in mind, Team USA. And go get 'em!
3. I feel bad for Michelle Kwan. She has always handled herself with class, and it would have been great to see her win that elusive gold medal. But while it's disappointing that she had to withdraw from her final Olympics, she needs to focus on all the positives. One, Home Depot has been known to hire an Olympic athlete or two, so perhaps her second calling awaits her in the lumber department. And two, while she doesn't have a gold medal like Sarah Hughes, she also doesn't have a haircut like Sarah Hughes. That makes her a winner in my book.
4. Bode Miller makes himself out to be some sort of bad-ass rebel who can't be tamed by anyone. Yet the dude has a huge logo for Barilla pasta on the front of his helmet. I realize sponsors are the lifeblood of the sport at the elite level, but of all the companies out there, he goes with a major supermarket pasta brand? All I'm saying is that when the roll of the most well-known rebels is read, I doubt anyone is going to say: "Gandhi, Che Guevara, and that drunk skier who sported the giant Barilla pasta logo."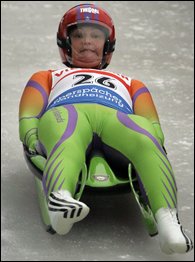 AP
Go, Anne, go, go!
5. I don't quite understand why "Grandma Luge" -- Anne Abernathy, the 52-year-old luge slider for the Virgin Islands -- and Scott Baird, a 54-year-old U.S. curling team member, are being praised so much for competing in the Olympics at their respective ages. When did we start celebrating people in their early 50s for being able to lay on their back or push a broom? If I'm getting praised for doing that stuff when I'm 50, I'm going to be quite disappointed with how my life turned out.
6. A medal with a hole in it. That's what Olympic athletes are getting in Turin for a lifetime of hard work -- a medal with a giant hole in the middle. Whose brilliant idea was that?
7. NBC has done a pretty good job so far with its Olympics coverage. But I think they're missing some of the bells and whistles that really make a broadcast come alive. For instance, why are none of the athletes mic'd up like ESPN does with football players for its NFL games? I'd love to hear what a downhill skier sounds like going down the course. Probably something like: "Aaaahhh ... I ... don't ... want ... to ... die ... aaaahhh!" Or someone competing in the bobsled: "Aaaahhh ... save ... me ... God ... heeelllp!" Or someone in the luge or skeleton: "Aaaahhh ... I don't want to die doing something that's debatably even a sport ... aaaahhh!"
8. It's a shame, but the NHL gambling scandal will taint what was sure to be an outstanding Olympic ice hockey competition. And I lay part of the blame for that at the feet of Wayne Gretzky's wife, Janet Jones. In fact, I rank this scandal among the lowest moments of her life. The third lowest, to be specific. Second would be starring in "Police Academy 5: Assignment: Miami Beach." (She fell woefully short of filling the void left by the departure of Steve Guttenberg after the iconic "Police Academy 4: Citizens on Patrol.") And the worst moment of Jones Gretzky's life, of course, is marrying a guy who looks like Barbra Streisand in "Yentl."
9. This has nothing to do with the Olympics, but I want to come to the defense of Nuggets forward Kenyon Martin. If, as reports claim, he really sent friends into the stands to confront fans who were heckling him, he should be punished by the league. But let's not pretend this is the first time something like this has happened. You can't tell me Shaquille O'Neal, for instance, doesn't send associates into the stands all the time. Sure, it's to get him a hot dog or some nachos, but the principle is the same. So let's not scapegoat Kenyon Martin.
10. Finally … Ozzie Guillen, if for some reason you're reading, please consider changing your plans to skip the White Sox's visit to the White House today. You don't want to get on Dick Cheney's bad side.
DJ Gallo is a regular contributor to ESPN The Magazine, as well as the founder and sole writer of the award-winning sports satire site SportsPickle.com. He also contributes headlines to "The Onion."