By DJ Gallo
Special to Page 2
With the World Series now a memory -- or maybe not, at least for the 99.987 percent of Americans who didn't watch it -- baseball's offseason wheeling and dealing is ready to get under way.
But who will go where? What teams will be the most active? And when will all the managerial jobs get filled? All good questions. I'm impressed by your inquisitiveness and grateful for your interest.
So since you asked, here are all of the answers to the most pressing questions this offseason.
What will the Cardinals do to reload for a possible repeat?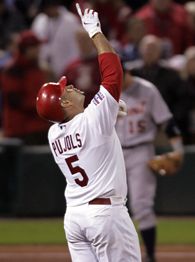 AP Photo/Tom Gannam
Hey, it's hard to be No. 1 and mediocre at the same time.
Absolutely nothing. The Cardinals will stand pat with the roster they have. Or, they may even try to deal some of their best players -- Chris Carpenter and Albert Pujols included. Team management is convinced that since the team won a World Series in 2006 despite playing barely .500 baseball, intentional mediocrity should be the strategy going forward.
What do the Tigers plan to do to fine-tune their roster for another playoff run?
The Tigers will sign Barry Bonds to give them an additional power bat and to reunite him with Jim Leyland for the end of his career. Then, with both Bonds and Kenny Rogers on the roster, the Tigers plan to blatantly cheat for as long as they can until major league baseball intercedes. Aluminum bats painted brown to look like wood. Pitchers with mini cordless belt sanders installed in their gloves. Umpire bribes. Then, by the time Bud Selig puts a stop to it, the Tigers will have such a big lead in the AL Central that another playoff berth will be all but locked up.
Can Lou Piniella turn around the Cubs?
Definitely. We all saw how well he turned around the Devil Rays. So all he has to do in Chicago is the exact opposite of everything he did in Tampa and his tenure with the Cubs should be a great success.
Will the Cubs re-sign Aramis Ramirez?
It's 50-50 at this point. If they let him sign elsewhere, he'll continue to evolve into a star and make the Cubs look stupid for letting him go. But if he stays a Cub, he'll regress, put up poor numbers and make the Cubs looks stupid for signing him to a big contract. So no matter what happens, it will be the worst possible scenario for the Cubs.
Who will sign Daisuke Matsuzaka?
The Yankees. George Steinbrenner is ready to open the bank vault for Matsuzaka and has told general manager Brian Cashman to give the Japanese pitching prospect "Hideki Irabu's weight in gold."
What is it about Matsuzaka that has teams so excited?
He has a special pitch called "wankyoku" that has baseball people buzzing because of the mystery surrounding it. But I predict everyone will be pretty disappointed when they discover "wankyoku" is just Japanese for "curve."
Outside of Zito and Matsuzaka, who is the most coveted free-agent pitcher?
Jeff Suppan. The veteran's stock has risen exponentially since he won the NLCS MVP. But teams are mainly interested in Suppan because they think he could be a great 2-for-1 value if Missouri voters approve an amendment that would allow human cloning.
What do the Yankees plan to do with injured pitchers Randy Johnson and Carl Pavano?
The Yankees have both Johnson and Pavano penciled in for their rotation in 2007 and want both pitchers to get healthy in time for Opening Day. With that in mind, the Yankees hope to inspire them to focus on their rehab programs by signing both Johnson and Pavano to five-year, $75 million contract extensions.
Will the Yankees try to trade Alex Rodriguez?
Yes. In fact, they will agree to a deal that sends him to the White Sox. But the trade will fall through because Rodriguez, overwhelmed by the situation of waiving his no-trade clause, will be unable to get his pen to make contact with the paper to sign off on the deal. He will then be booed mercilessly by Yankees general manager Brian Cashman and other front office personnel.
Is Gary Sheffield going to be dealt?
Yes. The Yankees will trade him after they pick up his $13 million option for next season -- a decision Sheffield is very angry about. And for good reason, I might add. How dare the Yankees give a person $13 million against his will! How dare they! That is no way to treat a human being. You better hope karma does not exist, Yankees, or you will never win another championship.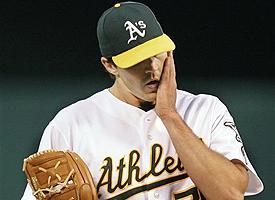 AP Photo/Mark J. Terrill
Zito must contemplate: take the money or go to a city with good yoga instructors?
Where will Barry Zito end up?
Zito will look to go whichever city he thinks will best allow him to explore his wide array of interests (yoga, guitar, surfing), further expand his mind, learn more about the world and his place in it, and become a more complete human being. Or he might just go to whichever team offers him the most money.
When will the A's name a new manager?
As soon as Billy Beane puts the finishing touches on the robot he has built that is capable of walking up the dugout steps to hand a lineup card to an umpire.
Who will the Nationals hire as their new manager?
Dusty Baker. Nationals general manager Jim Bowden will call Baker and offer him the job after another long night of drinking.
What about the Padres' and Rangers' managerial positions -- who will be hired there?
I have no idea. How could I possibly know that?
Wait -- who is asking the questions around here? And how can you not know that but pretend to be so confident about everything else?
Please only ask one question at a time. It's important we stick to some sort of structure here. Come on -- a society needs rules. Now let's move on.
When will baseball's report on steroids be released?
Probably in January. George Mitchell's committee will issue a 1,228-page report with the sentence: "There was steroids use in baseball" written on every page in 36 point font.
Will Mark McGwire get elected to the Hall of Fame?
Cal Ripken Jr. and Tony Gwynn will be voted in. McGwire will not. But Gwynn will come out in support of McGwire, admitting that while he never used steroids during his career, he did use large of amounts of saturated fats.
Will Roger Clemens decide to return in 2007?
Yes. But not until he holds a series of thrice-weekly joint news conferences with Brett Favre during the months of January, February and March in which the pair will repeatedly announce they have not made up their minds about retiring. The nationwide news conference tour is tentatively titled: "Media Whores on Parade."
Is Andy Pettitte going to retire?
No. He just needs to take time this offseason to relax, refocus and clear his head. And nothing will do that quite like his hobby of hunting. Especially if he tracks and shoots Jason Grimsley.
Will Craig Biggio play one more year with the Astros?
Yes. While Jeff Bagwell's days are over in Houston, Biggio will return. The veteran needs just 70 more hits to reach 3,000 in his career and the team wants to see him do it in an Astros uniform. Plus, 70 hits would make him one of Houston's most dangerous batters.
How active will the Red Sox be in the offseason?
They will not be very active at all. In fact, Theo Epstein hasn't even arrived at the offseason in his mind yet. He still is back at the trade deadline, analyzing his options a little bit longer in hopes of pulling the trigger on the perfect deal that will really help the Red Sox for the stretch run. It will probably be mid-January by the time this process is over. Of course, he will then be informed that the July 31st trade deadline has long since passed. So don't expect the Red Sox to really ramp up their offseason plans until February at the earliest. But by then it will be too late because all of the marquee names will be signed.
What also-ran is going to make the most noise this offseason?
The Orioles. They're almost going to offer Zito enough to get him. And then they're almost going to offer Matsuzaka a big contract before backing off at the last minute. And then they're almost going to sign Alfonso Soriano before pulling out late in the negotiations with him, too. In short, the Orioles will almost have an awesome team in 2007. But they won't. They'll stink. Again.
What teams are most likely to step up and meet Soriano's exorbitant contract demands?
The Mets, Phillies, Cubs and Royals.
Did you put the Royals in there just to see if I was still paying attention?
Yes. Were you?
Sort of. But my eyes had started to glaze over a bit.
That hurts.
DJ Gallo is the founder and sole writer of the award-winning sports satire site SportsPickle.com. He is also a regular contributor to ESPN The Magazine and Fantasy Sports Monthly and has written for The Onion and Cracked. His first book -- "SportsPickle Presents: The View from the Upper Deck" -- will be in stores soon.