Page 2's 2007 MLB calendar

August 1: The Pittsburgh Pirates are universally called the big winners at the trade deadline, thanks to their ability to rid their roster of numerous Pittsburgh Pirates.
PAGE 2'S MLB CALENDAR
Want to know what's going to happen every day of this baseball season? We have all the answers.
August 2: Although Milwaukee officials say Miller Park is no longer leaking raw sewage into Lake Michigan, Mets outfielder Moises Alou still washes his hands in the lake before a game against the Brewers just in case.
August 3: Barry Bonds homers again to get to 757 career home runs, leaving him just 111 short of tying Sadaharu Oh for the record.
August 4: Barry Bonds receives his first-ever piece of hate mail written in Japanese.
August 5: Construction of the new Yankee Stadium is briefly halted so designs can include an underground chamber team owner George Steinbrenner requested so he can torture Joe Torre and Brian Cashman there if the Yankees fail to win the World Series again.
August 6: Houston's Craig Biggio strokes a bloop single into short left field at home against the Cubs to record the 3,000th hit of his career. The Astros later construct a huge statue of Biggio where the ball landed, between the shortstop and the left fielder, to honor the moment and to give Minute Maid Park a much-needed infusion of character.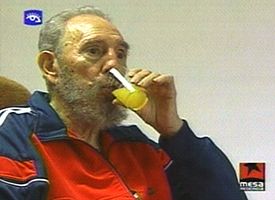 AP Photo/AP Television News
Fidel Castro is drinking his OJ, keeping his strength up for the season.
August 7:
Julio Franco tweaks his hamstring while running, but is refused service by the Mets' trainers because they do not accept his Medicare insurance.
August 8: Hoping to improve their pitching staff and at the same time improve relations between Washington and Cuba, the Nationals offer a spot in their rotation to Fidel Castro.
August 9: Ken Griffey Jr. hits his 600th career home run, but the standing ovation given by the home fans ruptures his eardrums and sends him to the disabled list for the remainder of the season.
August 10: A sudden rain burst hits Arizona's Chase Field, forcing Diamondbacks outfielder Eric Byrnes to take his first shower in more than a year.
August 11: The Astros offer to pay Roger Clemens an additional $20 million if he is able to quickly and discreetly find a way to dispose of struggling closer Brad Lidge.
August 12: Padres team doctors warn David Wells that it is dangerous to purposely let his blood sugar drop very low, even though it is enjoyable to boost it back up by inhaling a box of Krispy Kremes.
August 13: Young Phillies starter Cole Hamels asks veteran Jamie Moyer for tips on how he can keep up his velocity late in games, having seen that Moyer hits the mid-40s with his fastball in the ninth inning just as easily as in the first inning.
August 14: Red Sox pitcher Curt Schilling promises readers of his blog that he will never sell out and move his blog to a pay site because he wouldn't want to sacrifice any of his credibility and freedom. But mainly he says it's because he has made tens of millions of dollars playing baseball and doesn't need to make a living from his writing -- and because no large sites are interested in his blog.
August 15: The Marlins hold a pregame ceremony to retire the jersey of former team manager and 2006 Manager of the Year Joe Girardi.
August 16: Fidel Castro makes his first start of the season for the Nationals but is roughed up by the Phillies for 11 runs over three innings. He is ejected for lighting up a cigar after getting out of a third-inning jam with a double play.
August 17: The Cuban media report Castro pitched a nine-inning perfect game with 27 strikeouts, including three strikeouts of President Bush.
August 18: Barry Bonds allows baseball's first walk-off, inside-the-park home run by taking more than 60 seconds to track down a ball hit into the left-field corner by Florida's Hanley Ramirez.
August 19: Pedro Martinez makes his final minor league rehab start, pitching six scoreless innings against the Washington Nationals.
August 20: Carlos Zambrano falls to 6-15 on the season and sees his ERA jump to 5.86 after getting roughed up in a loss to the Cardinals, prompting him to tell the Cubs he'll give them another extension on signing him to a long-term contract.
August 21: Mets pitcher Tom Glavine wins his 300th career game against former teammate Greg Maddux of the Padres. Despite losing, Maddux pays his respects to his friend by drinking a glass of champagne in Glavine's honor, then urinating on him.
August 22: With Derek Jeter stuck in a 12-for-100 slump, Yankees manager Joe Torre urges him to start showing more tangibles.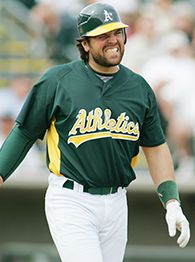 AP Photo/Rick Scuteri
Piazza better be careful with those hair products.
August 23:
Delmon Young plays an instrumental role in allowing Tampa Bay teammate Carl Crawford to steal home to beat the A's by taking a pitch, then giving Crawford cover by beating Oakland catcher Jason Kendall with his bat.
August 24: Pedro Martinez makes his first major league start of the season, against the Dodgers, and throws a complete game at the urging of Dodgers manager Grady Little.
August 25: Oakland's Milton Bradley throws a clubhouse tirade after Mike Piazza accidentally sprays him with hair spray while doing his hair before a game against the Devil Rays.
August 26: Angels pitcher Bartolo Colon begins throwing sidearm to cut down on the stress on his rotator cuff, also because it's the only way to throw without his stomach getting in the way.
August 27: Royals rookie third baseman Alex Gordon continues to elicit comparisons to George Brett by getting a nasty case of hemorrhoids.
August 28: Seattle third baseman Adrian Beltre hits a walk-off home run to beat the Angels, giving him 48 homers in his three-year Seattle career and proving wrong everyone who thought he couldn't match the 48 home runs he hit with the Dodgers in 2004.
August 29: The Dodgers' offense gets to face the Nationals' pitching staff with a chance to hit its first home run of the season. Starting pitcher Jason Schmidt comes through with an eighth-inning blast off John Patterson.
August 30: Ben Affleck, Jimmy Fallon and Billy Crystal are spotted sitting together at Yankee Stadium during a Yankees-Red Sox game. The crowd gives the trio a standing ovation, assuming their being at the game means they must not currently be making any horrible movies.
August 31: Angels manager Mike Scioscia asks Gary Matthews Jr. whether he has anything he can give him to bulk up so he can protect himself should Shea Hillenbrand ever attack him.
DJ Gallo is the founder and sole writer of the sports satire site SportsPickle.com. He is also a regular contributor to ESPN The Magazine and has written for The Onion and Cracked. His first book -- "SportsPickle Presents: The View from the Upper Deck" -- will be in stores in May. Preorder is available here.