Still looking for that perfect Hanukwanzmas gift? Well I have just the thing for you -- a little book called "The View From The Upper Deck," by DJ Gallo.
ESPN.com Page 2 columnist DJ Gallo calls it "the perfect gift for Hanukwanzmas!"
And a Page 2 editor calls this book excerpt "an acceptable way to fill space, I guess."
Here is a sampling of what you'll find in "The View From The Upper Deck," available at Barnes & Noble and on Amazon.com.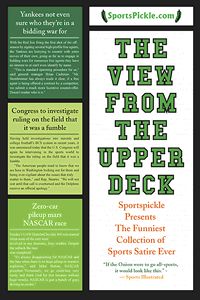 St. Martin's Griffin
All proceeds from sales of this book will be donated to the author.
Chapter 1: Sports Through History
1445: Johannes Gutenberg invents the printing press, allowing mass production of NCAA Tournament brackets.
1621: The first Thanksgiving is held, but tensions quickly mount between the Pilgrims and Indians when all there is to watch on television is the Detroit Lions.
1776: American colonists file for free agency.
1924: While in prison, Adolf Hitler writes Mein Kampf, espousing his political ideology, as well as a second book, Mein Training Kampf, a collection of drills and tips on how to run a successful football camp.
1989: The Berlin Wall comes down after an eight-foot-four, 723-pound East German Olympian knocks it over with a shot put.
Chapter 2: Baseball
Babe Ruth
Born George Herman Ruth but better known as "Babe" or the widely used nicknames "the Bambino," "the Sultan of Swat," and "Babe: Pig-Faced Man in the City," Ruth was an unparalleled player and an American icon. The greatest power hitter the game has ever seen, Ruth actually began his major-league career as a starting pitcher with the Boston Red Sox, using his days off between starts to keep his competitive fires burning by entering eating contests. After the 1919 season Ruth was sold to the New York Yankees, setting off the "Curse of the Bambino," which peculiarly cursed the Red Sox organization to terrible management decisions and whiny fans for 86 years. It was with the Yankees that Ruth became a legend, piling up home run records and leading the team to four World Series titles. The Bambino's career came to a close after the 1935 season when he decided he had grown tired of keeping himself in the kind of shape required to be an elite athlete.
Fun Fact: Upon Ruth's birth in Baltimore in 1895, doctors were amazed to see that his umbilical cord was link sausage.
Chapter 3: NFL
Great Moments In NFL History

January 9, 1977: Super Bowl XI sets a Super Bowl attendance record. CMMMCDXXXVIII people purchased credits.
Chapter 4: College Football
Top Stories: ... Hackers put MIT atop BCS standings ... Schools back off prep recruit after he gets a C-plus in algebra ... Charlie Weis' entire contract to be paid in ice cream ... Goalpost emotionally torn down ...
Chapter 5: NBA
Allen Iverson Keeps It Real for Record 2,548th Straight Day

Allen Iverson of the Denver Nuggets spent all day today keeping it real, the 2,548th straight day he has done so. The mark is thought to be a record for keeping it real for consecutive days by an athlete.
"How have I done it? I'm not sure," said Iverson. "I'm just trying to keep it real, you know?"
Iverson's string of keeping it real dates back to November 1998, when he ended a streak of 1,194 days of keeping it real at that time by watching an episode of 7th Heaven. His previous instance of not keeping it real came in the summer of 1995 after he listened to, and enjoyed, a Bon Jovi song …
Chapter 6: College Basketball
College Basketball Fun Fact: More than 200 people are arrested each year for practicing Bracketology without a license.
Chapter 7: NHL
What is the most interesting fact about the Stanley Cup?
29% -- Every engraving of "Gretzky" is followed by "is a huge wuss"
15% -- It's taller than Theo Fleury
14% -- It prefers the name "Stan" to "Stanley"
14% -- The hollow center contains the remains of Eric Lindros' career
28% -- It hates Canadians
Chapter 8: Boxing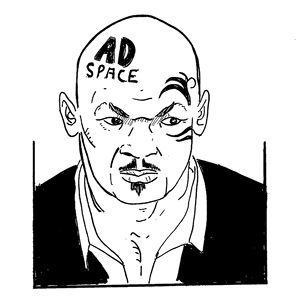 St. Martin's Griffin
Mike always knew he would make money with his body.
Strapped for cash, Mike Tyson begins selling long-term advertising space on his face.
Chapter 9: Golf
St. Andrews
Regarded as the home of golf, the club's full name is the Royal and Ancient Golf Club of St. Andrews, but many refer to it simply as the R&A. Interestingly, the town of St. Andrews' finest gentlemen's club -- the T&A -- is located just across the street from the clubhouse. The Old Course at St. Andrews is the oldest golf course in the world and has hosted dozens of Open Championships. Play began there in 1552 when Callum the Mud Farmer defeated Kieran the Drunk, 3-and-2 to win the Clarett Jug.
Chapter 10: Horse Racing
Great Moments In Horse Racing History

May 23, 1901: H. Spencer rides Commando to victory at the Belmont Stakes. Spencer was the last jockey permitted to ride without underwear.
Chapter 11: Summer Olympic Sports
If you had an Olympic gold medal, what would you do with it?
12% -- Wear it with an open-neck shirt and nestle it deep within my chest hair
18% -- Fashion it into a totally blinging eye patch
32% -- Trade it for steroids so you could win not one, but two gold medals in the next Olympics
38% -- Swing it back and forth and try to hypnotize hot chicks
Chapter 12: Winter Olympics Sports
Franz Klammer
The most dominant downhill skier of all time, Klammer had many nicknames -- "Kaiser Franz," "the Austrian Astronaut," and "the Klammer Express" -- proving both that he was immensely popular and that skiing fans come up with some really lame nicknames. His defining moment came at the 1976 Winter Olympics in Innsbruck when, cheered on by his home fans, he took the downhill gold in the final run of the competition. After his skiing career ended he focused on bodybuilding and for a time hosted a show on NBC with his friend Hans.
Chapter 13: Auto Racing
MapQuest directions drivers use to stay on course during the Daytona 500:
1. Start out going forward (distance: 3,800 feet)
2. Turn left (distance: 3,000 feet)
3. Go straight again (distance: 3,000 feet)
4. Turn left again (distance: 3,000 feet)
5. Go straight again
6. Repeat Steps 1 through 5 a few hundred times
Drag racers also frequently use MapQuest:
1. Start out going straight (distance: 0.25 miles)
2. Stop.
Chapter 14: Soccer
Top Stories: ... Americans eagerly anticipating when they'll begin to love soccer ... Lack of yellow card miraculously heals soccer player's broken leg ... Orange slices integral to youth soccer team's second-half comeback ... Big, fat, Greek soccer team tires in second half on way to loss ... Forty years of stoppage time added to lazy man's life …
Chapter 15: Tennis
Terms To Know

Fortnight -- a term used by the British to make "two weeks" sound more interesting and prestigious, as in "Wimbledon lasts a fortnight" or "Being English, I haven't brushed my teeth in a fortnight."
Chapter 16: Women's Sports
Fun Fact: A decathlon, which men exclusively compete in, includes 10 track and field events. A heptathlon, which women compete in, includes seven events. The three additional events men compete in are peeing while standing up, belch talking, and fart lighting.
Chapter 17: Miscellaneous Sports
Tony Hawk
Hawk began skateboarding at the age of 11 after having his very first Mountain Dew. Fueled by its extreme flavors and with a lot of free time on his hands, thanks to not being able to fall asleep, he practiced constantly, and by the age of 14 was a professional skateboarder. (Totally extreme career choice, dude!) He quickly became a legend in the sport, taking it from an underground activity that adults despised to an underground activity that adults still despised but could live with because they had figured how to whore it out for corporate dollars. Now nearly 40, Hawk is that creepy neighborhood older guy who still tries to hang out with the teenagers and use words like "grind" and "thrashed."
Chapter 18: Sports Business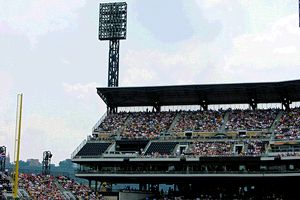 St. Martin's Griffin
Ahh ... the best seats in the house.
Upper deck seats are the cheapest at the stadium. Unfortunately, this means upper decks usually reek of poor people. Gross.
Chapter 19: Sports In America
Top Stories: ... 6-foot-4, 255-pound third-grader wins science fair with steroids experiment ... Debate team unable to talk its way out of beating by football team ... Guy much tougher on message boards than in real life ... Hunter mocks slain deer with celebratory dance ... Spelling bee finalist eliminated on the word "girlfriend" ... National Geographic swimsuit issue kind of disgusting ... Company softball team hungover again ... Chess club wiped out by tetherball ...
Chapter 20: Stadiums And Arenas
Cameron Indoor Stadium, Home of Duke University basketball
With only 9,314 seats, Cameron Indoor is practically tiny. In fact, nearly every seat is within earshot of Mike Krzyzewski's expletive-filled tirades, making it illegal for those under the age of 17 to enter the building if not accompanied by a parent or guardian. The student crowd, known as the Cameron Crazies, is famous for its enthusiastic and undying support of the Blue Devils, support that is bested only by that of referees and broadcasters.
Chapter 21: Sports Calendar
February

NHL All-Star Game: They've tried Wales vs. Campbell, East vs. West, and North America vs. the World. Next up is Whites vs. Jarome Iginla.
Pro Bowl: Where tackling by the lei is a 15-yard penalty.
Daytona 500: Nicknamed the "Great American Race," and nothing shows the melting pot that is America more than NASCAR's diverse fan base.
Chapter 22: The Future: A Look At What Will Be the Biggest Stories In The Coming Year …
Jose Canseco's new children's book, "Oh! The Places You'll Grow", hits the top of the bestsellers list.
DJ Gallo is the founder and sole writer of the sports satire site SportsPickle.com. He is also a regular contributor to ESPN The Magazine and has written for The Onion and Cracked. His first book – "SportsPickle Presents: The View from the Upper Deck" – is on sale now.