This year's NBA playoffs could be one of the most competitive and exciting in a generation.
In trying to determine which team will come out on top, I've listed 12 categories that define a championship team and then listed which playoff contender excels at each.
Take a look.
1. Staying relaxed: A major key to winning in the postseason is the ability to stay loose and relaxed no matter how pressure-packed a series gets. And who looks more loose and relaxed right now than this guy?
Edge: Denver Nuggets.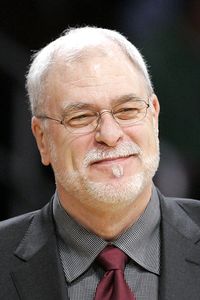 AP Photo/Mark J. Terrill
No Colonel Sanders jokes, please. After all, this man has coached nine NBA champions.
2. Coaching.
The postseason is when coaches earn their keep, and Lakers head coach Phil Jackson has nine titles. Can he win his 10th with Kobe Bryant and Pau Gasol? It used to be easy to say that Jackson could only win a championship when handed a roster with two superstars. But while Pau Gasol is very good, he's not Scottie Pippen or Shaquille O'Neal. If the Lakers win it all come June, we can no longer say that Phil Jackson with just one superstar is as exposed as Jeannie Buss in Playboy with just one basketball.
Edge: Los Angeles Lakers.
3. Point guard play: Everything runs through the point guard position, and Chris Paul outperformed all of his peers by a long shot. But the knock against the Hornets entering the playoffs is that they don't have enough experience to win in the postseason. Rubbish. You are forgetting the intangibles that Chris Paul provides. You are forgetting his performance in his last postseason appearance. The Hornets are getting handled by a more experienced player? Not anymore. Chris Paul just punched him in the crotch. That guy has bigger concerns now.
Edge: New Orleans Hornets.
4. Transcendent superstar: Basketball is a team game. But in the postseason, star players have to step up. Think of recent NBA champions and the names of one, maybe two players immediately come to mind. Now think of the Cleveland Cavaliers. If you can name anyone on the team other than LeBron James, you are probably Cleveland's head coach. And if you are, why are you reading this? You have a game to get ready for. A game plan that gets everyone out of LeBron's way isn't going to create itself.
Edge: Cleveland Cavaliers.
5. Motivation: Everyone wants to win a championship, but some players have reason to want it more. Take Kobe Bryant. He won three rings with Shaquille O'Neal, but he is out to prove he can win a title without Shaq. Especially since O'Neal won a championship in Miami without him. If Bryant ends his career without winning another title, he will go down in basketball history as Joe Penny. That name doesn't ring a bell? Yeah, no wonder. He's the actor on the left in this picture. And he also never accomplished much of anything after being separated from the "Fatman."
Edge: Los Angeles Lakers.
6. Defense: We have all heard it a million times: "Defense wins championships." It's cliché. But that doesn't make it any less true. And if you want defense, as always, you look no further than the San Antonio Spurs. They can hold even the most potent offense to record-low scoring numbers. In fact, they are so good at defense they have the potential to hold even the most promising postseason to record-low TV numbers.
Edge: San Antonio Spurs.
7. Bench: The NBA postseason is a long, grueling trudge and staying fresh with a deep bench is essential. The Washington Wizards had key players miss big portions of the season, but that allowed the team to develop its bench. Now, with everyone healthy, the Wizards can run 12 guys out there. Granted, a team like the Atlanta Hawks can also run 12 guys out there, but several of them would likely trip and fall or run into each other.
Edge: Washington Wizards.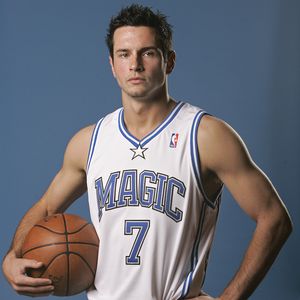 AP Photo/John Raoux
We absolutely can't wait for J.J. Redick to begin waxing poetic about the postseason.
8. Inspiration:
Sometimes when things get rough a team simply needs to be inspired. A halftime or pregame speech by the head coach is the traditional way to do this, but players have heard it all by this point in the season. Here is where the Orlando Magic have a huge advantage. They can turn to the verse of J.J. Redick, a resource they have grossly underutilized. Sure, his poems this season may have often read like:
Roses are red
Violets are blue
I want to play more
Boo-hoo, boo-hoo
But now they can use him to inspire his teammates to a long postseason run with words such as:
Now is the postseason
And that is the reason
That I wrote this poem
Now let's go show 'em!
Just try to stop the Magic after they hear that.
Edge: Orlando Magic.
9. Chemistry: Team chemistry is important. And the Pistons have the best chemistry. But like chemistry class in high school, through no fault of their own, the Pistons are kind of boring. The only time chemistry gets exciting is if there is some sort of explosion by mixing, say, hydrogen and fire or, for another example, Rasheed Wallace and a particularly incompetent ref.
Edge: Detroit Pistons.
10. Post Presence: As important as it is to have a good point guard in the playoffs, unless you are Michael Jordan's Bulls, a dominant big man is imperative to winning a championship, too. And point out Shaq's declining skills all you want, but he is still impossible to move off the low post. In fact, even when the opponent has the ball, he should stay planted right there instead of wasting his limited energy running back on defense.
Edge: Phoenix Suns.
11. Homecourt Advantage: Boston loves NBA basketball and Celtics fans have waited a long time to cheer for a legitimate title contender again. So the Garden will be plenty loud in the playoffs. And, perhaps most important of all, if the Celtics go 16-0, Boston fans will have legitimate reason to be obnoxious and condescending to everyone they meet without it backfiring on them in a cruel and hilarious manner.
Edge: Boston Celtics.
12. Luck: Sometimes it just seems a certain team is destined to win. It takes a gamble, which pays off. Its opponent takes a gamble, which doesn't. Or, as is sometimes the case, an official takes a payoff from a gambler.
Edge: Ask that one guy you know who knows a guy. (Maybe fate will smile on you this year, Suns!)
DJ Gallo is the founder and sole writer of the sports satire site SportsPickle.com. He is also a regular contributor to ESPN The Magazine and has written for The Onion and Cracked. His first book -- "SportsPickle Presents: The View from the Upper Deck" -- is on sale now.