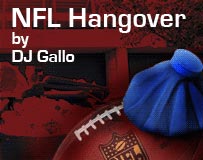 "I would rather play with 10 people and just get penalized all the way until we got to do something else, rather than play with 11 when I know that right now that person is not sold out to be a part of this team. It is more about them than it is about the team. Cannot play with them. Cannot win with them. Cannot coach with them. Can't do it. I want winners."
-- Mike Singletary, San Francisco 49ers head coach
Anyone who has followed Mike Singletary's football career wasn't surprised by his news conference tirade after the 49ers' 34-13 loss to the Seahawks in his coaching debut.
Iron Mike always has been able to deliver a strong message. We've heard it before. We've heard him speak about doing what's right and setting a style. About being big and bold.
But he needs to remember that getting a message across is all about delivery. You still can talk tough, just soften it around the edges a bit. The next time Singletary wants to fire up his team, he should follow these five steps:
1. Get some stage lighting and strobe lights.
2. Pull your pants up uncomfortably high.
3. Pump a generic Casio keyboard dance beat.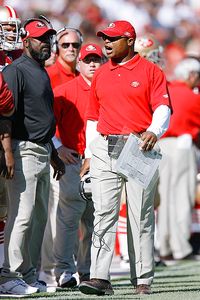 Greg Trott/Getty Images
Mike Singletary is going to be fun to watch the rest of the season!
4. Hand out instruments to your team.
5. Now sway from side to side. And step. And step. And step.
I'm Samurai Mike. I stop 'em cold.
Part of the defense, big and bold.
I've been jammin' for quite a while,
Doin' what's right and settin' the style,
Give me a chance, I'll rock you good,
Nobody messin' in my neighborhood.
I didn't come here lookin' for trouble,
I just came to do the Super Bowl Shuffle.
If that doesn't turn the 49ers around, remind Frank Gore that runnin' the ball is like makin' romance. And if that doesn't do it, well … you've done all a coach could possibly do, Mr. Singletary. Your players are hopeless.
---
Week in photos
• "Come on, just give it a chance. I guarantee you that my motivational speaker hand puppet is very inspiring."
• "Yeah, whatever, nobody. Get out of my way."
• "No, thanks. I doubt any sort of inside information could help us."
• "Oh, yeah. Oh, yeah. Show me some neck. Yes. That's right. Oh, yeah. That's real nice. Now scream for me. Yes! Scream! Oh, baby, this is good. This is real good."
• "Do you want to play quarterback? No, seriously."
• "That's right, ladies -- Supercuts. $11 including tip."
• "I bet he thinks I look fat."
• "Thank you very much. I want to kiss all of you, too."
• "Aaaaaaah! Get your bacteria hands off my face!"
---
Quote of the week
"It's great company."
-- Redskins running back Clinton Portis, on joining O.J. Simpson as the only players in NFL history to twice have five consecutive 120-yard rushing games.
Hmm. O.J. Simpson is "great company." You'll recall that Portis also famously supported Michael Vick last year. I'm starting to worry that when Portis dressed up in costumes, it wasn't just playful fun from a genuine NFL personality but instead was the act of a future criminal mastermind testing out various disguises.
---
Stat of the week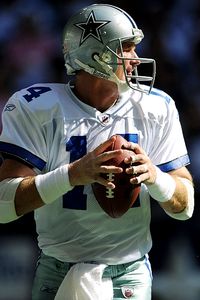 Ronald Martinez/Getty Images
Hey, the numbers don't lie!
166 -- With his touchdown pass to Roy (E!) Williams at the end the first half against Tampa Bay, Brad Johnson moved into 51st place on the all-time list with 166 touchdown passes, behind such notable quarterbacks as -- well, I'm not going to list them all. He's pretty far down the list. But he did move ahead of one particularly notable quarterback: Troy Aikman.
Johnson also has a higher career quarterback rating (82.7) than Aikman's (81.6). And a better completion percentage (61.7 versus 61.5). And fewer interceptions (120 versus 141).
Of course, comparing Brad Johnson to Troy Aikman is laughable. First of all, Aikman and Johnson played in far different eras -- Aikman came into the league a full three years before the current Cowboys quarterback. Plus, Aikman won his Super Bowls playing with the likes of Emmitt Smith, Michael Irvin, Jay Novacek, a star-studded offensive line and a stout defense. He only had to manage the game and get the ball into the hands of his Hall of Fame playmakers. Johnson won his Super Bowl playing with the likes of Warrick Dunn, Keenan McCardell and a stout defense. So clearly Aikman is the superior quarterba- … wait, it's still sounding like Johnson might be better!
Oh, right. I almost forgot. Aikman played for the Cowboys, while Johnson toiled for the Vikings, Redskins and Buccaneers.
So to recap: Aikman > Johnson.
---
Web site of the week
Favre family blog: Deanna Favre, Brett Favre's wife, made her first post on the family's blog on Friday and -- in more than 1,200 words -- railed against the media scrutiny her husband has faced.
Yawn. Bo-ring. Another blog ripping the media? Been done before elsewhere. And better.
I don't want another biased blog prattling on and on about nothing. What I want is a Web site that can concisely deliver useful information that will help me in my everyday life. Ahh … that's better.
---
How they spent their bye week
Chicago: Challenging Brian Urlacher to an honor duel.
Denver: Realizing Mike Shanahan's true heritage.
Green Bay: Getting tips from Brett Favre on how to beat themselves.
Minnesota: Ridding the team of Williamses.
---
Horrible fantasy team that crushed your team this week
Tyler Thigpen, QB, Chiefs -- 25-for-36, 280 yards, two touchdowns
Leon Washington, RB, Jets -- 101 total yards, two touchdowns
Kevin Faulk, RB, Patriots -- 107 total yards, one touchdown
Donnie Avery, WR, Rams -- six catches, 163 yards, one touchdown
Matt Jones, WR, Jaguars -- eight catches, 117 yards, one touchdown
Kevin Boss, TE, Giants -- four catches, 34 yards, one touchdown
---
10 things I think a thinking being has the capacity to think
1. As bad as this diuretics thing is for the NFL, it is far better than the coming Dianetics controversy. I guarantee you that in the next five years, a high-profile player -- perhaps Tom Brady, Matt Leinart or Tony Romo -- will dabble in Scientology. And if it doesn't happen, I promise all of you one free auditing of your phaeton, with a guaranteed cleansing of all of your body thetans! Or a bootleg copy of "Vanilla Sky."
2. The NFL needs to be more selective with the teams it sends overseas. Between the international success of "Napoleon Dynamite" and Londoners' being subjected to the throwing motion of Philip Rivers on Sunday, the chance that Great Britain will ever produce an NFL quarterback is about nil.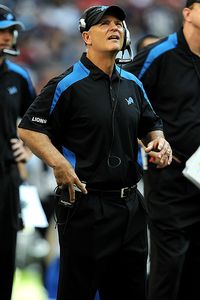 Ronald Martinez/Getty Images
Rod Marinelli probably wishes he didn't have to watch the Lions on Sunday.
3. Asked after Detroit's loss to Washington on Sunday whether he believes his team is preconditioned to lose, Lions head coach Rod Marinelli said: "I don't deal in couch therapy." Good to know. And for the record, in the past three weeks we have learned that Marinelli doesn't believe in therapy and that he looks at "authority" and takes his "marching orders from there." So to recap: A blind allegiance to authority and no therapy. I'd say Marinelli is lucky he had an honorable Scoutmaster as a young boy.
4. The Lions were blacked out this week for the first time since 2002. That is remarkable. Lions fans deserve all the credit in the world for being so loyal for so long to such a horrible franchise -- especially because NFL tickets are not cheap and the economy hasn't exactly been stellar in Michigan. Either Lions fans are among the best in the league, or they just happened to attend one game six years ago and have been unable to find the stadium exits thanks to the bags on their heads.
5. A week after punter Steve Weatherford was cut by the Saints, he was punting for the Chiefs. But he wasn't wearing his trademark watch. Why? Did he forget it in New Orleans? Do the Chiefs have a "no-wristwatch" policy? Or, most likely, has he vowed not to look at his watch again until he is done playing for the Chiefs in hopes that it will seem as if time is passing faster?
6. In Week 1, the Chiefs knocked Tom Brady out for the season. This week, they intercepted Brett Favre three times. What does this team have against our national icons? I half expect Larry Johnson to assault Lady Liberty.
7. In my ongoing quest to get you closer to the game than any other football writer, I present: "The Things That Go Through Ben Roethlisberger's Head in the 14 Seconds Before He Releases the Ball."
:01: "OK, five-step drop. Let me check out my primary read …"
:02: "Not open there quite yet. The cornerback is a little tight on Hines."
:03: "Ooh! Nate Washington is about to get open deep. Almost there …"
:04: "Is Heath Miller open?"
:05: "I think I'm starting to get some backside pressure. Better step up in the pocket …"
:06: "Hines is almost open!"
:07: "Now Nate is almost open!"
:08: "Heath, too!"
:09: "Hey! Who is sacking me?! I'm sick of getting sacked."
:10: "Oww!"
:11: (Checks to make sure he isn't injured)
:12: (Pulls himself off the ground)
:13: "Ah, jeez -- look how wide open everyone is now! If only I had been given a few more seconds of protection …"
:14: (Releases the ball to an official to set it down seven yards behind the original line of scrimmage)
8. Although Roethlisberger had a poor game against the Giants, he did make some Steelers history. His 189 passing yards moved him into third place on the Steelers' career passing yardage list behind Terry Bradshaw and … drumroll, please … Kordell Stewart. No lie. I am of the opinion that Stewart still could play in the NFL. For the Steelers, even. Pittsburgh could use Slash. If it had a QB/RB/WR/long-snapper Sunday, it might be 6-1 today.
9. And now I present the short play: "Jerry Jones Gives a Game Ball to Wade Phillips Following the Cowboys' Win."
(Scene: Postgame locker room)
Jones: "And I also would like to give a game ball to Wade for a job well done!"
Phillips: "Thanks. I have never been given a game ball before."
Jones: "Well, you deserve it."
Phillips: "I guess so. But, you see, I've never been given a game ball before because the coach is supposed to hand out game balls, not the owner. And it would be weird to give myself a game ball."
Jones: "Don't get mouthy about one win, Bum's Embarrassment. I can still fire you in a second."
Phillips: "Yes, sir."
(End scene)
10. Not too shabby of a sports weekend in Philadelphia. The Flyers won two games against the rival New Jersey Devils. The new-look Sixers won their final tune-up before what looks to be a promising regular season. Penn State beat Ohio State. The Phillies moved to one win away from a World Series title. And the Eagles beat the Falcons. Of course, on the downside, the … umm … there was … you see, the … and, uh … not surprisingly, the … umm … uh, Santa Claus?
Oh. My. God. No current punch line about Philadelphia sports exists.
This is not change I care to believe in.
DJ Gallo is the founder and sole writer of the sports satire site SportsPickle.com. He also is a regular contributor to ESPN The Magazine and has written for The Onion and Cracked. His first book, "SportsPickle Presents: The View from the Upper Deck," is on sale now.