This column is supposed to be a wrap-up of the week's NFL action, but I doubt anyone cares about that when we have playoff matchups to look forward to.
So let's take a look at each team's odds of winning the Super Bowl five weeks from now.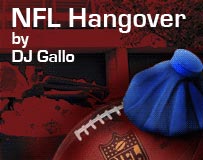 Arizona Cardinals (9-7, No. 4 seed in NFC): There are three things we know about winning in the postseason. One, you have to have a good defense. (The Cardinals do not.) Two, you have to be able to run the ball. (The Cardinals cannot.) Three, you can't be the Cardinals. (The Cardinals are the Cardinals.)
Odds: 50:1
Minnesota Vikings (10-6, No. 3 seed in NFC): Tarvaris Jackson has been solid down the stretch, but it's difficult to see him winning a Super Bowl this season. Despite that, the Vikings have the defense and running game to play well in January. Now they just need to really pump the air conditioning at the Metrodome.
Odds: 35:1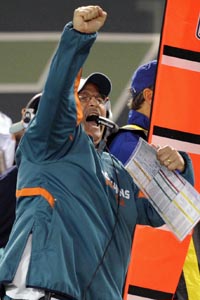 Rich Kane/US Presswire
Tony Sparano's Wildcat offense
is bound to give playoff foes a headache.
Miami Dolphins (11-5, No. 3 seed in AFC): Like the rest of the AFC East, the Dolphins benefited from an easy schedule this season, getting to beat up on the AFC West and NFC West. So are the Dolphins for real? It's difficult to tell. But their Wildcat offense surely will give playoff opponents a headache. Think of it as Joey Porter's mouth in offense form.
Odds: 30:1
San Diego Chargers (8-8, No. 4 seed in AFC): San Diego has the talent to go all the way -- and the embarrassingly awful record to be overlooked. Well played, Chargers, well played.
Odds: 20:1
Atlanta Falcons (11-5, No. 5 seed in NFC): Matt Ryan has been outstanding all year. But rookie quarterbacks usually struggle in the postseason. Of course, most rookie quarterbacks aren't able to warm up in the postseason by playing the Cardinals.
Odds: 18:1
Philadelphia Eagles (9-6-1, No. 6 seed in NFC): The Eagles are a solid team that played seven games with a final margin of seven or fewer points. All those tight games should have them well prepared for the postseason. I would just hate to see what would happen in the playoffs or Super Bowl if they tied someone.
Odds: 15:1
Tennessee Titans (13-3, No. 1 seed in AFC): The Titans have the best record in football, but do they have the best team? Will Kyle Vanden Bosch and Albert Haynesworth be 100 percent? Is Tennessee's 3-3 record down the stretch a sign of vulnerability? Does anyone honestly believe Kerry Collins can quarterback a team to a Super Bowl title? Will this write-up be nothing but questions? No.
Odds: 12:1
Indianapolis Colts (12-4, No. 5 seed in AFC): Hey, have you heard that Peyton Manning and the Colts have won nine in a row and are "flying under the radar"? Yeah, me too. Lucky for me, I have another kind of radar that detects things that are said all the time, and "Colts under the radar" is pretty much filling the entire screen.
Odds: 11:1
Baltimore Ravens (11-5, No. 5 seed in AFC): The Ravens always have a strong defense, but now their offense can move it on the ground or through the air. But a lot of people don't give them their due respect. Take Tampa Bay's Jeff Garcia on Sunday, for example. The Bucs weren't even playing the Ravens, yet Garcia chose to mock Joe Flacco's eyebrows. Ridiculous.
Odds: 10:1
Carolina Panthers (12-4, No. 2 seed in NFC): The Panthers have been the NFC's best team down the stretch, but that close loss at the Giants in Week 16 means they likely will have to go on the road to reach the Super Bowl. But I think any team with Steve Smith has at least a puncher's chance.
Odds: 8:1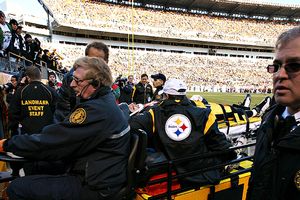 Karl Walter/Getty Images
Indeed, the Steelers should try to limit Ben Roethlisberger's turnovers. But strapping him to a stretcher might be taking things too far.
Pittsburgh Steelers (12-4, No. 2 seed in AFC): With their elite defense and talented offense, the Steelers are an attractive Super Bowl pick. But to win it all, they must find a way to limit Ben Roethlisberger's turnovers. (Although I thought strapping him down was a bit excessive.)
Odds: 7:1
New York Giants (12-4, No. 1 seed in NFC): With no other clear favorite, you have to go with the defending champions, who earned the No. 1 seed in the NFC. The reason is Tom Coughlin. In a season full of distractions, he has kept the team together. Even yesterday, in a game at Minnesota that meant nothing for the Giants, he got a good effort out of his team and was able to rest some starters at the same time. Best of all, as a master stroke, he was able to rest his starters and keep them out of sweatpants at the same time.
Odds: 6:1
Week in photos

"This team is going backward without me."
"Pffft. I bet my headache is a lot worse than Big Ben's."
"Thank you for all you've done to help me get off to a good start as a head coach."
"Wait … I've been wearing this thing all season with no top? I'm so embarrassed."
"Hello, ladies. I got some mousse and a hair dryer for Christmas."
"Right now it's so far right that Norwood could make it."
"Poor fan sign design and layout … check."
"Wooooo! Teaching my son to celebrate failure! Father of the year!"
"I see what you're saying. The 49ers definitely are making fun of your mustache."
"Losing, my jowls and gravity have finally conspired to defeat my smile."
"Why doesn't anyone understand that I try to be giving during the holiday season?"
"I'm trying to take some time off! Stop calling timeouts!"
"Come on! You stopped the clock again! What did I say?!"
"I will always miss your musk."
"I score the fight 116-113, Quinn."
"Oh, no. Our stink is now visible."
Quote of the week

"I've had a lot worse happen to me than a loss in a sporting event, that's for sure. If this is the worst thing that ever happens to me, then I've led a pretty good life."
-- Tony Romo
Look at Tony Romo with the healthy perspective on life. Good for him. But I'll have you know, Mr. Romo, there are more important things in life than perspective, Mr. Romo -- LIKE SMASHMOUTH FOOTBALL IN DECEMBER … RAWWWWRRRRR!!!
Stat of the week

386 -- Drew Brees needed 402 yards against the Panthers on Sunday to break Dan Marino's single-season passing yardage record. He finished with 386. However, Brees needed only 1 yard to set his career best for passing yards in a season, and he pretty much blew that out of the water.
Horrible fantasy players who will be drafted too early next season because of Sunday

JaMarcus Russell, QB, Raiders -- 14-for-21, 148 yards, 2 TDs, 1 INT
Michael Bush, RB, Raiders -- 27 carries, 177 yards, 2 TDs
Tatum Bell, RB, Broncos -- 117 total yards, 2 TDs
Deion Branch, WR, Seahawks -- 6 catches, 92 yards, 2 TDs
Johnnie Lee Higgins, WR, Raiders -- 6 catches, 52 yards, TD
Brent Celek, TE, Eagles -- 3 catches, 30 yards, TD
Fantasy team that got it together a bit too late:

Donovan McNabb, QB, Eagles -- 12-for-21, 175 yards, 2 TDs, 1 rushing TD
LaDainian Tomlinson, RB, Chargers -- 14 carries, 96 yards, 3 TDs
Steven Jackson, RB, Rams -- 215 total yards, TD
Marques Colston, WR, Saints -- 7 catches, 123 yards, TD
Laveranues Coles, WR, Jets -- 4 catches, 88 yards, TD
Tony Scheffler, TE, Broncos -- 5 catches, 75 yards, TD
10 things I think our old acquaintances shall forget to think

1. Now that Eric Mangini has been fired by the Jets, it will be interesting to see whether he gets another head coaching job in the NFL. There are those who feel he isn't trustworthy, considering he blew the whistle on the Patriots for filming opponents. You see, it would have been better for his career had he let the Patriots film the Jets, racked up another loss or two per season in the process, and then gotten fired sooner for having an even worse win-loss record. Then he wouldn't get another job because his record suggests he is a terrible coach. It's simple logic, really.
2. Ben Roethlisberger is expected to play in two weeks, after Pittsburgh's first-round bye, but the Steelers have to be concerned about his future. A concussion isn't just a concussion for a guy who put his face through a Chrysler New Yorker. I mean, when you are so fragile that you can be injured by an American-made car, you have some problems.
3. And now I present the short play "Fight in the Browns' Locker Room."
(Scene: The Browns' locker room. Brady Quinn is finishing up a set of preacher curls.)
Quinn: "Oh, yeah. Look at those striations. I'm cut, baby. I'm cut."
(A teammate walks up and punches him in the face. Quinn doesn't even budge.)
Teammate: "What the … ? I just punched you as hard as I could. You didn't even feel it."
Quinn (smirking): "I know. You think a few seconds of applying Vaseline to a boxer's face between rounds helps deflect punches? Just think what 20 years of daily application of facial creams and lotions does."
(Several more teammates punch Quinn.)
Quinn: "Nothing, fellas. Sorry. I'm indestructible. None of you can defeat me."
Teammate: "Bull----. I know someone in this locker room who can drop you in a heartbeat."
Quinn: "Ha! Impossible."
Teammate: "Braylon! Get over here."
(Quinn runs out of the locker room screaming.)
(End scene.)
4. I'm not surprised the 49ers won yesterday while wearing those hilariously ironic mustaches. Successful coaches like Jeff Fisher and Mike Holmgren have made careers out of lightening the mood around the locker room by wearing mustaches that no one would ever wear aside from trying to get laughs.
5. Andy Reid should have at least shaved before this week's game. He is supposed to be a professional. I realize the playoff chase was stressful on the Eagles, but I hope Reid is not starting to let himself go.
6. Watching Brett Favre play Sunday reminded me of watching Willie Mays play outfield for the New York Mets. Well, admittedly, I never saw Mays play outfield for the Mets. I wasn't alive then. But my grandfather told me about it. He said Mays would field the ball and then throw it to the wrong team. Grandpa was senile then, so I can't vouch for the accuracy of his story. But that sure sounds like Favre.
7. Favre plans to get an MRI on his shoulder. But I don't think someone with a heart as big as Brett Favre's can fit into an MRI machine. (Please send my Football Writers Hall of Fame nomination to DJ Gallo, c/o ESPN, Bristol, CT. Thank you.)
8. And now I present the short play "Tony Romo Collapses in the Shower."
(Scene: Outside the team shower in the Cowboys locker room. There is a commotion. Wade Phillips runs onto the scene, breathless.)
Phillips: "What happened? I heard someone collapsed in the shower. Who is it?"
Terrell Owens: "That's my quarterback, man."
Phillips: "Jason, you and Tony spend a lot of time together. Do you know why he would collapse?"
Jason Witten: "Hmm, let me think. We talk about plays, how much we hate T.O., how we think you are an idiot, 'Gossip Girl,' Miley Cyrus, our American Girl dolls and our hopes and dreams. But, no, he never said anything about feeling faint or anything. Sorry, coach, I don't know what to do."
Phillips: "OK, OK -- well, we have to do something. And fast! He's just lying there naked under a stream of water. Too bad Jessica isn't here right now to go in with him. OK, does anyone have any experience dealing with a crisis in a shower?"
(Jerry Jones runs in.)
Jerry Jones: "What's happening?"
Phillips: "Tony is drowning in the shower."
Jerry Jones: "I will sign the most acclaimed water rescue personnel in the entire country to massive contracts!"
Phillips: "I don't think we have the time for that, Jerry."
Jerry Jones: "But I can't think of any other alternative."
(Romo stumbles out of the shower.)
Romo: "Hey, fellas. What's all the commotion?"
Phillips: "You collapsed in the shower."
Romo: "Oh, right. Poor shower scheme."
(End scene.)
9. Romo seems to be a good guy. So unless you are a devout Cowboys hater (and, hey -- completely understood if you are), it's difficult to watch him struggle at the end of every season. So I would like to help. Here are steps Romo can take to become more clutch:
Step 1: Drive a manual transmission car.
Step 2: Carry around a small purse that has no straps or handles.
Step 3: Pump the ball once before dunking it.
Step 4: Stop sucking at football at the end of the season.
10. Here is my belated holiday gift to you: the gift of time. During the 15 minutes of pregame before each playoff matchup next week, you will see various players come on screen. They will be dramatically lit; they might even be in black and white. And they will all say something to the effect of: "It's now or never. It's win or go home." There you go. Now you don't have to watch. I just gave you an hour of your life. You're welcome. Enjoy the playoffs.
DJ Gallo is the founder and sole writer of the sports satire site SportsPickle.com. He also is a regular contributor to ESPN The Magazine and has written for The Onion and Cracked. His first book, "SportsPickle Presents: The View from the Upper Deck," is on sale now.