The Super Bowl is over. The Pro Bowl is over. The NFL draft show is almost about to begin.
But until it does, let's take a look at some of the biggest questions this NFL offseason.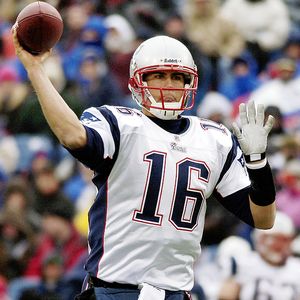 AP Photo/Don Heupel
Cassel could make a fortune for riding the pine next season.
Matt Cassel has been franchised by the Patriots for $14.65 million. But he can be had by another team in exchange for two first-round picks. Will that happen?
Yes. Are two first-round picks (and $14.65 million-plus) a lot to pay for an unproven quarterback who went 2-4 against playoff teams last year? Most definitely. But think about it -- a team desperate and stupid enough to make that move doesn't have the talent evaluation capabilities to select anyone good with their draft picks anyway. So they'd be giving up two of nothing for one of at least something.
Which team is the best bet to acquire Cassel?
The Detroit Lions. They want a quarterback, and have this year's No. 1 overall pick to offer New England. I can already picture what Cassel would look like in a Lions uniform. Check it out.
Is Brett Favre retired for good?
Yes. I tried to text him Thursday about it and he responded: "I don't know who this Brett is that u r trying 2 reach. My name is Sharon. I think u hav the wrong #." I think it's pretty clear that he has moved on from his football identity. So take him at his word that he has retired from the Jets. And the Packers. Only 30 teams left to go.
Will the Giants keep Plaxico Burress?
Eli Manning proved down the stretch that he can't succeed without an elite receiver, but Drew Rosenhaus is trying to get his client traded out of New York. Look for Rosenhaus to work out Burress' release from the Giants, and then have him sign with several different teams. Would that be against the rules? Would Burress get sued? Yes. But he doesn't respond to lawsuits, so it wouldn't really be a concern.
What about Anquan Boldin, Chad Ocho Cinco and T.J. Houshmandzadeh?
Boldin and Ocho Cinco are also clients of Rosenhaus, who is lucky that locker room cancer isn't considered a biological weapon, or else he'd be in The Hague. Rosenhaus is hoping to work out trades for both of them. Houshmandzadeh will have plenty of suitors as the biggest name in this year's free-agent pool. (Get it? Biggest name? It's a pun. I SO RULE!)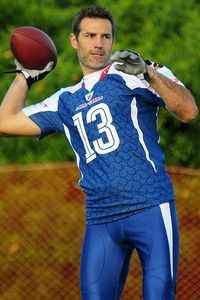 AP Photo/Ronen Zilberman
Kurt, we know you like to wear gloves, but c'mon dude, you're in Hawaii!
Will Kurt Warner return?
Yes. He is tempted to do charity work full-time, but his wife thinks he should also continue his off-the-field endeavors and not focus solely on the Arizona Cardinals. (Boom, boom, BOOM! Back-to-back. Catskills, here I come.)
Are the Falcons really going to place the franchise tag on their punter?
It seems so. And while Falcons punter Michael Koenen seems like a nice gentleman, I hope he uses this magical milestone in punting history to become the first me-first punter. You know, demand more touches. Change his name to Michael Nueve. Ask for a bigger locker to be shoved into.
The Ravens have three unrestricted free agents at linebacker -- who stays, who goes?
Bart Scott will likely be the odd man out. Terrell Suggs and Ray Lewis will be re-signed. Terrell Owens and other Cowboys players are lobbying Jerry Jones to bring God's Linebacker to Dallas, but Lewis' becoming a Cowboy is unlikely. I mean, Jesus hung out with beggars, prostitutes and thieves, but even he probably had his limits.
Can the Cowboys solve their chemistry problems?
That's up to Tony Romo and his development as a leader. As an acquaintance said, Romo wants to be with people who can "have a few beers, fries, ribs and dessert." And that's great. He should invite more teammates out with him. Because it's better if one person doesn't hog all that food.
How will the Chargers resolve their running back situation?
San Diego will look to renegotiate LaDainian Tomlinson's contract, and place the franchise tag on Darren Sproles. That would prevent other teams from acquiring Sproles, because they likely wouldn't be able to see him behind the tag.
Who will be named the new executive director of the NFL Players Association?
Former Bear, Dolphin and Raider Trace Armstrong is the most likely choice. He is the former president of the players' union, and his hulking neck makes it unlikely that the commissioner could get a leash around it.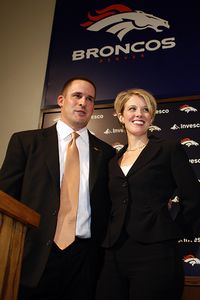 AP Photo/David Zalubowski
Looks a little young to be a head coach, doesn't he?
Of the 11 new head coaches, which one will face the biggest adjustment?
New Denver head coach Josh McDaniels is only 32 years old and is coaching a team outside of the division with which he is most familiar. While McDaniels is very talented, he may struggle at first. If all goes well, he can lead Denver to a division title in 2009. And if all goes really well, the Broncos will struggle and McDaniels will agree to stay on as Bill Cowher's offensive coordinator in 2010.
What personnel issues are facing the Super Bowl champs?
The Steelers have four unrestricted free agents on their offensive line. Of the four, look for them to focus on re-signing left tackle Max Starks and guard Chris Kemoeatu. They were consistently the best at helping Ben Roethlisberger up off the ground.
Is the NFL feeling an impact from the economic downturn?
I'm no economist, and I don't want to be an alarmist, but I have noticed that NFL stadiums have been pretty vacant in recent weeks. RUN FOR YOUR LIVES!!!
DJ Gallo is the founder and sole writer of the sports satire site SportsPickle.com. He also is a regular contributor to ESPN The Magazine and has written for The Onion and Cracked. His first book, "SportsPickle Presents: The View from the Upper Deck," is on sale now.