After a seemingly endless spring training, the World Baseball Classic and exhibition game after exhibition game, the baseball regular season is here.
But there is still one thing left that won't waste your time: my baseball preview.
NL EAST


Atlanta Braves
Chipper is the leader of the Braves. Casey is the big, sensitive type who just wants to be loved. Jordan, with his wavy hair, is the youngest member. Yunel provides some Latino flavor. Kelly, the Texan, can do a little bit of everything. And Garret is the newcomer to the group from Los Angeles who wants to provide some more pop.
The Braves' lineup may not be the best in baseball. But it contains all the elements to become a great boy band.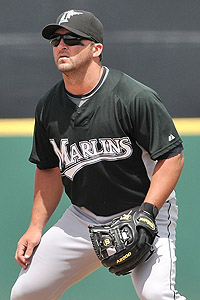 Mark Cunningham/Getty Images
"Please don't hit me a grounder ... please don't hit me a grounder ... please don't hit me a grounder."
Rookie center fielder Cameron Maybin is the model for what the Marlins want to become: a team stocked with players who can hit for both average and power, run, throw and field their positions. He is a true five-tool player. This new management approach likely will result in the trade of All-Star second baseman Dan Uggla, who has five tools only if you give him one of those three-tool starter belts you can get at a hardware store.


New York Mets
The New York Mets' Citi Field may be new, but it's far from perfect. The stadium has many obstructed-view seats. The Mets likely will slash the prices on these seats. Then, if they're smart, they'll charge top dollar for them in September.
"Oh, no. I can't watch them implode again."
"Well, have we got the seat for you!"


Philadelphia Phillies
The Phillies need to play this season with the knowledge that everyone always tries to knock off the guy who's on top. They also could use another good arm. So I say the Phillies should sign the guy who was responsible for this piece of Philadelphia fan history.


Washington Nationals
Done in by terrible decisions, worse baseball and various scandals involving the signing of prospects, Nationals general manager Jim Bowden resigned last month. But although he may be knocked out, know that he will never be knocked down. Primarily because he rides around on a Segway. Those things are almost impossible to crash.
NL CENTRAL


Chicago Cubs
Milton Bradley is in the first year of a three-year, $30 million contract with the Cubs. So he's doing quite well financially. But I've always thought he could do even better … with baseball-themed board games from Milton Bradley! Yay!
Sheets and Ladders: Players navigate a board with 162 squares -- representing games -- trying to get Ben Sheets through an entire season without injury. Get hurt and -- whoops! -- you'll have to climb your way back up the ladder to the major leagues with a rehab stint in the minors. (Note: It is impossible to win this game.)
Zisk: Modeled after Risk, the point of this game is to strategize ways to hold down a starting outfield position in any number of major league cities across the country. The winner receives a large porn mustache that must be worn until the game is played again.
Mikenapoli: Using fake money, players engage in simulated dealings and negotiations about Angels catcher Mike Napoli. To win, a player must get Napoli a long-term deal on a team that will no longer force him to platoon.


Cincinnati Reds
Homer Bailey may spend most of the season in Cincinnati's rotation. He may work out of the bullpen. What's certain is that at age 22, he'll be a big part of the Reds' pitching staff for years to come. So it's too bad for Cincinnati that his name is "Homer." I can think of only a handful of names that might be worse for a pitcher.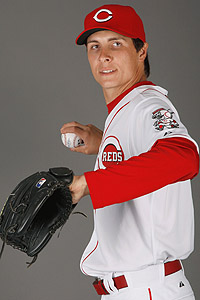 Chris Graythen/Getty Images
It could be worse, Homer's parents could have gone with Pecota.
Balk Bailey
Bases-On-Balls Bailey
Broken-Arm Bailey
Bust Bailey
Candy-Arm Bailey
DL Bailey
Grand Slam Bailey
Meatballs Bailey
Rotator Cuff Bailey
Wild Bailey
Hideki Irabu
(Note: Although all of these are bad names for pitchers, many of them are good hobo names.)


Houston Astros
Congressman: "I will ask you again, Mr. Tejada -- and let me remind you that you are under oath -- do the Astros have a chance to beat the Cubs this year in the Central?"
Miguel Tejada: "Yes, sir."
Congressman (aside, to an aide): "OK, that's a 'No.' So let's use more of my kickback money to put down on the Cubs to win the Central."


Milwaukee Brewers
The Brewers have all the offense any team could want. Their success this year hinges on pitching. Enter 23-year-old starter Yovani Gallardo. He is expected to fill the shoes of CC Sabathia and Ben Sheets. But he will not. Sabathia's shoes are triple-E width and have no arch support because his weight crushed it. And Sheets' shoes look like this. Gallardo will do fine to use his own shoes.


Pittsburgh Pirates
The marketing slogan for the 2009 Pirates: "Pride. Passion. Pittsburgh Pirates." Witness the power of punctuation. It would mean something entirely different if it were to read "Pride? Passion? Pittsburgh Pirates?!" And it would make more sense, too.


St. Louis Cardinals
The Cardinals hope converted outfielder Skip Schumaker will be their answer at second base. They can only hope the change will go as well as the change of a former Tony La Russa player who famously switched positions -- Jose Canseco, who went from outfielder to pitcher with the Texas Rangers in 1993. Canseco hurt himself, which hastened the end of his career, but went on to be the sport's whistle-blower and single-handedly revived the mesh shirt industry. Good luck topping that, Skip.
NL WEST


Arizona Diamondbacks
Mark Reynolds set a major league record last season with 205 strikeouts. Chris Young had 141 K's. Justin Upton had 121 in only 356 at-bats. Stephen Drew had 109. Chris Snyder whiffed 101 times. There is a school of thought that says the Diamondbacks must cut down on their strikeouts to be successful this season. But I don't know. When you keep working pitchers to three-strike counts, you really start to wear them down.


Colorado Rockies
It wasn't long ago when the Rockies were a team on the rise. But now Matt Holliday is gone, Jeff Francis is likely out for the season and Rocktober is just a typo. Todd Helton is still around. But he's probably the next to go, off to give Kyle Orton a run for the Broncos' starting job.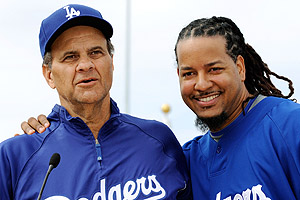 Kevork Djansezian/Getty Images
"Don't mind the stenographer, Manny, it's just one of those wacky Hollywood things."
Manny Ramirez's return has provided a noticeable lift to the Dodgers. Hitters such as Russell Martin and Matt Kemp are more relaxed knowing they won't have to carry the offense. The pitching staff is confident it will have run support. Management is happy tickets will still sell in this down economy. And Joe Torre is excited about all the extra material he'll have for his Dodgers tell-all book.


San Diego Padres
It's popular for the Padres to blame their offensive woes on the size of Petco Field, but as the saying goes, "It's not the size that matters. Really. It's not. It's OK. Just please stop crying. Please. Enough! That's enough, OK? All right, this has gone on too long. Be a man! You are pathetic. Just pathetic. You know what? Go. Just go. I'm not drunk anymore anyway."


San Francisco Giants
People still talk about that time Randy Johnson made a bird explode so many springs ago. But that was just a bird. A single bird. I have seen dozens of Giants fans explode when thinking about Barry Zito's contract. And these are human beings, not flying rats. Yet until someone catches it on camera, I guess that won't become a YouTube phenomenon. Weird world.
AL EAST


Baltimore Orioles
Orioles outfielder Adam Jones is a good, young player with a very unfortunate name. Before games, when people ask him to sign stuff, I wonder whether he signs "Adam Jones." Or, "Adam Jones … but not THAT Adam Jones. So please don't mace me when I hand the ball back to you."


Boston Red Sox
Bill James has written numerous books and is Boston's senior adviser of baseball operations. And it's all thanks to sabermetrics.
But Mr. James should not rest on his laurels. It's time for some new statistics.
SAKATA: Similar to Nate Silver's PECOTA player-comparison system. But with SAKATA, if a player rates higher than former Orioles utility infielder Lenn Sakata, he is deemed to have a shot at the major leagues. But if he rates lower, he should be told to give up the sport immediately and sent away.
OOPS: OPS is used to evaluate hitters, while OOPS will evaluate general managers. If you score at the top of the OOPS scale (100), you have made frequent misses on free agents or have routinely overpaid for players. But, hey, at least you're trying. (Brian Cashman has a 100 OOPS.) If you score at the bottom of the OOPS scale (0), you have not made any mistakes on free agents … because you're not even attempting to sign anyone good and therefore have almost no chance of winning. (Pirates general manager Neal Huntington has a 0 OOPS.) The ideal OOPS is 50.
VORS: VORP is value over replacement player. VORS is value over replacement statistic, allowing sabermetricians to evaluate which sabermetric statistics are superior. Only the evaluation is completely subjective. And I say SAKATA owns everything else.


New York Yankees
Enough with all this blasphemy about how Derek Jeter can't field his position. I will not hear of it! Jeter can field his position -- knees bent, glove to the ground, perfectly set smack-dab between second base and third base. Make him get out of that specific position and, say … move slightly to his right or left, then -- sure, there may be some problems. But that's on the pitchers, not our beloved Yankees captain!


Tampa Bay Rays
There is a lot of discussion about who will be this year's Rays. I have a pick: this year's Rays. I mean, it says RAYS right there on their jerseys. To me, that's a dead giveaway. It's not as if teams are just given jerseys on the first day of games as though it's some cut-rate little league. We know who the Rays are. This year's Rays even have many of the same players as last year's Rays. Is all this not obvious to anyone else? (Also, I think this year's Royals will be the Royals. Only much better. Sort of how the Rays improved a lot last year. Or, the Reds could be this year's Reds, but like how I think the Royals will be like the Rays. They could also be the Reds while being the Netherlands. Or maybe both the Royals and the Reds will be themselves while also being like the Rays and Netherlands at the same time. And, of course, the Rays will stay the Rays. Oh, and I think the Padres will be this year's Padres, only bad like the Rays of two years ago or the Royals of last year or history's Netherlands. It gets kind of confusing.)


Toronto Blue Jays
Want to attend all 81 Blue Jays home games this season? Of course you do! All you needed to do was spend $95 for a Toronto Star Season Pass to get an upper deck seat at every home game this season. That works out to $1.17 per game -- meaning watching Blue Jays baseball is worth less than a gallon of gas, less than a two-liter bottle of soda, even less than a single pack of baseball cards.*
*Unless that pack of cards contains a Blue Jays player. Then it's pretty much worthless.
AL CENTRAL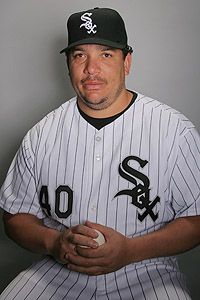 Matthew Stockman/Getty Images
"This is Bartolo here to say I'm going to jam the ball down your .... mmmm .... jam .... "
You might think the White Sox are desperate to be counting on the generously proportioned Bartolo Colon to hold down a spot in their rotation. But
look at Mr. Colon
. What you can't see in that picture are his shoulders. And he will be pitching this year with a chip on his shoulder. Actually, chips. And on the other shoulder is a big bowl of cheese dip for those chips.


Cleveland Indians
Abbott and Costello would really enjoy this Indians team.
Costello: "Who's playing right?"
Abbott: "Shin-Soo Choo."
Costello: "Bless you. Now, tell me, who's playing right?"
Abbott: "I said Choo."
Costello: "I know you did. And I said bless you. Now, are you going to tell me who's playing right or not?"
Abbott: "I am."
Costello: "OK. Who's playing right?"
Abbott: "Choo."
Costello: "Wait -- are you saying who?"
Abbott: "No, I'm saying Choo."
Costello: "Choo is not something you say."
Abbott: "It's not?"
Costello: "No. It just happens."
Abbott: "It does?"
Costello: "Yes. Now tell me who's playing right."
Abbott: [Silent.]
Costello: "Well, aren't you going to say who?"
Abbott: "No. I'm waiting for it to happen, like you said. And it's not 'Who,' by the way, it's 'Choo.' That's what I've been telling you."
Costello: "What have you been telling me?"
Abbott: "Choo is the right fielder."
Costello: "That's what I've been asking you!"


Detroit Tigers
The Tigers have the ability to score a ton of runs. Their problem is pitching. And their rotation is even worse off now that Dontrelle Willis is suffering from anxiety. What could have caused that? Oh, I don't know … ONLY THE END OF THE WORLD AS WE KNOW IT!


Kansas City Royals
With the Royals on the rise, the American League Central could be the most balanced division in baseball. There are no easy games in this division. There also aren't really any super hard games, either. The team that gets least bored should win the Central.


Minnesota Twins
Joe Crede is being counted on to provide the Twins stability at third base. Since 2004, Minnesota has used 19 third basemen. I realize manager Ron Gardenhire is highly respected, but that is simply against the rules. Only nine guys on the field at once, Gardenhire! No wonder the Twins continue to win with such a low payroll.
AL WEST


Los Angeles Angels
The Angels are as solid as ever. If they have a weakness, it's their outfield defense. Bobby Abreu is 35. Torii Hunter is 33. And Vladimir Guerrero is now 34. A lot of singles will be old-manned into doubles and triples. Because Abreu, Hunter and Guerrero are about the age of the average slow-pitch softball team outfield, they should be allowed to play with a fourth outfielder.


Oakland A's
Random A's employee: "Hi, Jason! Welcome back! You look great! You look as though you've trimmed up, lost some weight since you were here. Good for you. What's your secret?"
Jason Giambi: "Uhh … is that a joke?"
Employee: "A joke? No, I was just wondering what your weight-loss secret is."
Giambi: "I have made some mistakes. Mistakes I'm not proud of."
Employee: "Sure you have. We all have. A late-night brownie here or there. But don't beat yourself up. You really look great."
Giambi: "You don't watch the news, do you?"
Employee: "No, I do not."
Giambi: "I wish more people were like you."
Employee: "Hey, so did you win a lot of World Series titles back east with the Yankees? I bet you did."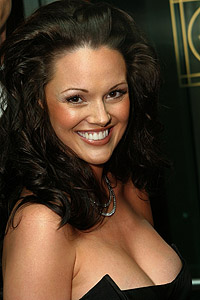 Mychal Watts/Getty Images
If Kris wants to stay in the league longer he should just change his first name to Anna's husband.


Seattle Mariners
Ken Griffey Jr. has returned to the Mariners! Unfortunately, he's old, overweight and injury-prone, and has rapidly declining skills. If David Stern ever relocates an NBA team to Seattle, he probably will use this as a model.


Texas Rangers
The Rangers have an outstanding offense. Where their problem continues to be is pitching. Specifically pitching depth. Is all of this true? Or could I just not think of a better way to tell you that the Rangers' fifth starter this season will be Kris Benson … thereby giving us an excuse to run a picture of his wife, Anna? Good question.
DJ Gallo is the founder and sole writer of the sports satire site SportsPickle.com. He also is a regular contributor to ESPN The Magazine and has written for The Onion and Cracked. His first book, "SportsPickle Presents: The View from the Upper Deck," is on sale now.