Commentary
DJ Gallo's NFL Hangover, Week 4
Originally Published:
October 5, 2009
By
DJ Gallo
| Page 2
Before we look back at Sunday's non-Favre action, let's take a look ahead at Super Bowl faVre. Here's the A-to-Z of everything you need to know.
A -- Aaron Rodgers
The Green Bay Packers' quarterback has always handled himself with grace in regards to the never-ending Brett Favre saga. He is the prototypical class-slinger.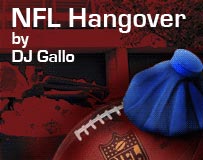 B -- Bears-Dolphins
Their 1985 matchup was the highest-rated "Monday Night Football" broadcast in history, drawing a 29.6 rating. Can Favre vs. Packers beat that? I doubt it. Soap operas rarely rate as high as prime-time NFL games.
C -- Conservative
Brett Favre has attempted only seven passes longer than 20 yards this season. At least as far as we know. Maybe he has actually attempted 50 passes of 20 yards or longer this season, only the old gunslinger can't usually get it that far anymore.
D -- Donald Driver
The Packers wideout has caught 34 touchdowns thrown by Brett Favre in his career, and only seven from Aaron Rodgers. (Note: These are NFL totals only, and do not include any TDs that Driver may have scored while playing be-jeaned pickup games in a field.)
E -- ESPN
Monday night's game will be on ESPN. At 8:30 p.m. ET. Brett Favre. Packers. I just thought someone should mention it.
F -- FAVRE! FAVRE! FAVRE! FAVRE! FAVRE! FAVRE!
Favre.
G -- Gunslinger
The question remains: Is Brett Favre now a game-slinger or a gun-manager? Perhaps Monday night we'll get the answer.
H -- Hattiesburg, Miss.
Oh, Hattiesburg. Favre's hometown. If there was anything to do there other than mow grass and text-message reporters, we might not be going through this right now.
I -- Interceptions
Critics have always said that Favre throws too many interceptions. Oh, really? Or is it that opposing coaches have been stupidly playing sure-handed guys at defensive back instead of at wide receiver? (Yeah, it's the former.)
J -- Jersey
The last time these teams met on "Monday Night Football," Week 1 of the 2008 season, the Packers planned to retire Brett Favre's No. 4. That didn't happen. And now many Packers fans consider Favre to be No. 2.
K -- Kluwe and Kapinos
These are the last names of the punters, Kluwe for the Vikings and Kapinos for the Packers. No one wants to see them Monday night. (Sorry, gentlemen.)
L -- Lewis, Greg
He's the guy who caught Favre's game-winning pass last week against the 49ers. I thought I should mention it because most coverage of the play suggested Favre threw it to Brett Favre, leading the Minnesota Favres over the San Franfavresco Favre favreing the favre favre favre favre.
M -- Mike McCarthy
The Packers' head coach is the guy Favre told way back in March 2008 that he couldn't "commit 100 percent" to football and was going to retire. And McCarthy stupidly took him at his word. Does McCarthy not know that football players do everything at least 110 percent? And that Favre can't be trusted 220 percent of the time -- 110 percent for each side of his mouth? So Favre really was saying there was a 120 percent chance he would return. Duh, McCarthy. You're so gullible.
N -- NFC North
This game does not exist in a vacuum. The Vikings need a win to stay in sole possession of first place in the division, while a Packers win creates a three-way tie for first and means the Lions aren't mathematically eliminated by Week 4 for the first time since 1958.
O -- October 10
Brett Favre turns 40 on Oct. 10, meaning Monday night's game will be the last game he plays in his 30s. Let's hope he doesn't become a middle-aged cliché and go out to a dealership a buy a really expensive … tractor.
P -- Peterson, Adrian While all the attention will be focused on Favre and the Packers, the fact remains that Adrian Peterson will be the best player on the field Monday night by a mile. Maybe he should repeatedly retire and unretire and cry disingenuous tears in press conferences so he could get more respect.
Q -- Quotable
"It's just another game," Favre said this week with a straight face. Laughable? Not at all. In Brett Favre's world, every game is about Brett Favre.
R -- Red Zone
Favre is second in the NFL in red-zone passer rating so far this year, at 122.4. However, he has yet to complete a pass in the red zone longer than 20 yards. Is the old man's arm strength going? The numbers say yes.
[+] Enlarge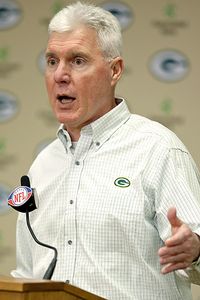 AP Photo/Mike RoemerTed Thompson -- Packers GM, and primary target of Brett Favre's wrath.
S -- Sears
Sears is running a new commercial that features an indecisive Brett Favre. Favre originally agreed to film the spot in 1993.
T -- Ted Thompson
He is the Packers' GM. Brett Favre hates him with the heat of a thousand overheated lawn mowers sitting out in the Mississippi sun. If Favre badly overthrows someone along the Green Bay sideline Monday night, realize it may be because he was trying to hit Thompson in the face.
U -- U-Formation
The Vikings use the "U-Formation" -- two tight ends, two wide receivers and one running back -- the fifth-most in the NFL, and average 6.4 yards per play out of it. Understand that this is different than the "Me-Formation," in which Brett Favre holds a press conference or grants an interview so he can talk about himself.
V -- Visanthe Shiancoe
Shiancoe, Favre's tight end, got some attention last year when Fox accidentally aired a split-second of video with him in the background, sans pants. Hopefully there will be no video of the press box Monday night.
W -- Wins
If Brett Favre beats the Packers, he will become the first quarterback in NFL history to have a win against all 32 NFL franchises. Huh. So wait … all the times he almost single-handedly defeated the Packers don't count?
X -- X's and O's
Some analysts say Brett Favre still doesn't know Minnesota's offense. What's to know? If it's anything beyond give-the-ball-to-Adrian-Peterson-and-get-out-of-the-way, Brad Childress should be fired.
Y -- Y-Chromosome
Fun Fact: Females are born with two X-chromosomes and males have one X-chromosome and one Y-chromosome. Whereas Brett Favre has one Y-chromosome fused to an atom of iron (Fe).
Z -- Zygi Wilf
The Vikings' owner signed Favre to a contract that will pay him $12 million this year and $13 million next year. Next year -- ha! Pretending you can make Brett Favre commit to another season … good one, Zygi. You are way funnier than cartoon Ziggy.
Horrible Fantasy Team That Crushed Your Team This Week
David Garrard, QB, Jaguars: 27-for-37, 323 yards, 3 TDs
Rashard Mendenhall, RB, Steelers: 191 total yards, 2 TDs
Mewelde Moore, RB, Steelers: 33 total yards, 1 TD catch, 1 TD throw
Mike Sims-Walker, WR, Jaguars: 7 catches, 91 yards, 2 TDs
Mohamed Massaquoi, WR, Browns: 8 catches, 148 yards
Sean Ryan, TE, Chiefs: 5 catches, 58 yards, 1 TD
Quote of the Week
"Tom Brady, if you're listening, take off the skirt and put on some slacks. Toughen up."
-- NBC analyst and former New England Patriot Rodney Harrison
Whoa, Rodney. That's below the belt. Tom Brady cuddles baby goats. He wears miniature hats and ascots. And he bikes around town with miniature dogs in a basket. But he does NOT wear skirts. At least as far as I know.
Pictures of the Week
• "No, I already had these. I borrowed them from Gisele."
• "Wow! I guess I'll actually see you next week, buddy!"
• "So we stink again, huh?" "Yup."
• "Careful. Let's not drop each other."
• "Honestly, I had no idea you still played."
• "Look, we're bigger and stronger than those guys over there. We're just going to run it right at them."
• "Nice shoes! You suck, loser!"
• "Should I bother asking you for more touches, or should I wait to ask the guy who will replace you?"
• "Stop dancing. There's still another quarter to play." "Ahh, we got this."
DJ Gallo is the founder of and sole writer for the sports satire site SportsPickle.com. He also is a regular contributor to ESPN The Magazine and has written for The Onion and Cracked. His first book, "SportsPickle Presents: The View from the Upper Deck," is on sale now.
Nike Men's Home Game Jersey Minnesota Vikings Adrian Peterson #28 Shop »
MOST SENT STORIES ON ESPN.COM