Commentary
DJ Gallo's NFL Hangover, Week 8
Originally Published:
November 2, 2009
By
DJ Gallo
| Page 2
Green Bay Packers fans have to feel pretty bad today. And not the normal way they feel bad on a Monday due to eating 12 pounds of bratwurst the day before. No, it's not just the digestive system today. It's the heart, too.
Brett Favre broke their hearts. Again.
The breakup between the Packers and Favre two summers ago was as messy as we've ever seen. But as hard as it is, it's time for Green Bay to get past that. And I'm here to help.
10 Tips For Getting Through a Difficult Breakup
1. Remember that it's OK to cry: Crying can help you let out your emotions. There is no reason to keep them bottled up inside. So cry. A lot. Force those tears if you have to. Fake it. You know he would.
2. Write your feelings down: Committing your feelings to paper is a way to get them out of your head and eventually away forever. So write down what you're thinking and -- oh, I see. You're already doing that. Well done.
3. Make yourself laugh: It doesn't have to be all doom and gloom. Make yourself smile. Make yourself laugh. Try this: Imagine Brett Favre still being in Green Bay and having to play behind the Packers' offensive line. Hilarious! He would get CRUSHED, am I right? His old-man bones would never make it through the season.
4. Get a pet: Speaking of offensive linemen, these furry creatures are great around the house. They sleep a lot, but they scare away intruders, too.
5. Step outside yourself and look around: It's easy to get caught up in your own problems and forget that others have it much worse. You don't even have to look far. Your division, for example. Your hated rival, the Chicago Bears, mortgaged their future for Jay Cutler. Jay Cutler! And the Lions. The Detroit Lions. They just lost at home to the Rams. Your messy breakup really isn't so bad, is it?
6. Travel: Traveling to new and different parts of the world can help you see all the many opportunities in your life. So take a trip. Oh, you are? Really? Next week to Tampa? Well, Tampa is not exactly Paris. But I guarantee you feel much better about your team this time next week.
7. Work on self-improvement: Let's be honest, a relationship takes a lot of time; time you could spend on yourself. Now you have that time again. Read a book. Work out. Sleep. I hear there's not much else to do in Green Bay anyway.
8. Avoid a rebound relationship: Hooking up with a high-priced free agent or some random coach isn't going to solve anything. It will make you just feel worse about yourself. Look at the Redskins. You see the looks they get around the league. No one respects them. Don't do that to yourself. You deserve better.
9. Get set up on a blind date: In the last three years, your first- and second-round draft picks have included Brian Brohm, Jordy Nelson, Pat Lee, Justin Harrell, Brandon Jackson, Clay Matthews and holdout B.J. Raji. Just saying: Maybe it's time you let someone else set you up with new players. Your judgment is not the best.
10. Look to the future: Remember that this will all be over and forgotten one day. Years from now, decades, way off into the future ... you'll be dead. Brett Favre will still be playing and beating the Packers ... but you'll be dead. And you won't have to watch it anymore. Sweet, sweet death.
Horrible Fantasy Team That Crushed Your Fantasy Team This Week
Mark Sanchez, QB, Jets: 20-for-35, 265 yards, 3 total TDs
Ryan Moats, RB, Texans: 151 total yards, 3 TD
Leonard Weaver, RB, Eagles: 8 carries, 75 yards, TD
Ted Ginn Jr., WR, Dolphins: 299 return yards, 2 TD
Terrell Owens, WR, Bills: 68 total yards, TD
Spencer Havner, TE, Packers: 2 catches, 21 yards, 2 TD
Quote of the Week
New York Jets linebacker Bart Scott on the Miami Dolphins: "They're a great team. They'll probably contend for the Super Bowl. They have a tremendous offense, great running backs, a great quarterback, a great tight end. They are stacked across the board. I'm serious. They are great."
Reporter: "Are you being sarcastic?"
Scott: "I'm serious."
Whoa, there, Mr. Scott. I know you're denying it, but you had to have been sarcastic, right? (RIGHT?!) That's my job. And I think the Dolphins might be the best team ever.
Stat of the Week
36.2 -- That's Derek Anderson's passer rating on the season following another horrific performance, this time against the Bears. Those are some mighty small shoes for Brady Quinn to fill. In fact, I don't even think those are shoes. They're toe socks. Toe socks for a baby.
Photos of the Week
• "I actually think my fist looks more like me."
• "Am I seeing things or is Rex Grossman on our team?"
• "Sorry. I was looking at our uniforms and I threw up a little bit."
• "Playoffs?! You want to talk about playoffs?!"
• "These players could never be as successful as we are. They don't know about hard work. Think of all the preparation we put into these hats, for example."
• "I assume you realize this is not the right form for the tango?"
• "You were my motivation when I was away. I knew if you had a job in the NFL, I could have one, too."
• "Oh, no. My gravitational pull got another one."
• "Well, at least when I'm fired, this thing will stop messing up my hair."
• "It's time for my Thank-God-For-The-Raiders Dance."
• "It's nice of them to say 'We want you boooo-ack, Booooo-rett."
DJ Gallo is the founder of and sole writer for the sports satire site SportsPickle.com. He also is a regular contributor to ESPN The Magazine and has written for The Onion and Cracked. His first book, "SportsPickle Presents: The View from the Upper Deck," is on sale now.
NFL WEEK 8 COVERAGE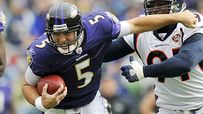 MNF: Saints 35, Falcons 27
COMMENTARY/BLOGS
MOST SENT STORIES ON ESPN.COM